The Stories Family
Hi! Thanks for visiting our site! The Stories family is made up of various creative individuals who are fanatics – crazy about all-things-media and downright lovable. We care deeply about the works of our craft and always aspire to deliver nothing less than smiles or tears to our clients. Tears of joy, of course!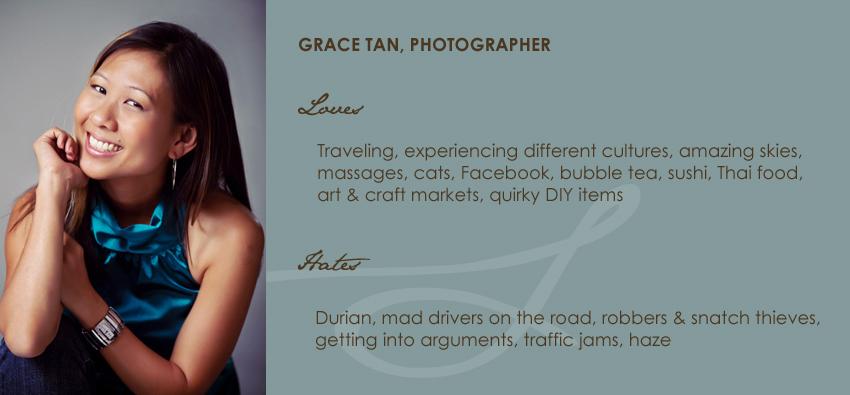 Grace started her career many years ago as a video editor working in the local Film & Television industry on award winning TV programs such as 3R (Respect, Relax and Respond), films such as the Beautiful Washing Machine by James Lee, Gol & Gincu and Goodbye Boys by Bernard Chauly, amongst others. After 5 years of editing and some years directing, Grace decided to launch into the world of business & photography, and has never looked back since.
In 2007, she set up Integricity Visuals Sdn Bhd, working on corporate videos, events & photography. She explored the world of weddings through the brand Wedding Story, and in 2010, Wedding Story's photography service was rebranded as Stories by Integricity Visuals.
Her passion has taken her to many countries, photographing cross-cultural weddings. She enjoys capturing life for the couples and families that she photographs. She loves photographing weddings & families, as it enables her to be personal with all her clients who eventually end up becoming friends. She loves to share in the laughter and joy of each wedding day as she captures moments that will be cherished in years to come. Her bubbly personality puts everyone at ease and children relate to her easily (something to do with her small stature, surely!)
Aside from running around chasing brides, grooms & little children, she adores spending time with her techy husband Alex, who sometimes assists her on shoots as well.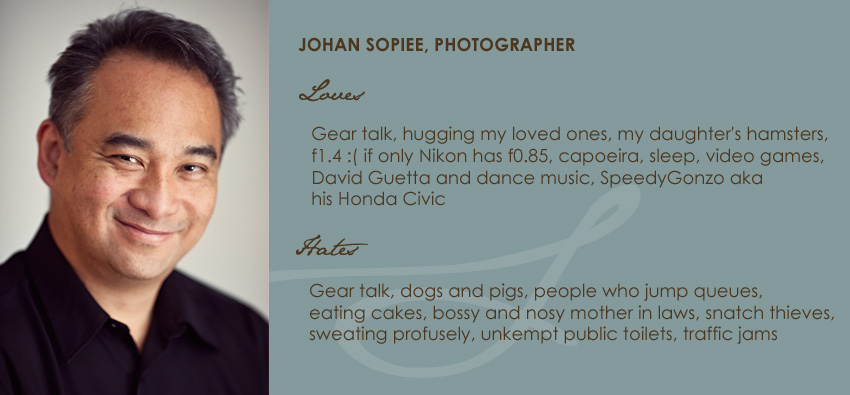 Johan started photography when his daughter was born in April 2000. After capturing thousands of precious moments, Johan tried out a DSLR for the first time and was hooked. With new camera in hand, Johan assisted another photographer with Aishah Sinclair's wedding, and thus began a deep-seated love for wedding photography.
Johan has covered weddings of all kinds, ranging from Malay to Chinese to Indian to Punjabi to Church to Garden and Kampung weddings. He feels that the thrill of observing two people falling in love is only surpassed by helping them capture their beautiful moments on their wedding day; moments that the couple and their families will be proud to share with their children and grandchildren.
Oh, if you enjoy charged up group photo sessions, just ask Johan to crank the fun up a notch by yelling, "Help Us Go Crazy!".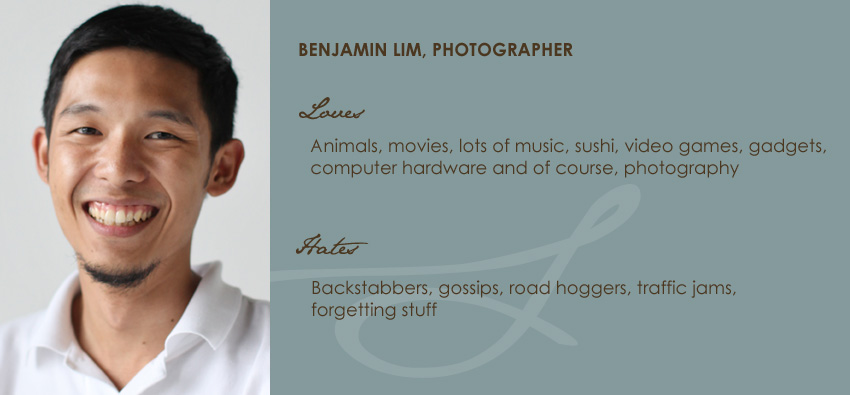 Benjamin started photography in mid 2008 when he bought his first camera. He started taking pictures of everything around him. A year later he tagged along a friend to do a wedding assignment and since then, he has never stopped doing so.
Working alongside many talented and uprising photographers, Benjamin has fallen deeply into the beauty of wedding photography and has since then captured many weddings of various cultures. Being a quiet person in nature he has found his talent in expressing his visions and thoughts through his pictures and the moments that happen around him.
Weiming How graduated from Multimedia University with a degree in Film and Animation. This has helped him in the laying of a strong foundation in design, visual, & cinematography knowledge. In his years of studies, he always had a keen interest and great passion for photography. It is beyond his wildest imagination that he is pursuing his dream and working with one of the best in the industry. Every day is a learning experience for him. Being an avid photographer himself and having a strong foundation in multimedia has been a real help to him in working as a Digital Artist in Stories. He is interested in creating special moments on digital images and creating shots that can be transformed into magical stories that linger in lives.
Mark started his photography journey back in 2007 when he bought his first DSLR because he thought it could take beautiful photos. Boy, did he find out that he was wrong! It was through the very first connection with other photographers and people passionate about art that Mark found his love for taking photos. From that very moment, he went on to learn (and is still learning) about art and photography.
After dabbling in many genres of photography, Mark discovered it was weddings that stoked his fancy. It was when Mark helped a friend shoot a wedding, that he realised how much he enjoyed observing and capturing emotions of people. Since then, he never looked back.
Having covered traditional Christian, Chinese, Indian and Malay weddings, Mark has varied experience and is constantly fueled by the different customs of each culture. Aside from his artsy side, Mark still loves all things tech.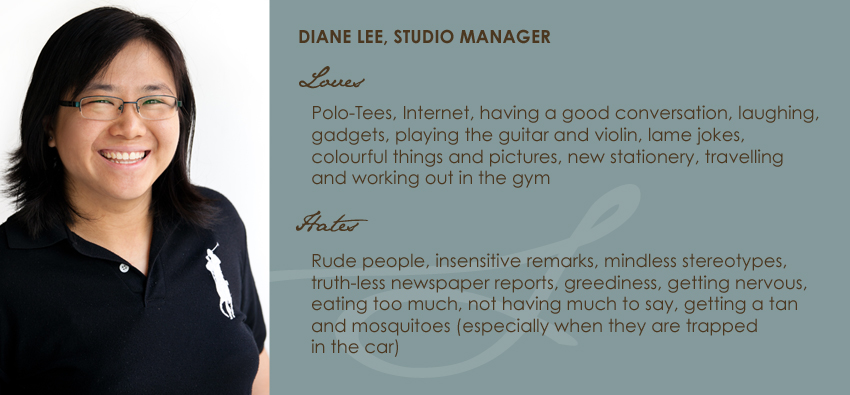 It was Diane's father who sparked the interest in photography for her. At 11, her father strapped an old 1964 Canon FX SLR over her neck and taught her the techniques of composition and exposure. Later while pursuing her diploma in Journalism, she decided to become a photographer rather than a news writer after doing a study on Photojournalism. She believes that even by exhausting every descriptive verb there is in a language, words can only describe so much. And that is why Diane has decided to pursue photography.
Interacting with people keeps Diane charged up, therefore she uses her interpersonal skills to interact with people to ensure smooth communication between clients and the Stories team. She feels extremely blessed to be doing a job she loves and will continue to strive for the best.
Felicia was first exposed to the world of photography years ago through her eldest brother. She became the default assistant for her brother as he worked on his photography projects. This sparked an interest in photography but she never pursued it as a career for herself. After she graduated, she worked as a food technologist, but one and a half years later, she realized that she still loved photography. At that time, she discovered about a 3 month internship position in Stories. Without a doubt, she quit her job and joined the Stories team. She felt blessed to be able to have a chance to pursue her dreams.