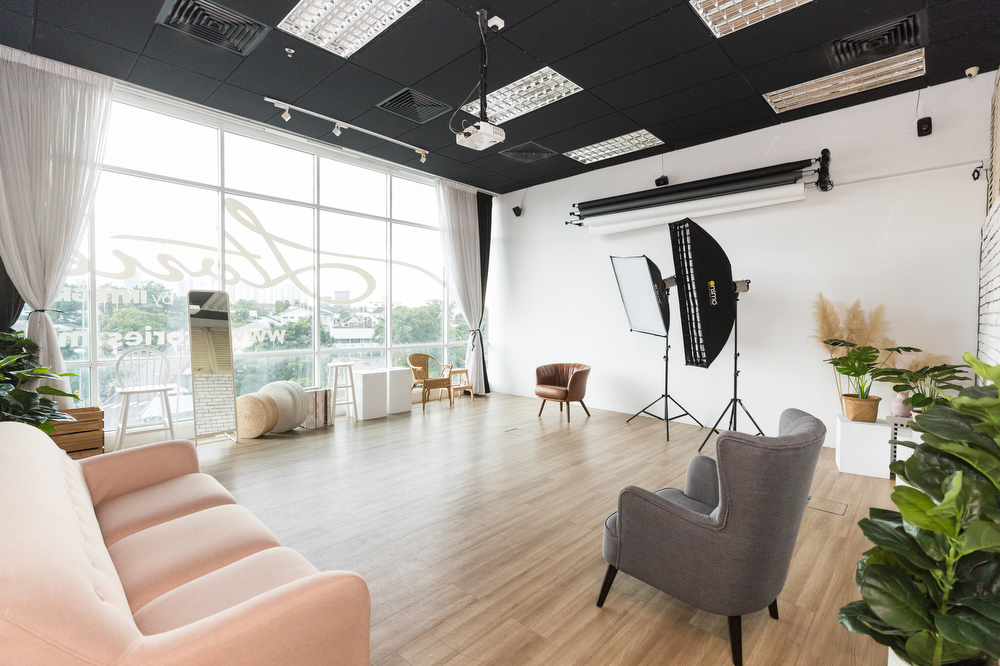 A portrait session is an experience just for you. Take some time off work as a couple or as a family for an intentional photography session. We would love to welcome you to our natural lit studio at Oval Damansara, TTDI, or we could travel to your home or a location of your choice.
View Our Lifestyle Portraits
Daily Moments with Family
Hear from our happy clients
Over 150 five star reviews online
"It was such a pleasure to work with Grace from the planning to the actual photoshoot itself. We were so impressed with her skills in managing two families and two 6 months old babies! Did we mention she has a warm and bubbly personality too?"

Evan and Jasmine
"We love our photos outcome by Chi Yin despite she had to endure with my very active and uncontrollable 4.5 years old son. With Chi Yin's personality, she made us at ease during the session. BinBin, the Studio Manager is efficient in follow things through since the beginning, right up to even after photo selection is done."

Jesslyn Wong
"Grace did a photoshoot of our newborn from the comfort of our home. Loved the way she played with natural light to document our milestone and the way she handled an infant to strike such cute poses! Love the family portrait as well. Thank you for capturing these important moments and making it so easy and comfortable to be in front of your camera. 5/5 stars!"

Owen & Ida
"Grace managed to give us direction but didn't take away from us being ourselves. The results are pictures which are natural yet beautiful. You are truly a creative genius. We are so happy to have put our trust in you, and you definitely did not disappoint."

Adnan & Ameerah
"We were totally blown away by the photos from our session! We are amazed at all the beautiful shots you managed to get despite our son not being the most smiley of moods that day! How in the world did you manage to capture all that?"

En Ruey & Jas Min
Frequently Asked Questions about Lifestyle Portraits
You may still have a few questions on your mind, but we're here to help! Here are a few frequently asked questions we have received.
Where will these lifestyle portraits be photographed?
You could opt to do the shoot in our natural light studio based in Oval Damansara TTDI, at your home, or outdoors at any location you prefer.
Do you prefer a natural setting like a public park, or would you rather we photograph you at your home? For newborn portraits, we usually travel to your home location. Since we utilise a lot of natural light for our photos, it is preferable that you opt for locations that are well lit (with large windows or doors).
You could also suggest locations that are meaningful to you, for example, your ancestral family home. Some public locations are free, and there are those that charge a fee. It is the client's responsibility to book and pay the fee for the chosen location. We can take this discussion further via email if you are uncertain of where to shoot.
What is the best time for outdoor portraits or for newborn babies and children?
Time of Day – Some locations look better in the morning than in the evening. We've been to the same location in the morning and evening and produced completely different images. The direction of the sun illuminates a location differently throughout the day. The best time to do outdoor portraits would be between 7am – 9am and 5pm – 7pm (based on Malaysian sunrise and sunset times). That is the time when the lighting is most flattering on a person. If our shoot location is indoors, we can shoot at any time of the day.
Timing for Newborn and Children portraits – For newborns, it's best that the shoot is done in the morning before lunch time as babies tend to be less fussy in the morning. Please ensure that your newborn has had a full feed and is well rested before the shoot. As for your baby/toddler, try and find a time that he/she is usually happiest and most energetic. From experience, children tend to fare better after they are well fed and had a good rest! Please also avoid scheduling shoots during or too near your child's nap time as that would most definitely result in cranky kids/babies!
Are pets allowed in the studio?
While we do love animals and do not ban animals from our studio, it is the owner's responsibility to ensure the animal is brought in on a leash or cage. Any damages or extra cleaning of the furniture in the studio will be charged to the owner.
When will I get my photos once the shoot is done?
Once the shoot is over, it will take approximately 2 weeks for us to touch up your images. You can decide at this stage whether to print additional items such as canvas prints or albums. Keep in mind that our editing is mainly for colour and contrast, and do not include things like reducing tummy or arm size! Our editing style is to make you look natural and beautiful but not through too much Photoshop-plastic-surgery.
Once the photos are ready, it will be placed in an online password protected gallery where you can select your favourites from the shoot according to the number of images promised in your package. We usually deliver the images via a digital download but if your package includes the full set of high resolution images, we will also prepare a USB for you.
You can either pick up the USB from our studio or have it couriered to you. Delivery of USB & album within the Kuala Lumpur area is free. Courier costs for the USB & album is payable by the client if delivery destinations are out of Kuala Lumpur or overseas. If someone else will be receiving the parcel on your behalf, you can provide their contact details in a questionnaire form that will be sent to you after you confirm your shoot with us.
If you have more questions that we have not covered here, click on the button below to view the full FAQ list or get in touch with us!
Lifestyle Portraits FAQ