We're based in sunny Malaysia.
But we jetset around the world!
We are the Stories family!
We are a team of passionate photographers and videographers who love capturing emotions and moments for couples and families.
My creative journey started when I was a teenager. I was interested in the art of filmmaking, and continued to study that as a degree. After working in the local television and film industry as an editor and director for a few years, photography began to capture my heart.
I was amazed that in a single frame, I could forever immortalize a moment that would mean so much to a person. So I began my journey of learning and discovery in 2006, and slowly my baby steps into photography led me to weddings and families. The joy I feel after I have captured these precious moments is just so overwhelming.
Now I am so happy to be able to work with a team of amazing creative people who share the same vision. I hope we are able to be part of your life by creating visual heirlooms so that you can remember happiness.
Love,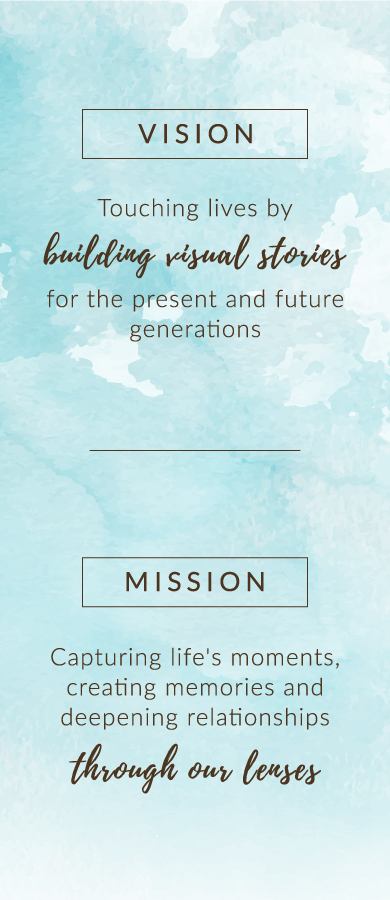 In spending time meeting up with clients to become friends as this helps tell a story of love.
In being intentional about portraiture, whether on your wedding day or any ordinary day.
In photojournalism, captured in a candid manner because it evokes the best (and truest of) emotions

Grace Tan
Founder & Photographer
My Jesus, traveling & spending time with family, massages, and shopping at craft markets
Wasting my life away, inefficiencies, messy rooms
More about me >>

Bin Bin, Tan
Studio Manager
Cooking, Spending time with family and friends, Adventure
Trying exotic fruits, crowded spaces and traffic jams
More about me >>

Chi Yin, Tan
Videographer & Photographer
Time with loved ones, traveling, music, movies
Phone running out of battery, getting sick, getting lost
More about me >>

Abel Chow
Video Editor & Digital Artist
Video games, badminton, enjoy little things in life, music
Alarm clock, potholes, an empty stomach
More about me >>

Sarah Lim
Content Curator
Travelling with my husband, coffee and homemade tacos with friends, exploring the great outdoors
Early mornings, ironing, durians, and mess
More about me >>

Stephen Ng
Photographer & Videographer
Desserts, video games, 80s soft rock music, cooking
Bugs, loneliness, dirty environment, washing up after cooking
More about me >>

Jamie Ang
Photographer
Traveling, dance, rock climbing, coffee, making people laugh, fries
Wet toilets, hair on the floor, condescending people, conversation cutters
More about me >>

Chris Chan
Photographer
Travelling, spending time with family, nature
Feeling empty, inefficiency, mosquitoes
More about me >>

Johan Sopiee
Photographer
Hugging my loved ones, capoeira, video games
Eating cakes, unkempt public toilets, traffic jams
More about me >>