Albums & Prints
In today's digital age, we take thousands and thousands of photos every week or month – from our little phone cameras, iphones, compact cameras, or DSLRs. But rarely, if ever, do they get printed. Remember the days of film when we had to wait expectantly for  photos to be printed so that you could touch and feel the image in your hands? There is some kind of magic in that.
But now, I cannot imagine myself stroking the computer screen with the tips of my fingers, commenting on how lovely the image feels on this paper. If I wanted to show anyone photos, they'd have to sit in front of my computer screen. When I got married 3 years ago, I made my own photo album. In fact, it was more like a scrapbook – where I pasted wedding cards, photos, notes, messages, even ang pow packets with messages on it! I still cherish it till today. It has been passed around, ooh-ed and aah-ed at, had bits of crumbs from biscuits of people looking at the album, to finger prints on the pages. But it's all part of the memory.
It's because of this feeling that we at Stories feel that albums are so important. Yes, keep the digital prints, but do not leave out the album. Some say that it will just collect dust under the coffee table. Of course it will. All kinds of objects collect dust. But years from now, my children will flip through those very same pages and remember the story of when their mum and dad got married. They will know that even their grandparents held it once with tears in their eyes.
We have a broad range of albums, ranging from our Classic series to the Luxury series. Our albums vary in size and material. Other than albums, we also provide canvas art prints for you to grace the walls of your home. And, our latest additions – metal prints.
Do view the video below to get an overview of our albums and canvas prints, otherwise, the full range of products is listed below.
Here are our full range of print products available for order:
1. Premium album – 16″ x 12″ (80 pages) – Sitting beautifully in a hard cover box, the premium album can fit approximately 350 photos (80 pages) with the option to add more pages. Select from a variety of colours from our leather cover collection. Your name is debossed on the cover of the album. A similar range would be our 12″ x 12″ Portrait album (40 pages).
All sheets are made of acid free, archival quality silk paper.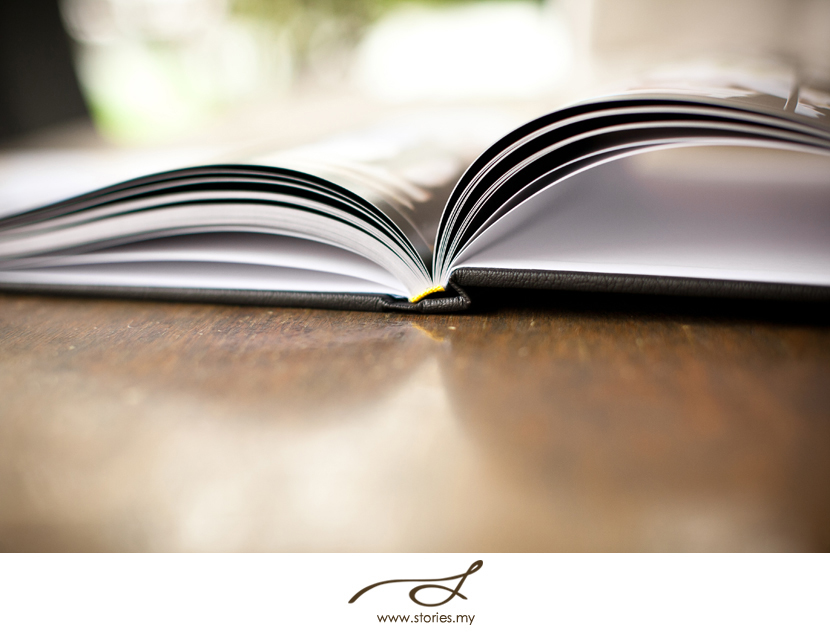 2. Classic album – 15″ x 10″ (20 / 30 pages) – This album comes in a beautiful hard cover box as well. There are a few different choices of album colours in three types of material – feather, silk & vinyl. You can choose a feature photo for the cover.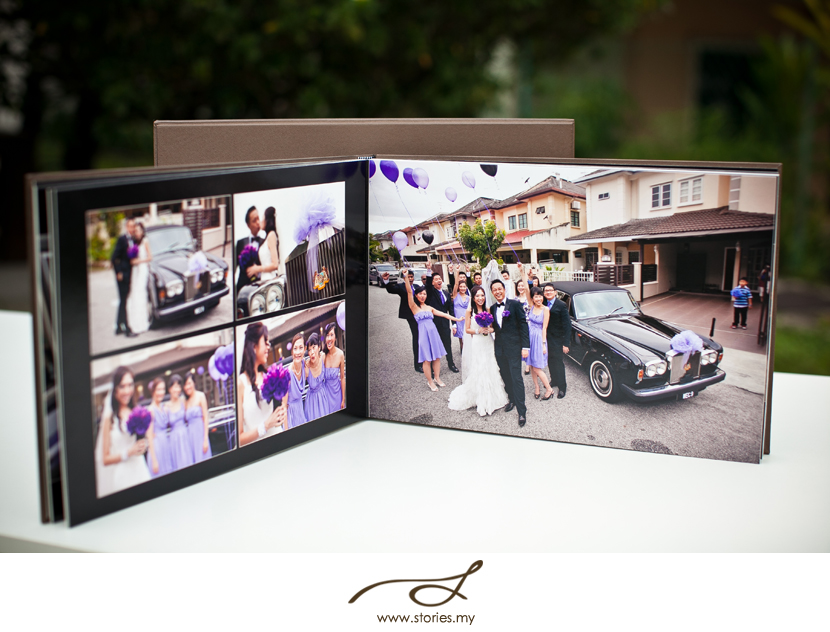 Each sheet is thicker than the Premium album series. It is firm and doesn't bend easily. However, there is the limitation of 30 pages for this type of album (approximately 80-100 photos). Featured below is the bronze vinyl cover.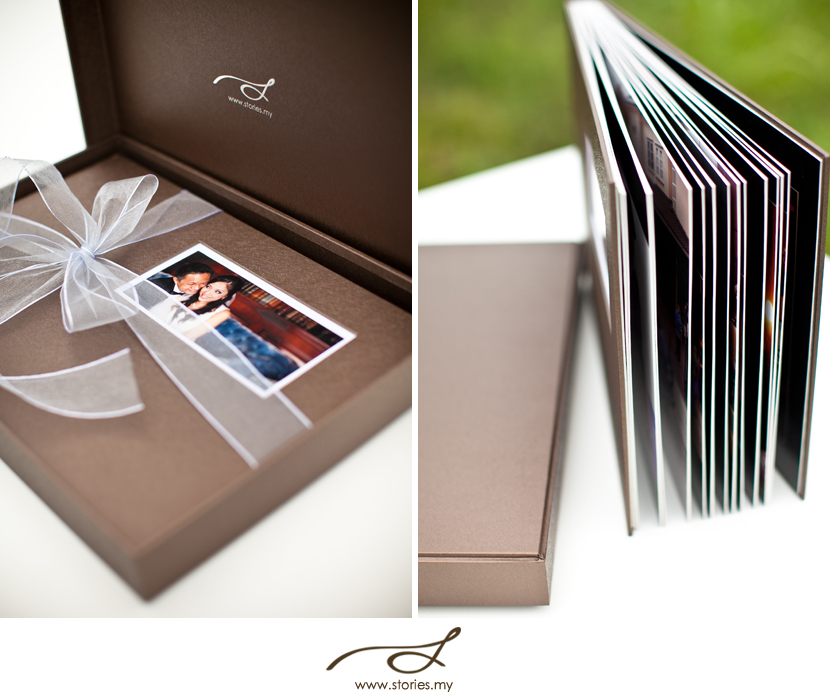 Shown below is the feather cover. We love the texture of this album!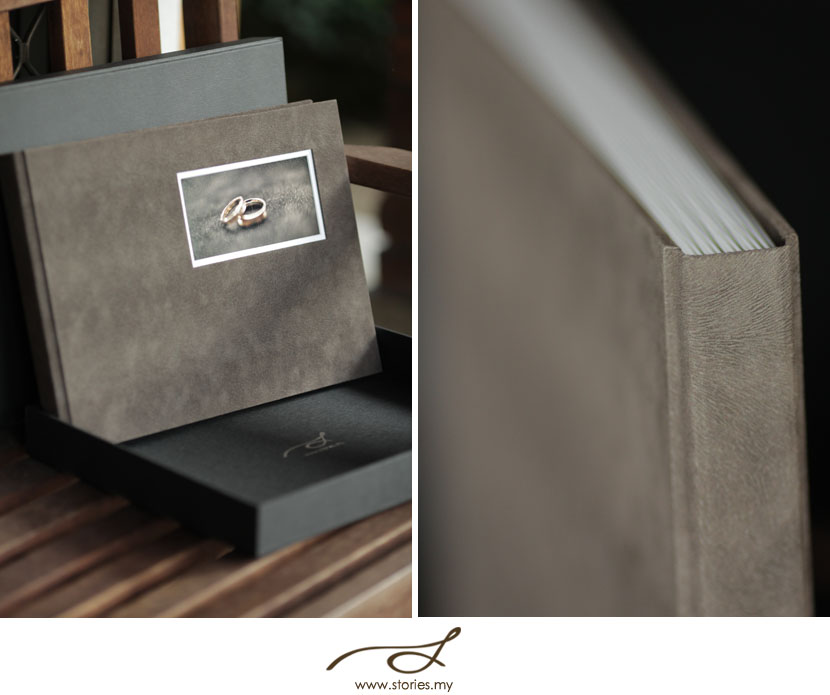 View a sample layout of this album.
3. Chic album – 10″ x 10″ (20 pages) – A cute little square album that has a huge personality! Comes in various colour options with a leather cover.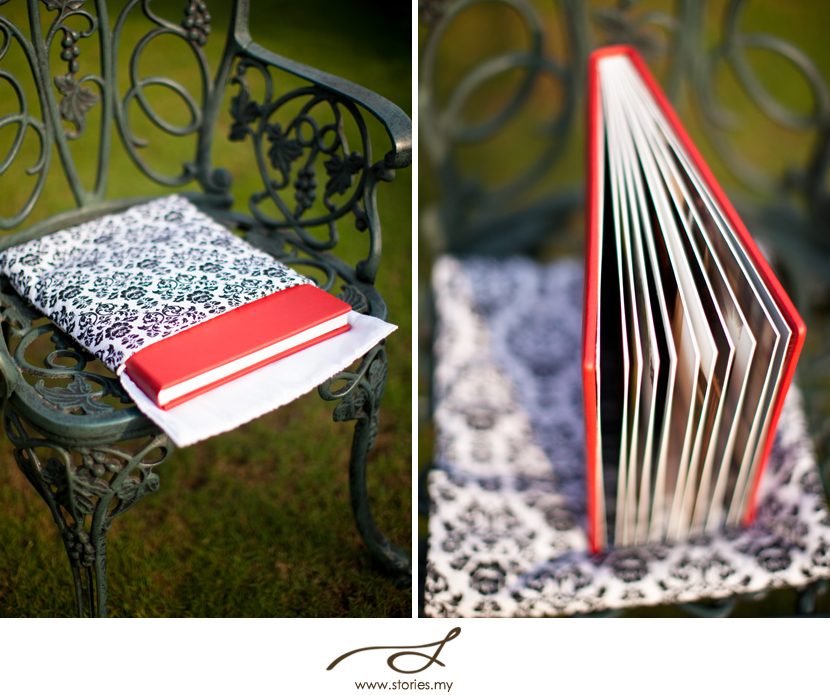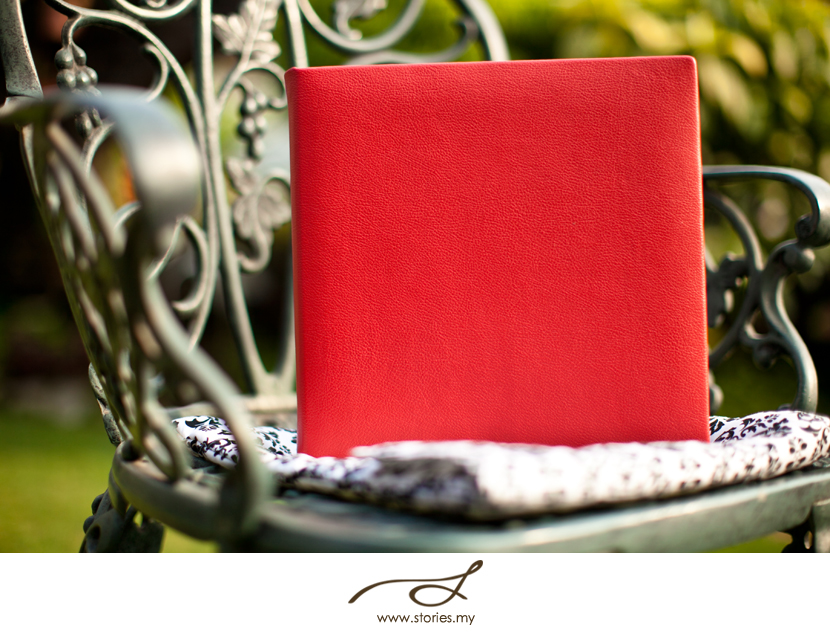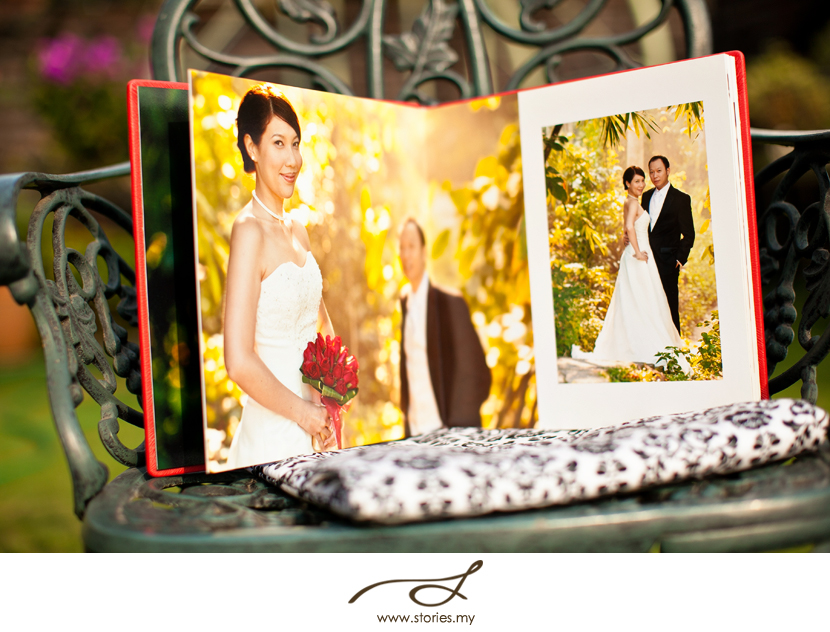 4. Guestbook - 11″ x 8.5″ (40 pages) - A 2-in-1 Guestbook is a great way to showcase your photos and for guests to leave a message in the album.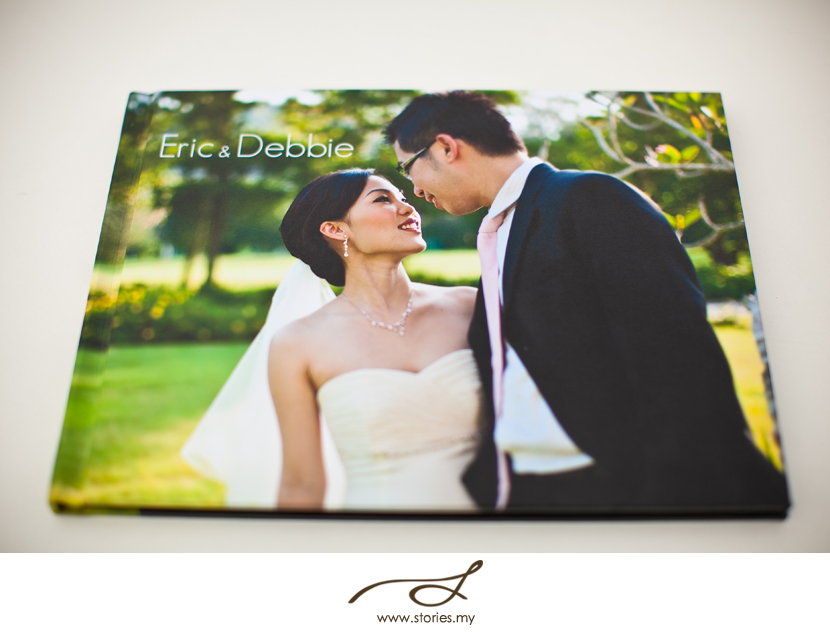 5. Canvas prints – Canvas prints are eternal! Order one to grace your wall or a few in different sizes in order to create a canvas cluster of images.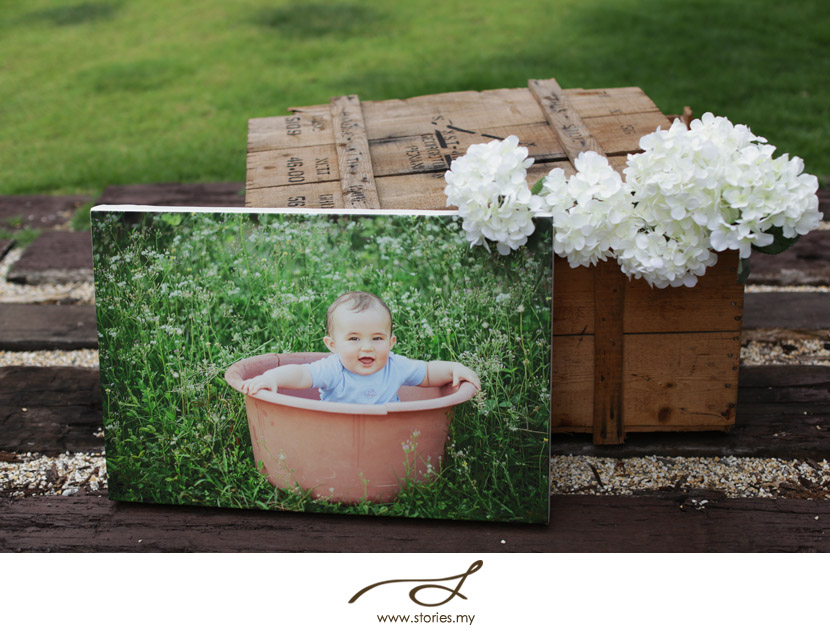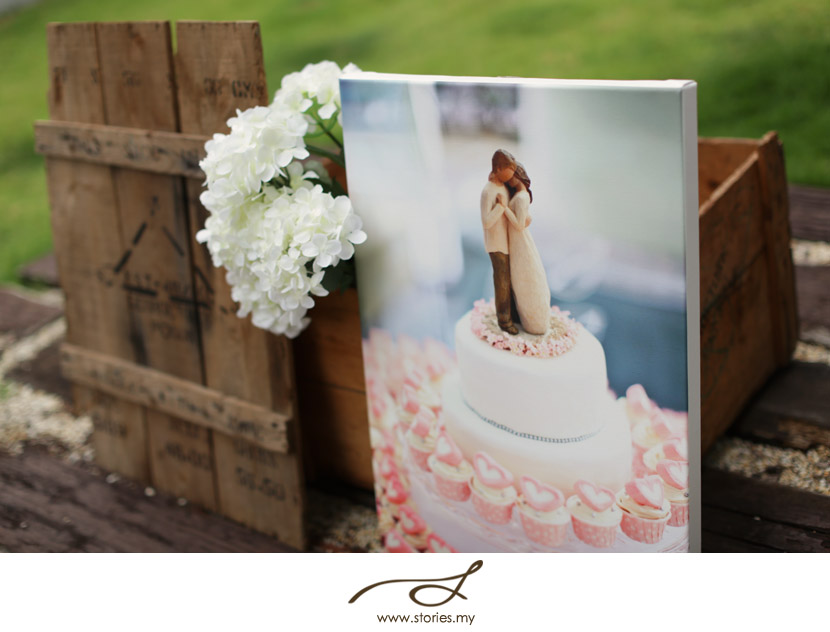 6. Art Matte prints – If you prefer matte photo prints instead, we offer these as well.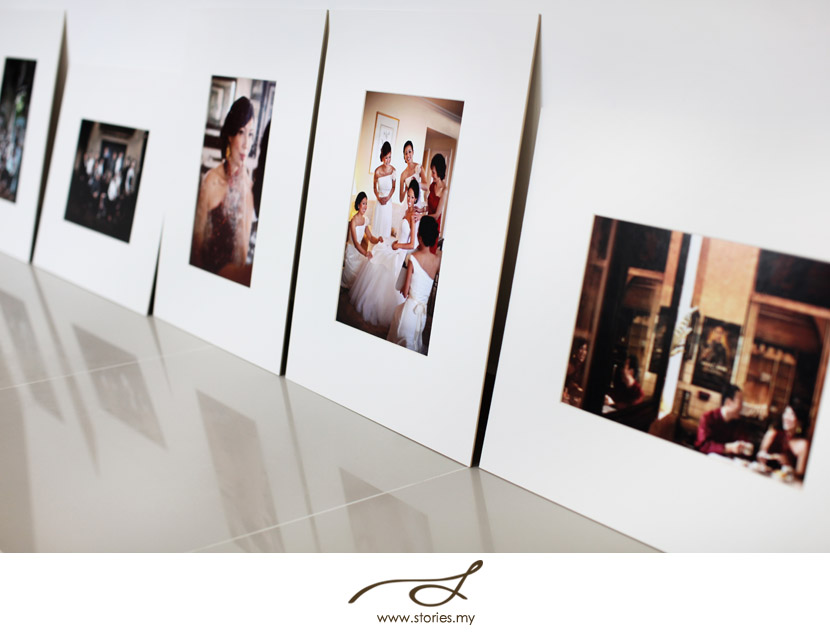 7. DVD covers – Your wedding photos are delivered in a beautifully crafted DVD casing. Warning: It doesn't come with instructions on how to tie ribbons!! :)