Frequently asked questions about
pre-weddings / engagement sessions

We have so many ideas! Who will decide on shoot locations?
We're open to discussing any crazy, fun or wacky ideas you might have! In the past, we've done things like chasing the sunrise at a fishing village, dancing in the rain in the forest, or even climbing old forts. If you prefer something a little less adventurous, we can go to a park or beach nearby. Alternatively, if you'd like to have a photo shoot out of Malaysia, we can arrange that. With flights becoming more competitive in rates, it isn't really expensive to travel and do an exotic shoot overseas.
Before you choose a location, do share with us what kind of images you'd like to go home with. Some keywords are like classic, romantic, dramatic, natural, etc. If you have a particular idea, do share it with us so that we could get excited about it too! Some of these phrases may give you ideas about themes – a picnic theme, vintage & classic, old Shanghai, music in the park, romance at a bar, urban city, heritage architecture, beach romance etc.
If you don't have a theme, you can always ask yourself, what kind of setting do you prefer? Do you prefer a natural setting, or perhaps a place with old architecture? You could also suggest locations that are meaningful to you, for example, the restaurant where you had your first date. Some locations are free, and there are those that charge a fee. Most locations charge an average of RM500 and above for a half day shoot.
It is the client's responsibility to book and pay the fee for the chosen location. If you are travelling to two locations, ask yourself, how far is the first location from the second? Instead of spending time in traffic, we'd rather be spending those hours photographing you! Also, keep in mind that some public / tourist locations tend to be busier at certain hours of the day.
Once you have confirmed your booking with us, we'll send you a form to fill in where you can list your chosen locations. We can also take this discussion further via email if you are uncertain of where to shoot.
When is the best time to do the photoshoot?
Some locations look better in the morning than in the evening. We've been to the same location in the morning and evening and produced completely different images because the direction of the sun lights up a location differently throughout the day. The best time to do outdoor portraits would be between 7am – 9am and 5pm – 7pm (based on Malaysian sunrise and sunset times). That is the time when the lighting is most flattering on a person. If we have a longer shoot duration together, we usually start outdoors and then move indoors when it gets warmer after 9am, or alternatively, start indoors around 3pm and then move outdoors once it is cooler.
Punctuality – We'd appreciate it if you could arrive 15 minutes ahead of the scheduled shoot start time so that we can start and end on time as we may have other appointments or shoots after. If the shoot start time is delayed by half an hour, an extra hour charge is incurred. When you confirm a shoot with us, you can refer to your booking form for extra hour rates.
I need some tips on how to plan my pre-wedding shoot.
Not to worry! Once you make a booking, we'll send you a questionnaire that will help you think through what is needed and you can always ask us for suggestions on what to do!
Do you provide wedding gowns as well?
Though we don't stitch wedding gowns ourselves (how we wish we had that skill!), we work closely with partners who are experts in their field of work. These gown designers are able to provide you with beautiful gowns for the photo shoot. Contact us for a full list of details.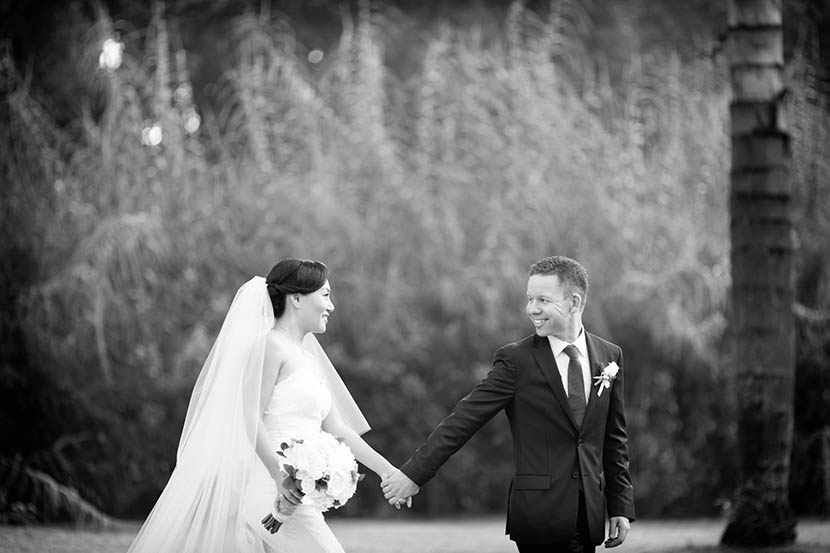 What about hair & make up services?
Yes, they are included in one of our packages. The make up artist will spend about 2 hours doing a look and hair style that suits you (you can also mention your preference of course – natural, glam, etc) before the shoot but will not be accompanying us on the shoot. So bring tissue or facial blotter on the shoot day. If you'd like our make up artist to be there throughout the shoot, we can arrange that for an extra fee.
Do you offer a pre-wedding video or animation services as well?
Yes, we do! It can be a re-enactment of how you met, a behind the scenes video, or a new concept that is entirely different! If you are interested in 2D animation, we do offer those services too.
What about a slideshow?
All our pre-wedding and engagement packages include a slideshow. We have a range of royalty free music that we use for slideshows and videos. These are non-mainstream songs and we'll choose the songs for you according to our creative discretion. If you do have a particular music genre preference, just let us know so we understand your music style and can take that into consideration. We don't usually ask for specific songs from our clients as their preference may not necessarily work well with the images / video clips that have been shot. But if you still prefer to use your own selection, please email us at least 3 options for us to choose the best song that suits the images.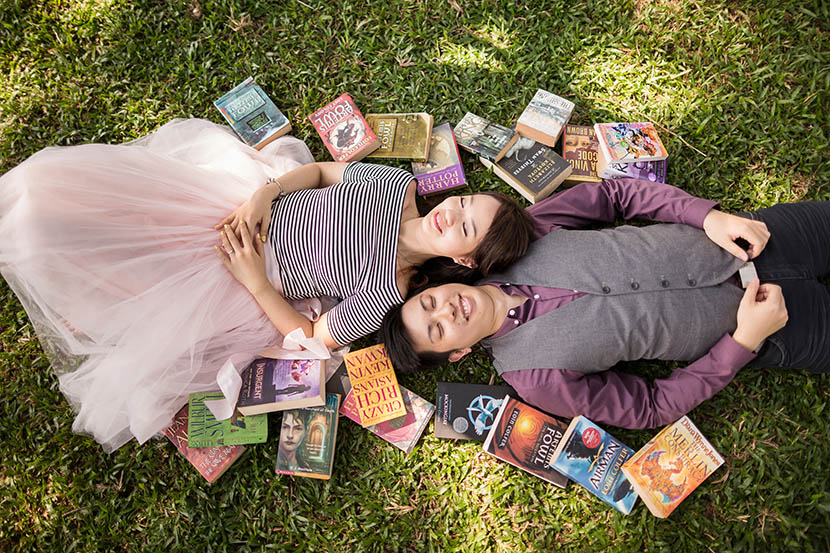 When can my photos be delivered once the shoot is over?
Once the shoot is over, it will take approximately 1-2 months for us to touch up your images and lovingly craft your album. You can decide at this stage whether to print additional items such as canvas prints or upgrade to a larger album. Keep in mind that our editing is mainly for colour and contrast, and do not include things like reducing tummy or arm size! Our editing style is to make you look natural and beautiful but not through too much Photoshop-plastic-surgery.
Once the photos and album are ready, you can either pick it up from our studio or have it couriered to you. Delivery of USB & album within the Kuala Lumpur area is free. Courier costs for the USB & album is payable by the client if delivery destinations are out of Kuala Lumpur area or overseas.
If someone else will be receiving the parcel on your behalf, you can provide their contact details in a questionnaire form that will be sent to you after you confirm your shoot with us.
If there are any questions you have which were not covered here, feel free to ask us before the shoot. We look forward to photographing you. :)