Managing GST
With the implementation of GST in Malaysia, we are providing some essential information to our clients/vendors to help them in their billing.
Company Name: Integricity Visuals Sdn Bhd
GST Number: 001146544128
Industry Code: 74200
Business Registration: 813632H
Maybank Account: 514196345093
Contact Finance: finance@stories.my
Below is a sample invoice: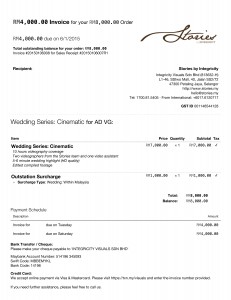 Are you a GST registered company?
In order for us to facilitate a smooth transition to using GST, we are recording the vendor and supplier GST information for ease of reporting. Kindly fill up the form below to assist us.