When I first ventured into the photography business 3 years ago, I was a do-it-all-myself person. I did everything from the marketing, shooting, photo editing, album design, to delivery (courier service). Though I had fun multi-tasking (I loved juggling the different roles), it was really taxing and after some time, I found I could not cope. My days grew longer and eye bags larger. Work hours started at 9am and ended about midnight on most days.
It came to a point in my life when I decided that I needed to hire somebody to help with the workflow. It wasn't an easy decision to make because that meant I had to give up a bit of control and train someone else to see things the way I do. After all, editing images can be quite personal… hours spent meticulously poring over each image… "you mean you don't notice there's a tinge of green on that face?"
But giving up control and hiring a Digital Artist was one of the best decisions I made for the business.
Years have gone by and different people have come through our doors (you guys know who you are, thank you for all your contributions!)… but right now, I'd like to introduce you to Weiming.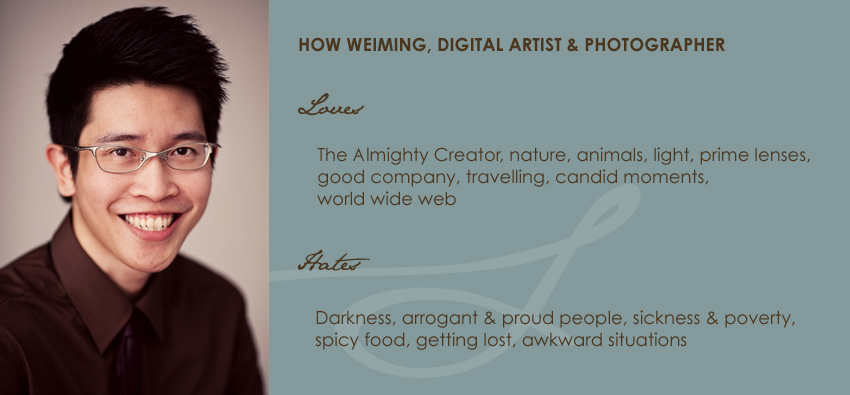 One of the greatest pillars supporting the Stories team is the magic touch from our Digital Artist, Weiming. Almost every wedding image that you see on this website (the past 8 months) has gone through his critical eye.
After every wedding, I go through the images and select the final collection that would be passed on to Weiming. He would begin by editing the colours to make it pop and balancing exposure between the different shots taken by various cameras. As some of you know, Mark and I are Canon shooters and Johan is a Nikon user (on the verge of switching, maybe? He bought some Canon gear recently). If you have spent hours looking at photos taken by these two brands, you'll know that the colours can NEVER match completely.
And to that, I take my hat off to Weiming. He spends countless hours editing these images. No, wait, let me correct myself… days! On average we spend about three to four 8 hour days editing a 10 hour wedding!
Shooting in raw helps a lot with the editing, but still, the sheer number of hours we spend on each wedding is incredible. We don't even do things like arm size or tummy reduction, skin retouching… those are specific image enhancements which are chargeable and only a few ask for it.
If we didn't have Weiming on the team working so tirelessly on each image, our backlog would be super duper crazy. Currently, we target to deliver the full set of wedding images within 1-1.5 months of the wedding date. After the delivery of the DVD, we'll proceed to design the album layout. And then the client needs to approve the images in the layout, then the album will be sent for printing, and finally delivered. Phew…
I hope this post helps you to understand the process we go through after each wedding. A photographer's job doesn't end the moment the guests say goodbye after the dinner reception. In fact, only 50% of the work has been done by then.
By the way, Weiming is also multi-talented – he is a photographer, a drummer, a kick-ass futsal player! Thank you, Weiming for doing such an excellent job! You are important to the Stories team!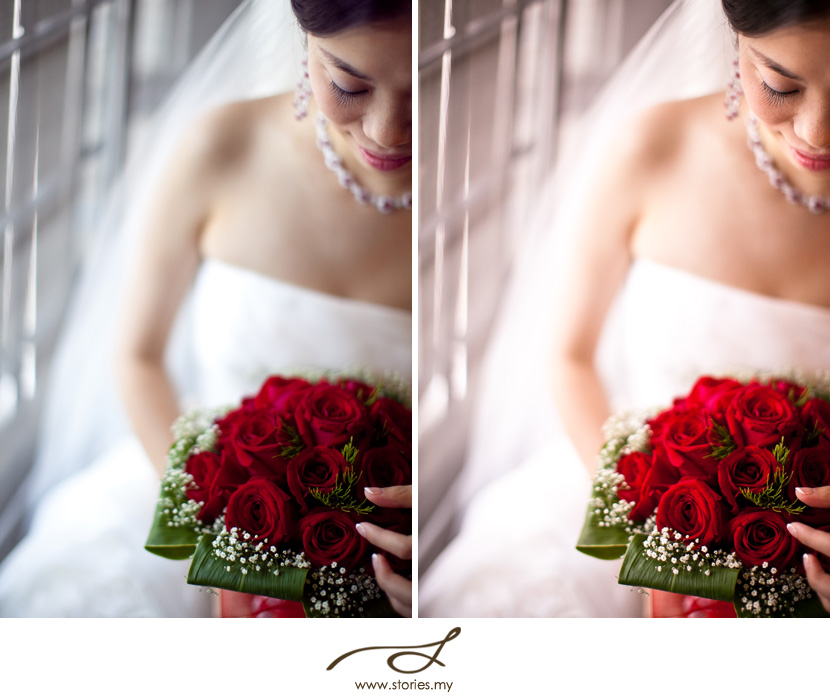 Image on the left before post processing (directly from camera), image on the right after post processing.