Many couples have postponed their wedding due to social distancing requirements, and we can only imagine how disappointing that might feel. We thought of how we could provide support even more when this is over and have decided to make this offer available.
Book our wedding photography and videography services
for your actual wedding day and
get one of the following services for FREE!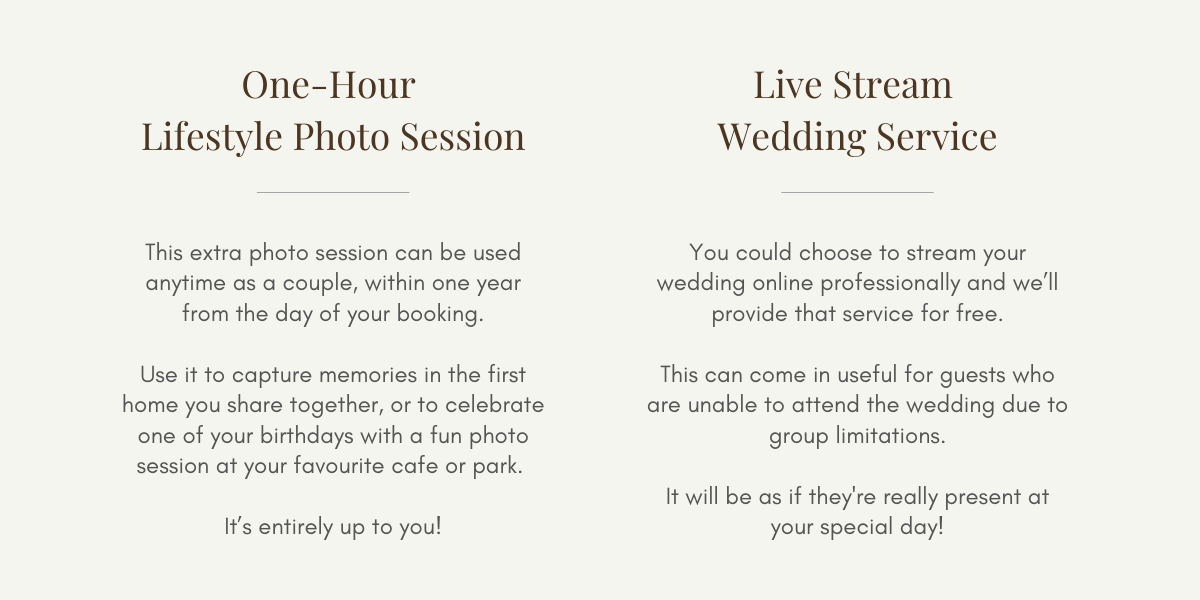 Choose either option when you book a wedding day photography and videography package with us! Though this season may feel challenging, we hope this will give you something to look forward to and we can't wait to support you on your big day!
WhatsApp or call us at +6017 612 0717 to enquire or make your booking.
Terms & Conditions
Promo is valid when you book our wedding photography AND videography services, whether for half day (5 hours) or full day (10 hours). Promo rate is for weddings in 2021 and 2022, subject to availability.
Reservations are confirmed upon receipt of 50% retainer fee and the signing of our online contract.
Choose either a free one hour lifestyle session or a free professional live stream service.
For the Lifestyle session, you will receive a 1 hour weekday photo session, to be photographed by one of the Stories' photographers within KL / PJ. You can utilise this session as a casual couple portrait, a maternity or family shoot. This session may be claimed anytime up to 1 year from the date of booking. You will receive the edited full set from this session (digital high resolution images).
For the free professional live stream service, it includes a 4 hour coverage with 1 crew member using a professional video camera with the audio from your event streamed live on a social media platform. Choose to stream either your wedding ceremony or your lunch / dinner reception. The session is available for your wedding event only and not recorded.
If your wedding is out of KL / PJ areas, travel surcharge will apply.
If you do not claim the live streaming service or photography session within the time allocated, it is not exchangeable for cash or any other service.