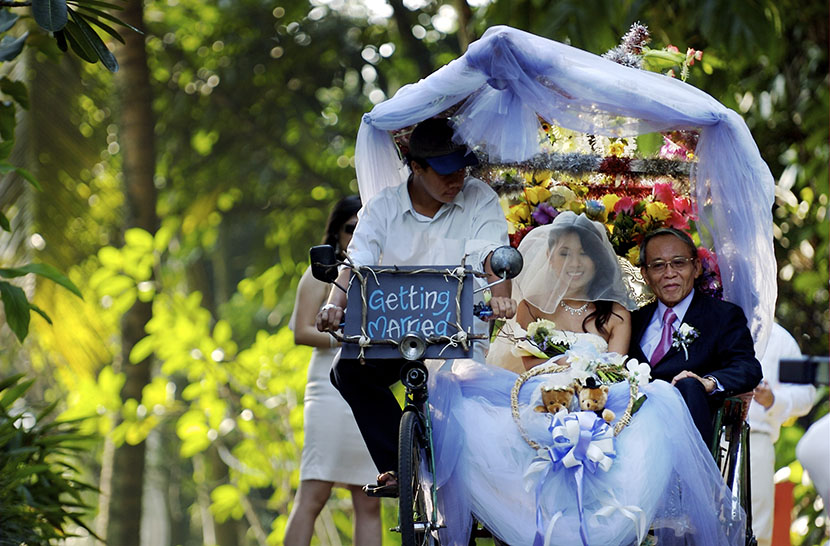 It was 14 years ago, exactly on this date that I said my vows at my dream wedding. I had 200 guests seated at the garden of the Palace of the Golden Horses, all dressed in shades of purple or white. It was the perfect day. There was a cool breeze that day, and everything went smoothly, despite a little accident that broke a portion of the trishaw I was transporting from Malacca for the ceremony that day.
14 years flew by, it wasn't short, but it didn't feel so long either. I do not remember the personalised vows I said that day but thank God for videos…all the memories were recorded beautifully. I was an idealistic 27 year old bride. I believed in true love and I found it. But I didn't know how much work it takes to stay in love.
I've learnt many lessons over these 14 years. It took me some time to learn them, so if I could speak to my 27 year old self, I'd say…
The romance may disappear but true love is deeper than just feelings
The commitment we made to one another that day was the seal that brought us together. The heart palpitations faded after a while, but it didn't mean I was less in love with the man I married so many years ago. The love I feel now is much deeper because of my understanding of who he is, and how much he tries to make things work for the family.
Change yourself first
We had a difficult first year of marriage trying to understand each other. In between tears and feelings of insecurity, I had to come to terms with my own weaknesses. If you accept responsibility for your own actions, your marriage will thank you for it.
If you want the fun and adventure to carry on, you need to make time for it
Life goes on after a while. The bills need to get paid, children come along, and soon, the only excitement you get is to choose which movie to watch on Netflix that night. We really had to make time for date nights where we spent time talking or exploring some new activity. This is even more important after the children are born.
Make time to listen
Even though we work in the same office, there were days when we just breezed through life without saying anything significant to one another. I had to learn to listen with undivided attention so that I could understand his needs. Frequent conversations was the key that made us feel connected.
Always forgive
We might have differing opinions, but we always attempt to resolve issues before sleeping. We need to remember that we are on the same side, not against one another. If there is a problem, it's our problem, not the other person's problem. Through the years, we had to learn what it means to speak kindly in the midst of a disagreement.
Ultimately, the very cord that holds us together is our love for Jesus Christ. It's our belief system that kept us unified all these years. 14 years and counting.
If you would like to follow my marriage and parenting journey, please head on to Comma: Rethink Life.