"Fill my heart with song, and let me sing for ever more; you are all I long for, all I worship and adore"
― Frank Sinatra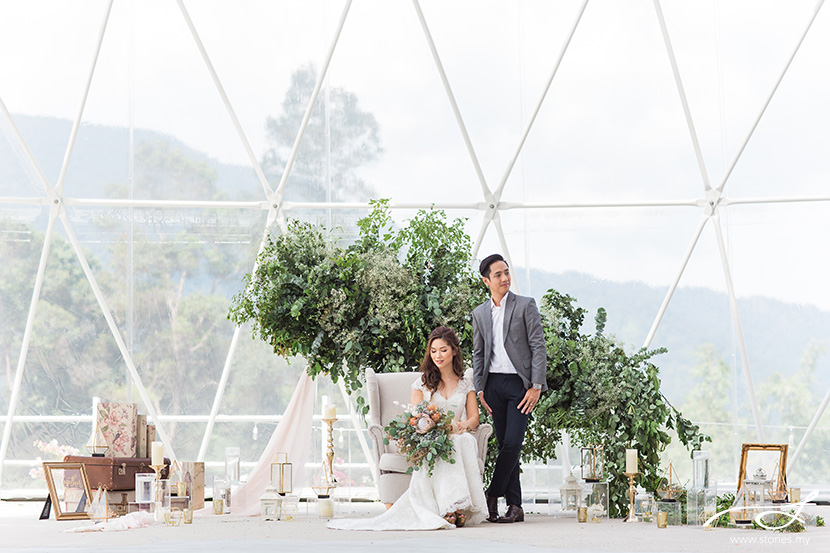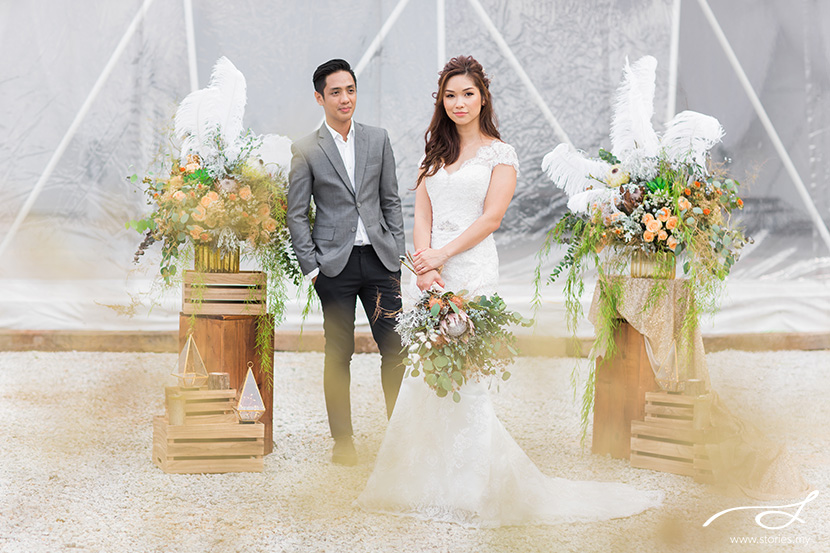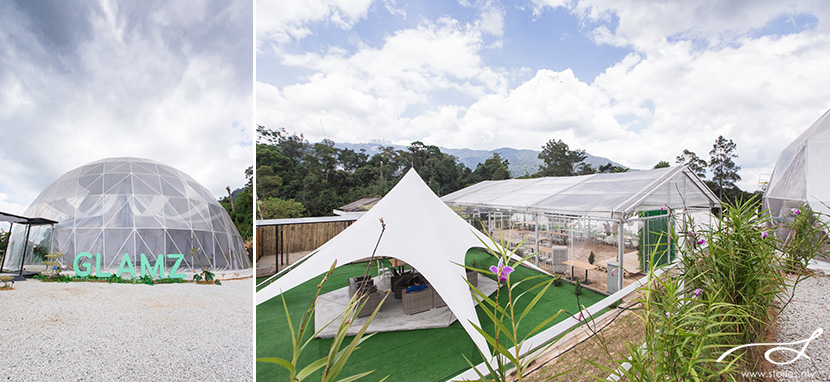 The inspiration for the shoot came from the location itself, Glamz at Genting. As a new venue with interesting dome like structures and glamping facilities surrounded by scenic mountain views, we were excited to create this styled shoot after the contest with Stories.my & The Wedding Scoop ended. Together with Pretty Little Things, we came up with the idea of a modern, simple styled shoot with a tinge of boho. We wanted to combine glamour with the outdoors. Simplicity with a touch of rawness. The flowers were beautifully designed by Bloom2u. We especially love the bouquet with the unique protea cynaroides flower decorated with eucalyptus silver dollar, eucalyptus baby blue, silver leaves, eucalyptus tetragonia, eryngium, leucospermum and foliages. Pretty Little Things worked together with Bloom2u to come up with a complete styled look for the shoot.
The elegant wedding gown was provided by That White Dress and the look was made complete with hair & make up from SuyenPang Artistry. The end result was inspiring, and made our job as photographers and videographers easy! When we contacted the winning couple, Faisal and Aggie and got to know them better, we realised that they fit the whole theme perfectly. The both of them work in the creative industry, with Faisal owning his own video production company and Aggie as a copywriter in an advertising agency. Individually, they are uniquely different – Aggie is a fitness junkie (she is a part time boxing instructor!), a meticulous planner and is a bit more cautious in making decisions. Faisal, on the other hand, is more of a risk-taker (For example, Faisal rented a motorcycle in Bali with no licence and minimal experience, something Aggie wouldn't do), has zero interest in fitness but willingly plays the role of Instagram cameraman to Aggie.
Together, they fit like a glove, despite coming from culturally different families. They have such a chill vibe about them, brought together by their love of music, cats, travel and all things creative.
After spending 11 years together, they eventually tied the knot in August 2018. So our shoot together was a pretty relaxing one for them, since they had just returned from their honeymoon in the Maldives!