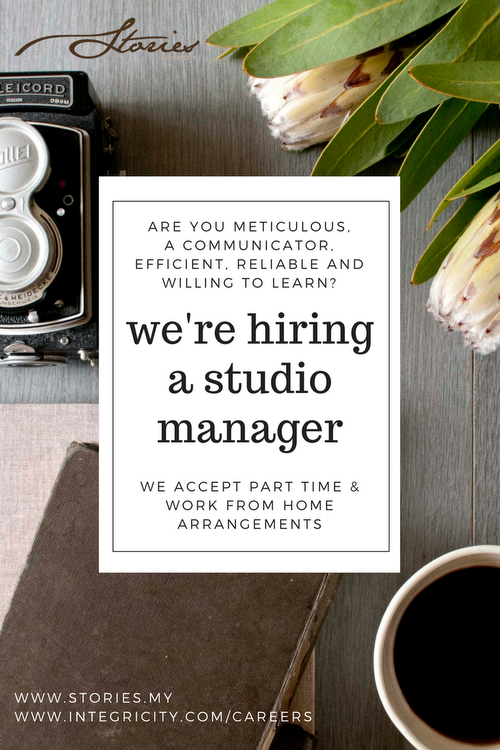 When I first started out my business as a photographer, I used to do everything. Handle enquiries, shoot, edit, deliveries… even handcrafting albums myself! That was 10 years ago, and thank God I have the entrepreneur husband who told me that I was foolish to take on everything myself. Now I have a team of wonderful people who are committed to the brand, love each other (I hope!) and who have taken a load off my back.
I am so grateful to have people to bounce off ideas with, celebrate when we score an international job, and lament to when the going gets tough. So now, we're looking for someone to come alongside us as our Studio Manager / Personal Assistant. This could be a part time role (a few work hours on weekdays, occasionally on weekends) or a full time position if it is combined with multiple roles (eg social media manager, writer, videographer… you get the idea – surprise us with your superpowers!).
Job Scope
Handling enquiries via phone, email, social media sites (Facebook, Instagram) and following up with potential enquiries.
Work with our online systems and handle admin work like bookings, invoicing and issuing contracts. Be technologically savvy.
Following up with clients on shoot requirements, payments, setting up meeting dates, handling their final deliverables and making sure we deliver on time.
Dealing with back end vendors.
Keeping Grace sane and up to date when her memory fails her (poor memory runs in her family, so she needs to write everything down or someone to remind her to do things!)
Being the 'face' of Stories as the primary contact person other than Grace… so this is a huge role to fill!
Other than Stories, handling other projects like assisting to manage our corporate enquiries, kombi rental and rental of studio space to external parties.
So, if you think you are up for the challenge and have the qualities that will make us super duper efficient, please apply here. Do state if you are interested in a full time / part time role. We look forward to hearing from you.