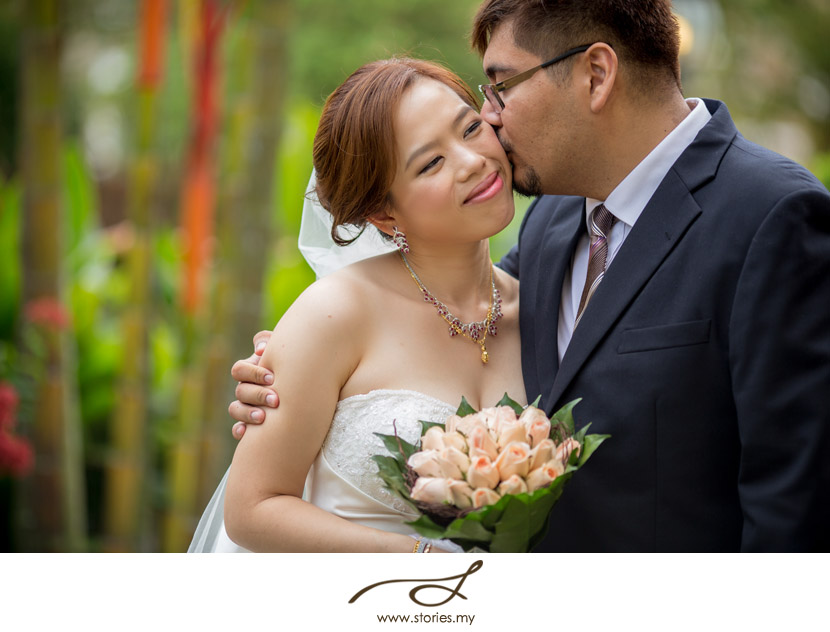 Prior to our first meet up, I had never met Paul Tan, the famous car blogger. I only knew about him through my husband, Alex, who one day, told me that I might get a call from Paul asking about wedding photography. And one day, I did receive an sms from Paul. Since he was traveling, and Jenny was in Sibu, it was really challenging to arrange for a meet up. Eventually, everything was discussed over email and sms, and shortly after, the Stories team was booked to photograph their wedding.
Ok I do admit that I sometimes google up or 'check out' my clients on Facebook, just to get a feel of who they are. Especially so when I have never met them in person. So I went to Paul's Facebook page, and one of the first few things I saw was this photo of his wife posted on his wall… it said "Biniku gangster". (translated, it means, my wife's a gangster). Uh, she did look a little formidable in that photo, and I wasn't sure what I was in for.
Fast forward to our first meet up (which was a few days before the wedding!), and I thought, Jenny has got to be the worst gangster ever! She was actually the sweetest thing, and really friendly too. I found out that she is a doctor working in Sibu, Sarawak. Being physically away made it a lot harder to plan their wedding, but eventually, they got around to it and everything came together.
I also discovered that Paul's a man of few words (in person at least!), and my first impression of him was that he seems to be a really serious person. I found out that they met while schooling at Victoria Institution, and one of their favourite hobbies is eating together (that is soooo Malaysian!).
Well, enough said, here are some of the photos from their wedding day, including the same day slideshow that was shown during dinner. Congratulations, Paul and Jenny!