It has been a while since I last photographed a Sikh wedding. I love the wonderful details that colour cultural weddings like these. It makes me really happy. :) Sonia and I used to be colleagues years ago. She was a really good project manager and is a really detailed person. It really showed in her wedding, because she had wrapped and labelled all her items needed for the wedding… placed in bags for when she needed them. Row upon row, she detailed everything in her excel sheet. She also had an emergency kit for the day which included an umbrella, drinks, food, toiletries, and even a Rubik's cube! (I think the Rubik's cube was for the driver in case he was bored! haha).
Reyhan completes Sonia by being her solid rock. He's patient and kind, one of the traits that attracted Sonia to him in the first place. What amazed me was that he used to drive all the way from his home to hers to send her to work even though it was an hour off his route to work! That's dedication and love!
Reyhan and Sonia's wedding was really memorable because they are really sporting and fun people. So many different expressions, lots of laughter, silly faces, and amazing dancing! No Punjabi wedding will be complete without dancing! We had heaps of fun photographing their Sikh temple wedding and then a church wedding the day after.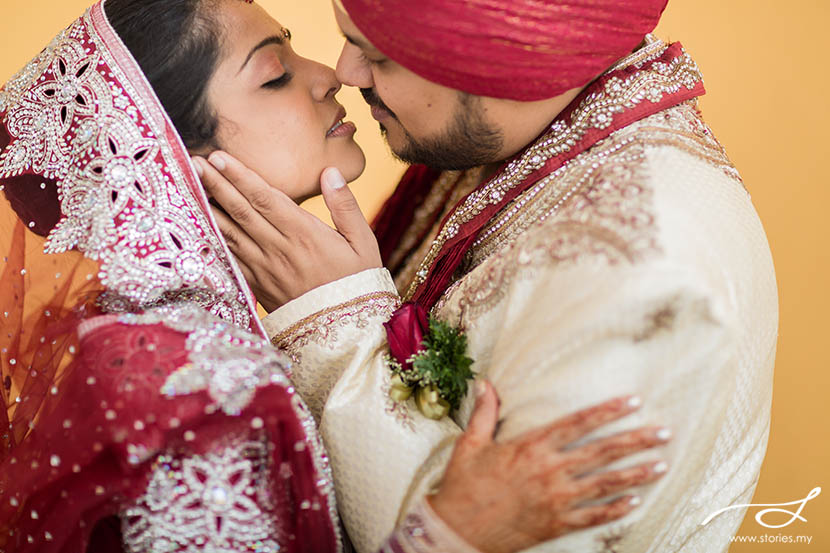 Sonia and Reyhan says:
We've known for a few years now that we would love for you to photograph our wedding day. We're grateful that we were able to book your time on the 13th and 14th of December! Thank you for all your hard work over those two days in taking all those lovely photos for us and preparing them for the slideshow at dinner.
We appreciate that you guys woke up at insanely early hours to come over to our homes to take photos of us getting dressed. Grace, I was yawning away during my makeup and hair session on the 13th so it was awesome when you arrived and helped wake me up with your chirpiness.
Thank you for your creative input throughout the events. We have had at least 15 guests tell us that your slideshow at dinner was amazing. And we agree wholeheartedly! Some of the feedback we received was from people whose photography styles we ourselves look up to, so it was really very exciting for us to hear from them. One person said that you took unique photos and expressions that they have never seen before and another told us that it was so beautiful, they nearly cried.
Thank you for your patience with us when we ate into your portrait time as we kept getting caught by guests! And thank you also for your patience with some guests who got in your way while you were working.
Diane, thank you for all the preparation work and for your prompt communications in the months prior to our wedding. Of all the vendors at our wedding, Stories gave us the best experience from asking the right questions to being patient with us when we had delays in responding to you.
All in all it has been a wonderful experience working with you.