After almost a year of working with Integricity Visuals, our digital artist Shu Wan has decided to move on and explore the world – not necessarily on a plane, but in various aspects of life and career. Shu Wan was the main person who did all the photo touch ups, album designs, animation and video editing for most of the work that you have seen on our blog the past few months. She is a really talented individual and we are sorry to see her leave. I enjoyed having her company as we traveled from shoot to shoot, and just talking about anything in life. Outwardly, she seems like a quiet, unassuming person, but she really is a focused, passionate person – especially about the things that she cares about.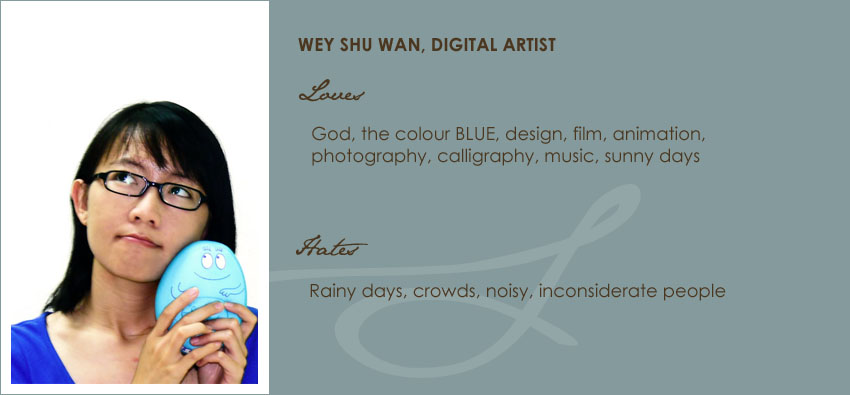 Here's what Shu Wan has to say…
It's too soon for me to say goodbye here. I know. I never think it's coincidence that I was here. From the day I met Grace, my life was changed. I was actually planning to take my step into the animation industry. But then I thought, I wanted to learn different skills, so in the end I decided to join this family.
Time has proven that I made the right choice. Throughout my days with the Stories team, I learnt a lot of new things… ranging from photo editing to video shooting. Grace has been a really good mentor. She taught me patiently and shared her knowledge with me generously. As she hold firmly to her belief in education, I have been given opportunities to attend conferences and training camps so that I can grow better. Looking at what I am today, I must say it's because of God's amazing Grace! :)
This was certainly an interesting journey. I am glad to be in this company of awesome people. Really nice meeting all of you who are lovely and kind to me along this road. Thank you for walking together with me and leaving me with tremendous memories! I truly appreciate it. Hereby I end my journey here with this blogpost as I am heading off for a new adventure! There are dreams to be fullfilled before it gets too late. So wish me luck k? =)
Ohyaaa, did I tell you that I love my title very much? :P It's because I long to be an artist but too bad that I can't draw very well. Haha. So now I could tell people, "hey I am a artist, digital artist!" :P