I've grown to love this beautiful location. It's a small little green patch of grass overlooking a lake, but given the right time of day when the sun is setting in the distance, you have gorgeous sunlight falling over this area, which makes for amazing back light. Ok, if you didn't quite understand this photographer's rambling, the location looks like this: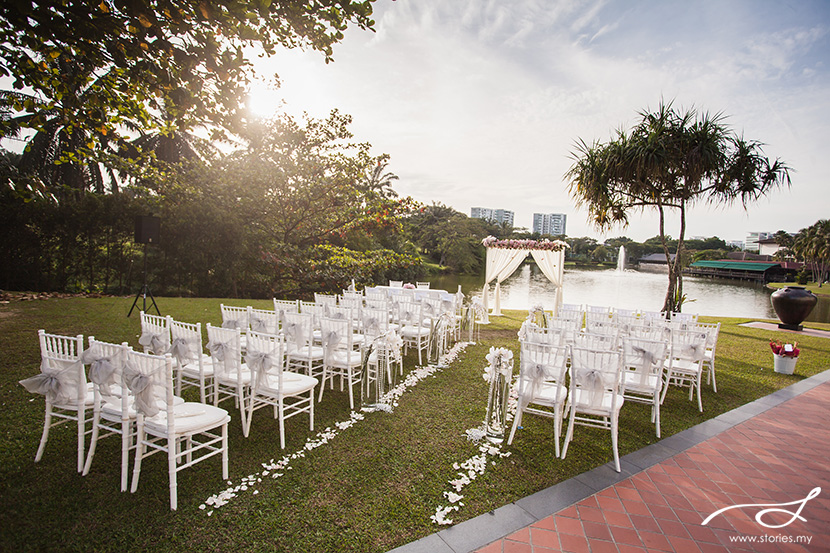 And this is the amazing back light (or hair light) I am talking about.
One of the wonderful things about small weddings is that you have lots of time for portraits. I enjoy creating images of the couple with their families and also close friends in a gorgeous setting. I photographed Jon and Jac a few months back when we did their Mad Men themed pre-wedding shoot. It was easy to connect with this couple, and from that moment on, I knew photographing them would be a breeze. The week after, Jon and Jac had their Chinese wedding ceremony (photos in the slideshow at the end of this post).
For this post, I thought I'd write a few tips on what I think would make a great garden wedding (from a photographer's perspective):
1. Choose the time of day well
Considering we live in tropical Malaysia, the best time for an outdoor wedding would be before 10am and after 5pm. The sun is lower in the horizon which makes it more flattering for people photos. Have you ever taken a photo outdoors at 12pm, and seen lots of raccoon eyes (dark shadows under the eyes) staring back at you? Yup, that's the effect of the sun as it is directly above you. So if you'd like more flattering images of yourself outdoors, opt to have your ceremony start at the timing suggested.