I am truly excited whenever I receive an email, card or call from a client telling us how much they appreciate our work. I'd like to share with you an email that we received from our client Allen and Stephy after their wedding day. It makes me especially proud because they are complimenting our entire team, and not just one individual. Their wedding was photographed by Mark, Johan and assisted by Diane.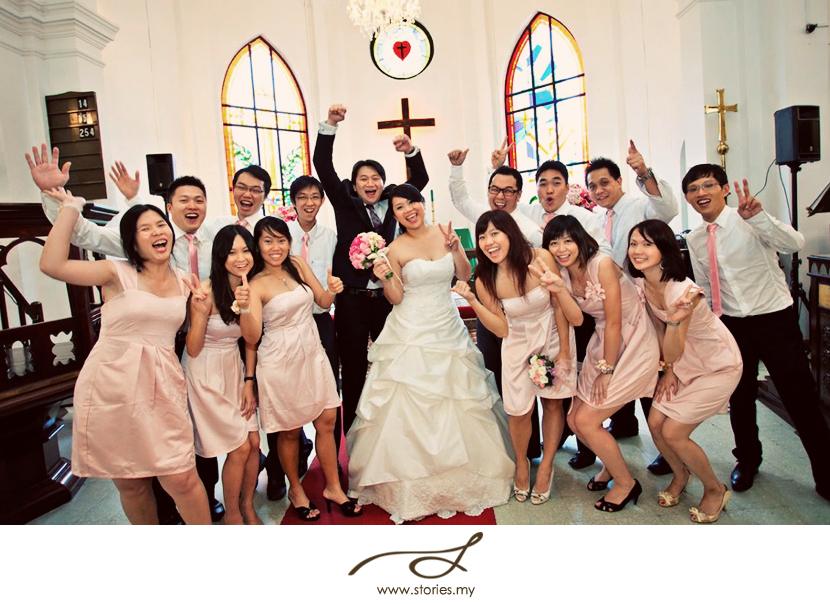 Thanks to Stories!
Everything was great on our big day!
Mark, Johan and Diane are really heart-warming. We thought we got to know 3 more friends during our big day!
From the initial arrangement of meeting, Diane has done a really good job in liaising between us and Mark/Johan, rounds and rounds of emails, without complaining. She has done a really really great job too, on the actual day. Especially during the toasting from table to table, She took the initiative and helped us to coordinate.
Johan, he was funny, but serious. The first time we met up with him, it was the discussion on actual day run down. Though it was just a 15-minute discussion, I had strong impression on him, as he took out a pen with angry bird design. Too funny! It doesn't match with his serious look (He did look serious when we ran through the rundown with both him and Mark).
During the dinner, he told me "Stephy, I am sitting at table … (I couldn't remember), if you need me, you just hand up and I'll be right here for you".. He was simply too thoughtful!! and I wanted to make fun with him by handing up again and again, but i thought i shouldn't.. LOL
Needless to say. Mark is way too professional! He gave us a lot of suggestion, I wanted to have the original version of "just the way you are" for morning SDE, he recommended me acoustic version which many of my friends told me they fall in love with the it. Mark offerred to take some portraits in the Hilton. But too bad that we did not make it as our schedule was just too tight. But He followed us, to make sure he got the chance to take even just one portrait, be it in the bridal suite, or any single corner.
With all these, they move us.
We were very worried and nervous for the actual day. Allen told me, somehow, he felt a lot more relax after the discussion with Stories, that i had the same feeling too. We are blessed to have Stories with us on our big day.
So, Thank you for your dedication, passion to our day!
Best Regards,
Stephy