Photographer: Grace
Hair & Make Up: Shinny Ong
Gown: Pretty in White
It's amazing how two paths can cross… two distinctly different people who are opposites of each other, and yet these same two souls connect, and a relationship is formed. Christina and Sze Mai (also known as SM) first crossed paths as colleagues. Initially, there was nothing more than work that connected the both of them, but eventually, they started hanging out as friends, became best friends cum confidante, and eventually, discovered that they complemented and understood each other well.
Right from the start of the relationship, they talked about all things under the sun… from life, to marriage, childbearing, parenthood, religion… They held no qualms about discussing everything in life. Personally, I think the best relationships are formed this way, when couples start out as best friends. :)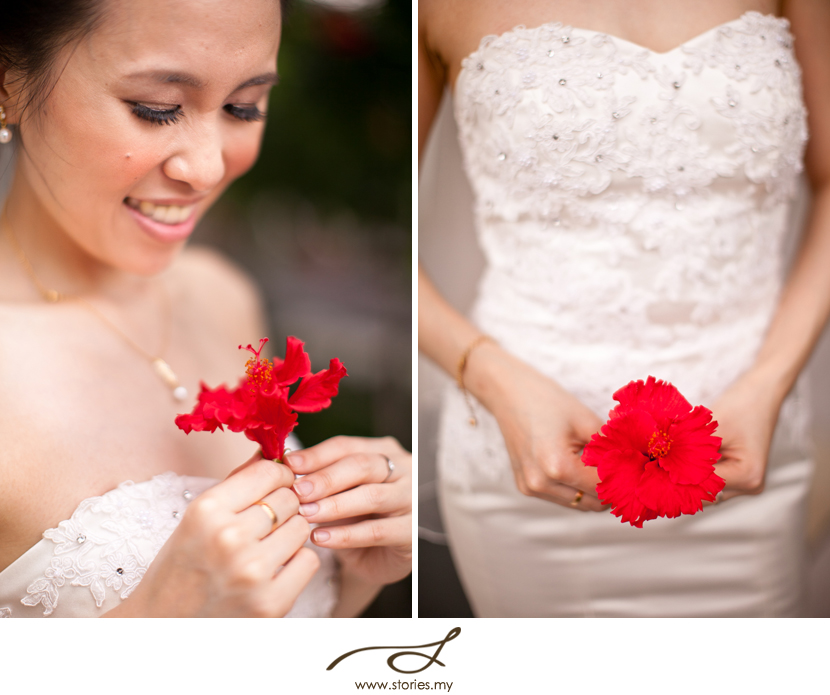 Christina: What I love about SM… He is always the quiet and calm guy that takes everything in stride and is extremely patient! Since the start, we talked about everything… and I even told him about my dream proposal, wedding and future! He had always initiated the question to marry him right from the start, and I always joked, "Hey, where's the protocol of a real proposal?"
SM: She's always the happy and optimistic one and she keeps me in high spirits whenever she is around. Her smile, laughter and cute antics just lighten me up immediately. She always knew what she wanted, and I see that as her strength. I had always known that she is the one for me, and I knew that I wanted to give her a great proposal; which she would never forget.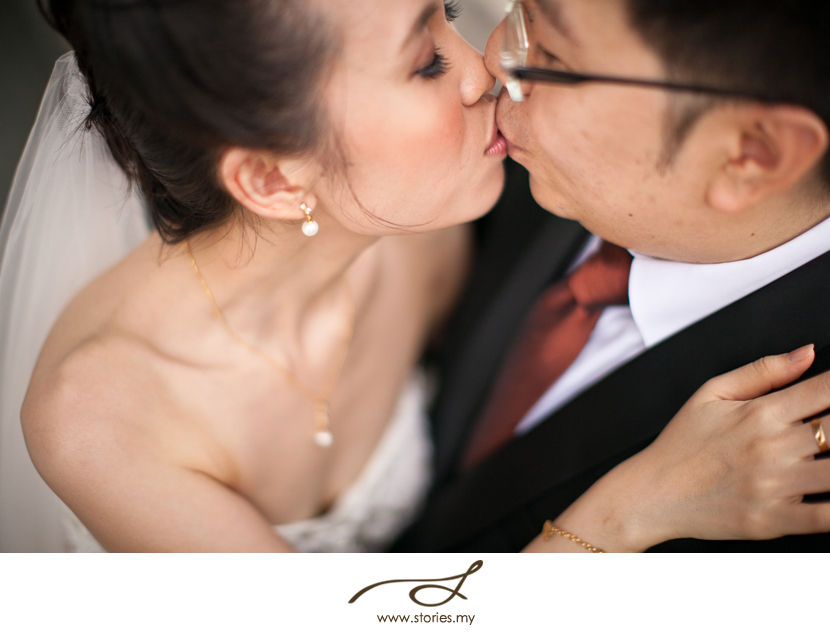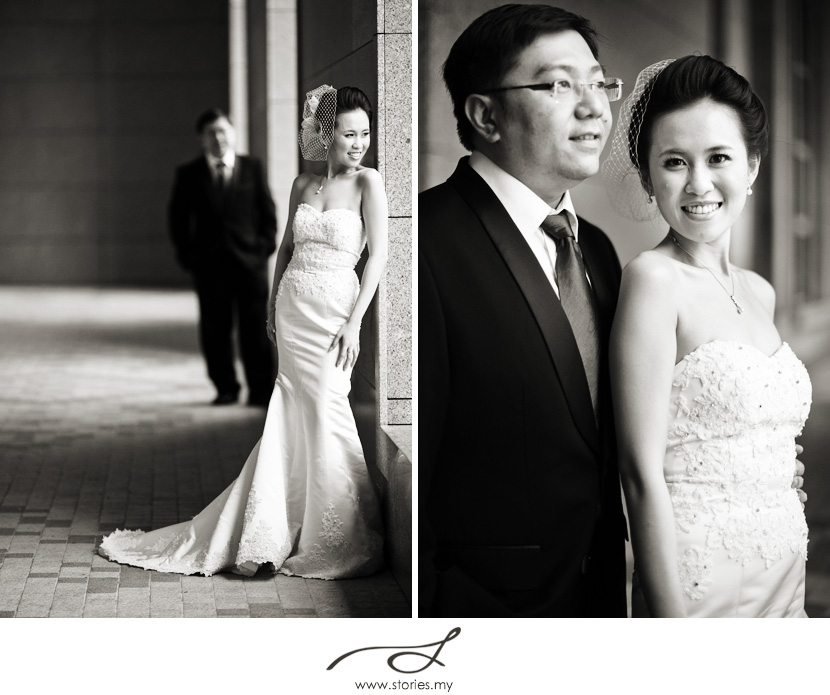 A quiet beach. A relaxing vacation. What better way to propose!
However, God had other plans in mind when Christina didn't quite enjoy the vacation. Everything seemed to be doomed from the start; the hotel service was bad, room condition was not perfect, the dinner by the sea did not materialize as there was a corporate function that weekend!
SM had to put off his plans, and then as they got stressed out with work. Some time later, SM and Christina took an impromptu trip to Perth. But little did Christina know… SM had something up his sleeves.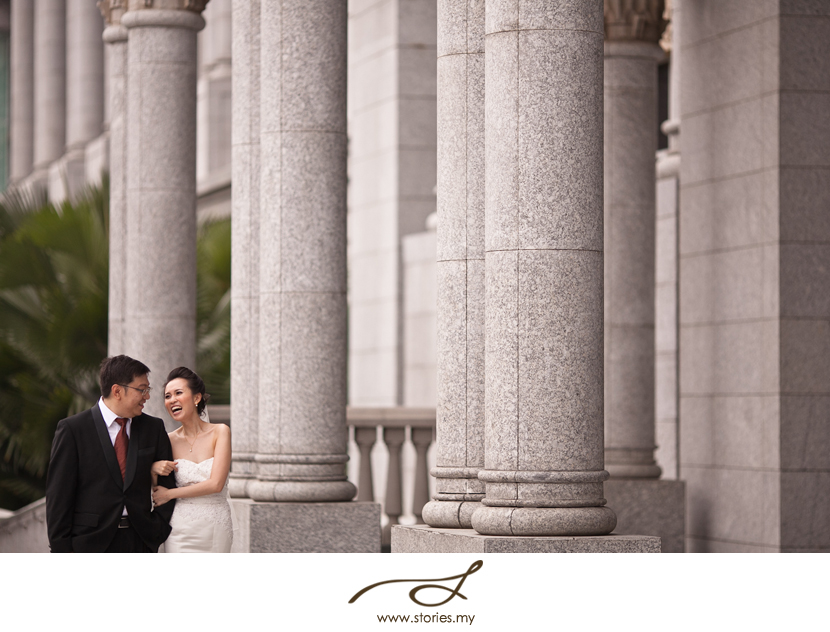 SM: Actually, I was quite worried when I was at the airport, as I had the ring stuffed inside my hand luggage and I was afraid that they would check my bag and then the cat would be out of the bag! Thank goodness, everything went as planned.
Christina: I was quite relieved to go on this vacation, and it did cross my mind whether he's going to propose but it slipped my mind when I arrived in Perth.
SM: I wanted to bring her to the Bell Tower; because bells are significant to churches, and it is also the highest point of attraction in Perth, but suddenly we changed the plan spontaneously when we arrived in King's Park and Christina was just so impressed with the breathtaking night view and she mentioned how lovely and romantic it was that I just dragged her to the observation point and got down on my knees!
Christina: Alright, I have to admit, I didn't see that coming, because it was getting cold that night, and my camera was out of battery! Ugh! Then he got down on his knees, and I looked at him, "Are we recording this moment?" (Yeah, my first reaction). He asked, I said yes, with the statement that my camera ran out of battery! It was indeed unforgettable for me!
SM: Despite the change in plan, I think it was for the better. King's Park was the perfect setting to pop the question to the Queen of my heart.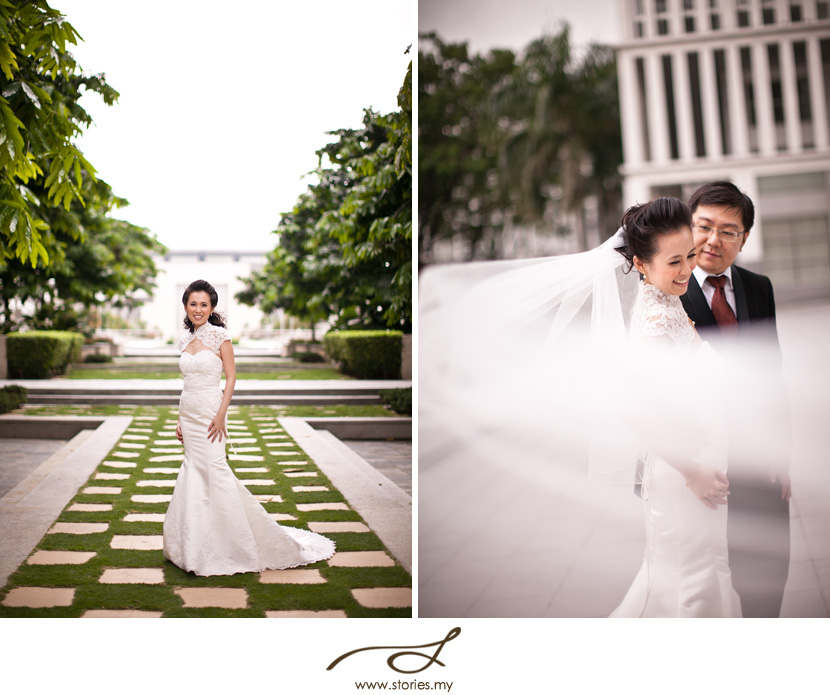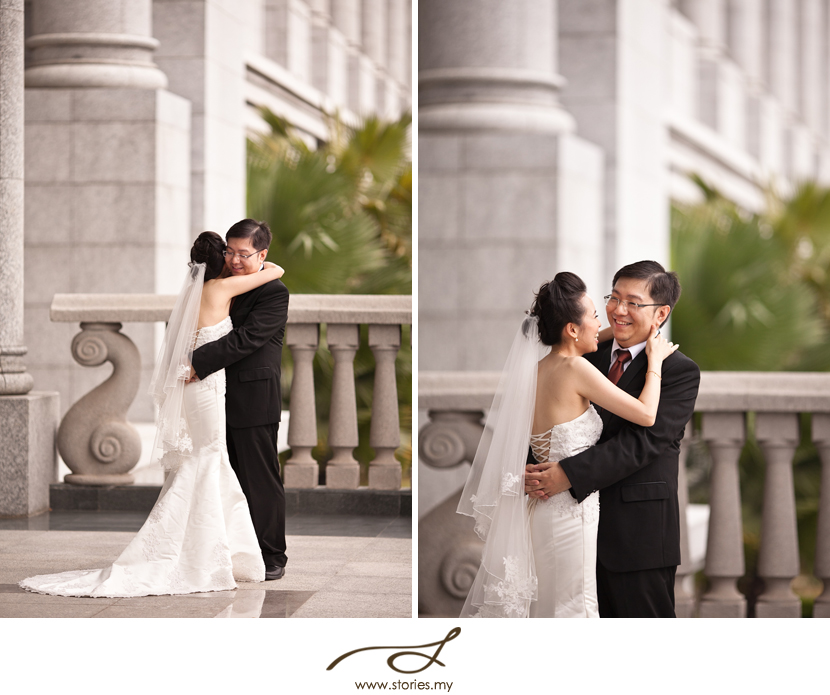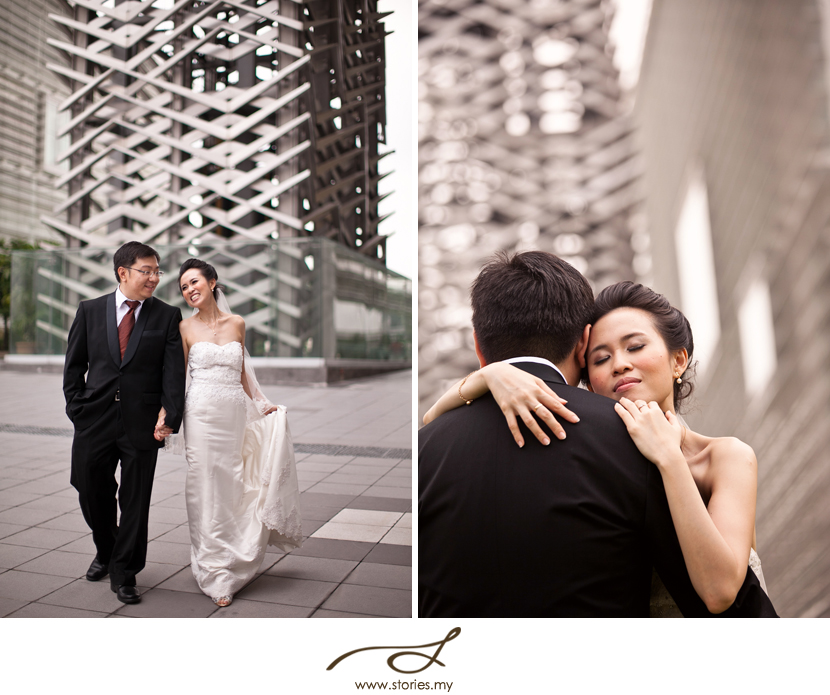 Shortly after the proposal, wedding plans were made, and Christina, being the perfectionist, drew up her plans for a simple yet memorable wedding for the both of them.
Christina: I love photography myself, and I may be no expert, but I go by my feelings and natural intuition when I look at the photos/profiles from wedding photographers. I did lots of research, and I finalized to two photographers; Stories was one of them! I contacted Grace immediately and she was just so friendly that we arranged to meet up that same weekend. It was a letdown that she was not available on one of our dates; but we arranged for her to shoot our pre-wedding.
We looked forward to our pre-wedding shoot, and Grace and her team contacted us regularly to remind us of our wedding gown selection and preparation for the shoot.
It definitely took the stress off my mind! I sent Grace an inspiration board to let her know the kind of feeling I liked for my shoot, and guess what, I was in for a surprise as Grace arrived on the day of the shoot with her car trunk full of props!!! She's just so sweet and professional, and we both loved how relaxed the whole shooting process went. We did not have to do anything out of pretense nor pull on any stunt! The whole few hours went in a breeze!
We were both stiff people when it comes to photography, but Grace assured us that it was normal and just told us to be ourselves. She definitely kept the camera rolling when we were talking and joking with each other; we caught her with her camera! The team (Diane and Weiming) were as friendly and helpful as well; and they helped Christina the whole way.
We did not feel like we were working with vendors, but rather friends that we have known for a long time.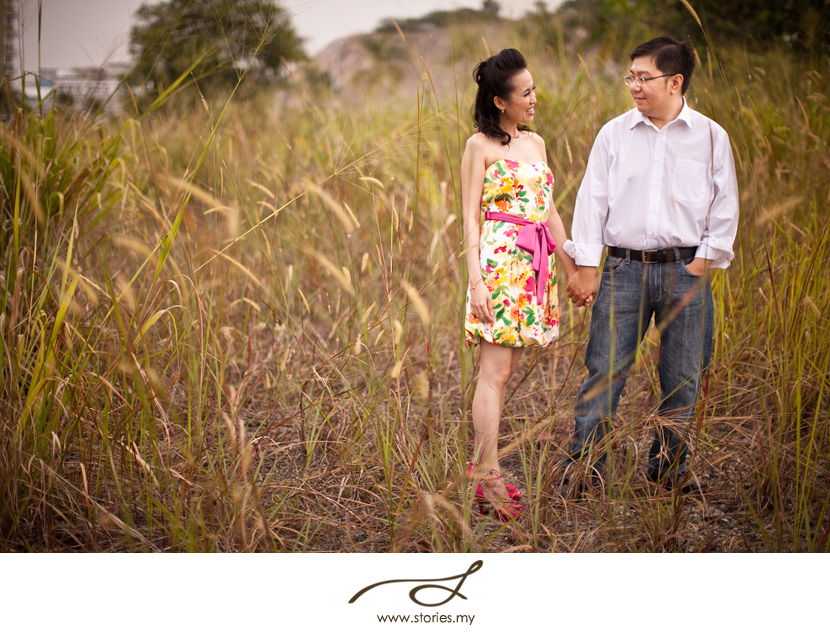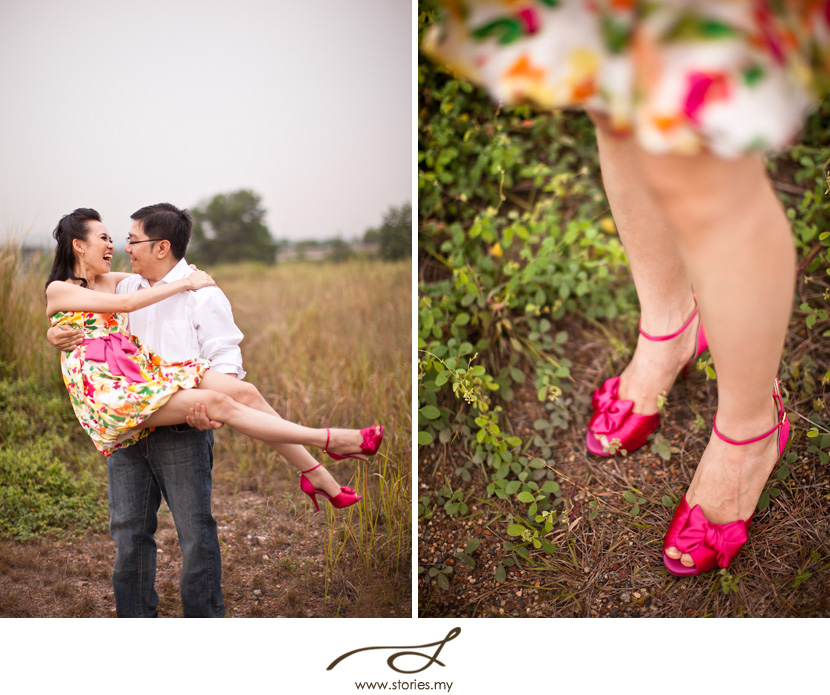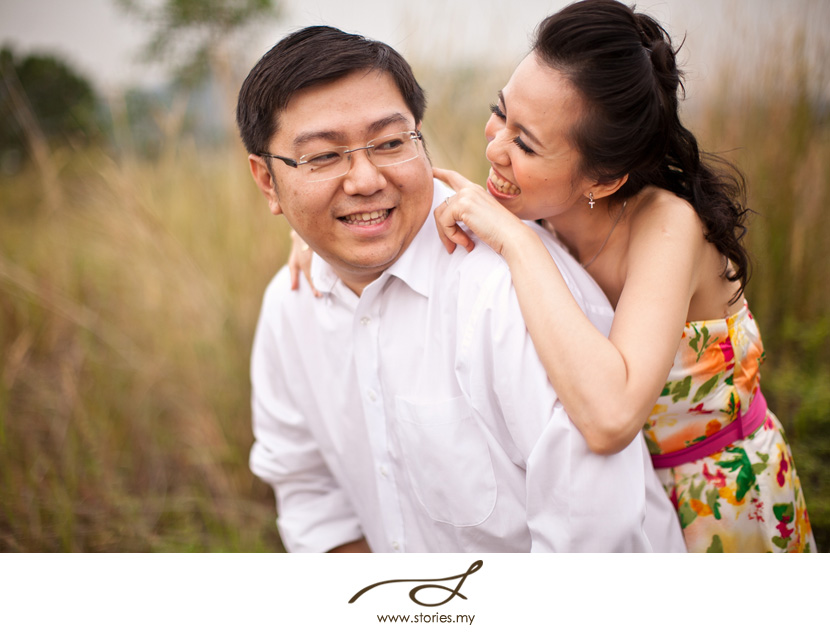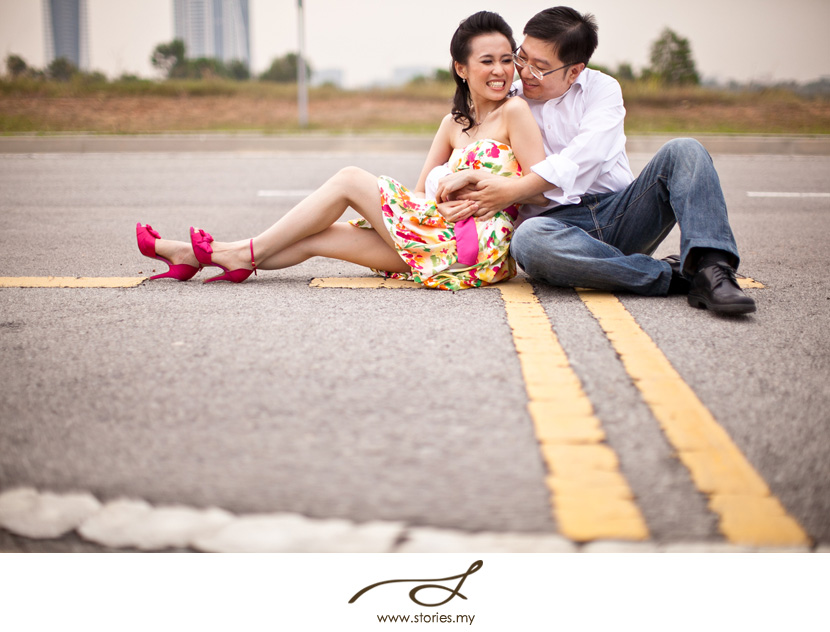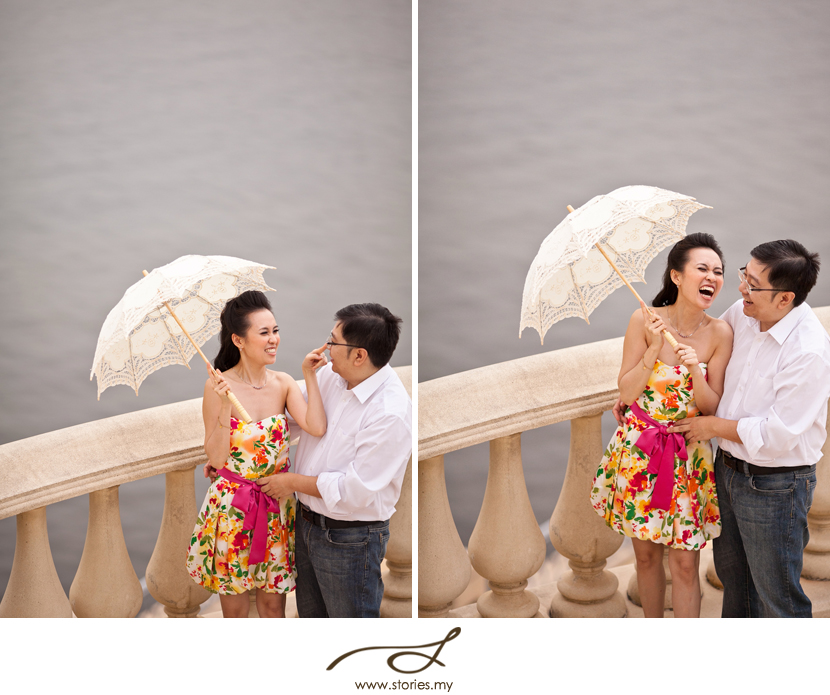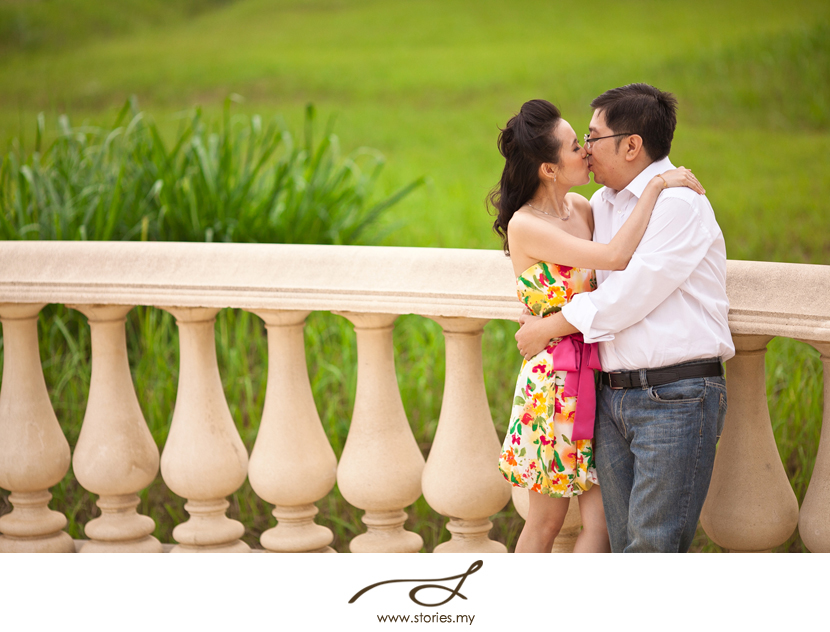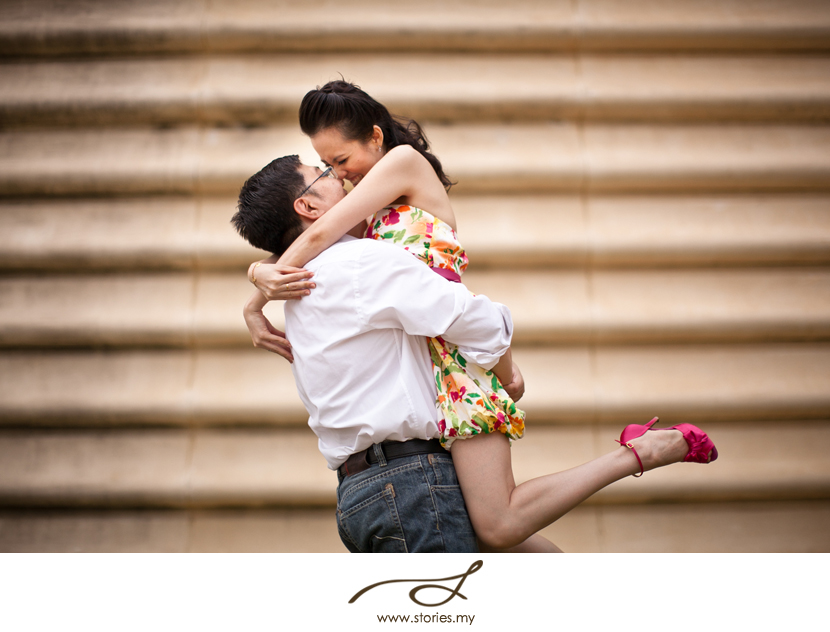 SM & Christina, I am glad you had heaps of fun at the pre-wedding shoot. Hearing your feedback definitely gives me so much encouragement in knowing that our work is appreciated. Shooting weddings and pre-weddings are physically challenging, but hearing these words add a boost to my step! And on behalf of the team, we wish you many years of wedded bliss! (Please make sure SM brings you to parks often, for long walks, dates and to remind yourself of your proposal). Hugs!