Photographers: Grace & Alex
Hair & Make Up: Grace Wang
Location: Laguna Redang Island Resort
Redang is an island paradise. It promises turquoise seas that meet deep blue skies, soft sand under your feet, and lots of friendly fishes that eat from your hand. It's also a diver's den, because there are loads of beautiful dive sites around Redang Island and Perhentian Island. I have fond memories of Redang because it was there that I did my first ever snorkeling trip – almost 8 years ago now. I was just amazed at the beauty under the sea… I couldn't help but feel in awe at God's creation! Though I came home sunburnt (my butt was more burnt actually… it was quite buoyant haha), I told myself that I must visit those islands again some day. That experience drove me to get my diving licence a few years later.
In August, I received an email from Frank who said he was going to have a beach wedding in Laguna Redang Island Resort. Though my calendar was already quite packed, I couldn't resist shooting another beach wedding. Frank & Demi are from Chengdu, China. I was a little concerned about the language barrier since my Mandarin is worse than kindergarten standards. But after a few conversations with Frank on the phone, I said yes, packed my bags, and went to Redang with Alex. When I reached there, I found out that Demi doesn't speak much English but somehow with loads of body language, a smattering of English and my kindergarten Mandarin, we managed to communicate. (actually I just said piao liang most of the time!)
During our first meeting, I asked Frank how many guests would be at the wedding. And he said, "Just the 2 of us."
I was surprised. He must have seen that look on my face for he then started to explain about how Demi had always dreamed of having a beach wedding. This wedding ceremony at Redang was just for them. Their family and friends would celebrate a month later in a grand banquet in China, attended by 700 guests.
Frank must really love Demi because he made her dream a reality.
And so to date, Frank & Demi's private wedding is the smallest wedding I've ever photographed in terms of number of people.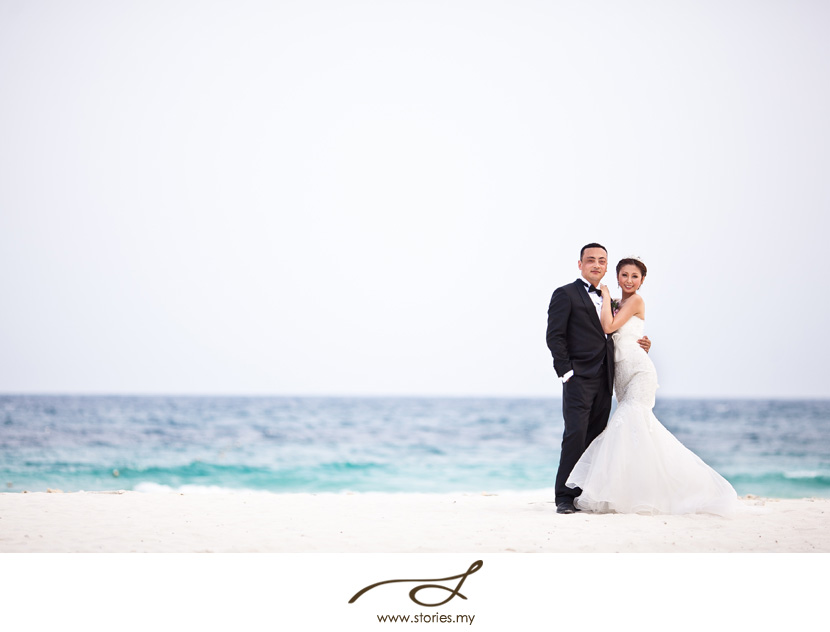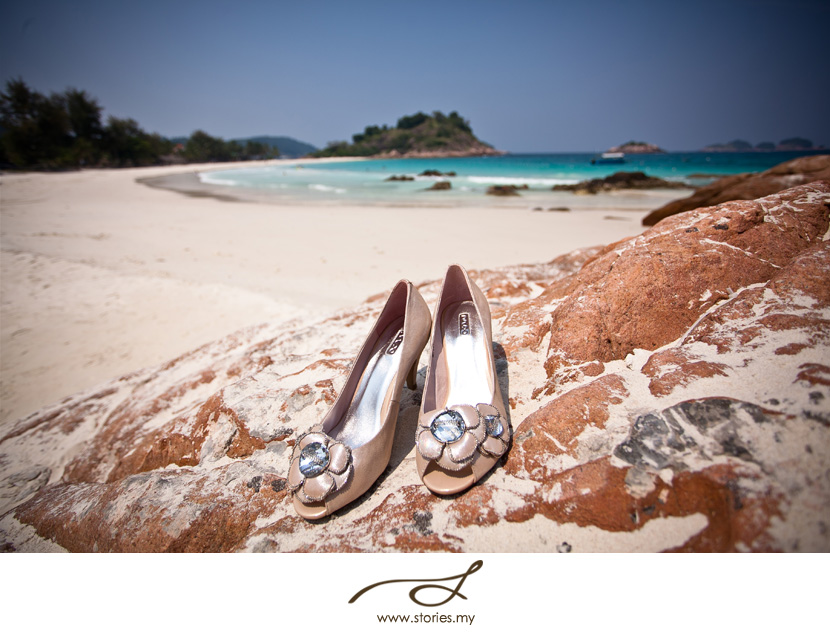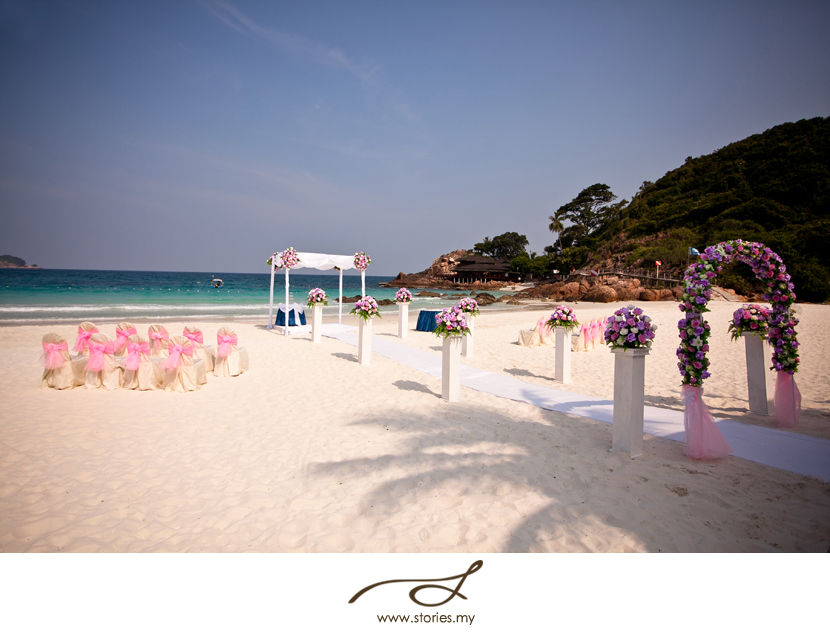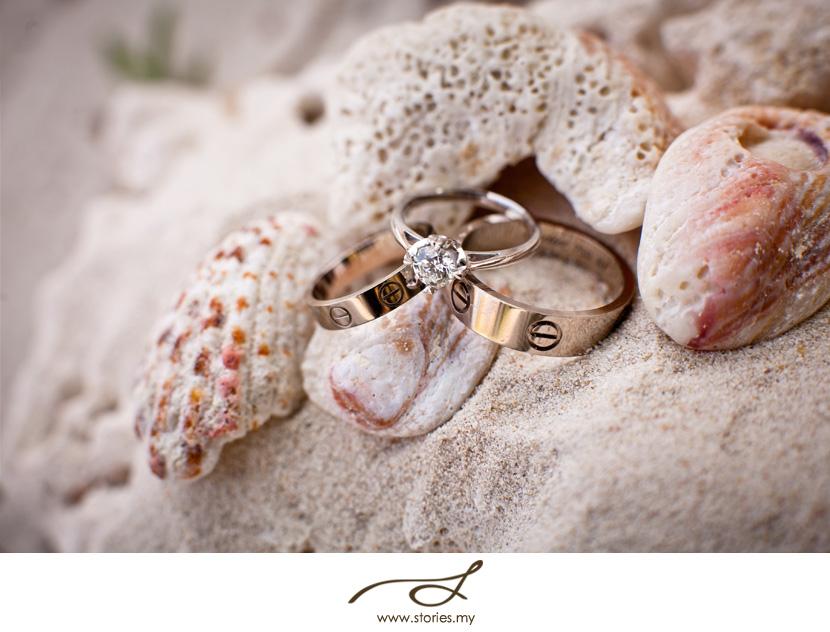 Since we had a lot of time on our hands, we decided to do some extra portraits around the resort. Demi bought this beautiful cheongsam a few days before the wedding when she touched down in KL! She looks stunning… thanks to the wonderful make up by Grace Wang.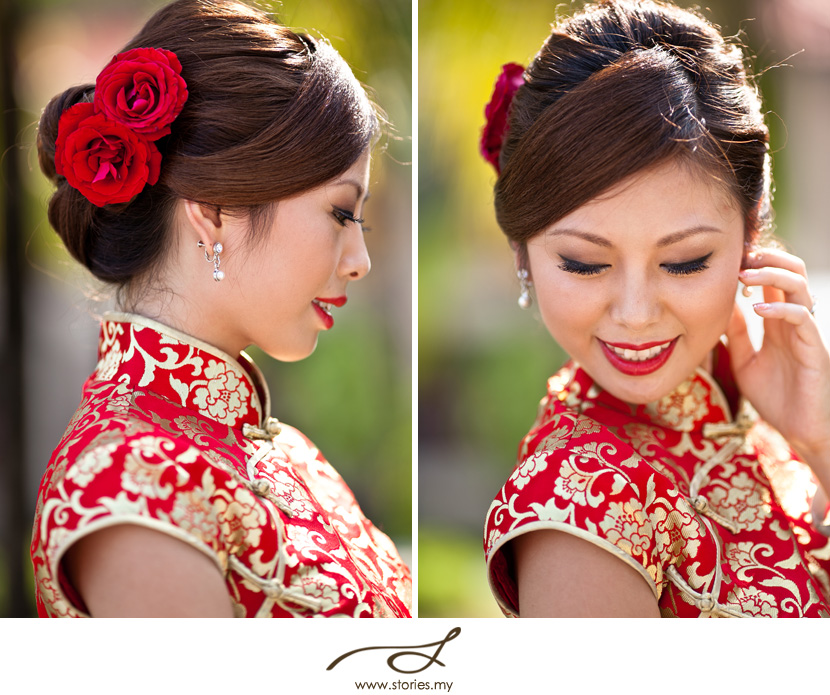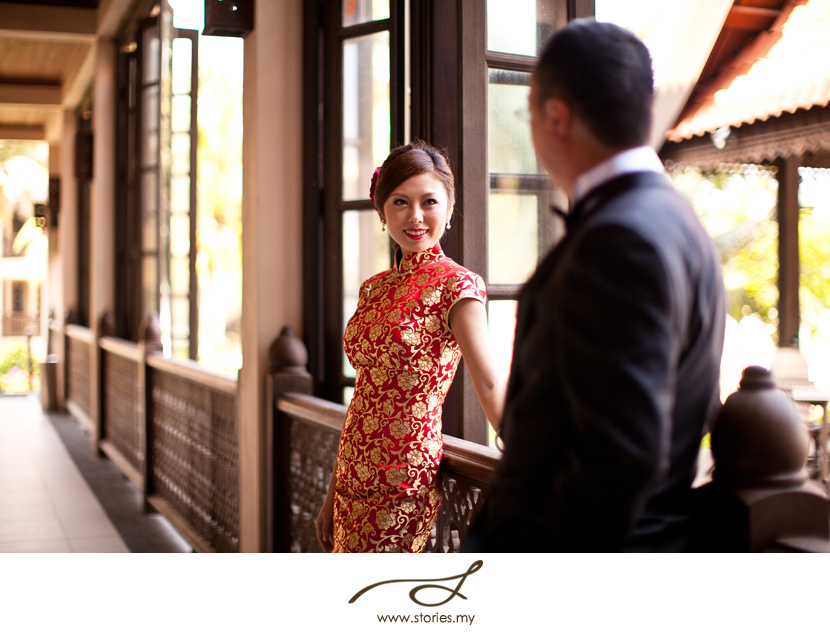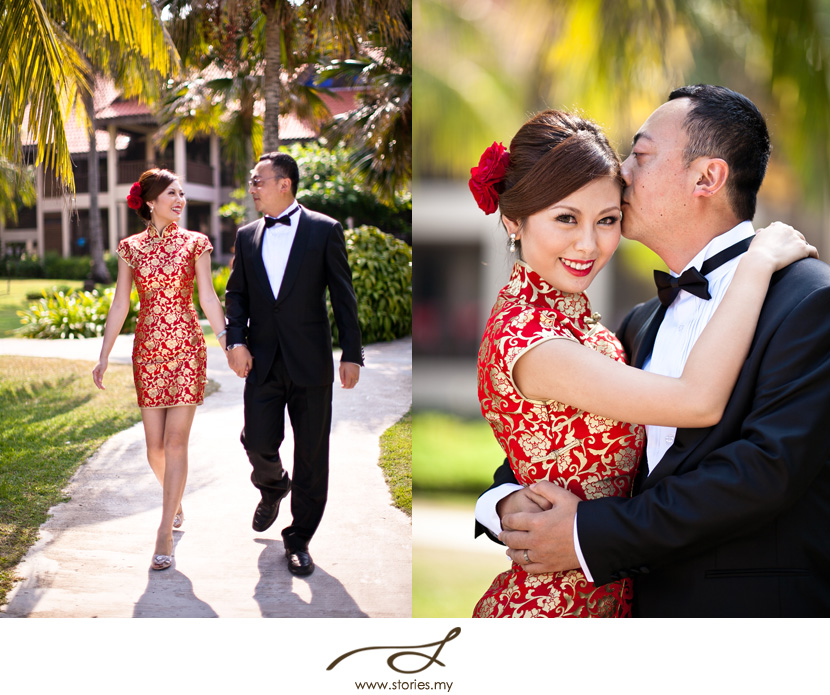 Frank works in the airline industry in China, whereas Demi is in Public Relations. They met through their godparents – basically they share the same set of godparents who introduced Frank to Demi!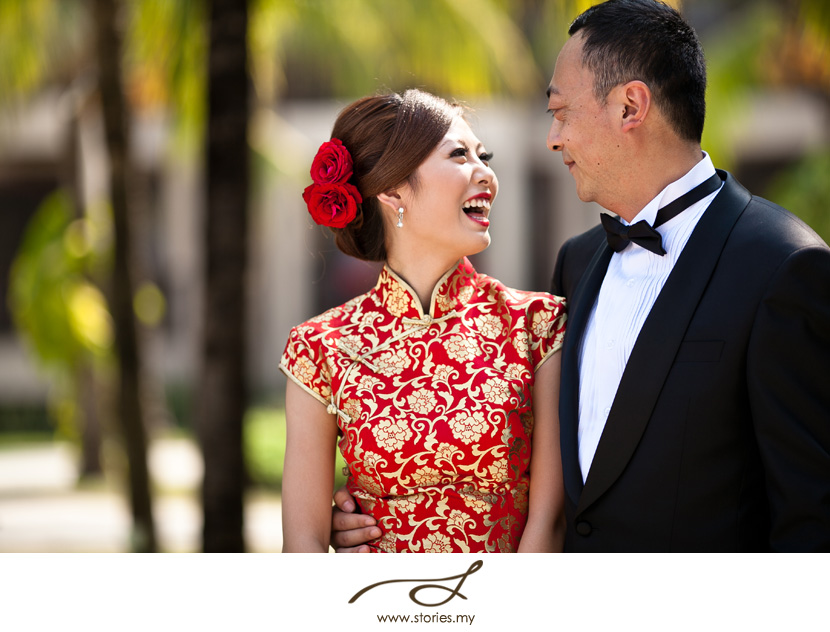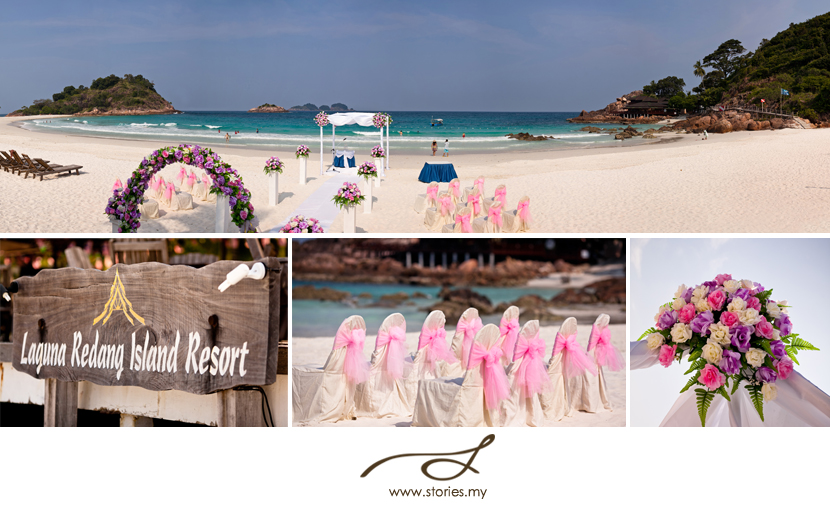 At 4pm, the decorations went up. After shooting some portraits with the cheongsam, Demi changed into her wedding gown, brought all the way from China.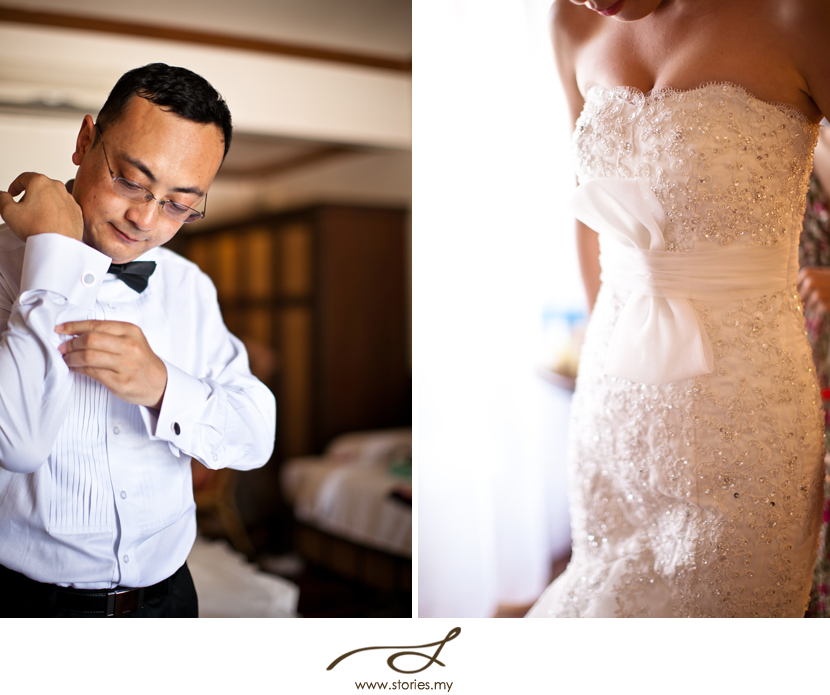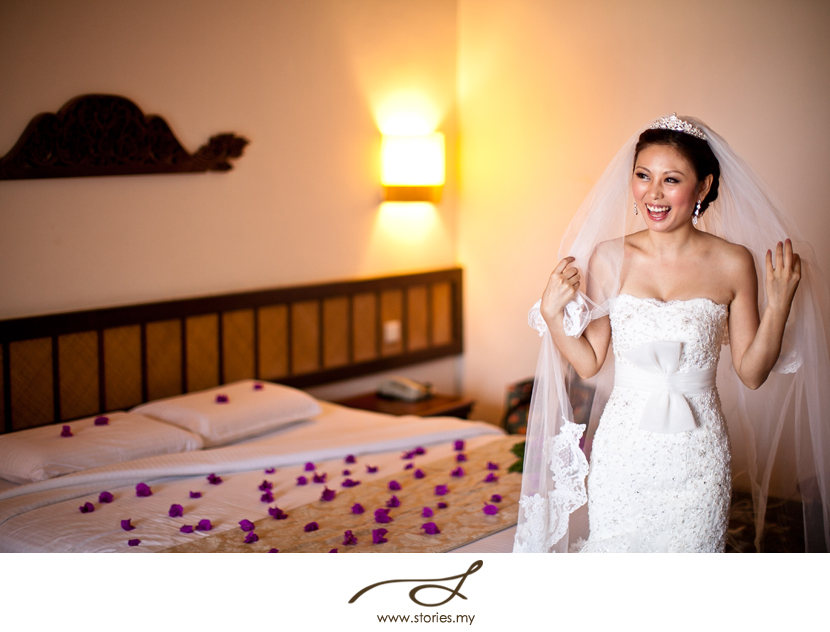 At 6pm, Frank and Demi walked down the aisle. A celebrant from the resort (who interestingly is the deejay at night!) conducted the simple ceremony.
Since they didn't bring any guests from China, Frank and Demi told the hotel organizers to invite anyone they wanted to the wedding. They wanted guests of the resort to celebrate the event with them – even though none of them knew the bride & groom!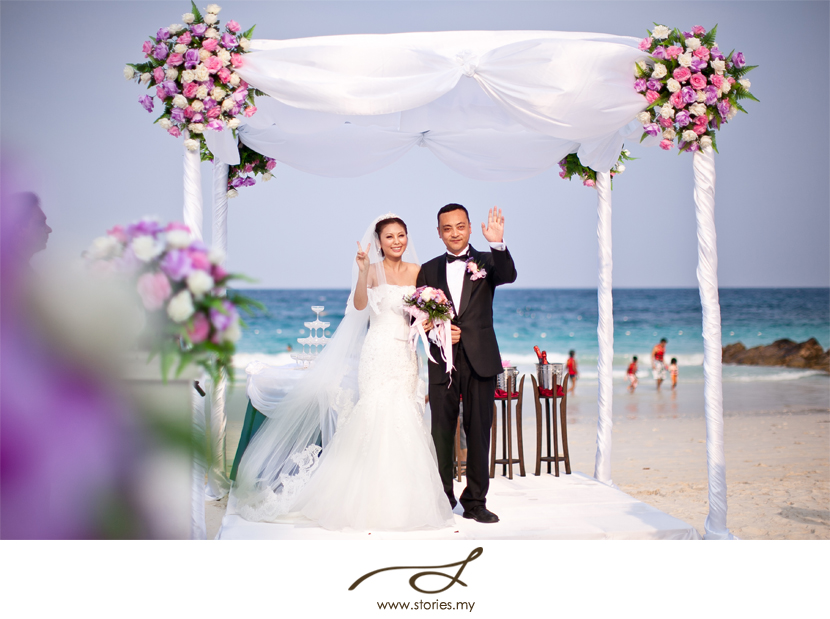 They were waving to this huge crowd that gathered to witness the ceremony! Actually, it was rather challenging for me to photograph this wedding as so many people were walking around the ceremony area!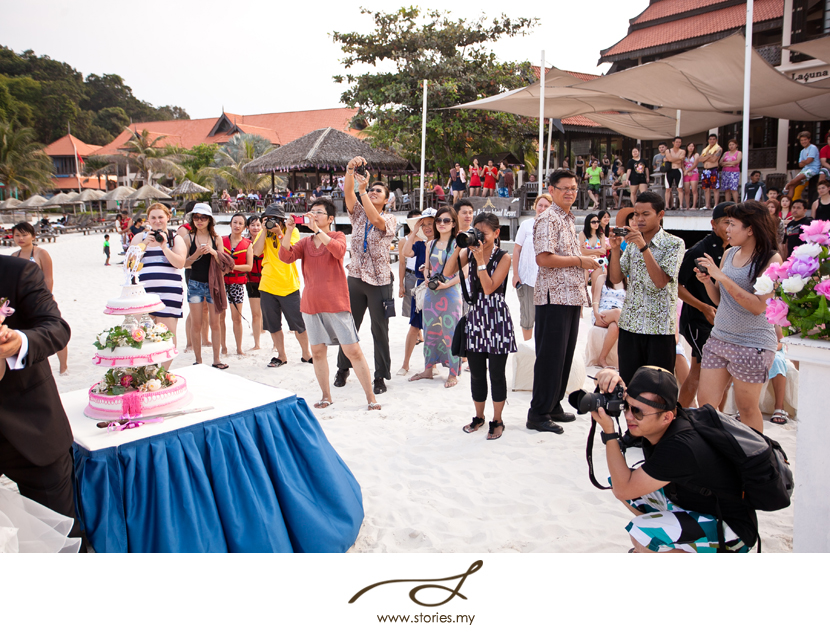 I did my best to crop the people out of the photos. :) Haha…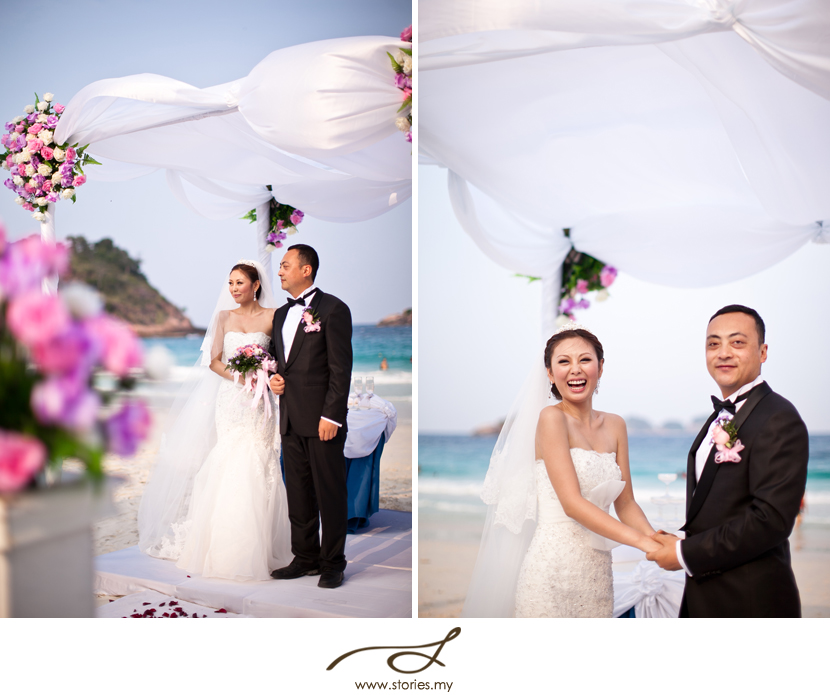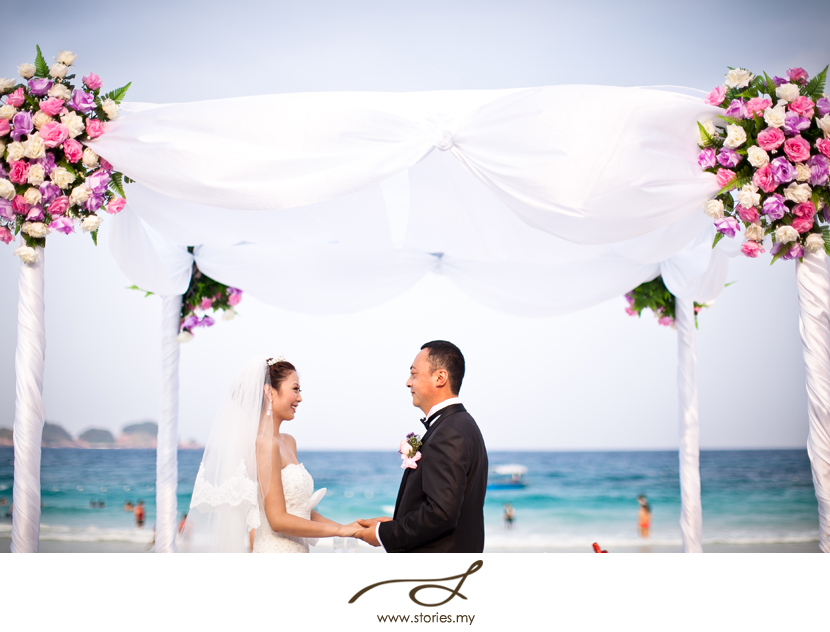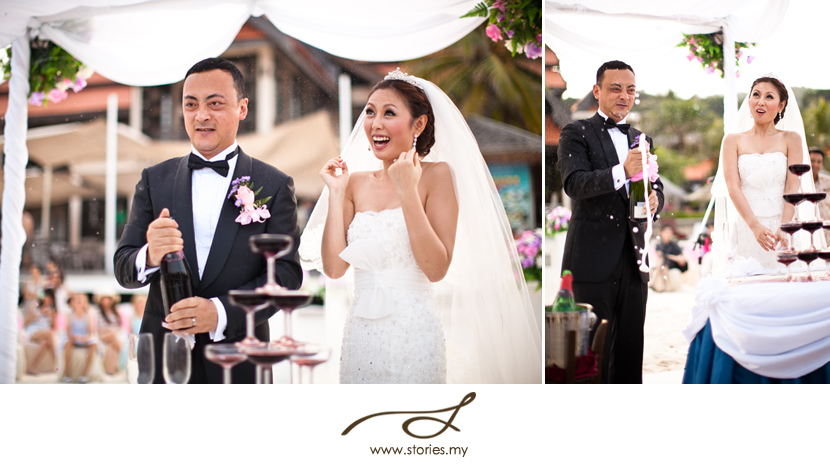 Another shot of the crowd who wanted to photograph the bride & groom too.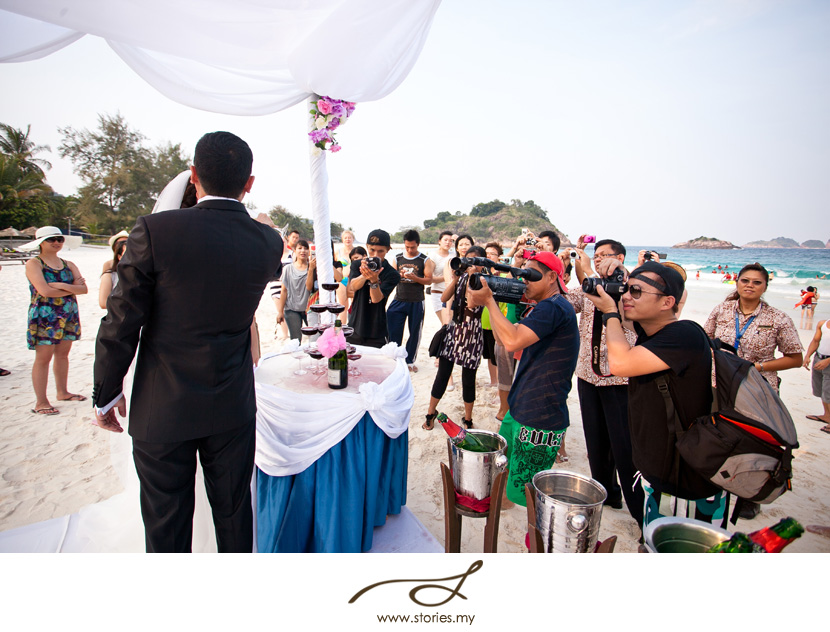 Group photo with the guests – us! :) Left to right… Kenny & Grace (make up artist & husband) and then me! Alex could not be in the photo cause he was the one shooting it.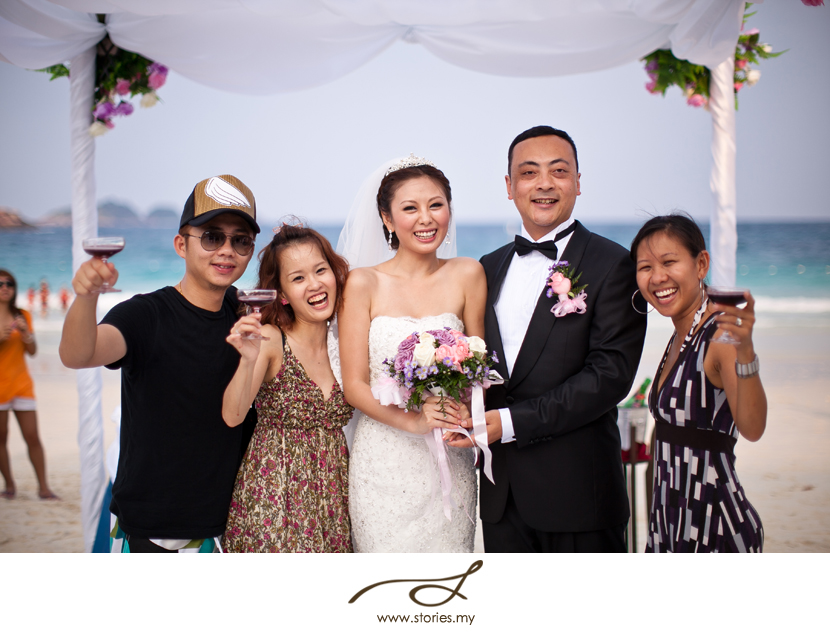 After the ceremony, we continued with some more portraits on the beach. Love the veil…helped that it was windy too!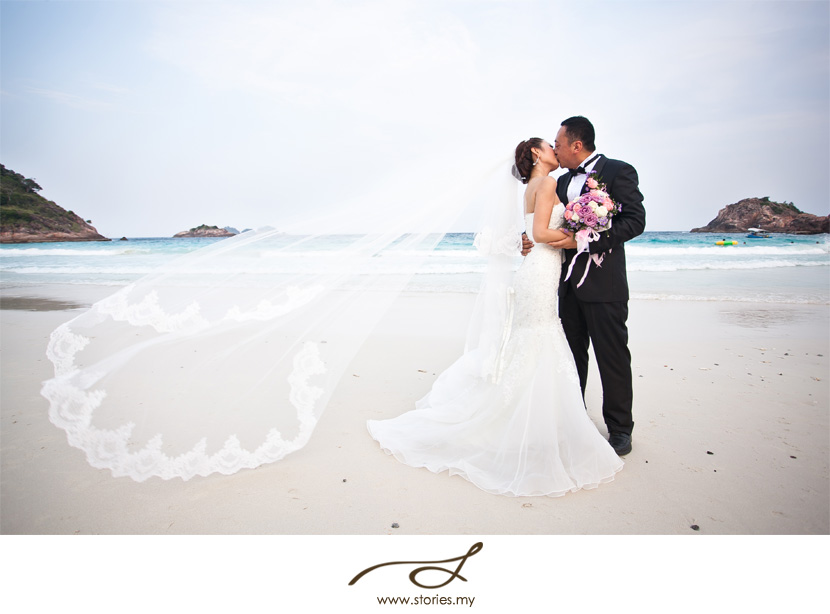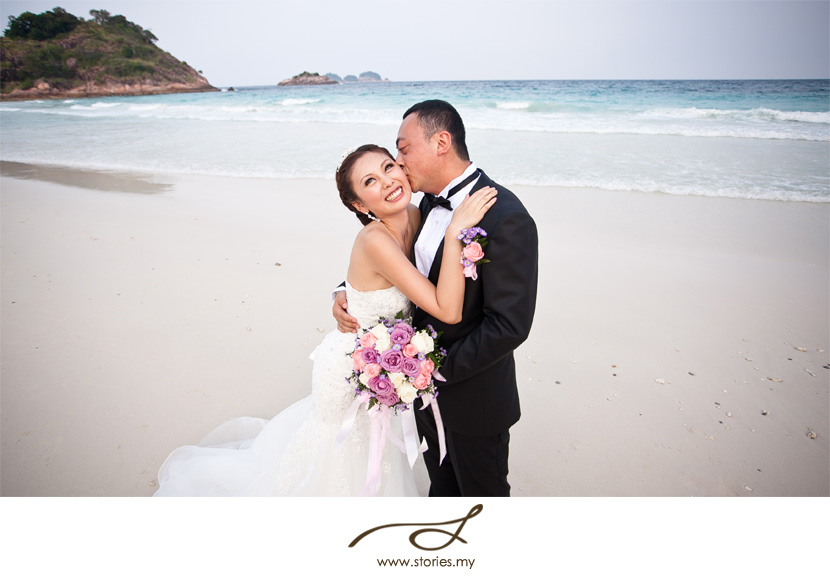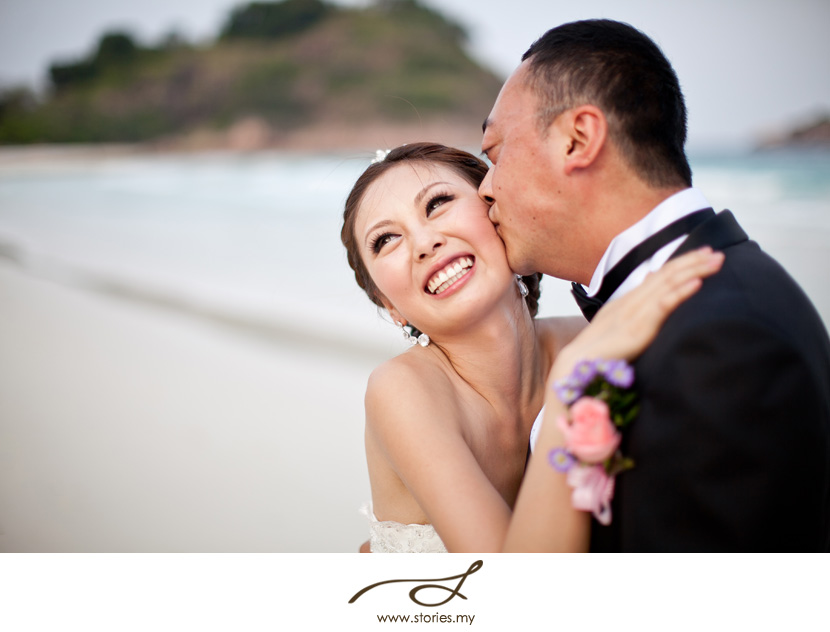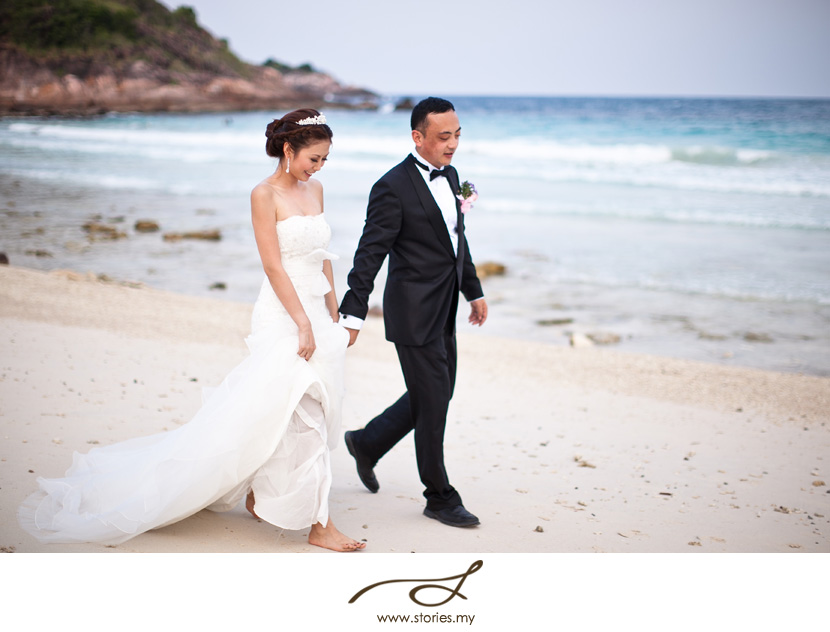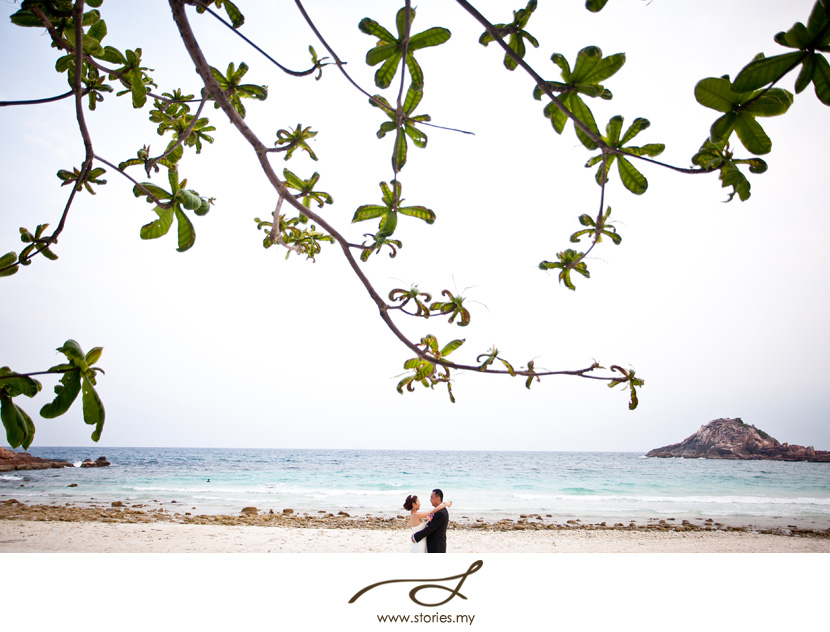 Some of you may know the movie More More Tea, a HK movie shot in 2000 on Redang Island. A replica inn was built at the resort to remember the film that was shot there. This heart shaped floating flower was also used in the film. I had never heard of the film before but thank God the resort screened the show on TV, so I saw a few scenes from the movie. Demi wanted a shot there, so we did it!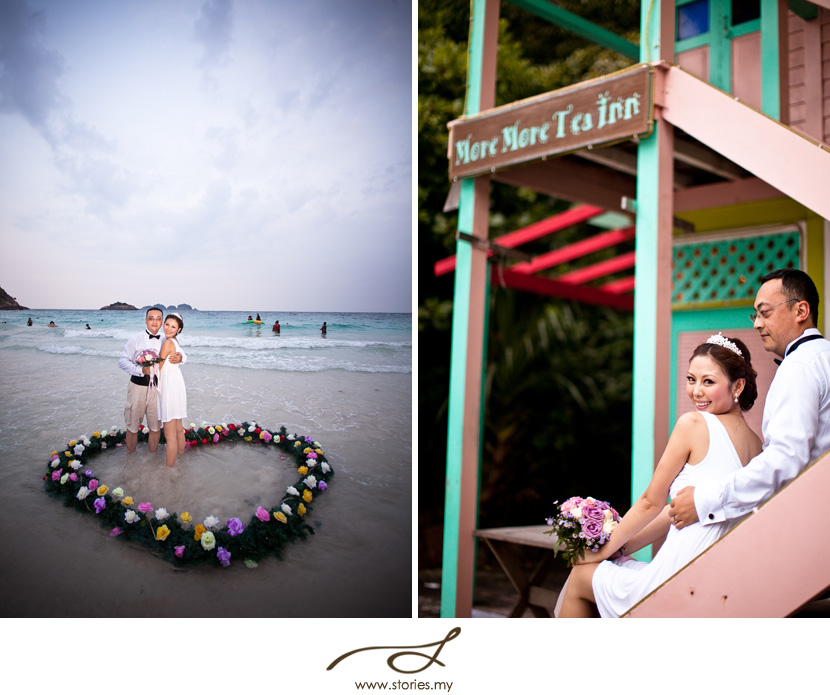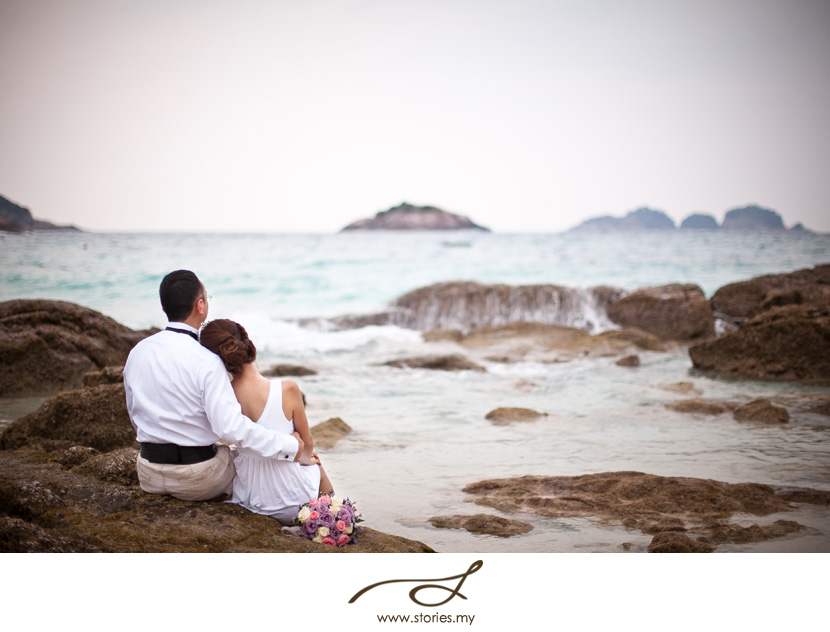 Sunset. The ceremony location was transformed into an intimate dinner setting for two.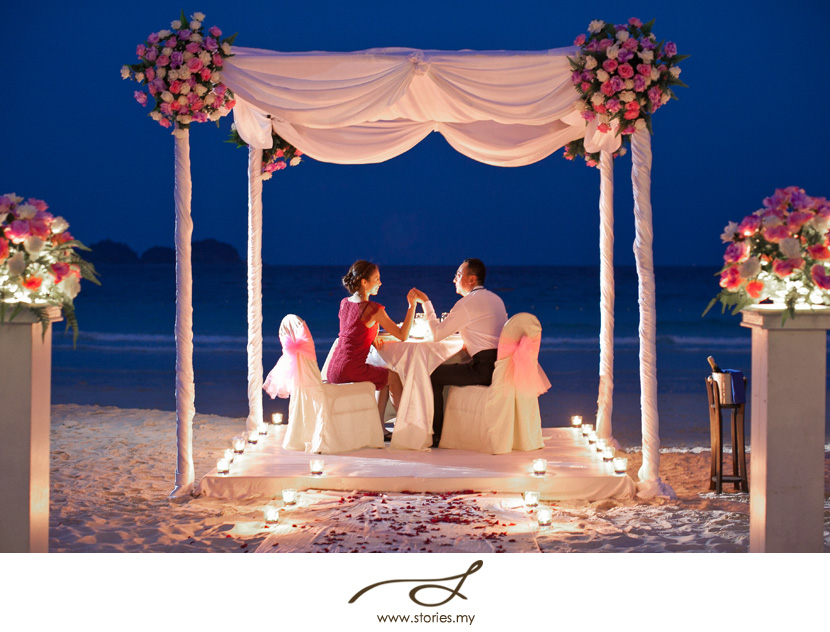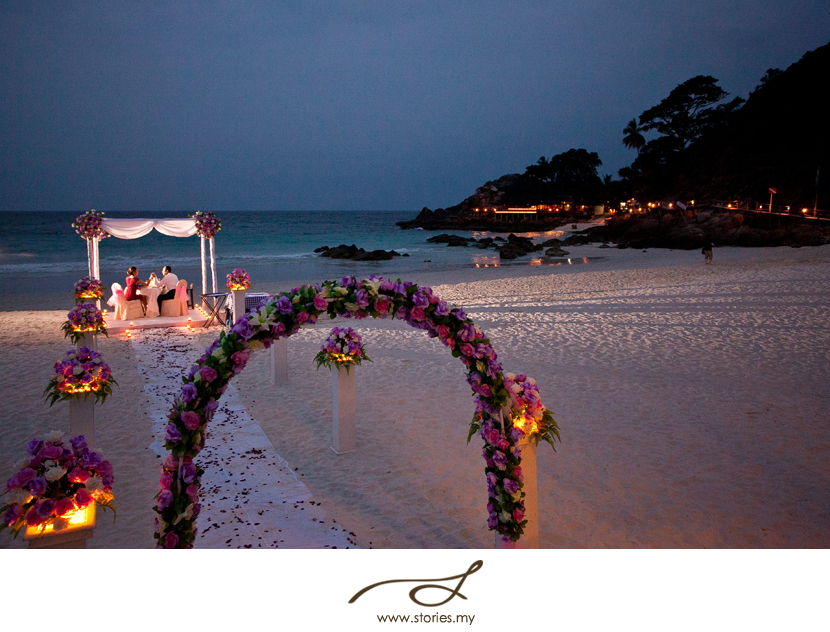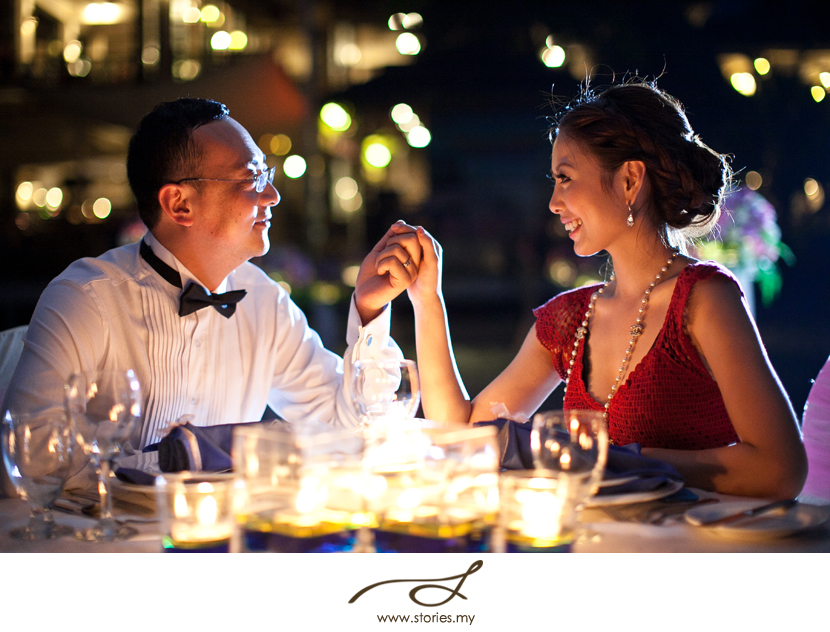 After a few photos, we left Frank and Demi to enjoy their private dinner together without the presence of other people. Frank and Demi, even though our trip was short and we came from completely different backgrounds, I felt that our souls connected those 2 days. I wish the both of you many years of wedded bliss. Hopefully you can come back again to Redang island and perhaps we can do a 10 year anniversary shoot!