Photographers: Grace & Mark
Wedding Gown: Divine Couture
Groom's Attire: Granoff
Shoes: Stefano & Mario limited, Christian Louboutin
Make Up: Wedding Isle
Decorations: DIY
Stationery: Yong Foo Anne
Cake: Just Heavenly
Flowers: Weng Hoa Florist
Videography: Keng's Cinematography
Wedding Planner: The Peak Xperience
Dinner Entertainment: Allan G. Trio
Dinner Reception: Ciao Ristorante, KL
What a totally memorable wedding this was for us and for Alvin & Melissa. It was at this wedding that I am reminded, at the end of the day, what matters is the marriage, not the wedding event itself. It is at weddings like these where I confirm my conviction… that being a photographer is one of the best jobs one could have. Capturing love between two individuals, helping them remember the day, how they felt… it makes me truly happy. I am overjoyed.
You see, this wedding day started very differently than most other weddings I have shot.
It started with Alvin being sick, and landing at the hospital…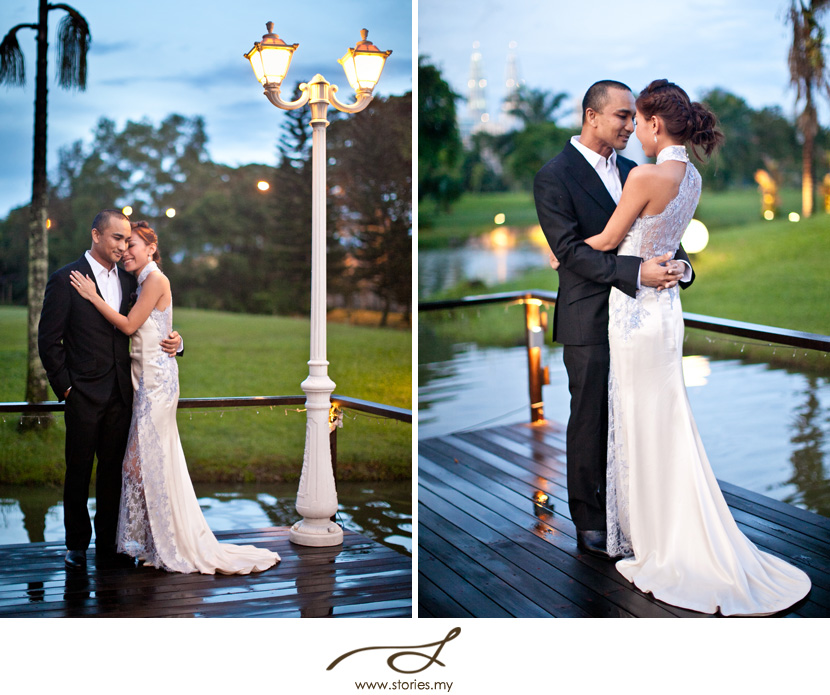 But the good thing for them is that the day ended very differently…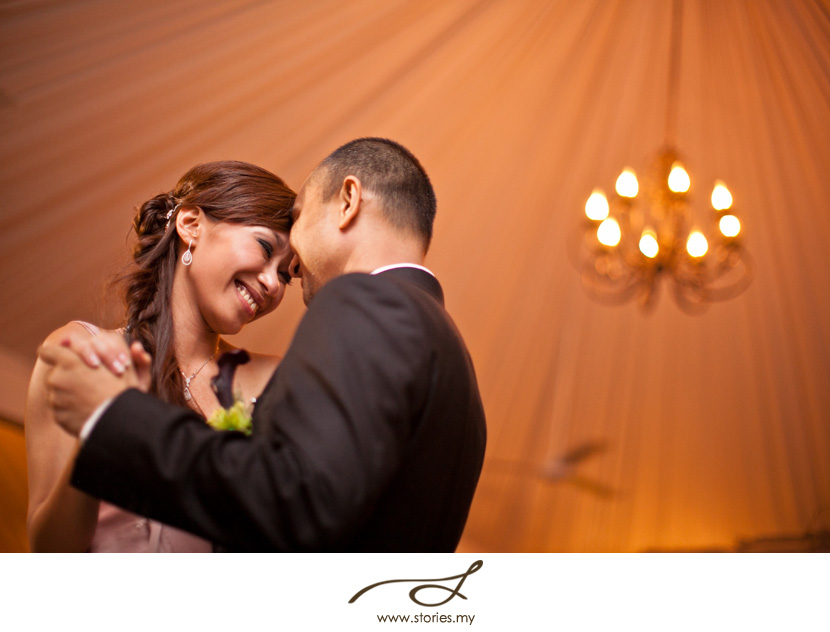 If you have seen Alvin & Melissa's pre-wedding photos, you'll know that they are a totally fun loving couple. From the time of our shoot, we had a special kind of bond. :)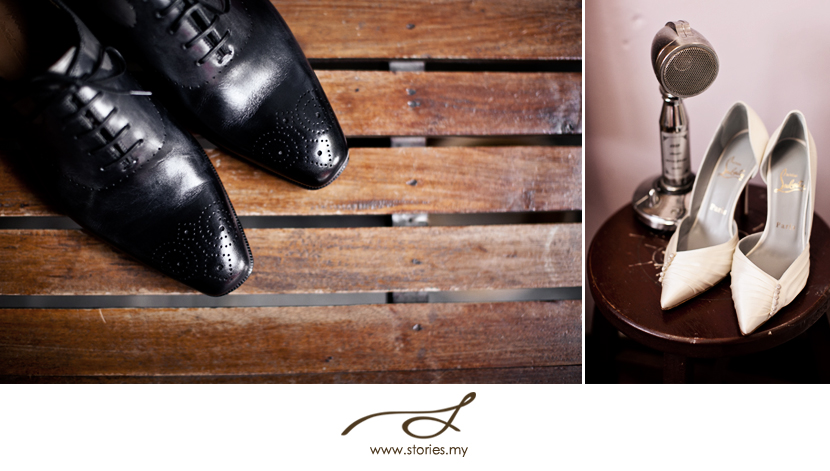 You'll also know that Melissa has a great eye for detail and beauty.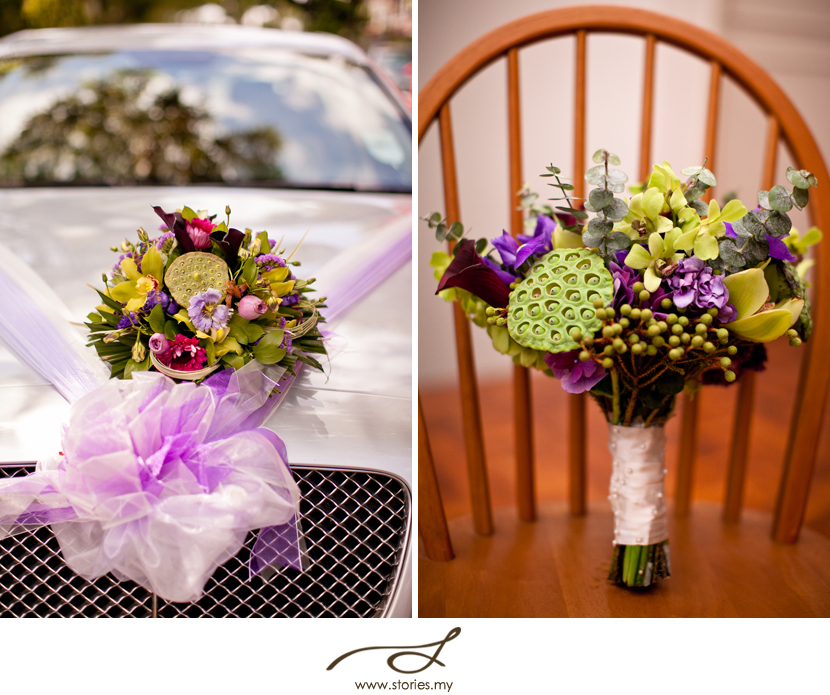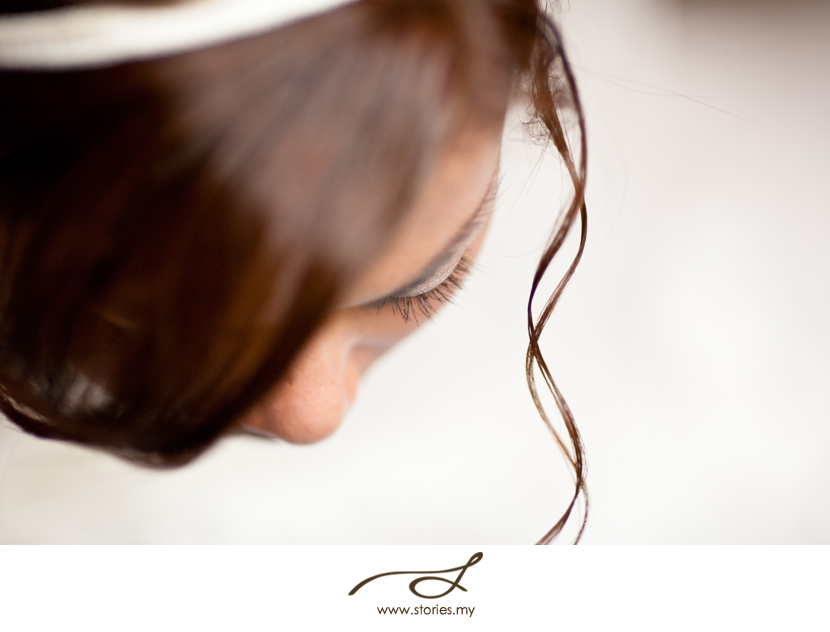 Melissa had planned the wedding months in advance… everything was meant to be perfect…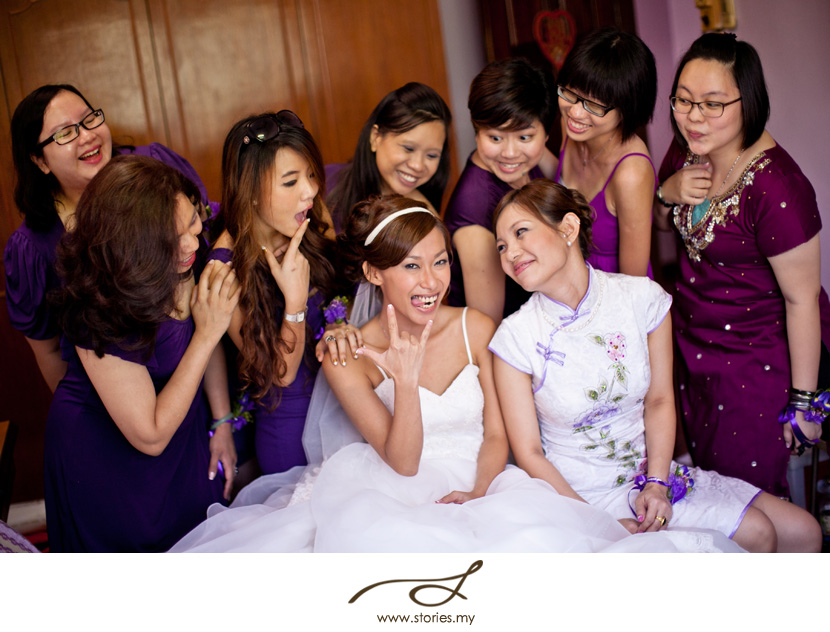 But on the morning of the wedding, Alvin fell ill. A really worried Melissa insisted he that he go to the hospital to get a jab, even though that would mean everything would be delayed. Alvin had awesome guy friends who supported him all the way, and accompanied him there.
So did Mark, who took a few photos at the hospital.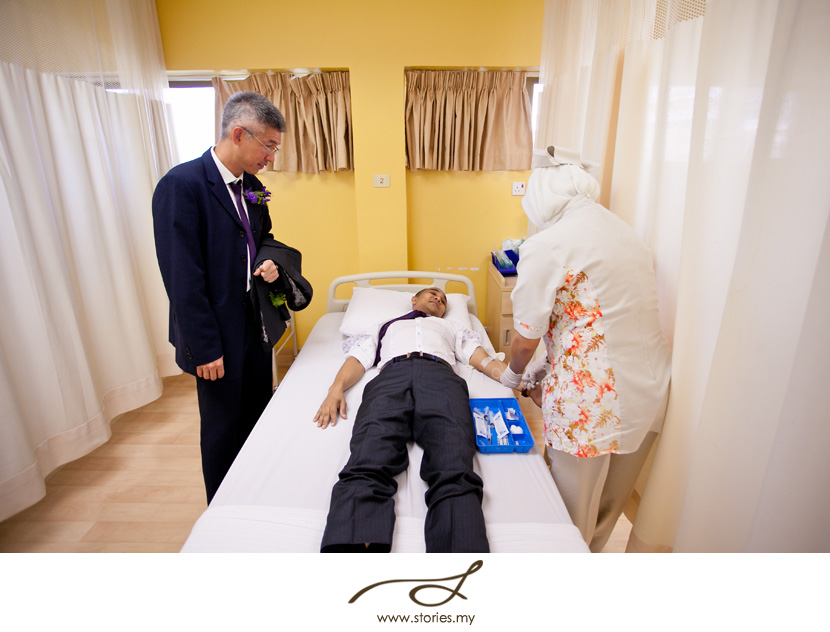 Eventually, Alvin made it through… and finally reached Melissa's home. Good thing he only had to sit down, while the rest of the guys went through the whole 'torturing' process…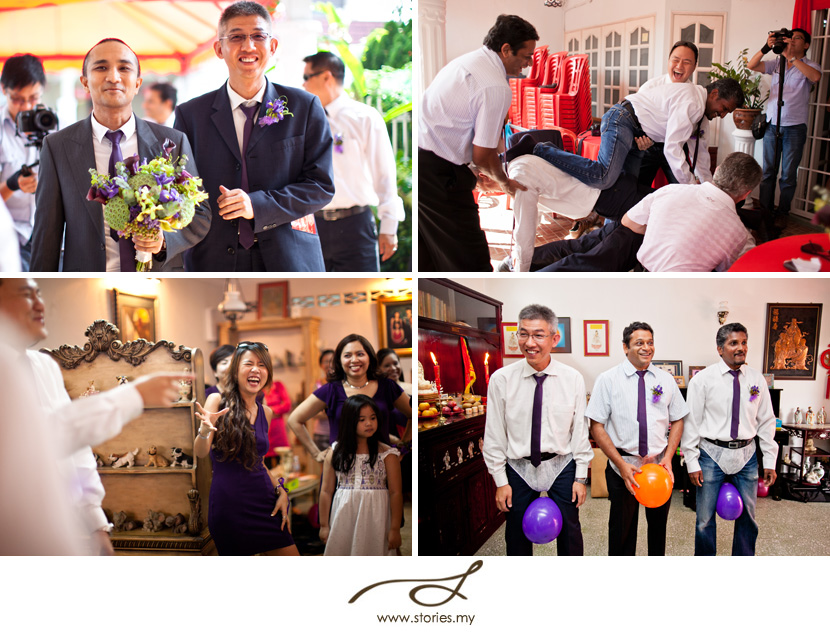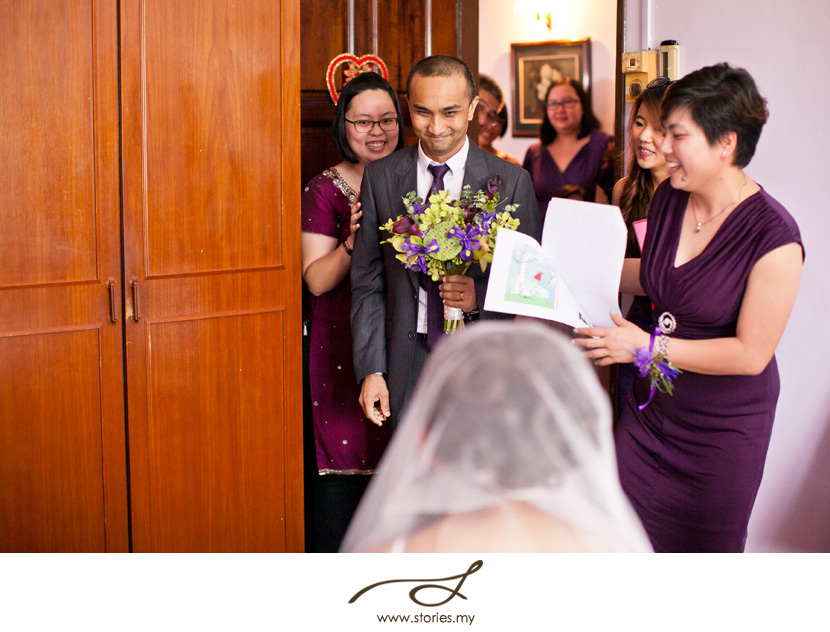 The words Alvin read to Melissa totally sums the mood of the day.
Today's the day my life begins.
All my life I've been just me.
Today I become a man.
Today I become a husband.
Today I become accountable to someone other than myself.
Today I become accountable to you.
To our future.
To all the possibilities that a marriage has to offer.
Together, no matter what happens, I'll be ready.
For anything. For everything.
To take on life, to take on love.
To take on possibility and responsibility.
Today, Melissa Chew, our life together begins.
And I for one can't wait.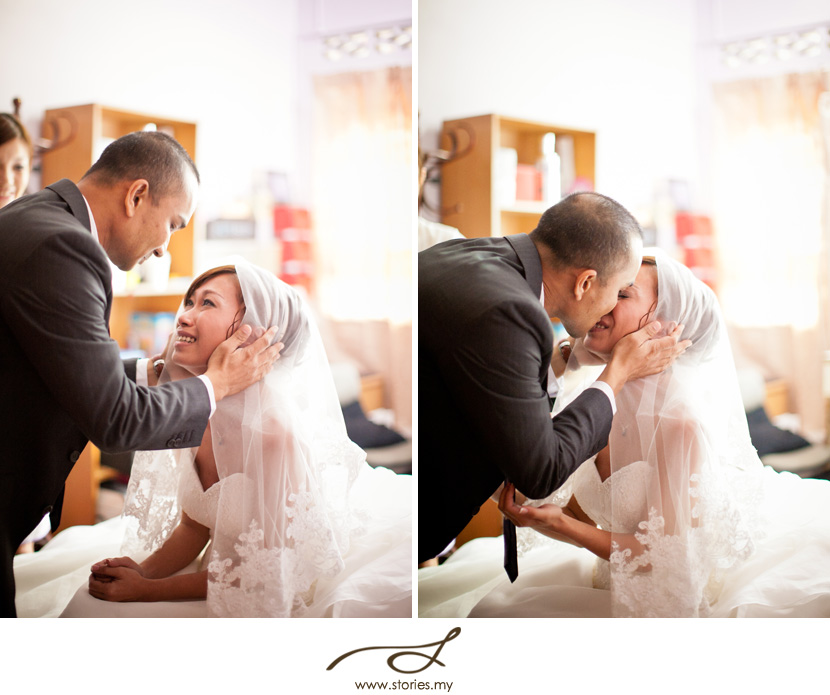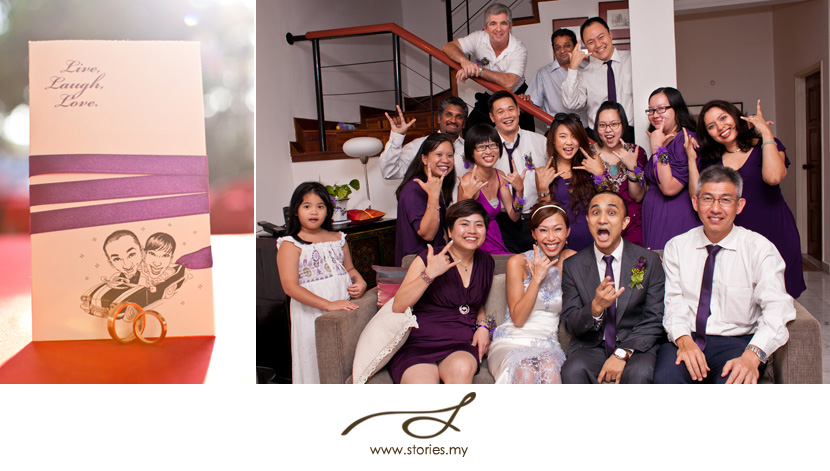 In some amusing way, this hospital theme runs through their relationship…
Mel's Story:
We met at a friend's birthday pool party. I came late and Alvin was half naked and in yellow board shorts. I thought he was gay! And we asked the same girl to introduce us at separate time during the party. I was taken aback by his persistent and forwardness because I wasn't ready. And it didn't help that all our friends where pushing and playing match-makers. When our friends left for a vacation, that's when magic really happened. We went out on our first date and our second date the very next day less than 12 hours after!

Just after a week of starting a relationship, I had to fly to Manila for work and ended up in the hospital for a liver infection! My first time being admitted to a hospital and I was far from home and comfort. Alvin flew over just to be at my side! And they say… the rest is history. When he proposed, he didn't even have a ring but I said yes anyway
Alvin's Story:
When we 1st met, I had my eye on the new gal that came late n asked to be introduce. We had our 1st date at mezze and the next day again. That's 2 days in a row. Mel gave me a Fuji instant camera on our 2nd date n that was a shock to me. Hmmmm…..not bad! Brownie points indeed. As Mel mentioned, I flew to Manila to be with her when she was admitted. I wasn't sure at first but when I got in and saw her, I knew she was the one. (even though she had "chankles"). The rest is history as they say but she really did swept my heart with her smile even from the first day we met. I can still remember that day at the pool party.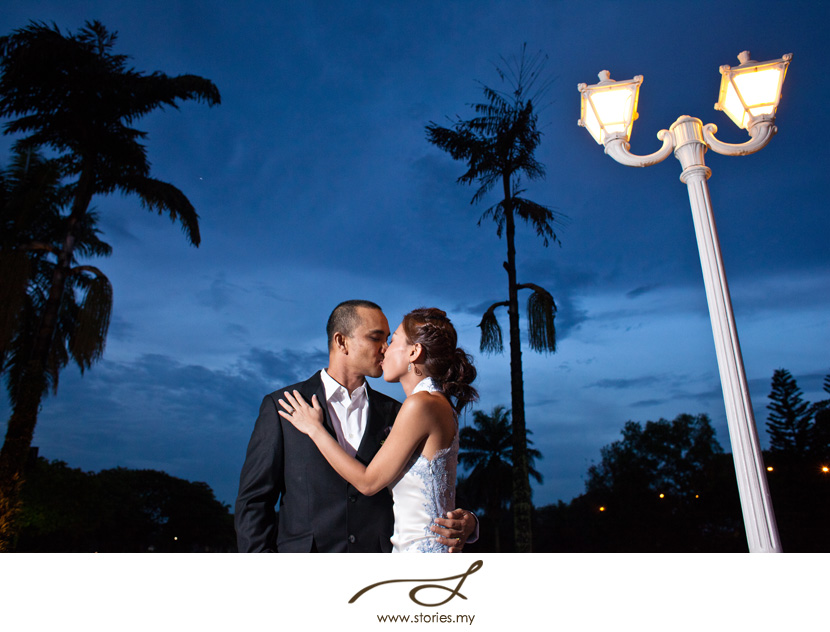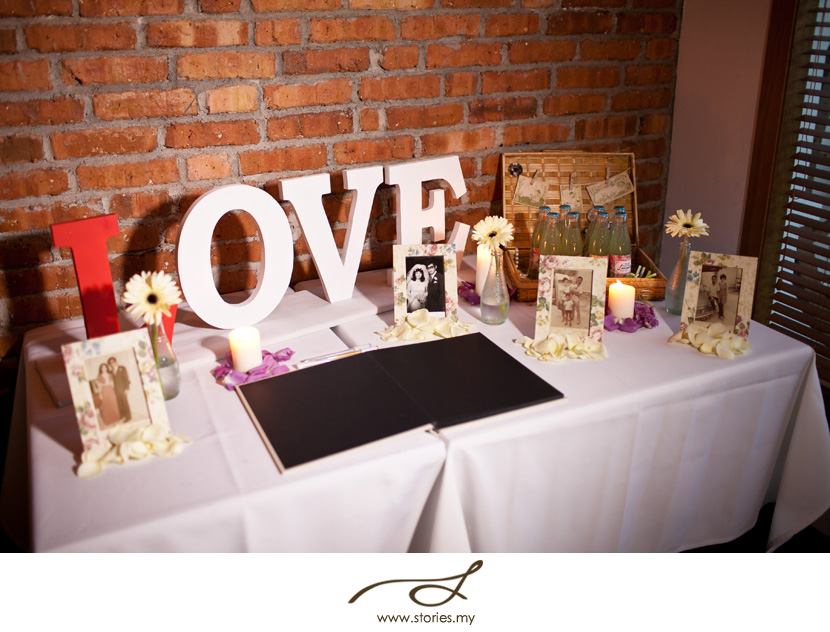 I love it when couples include personal items into their decoration list.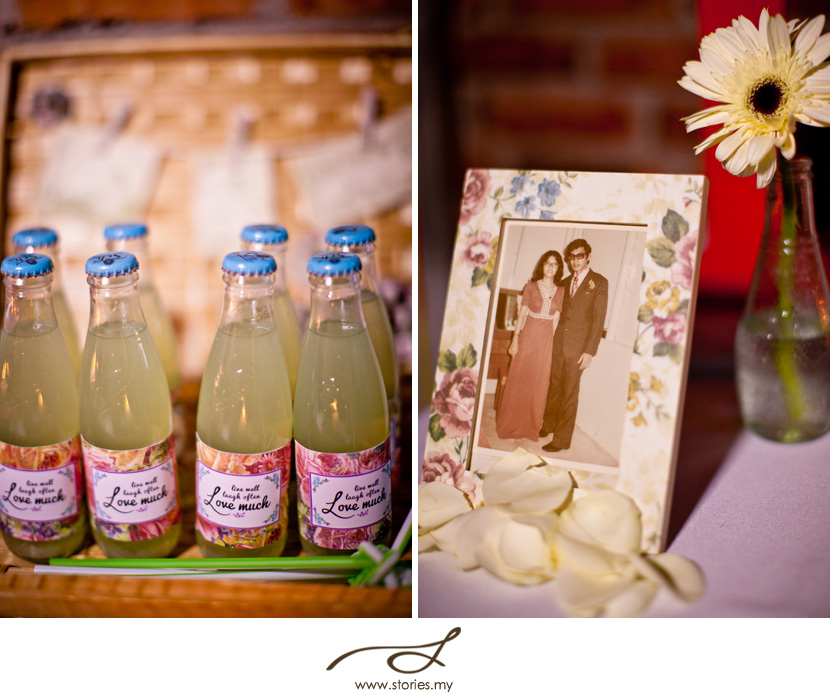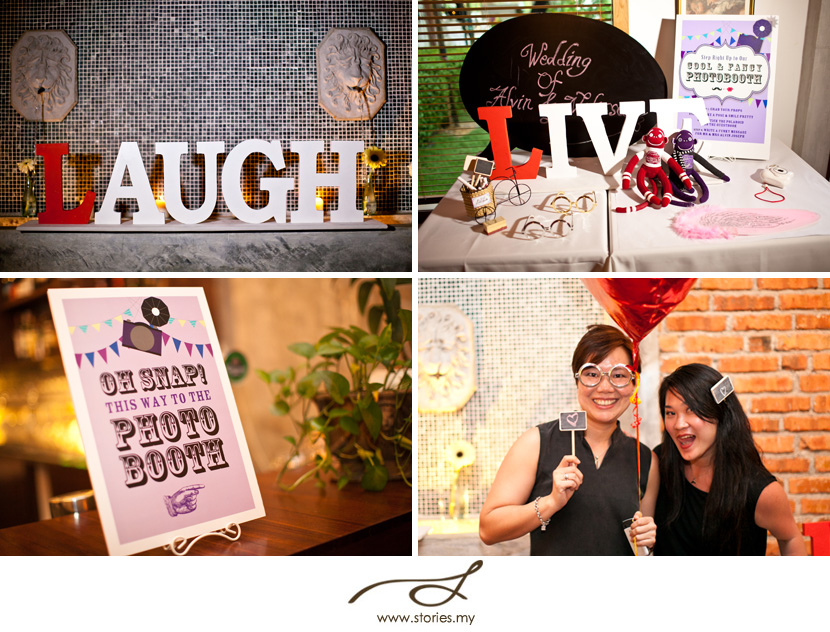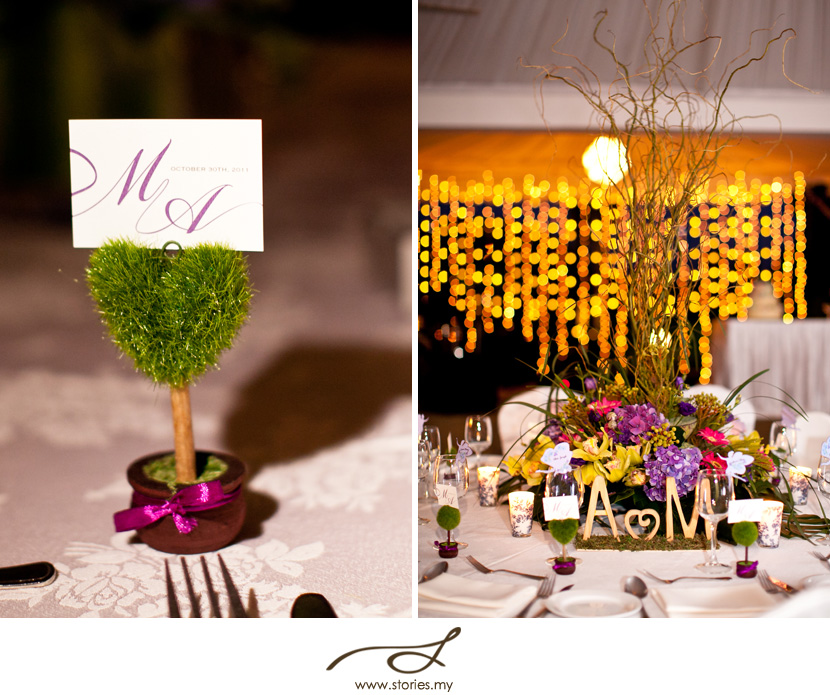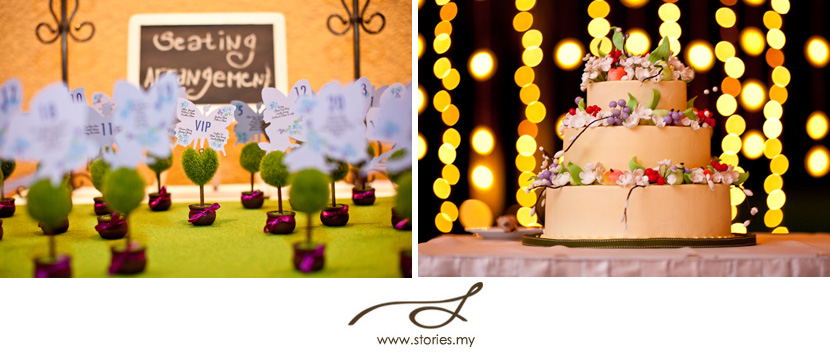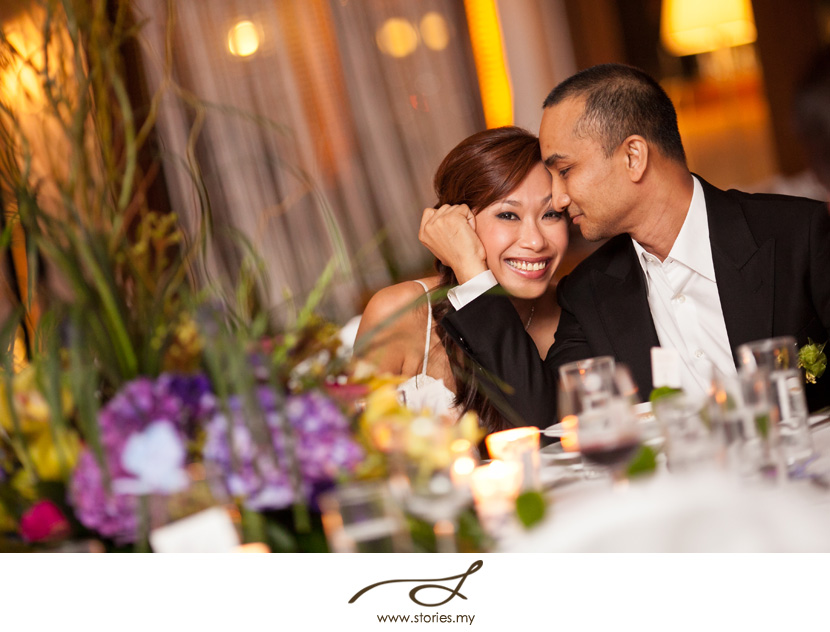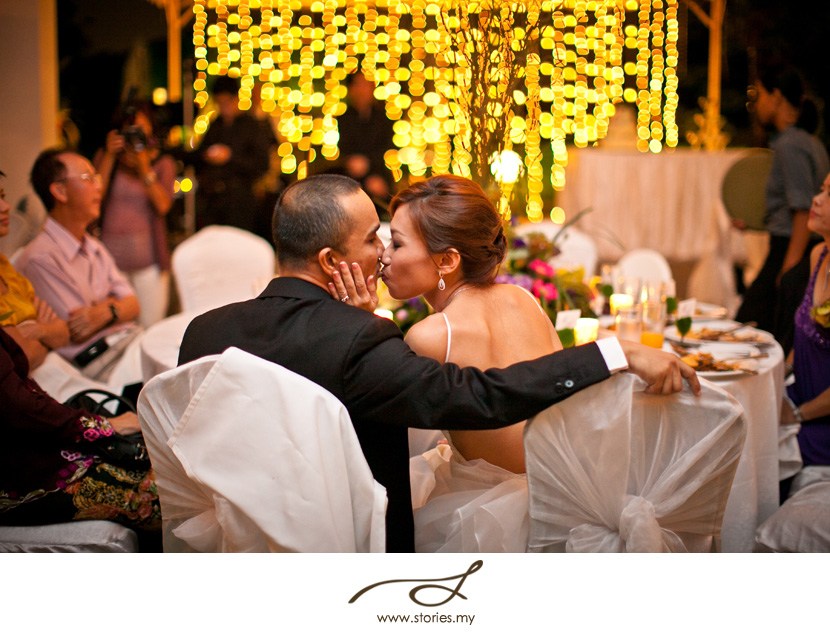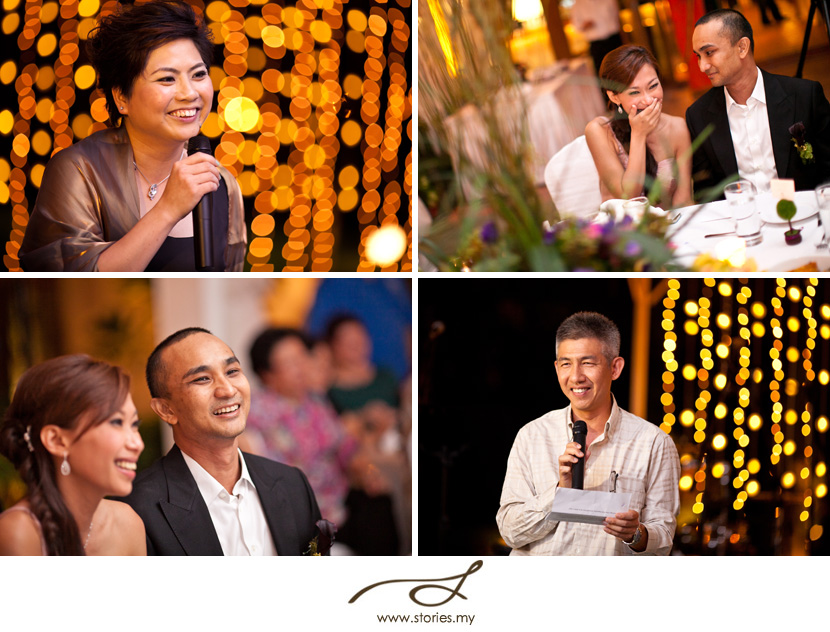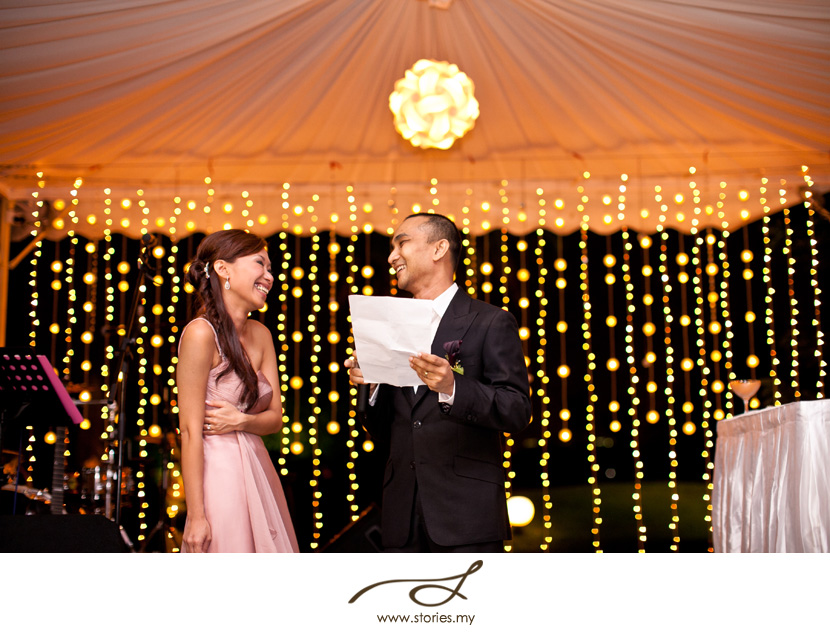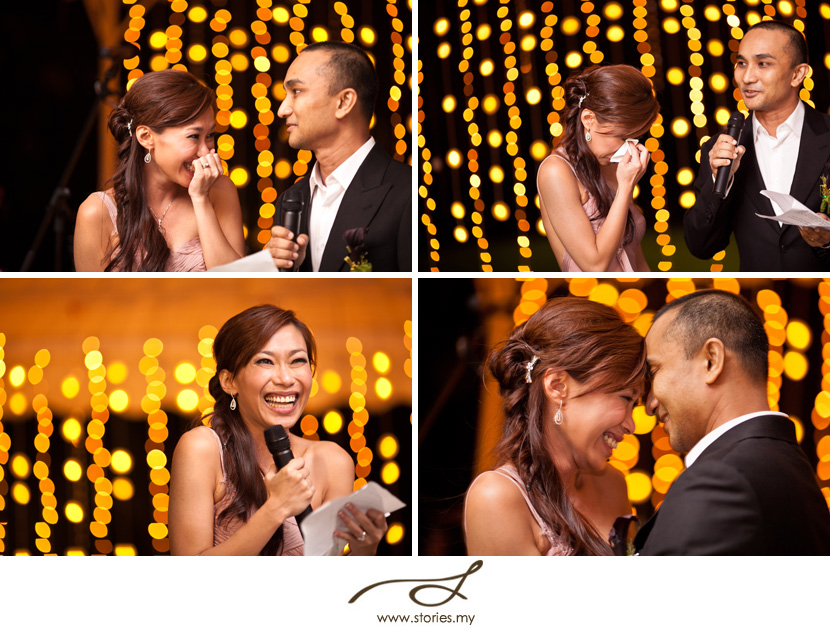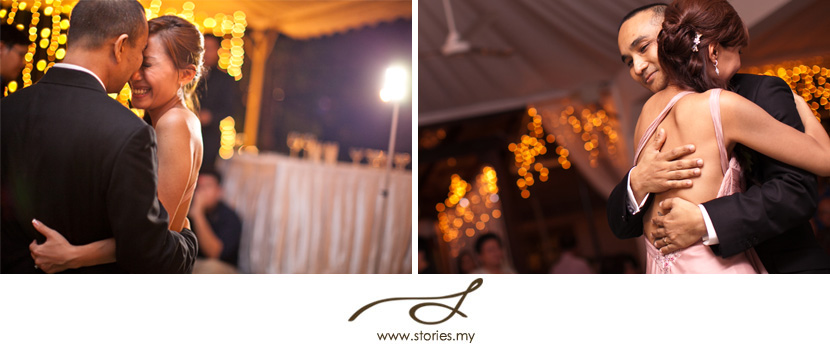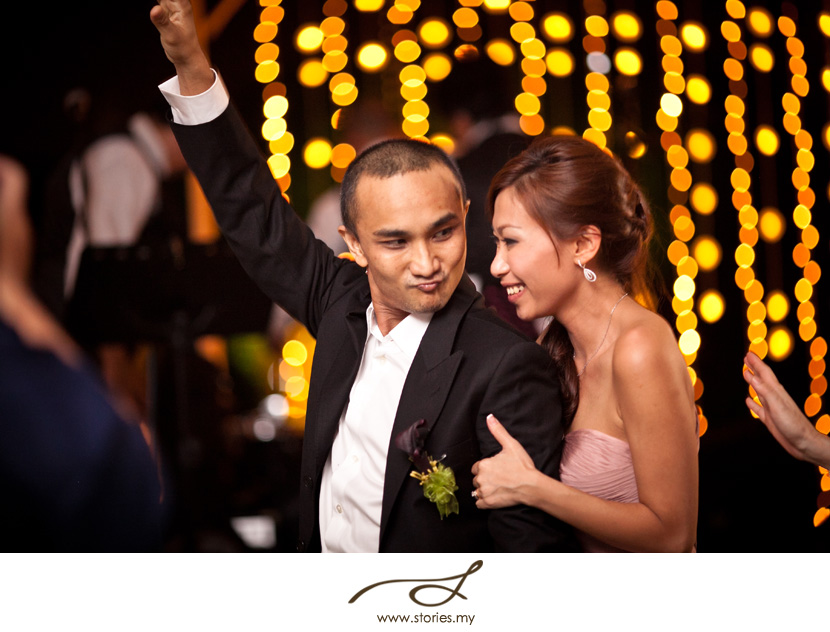 Alvin & Melissa, after being there for your wedding and seeing the love you have for one another, I am sure you will be able to stand through any storm that comes your way. Life will never be perfect, but what matters most is that you have each other to walk through it. I am honoured to have been there to document your love.
Hugs!