Stories is part of the Integricity group
It's true, God's love is extravagant. God has blessed us abundantly, even more than what I could have imagined. My heart is overflowing with thankfulness…I see the business flourishing, and I know God definitely had a hand in it. Every year, I make it a point to reflect about the year that has passed, and to give thanks for good and bad experiences. In 2010, Stories turned one, and now, we're two!
Last year, I gave thanks for the 38 wedding & pre-wedding clients that we photographed in 2011. This year, the number of clients increased. Collectively, the Stories team photographed 58 different wedding / pre-wedding clients and 30 other clients for lifestyle portraits & events. On top of that, we had a great year with a number of different corporate projects as well.
Our team grew as well and we now have a strong team of 7 core members with other supporting members. Everyone worked really hard this year and I am thankful for such a wonderful team.
Johan, you've been such an amazing support to the team. You never fail to amaze me with your willingness to serve others and teach so openly. But what amazes me more is that you're humble. You always desire to learn more! You've contributed so many ideas and Stories would not be the same without you.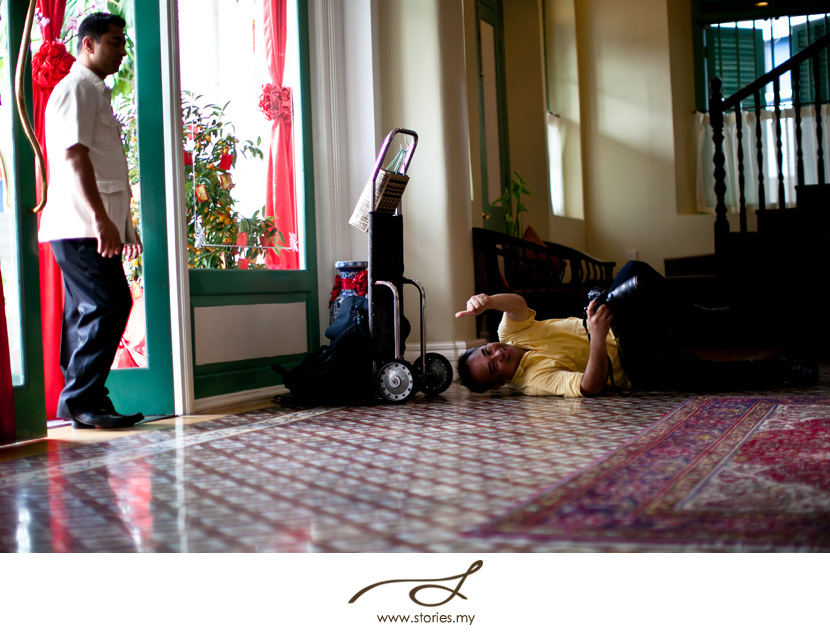 Johan, being really flexible!
Mark, I can't believe it's been like… what? Four years since we started shooting together? What a journey it has been. I also can't believe that you and Johan started out shooting with Nikon and now are Canon users. Haha… :) Mark, you've brought so much cheer to the team, and I know I can always count on you for anything. You're easygoing and that makes people feel so comfortable around you. Thanks for your years of friendship and I look forward to greater things!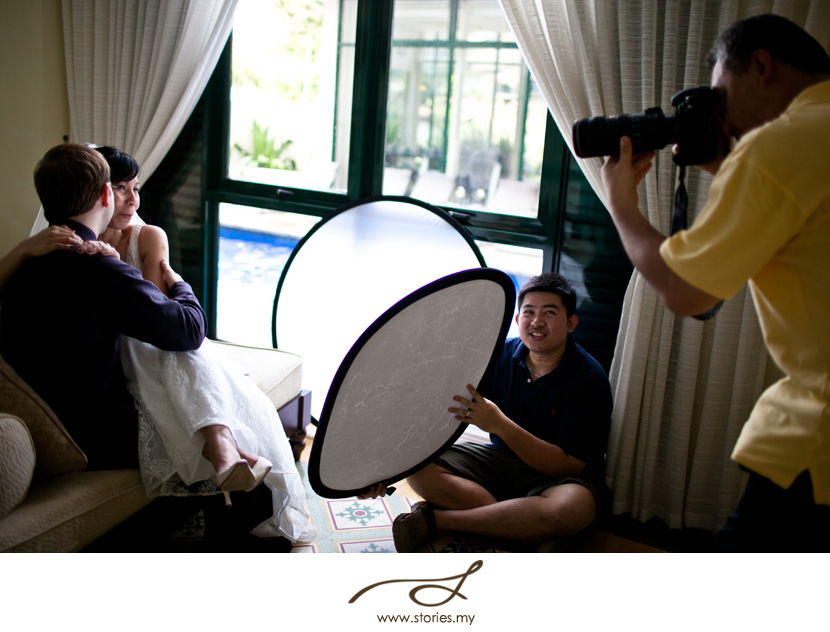 Mark, holding the reflector for Johan
Weiming, I still remember the first time I met you at our office in Centrepoint more than a year ago. You were really quiet and I said that you had to speak up more. Well, I've gotten to know you a whole lot better over the past year and I think you are such a valuable asset to the team. You speak more now, haha (guess you needed time to warm up!) and whenever you say something, I know it's constructive. I take your suggestions seriously because I know you have good insights. You've been such a great Digital Artist and now, Photographer! You really have a warm heart and you care genuinely for others.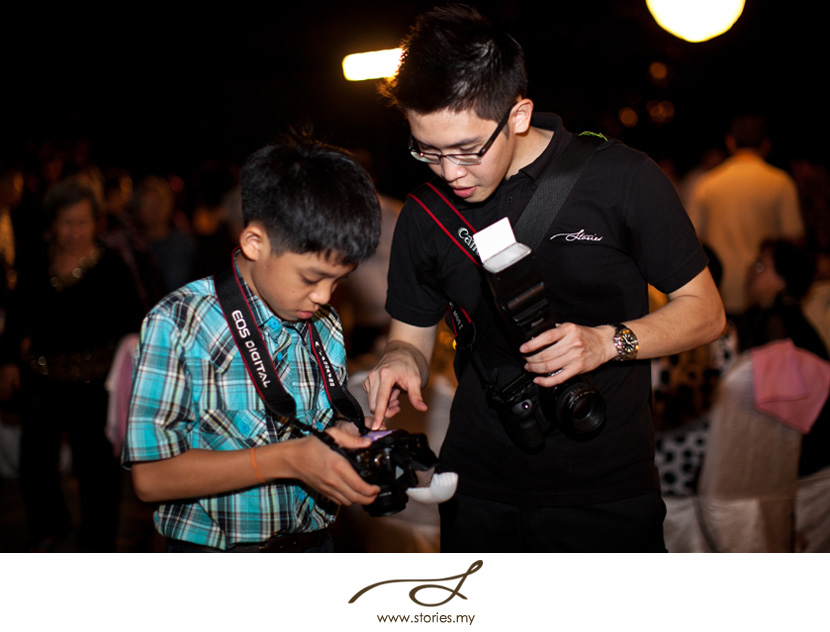 Weiming takes some time off during the shoot to do a little hands-on training for budding photographers!
Diane, I am appreciate for all the hard work you have put in the past few months. I know you're really trying your best with such a steep learning curve. I am grateful that you constantly want to improve in everything you do. I want you to know that I see the effort you put in. You have such a great, bubbly personality and it's hard for anyone not to like you. You're generous, caring and have so much potential in you.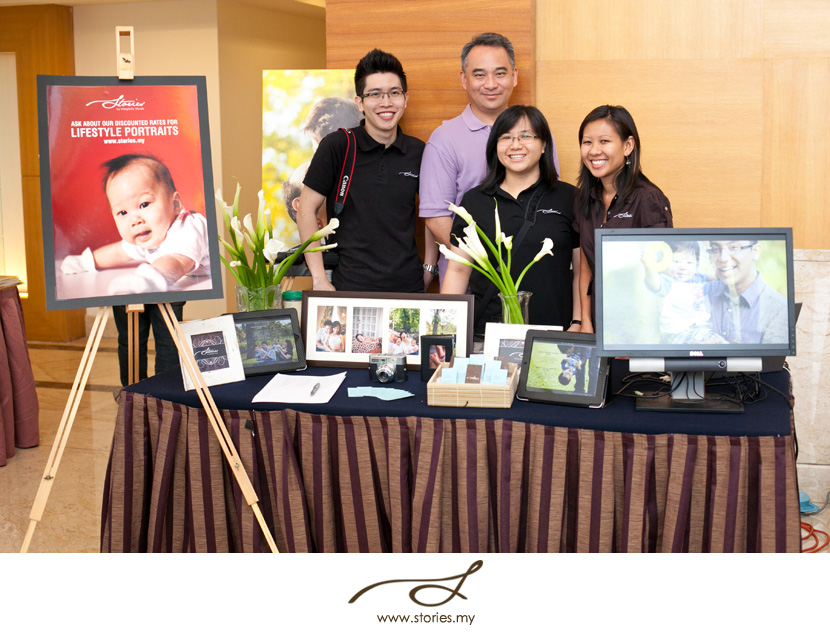 Our little booth at the Pitter Patter Journey Through Pregnancy event. 
Felicia, it's only been 3 months since you started interning with us, and now you'll be working with us full time starting in January as a Digital Artist! I appreciate your tenacity and desire to learn. You're hardworking, driven to pursue your dreams and cheerful! I think these are great qualities to have. We have a long way to go. Keep on striving for excellence.
Since Felicia just joined us, I don't really have many photos of her. This is a rare one taken during a wedding shoot. 
Finally, my husband Alex. I could not have done everything without your support. It's been such a busy, physically and mentally challenging year and you helped me through everything. After a hard day's work, I am glad to come home to little cuddles. When I feel exhausted, I love the little massages you give (even though it usually lasts about 5 minutes). But most of all, even though you are extremely busy yourself, you ALWAYS find the time to help me with my workload. This has been a crazy year, but it's the adventure we signed on when we said "I do!". I love going through life with you.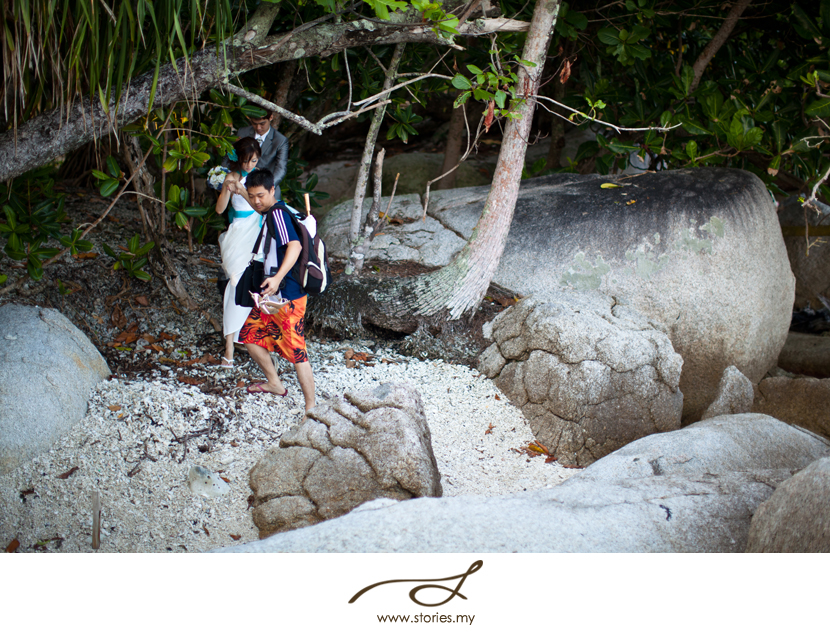 Alex helping the bride during our pre-wedding shoot in Nikoi Island.
I am looking forward to even greater and bigger things to come in 2012. I thank all our clients for being so wonderful, for verbalizing your thoughts to us and sharing about Stories with your friends! I have amazing clients. You're now part of the Stories family too.
For a change, here are some behind the scenes photos of the crew at work!
Weiming & Johan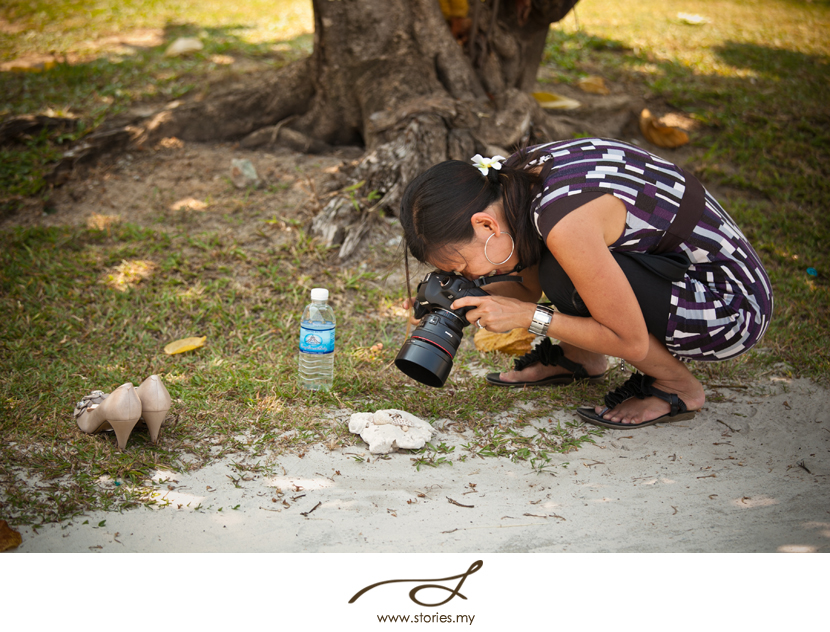 Grace photographing rings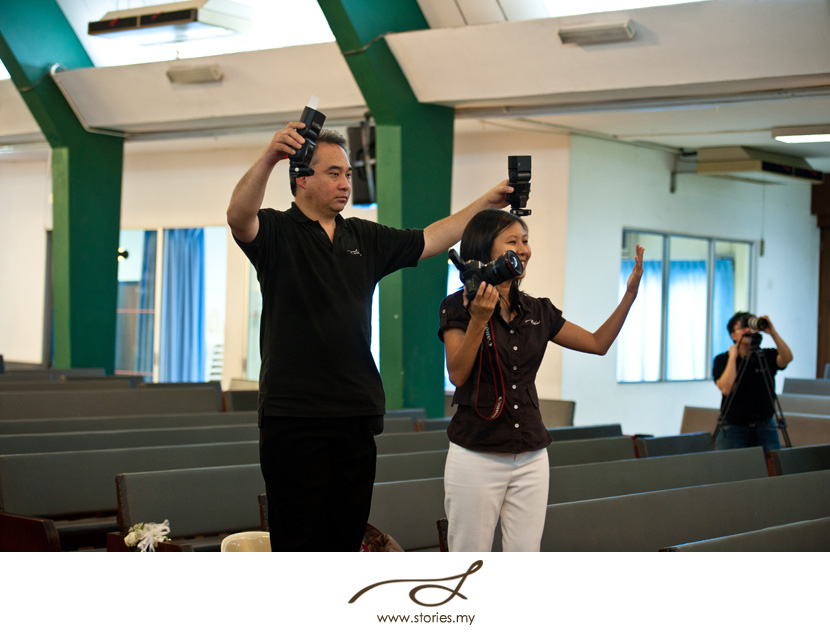 Johan makes an amazing lightstand. It moves automatically when I speak!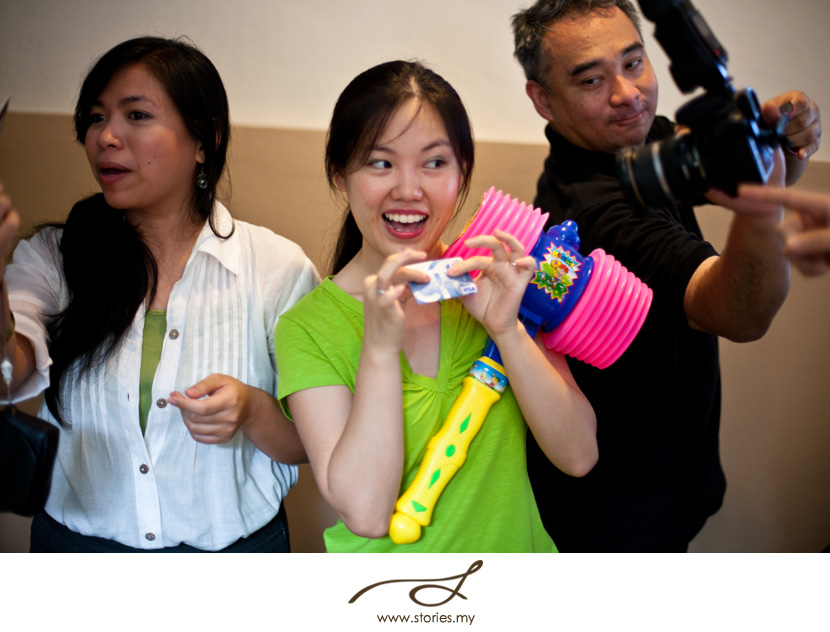 We also discovered that Johan has amazing periscopic vision.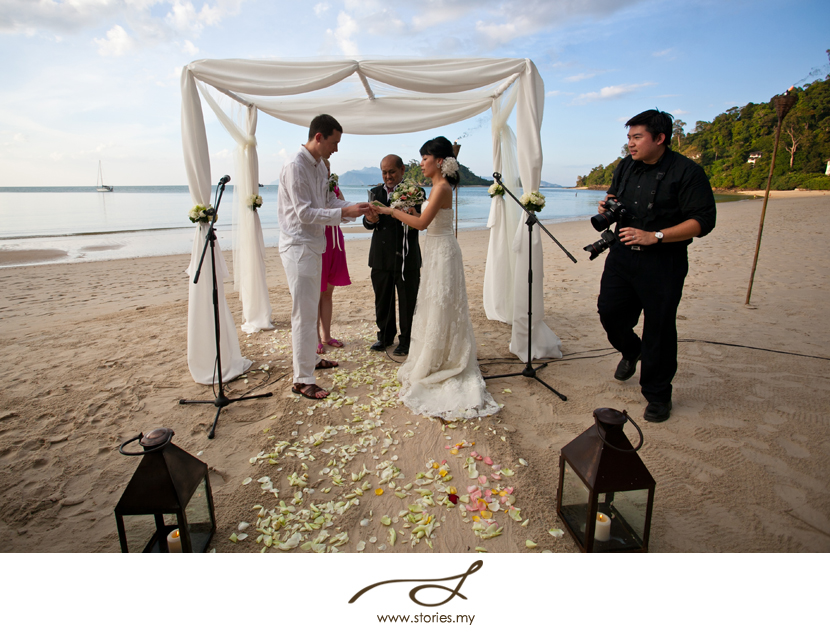 Mark has since learnt the wisdom of not wearing all black for a beach wedding.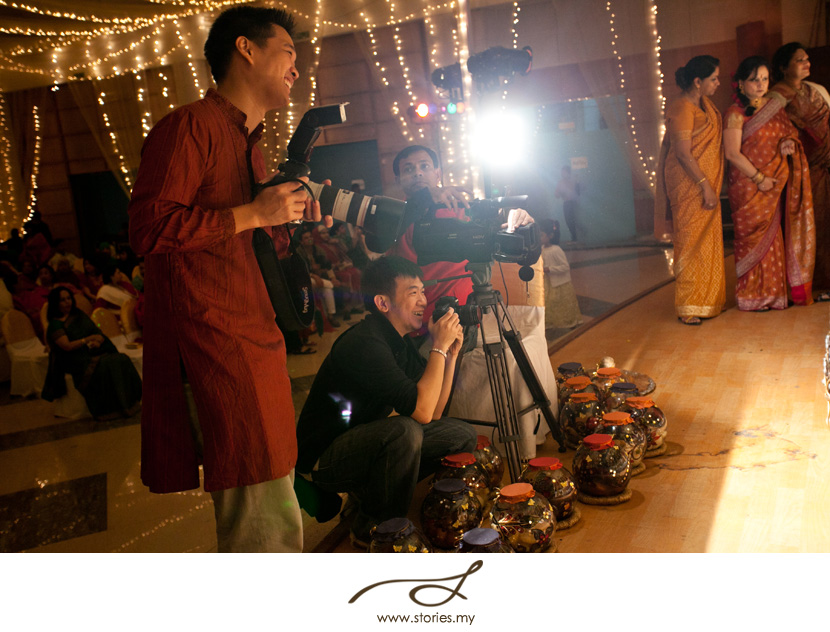 Alex and Andrew (one of our assisting photographers) during the shoot in Bangladesh early this year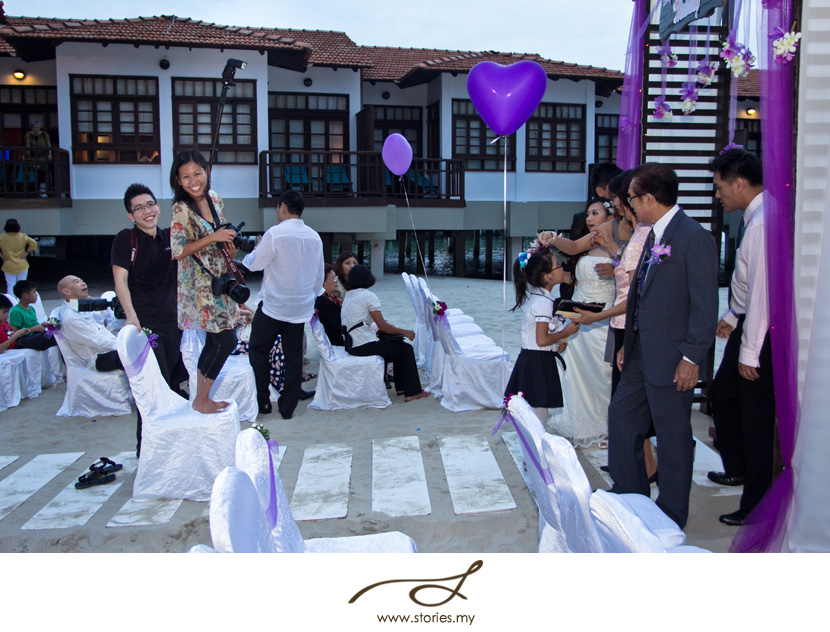 Grace needs all the height she can get during the wedding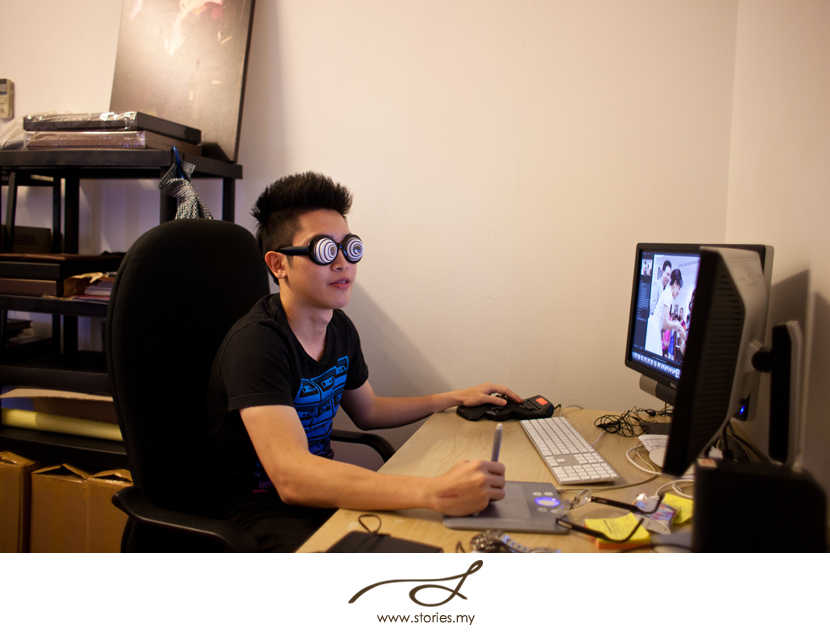 And finally, we sometimes get a little cuckoo at the office after many hours of editing! 
Have a Merry Christmas and a Happy New Year everyone!