Happy Chinese New Year to all my friends and clients who have become like family! I am truly sorry for the lack of blog updates the past few weeks. Every time I think of starting a blog post, 5 million other things call out my name. Not to mention I am now a few months late in terms of blogging some weddings. I am rather tempted to just start afresh and share from the last wedding I shot… which I might do in the next few weeks. So don't be surprised if the weddings are not in sequence.
I hope you are having a great time with your family members this Chinese New Year, and for those who are not celebrating, hope you are having a good holiday. I want to kick off the dragon year by sharing the wedding of Saw Wen & De Way.
Now, Saw Wen & De Way had come to enquire about our services more than a year before their wedding. At that time, my business was just starting to bloom, and I was stoked that someone wanted to book us that far ahead.
Saw Wen & De Way's story started 11 years ago while they were still in school, meeting at the sweet ripe age of 16.
That girl in the Calvin & Hobbes t-shirt
De Way: I remember, 3 girls. That was in a tuition class for Bahasa Melayu when I was in Form 4. 3 fine looking girls from SMK Seafield, 1 tall, 1 pretty and 1 nerdy. Fast forward to SPM year, I noticed her. She was generally louder than other students during class, gave opinions when not asked for, irritatingly completed the teacher's sentences every now and then etc. Oh yes, she wore a Calvin & Hobbes t-shirt to class, just like me.
Saw Wen: De Way was a perpetual sleepy head and seemed like the quiet type. At the beginning, we hardly spoke to each other until form 5. We got to know each other better during our after BM tuition yum cha sessions, went cycling and hung out in a nearby park together with a bunch of friends. As the months went by, I found De Way to be charming and had such "beautiful eyes". He made me laugh (he still does) and I found myself to be falling for this guy.
De Way: She used to tell her stories when we met at a mamak for drinks after tuition. This went on for a while and it felt normal spending time with a girl, no special feelings I dare say. Then, one fateful rainy evening, I had to send her home with my bicycle, with her holding the umbrella. That was when something felt odd…good but odd. Since that day, I made it a point to accompany her home after our mamak session.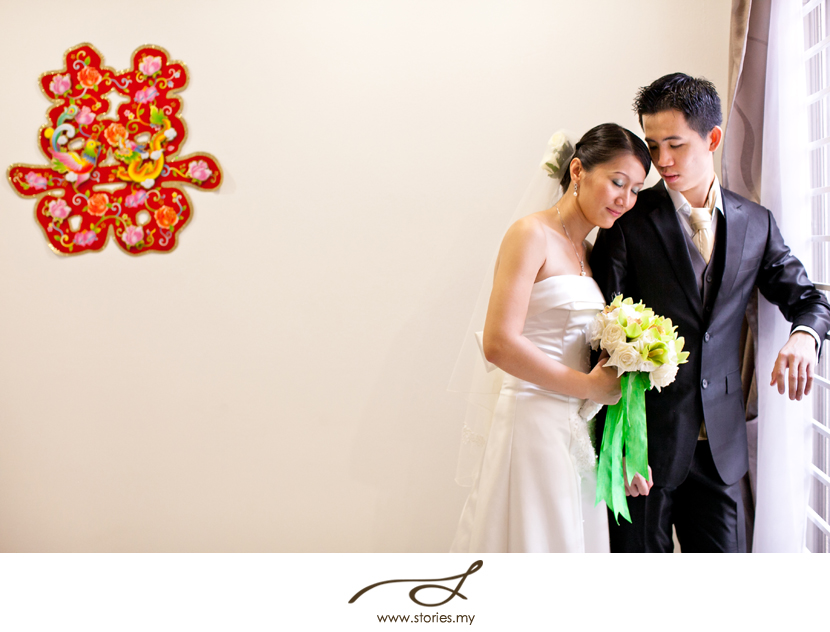 Prom Night
De Way: Fast forward after SPM… one of the most crucial moments in high school – prom night. I knew who I wanted as my partner and this was what I went through to get her agreement. It was during her open house with all our friends present, I deliberately cycled back to her house after all of us left just to ask her. Unsurprisingly (ahem ahem), she agreed. That night, the moon was high and so was I.
And so, prom took place and what set me on the course of having this girl as my wife 11 years later happened that night. We danced towards the end of the night and I asked her if she would be my girlfriend.
Saw Wen: I actually said, "No, I don't think so." At that time, I was planning to further my studies overseas and didn't think that it would work out. Worse still, when De Way said he would wait for me and I had to rub salt into his crushed heart by saying "Ya right!"
De Way:  After breaking my heart into pieces, she crushed it further into atoms, by mocking about my promise to wait. Bah!
Saw Wen: Till today, I am still reminded from time to time how mean I was back then to him.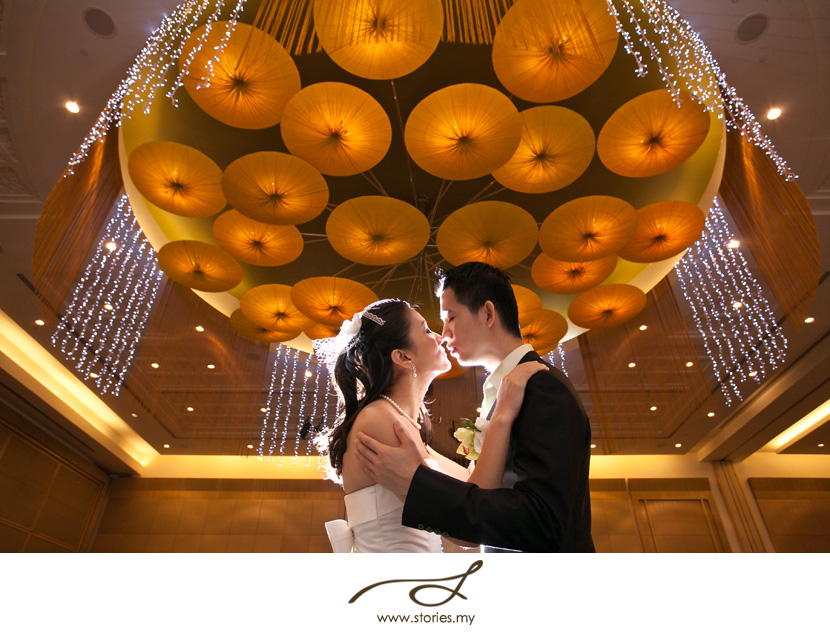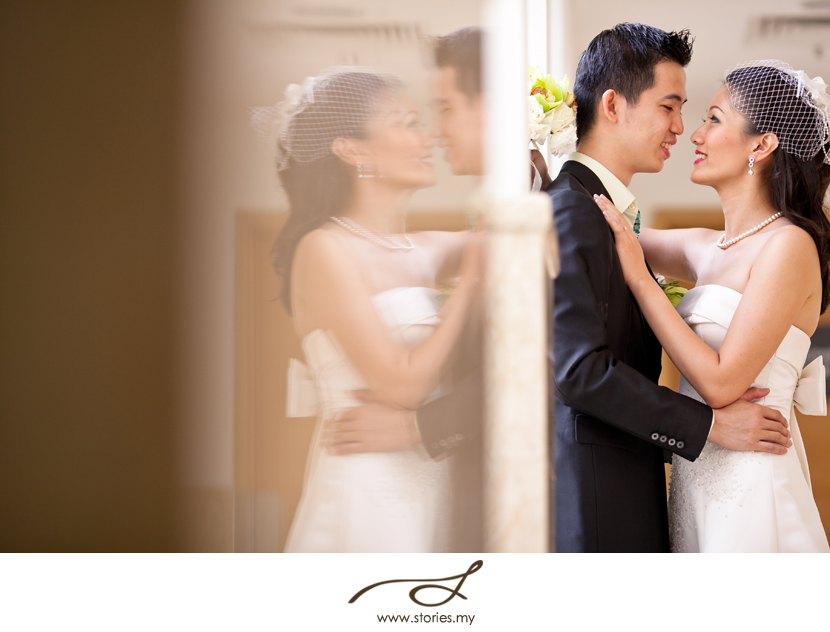 Two Hands
De Way: We parted ways after that dreadful night, only to meet again in college a month later. We were still on good terms and 1 day she saw me walking with my classmate – a girl.
Saw Wen: I thought this might be his new love interest. Regret was within me and knew I had to do something about it. One night after yum cha, being the gentleman that he was, he offered to send me home. During the ride home, I asked De Way how were things between us and he replied that we were still friends. I needed further confirmation and asked him if he still likes me and he said yes. I said "It takes 2 to clap." Much to my surprise, the reply I got was "I will take my hand out to clap with you." It has been 11 years and the rest was history. We have been together ever since. He sang his proposal last year and we got married on 9.10.11.
De Way: At the risk of sounding cliché, the rest is in fact, history. But that was how I met my wife – the one who is loud and opinionated (now not so much already *phew*), who took my heart and crushed it into atoms, who got jealous/upset after seeing me walking with my female classmate, who set me up with her friends' help and lastly – the nerdy one in the tuition class. Who would have thought? The nerdy one. Hah!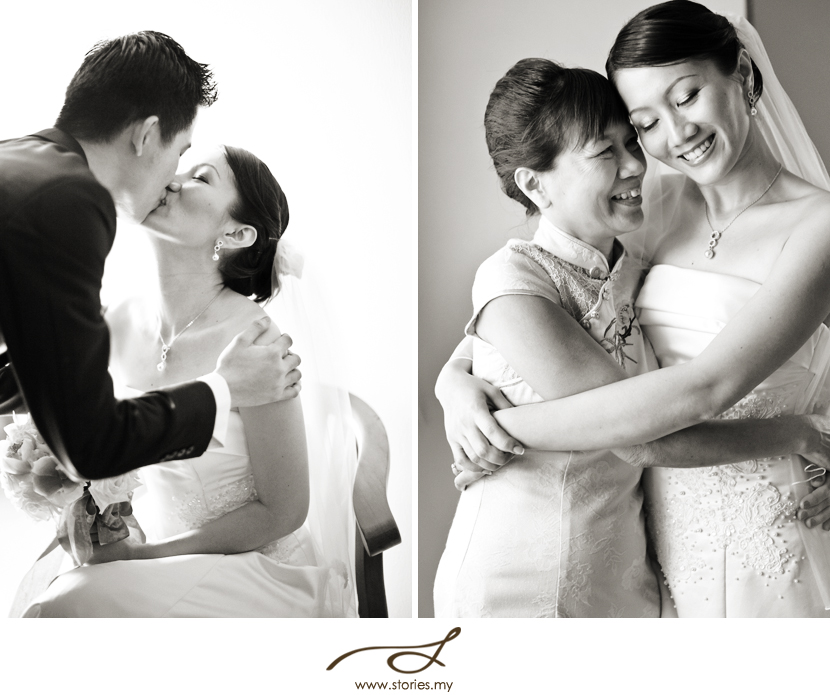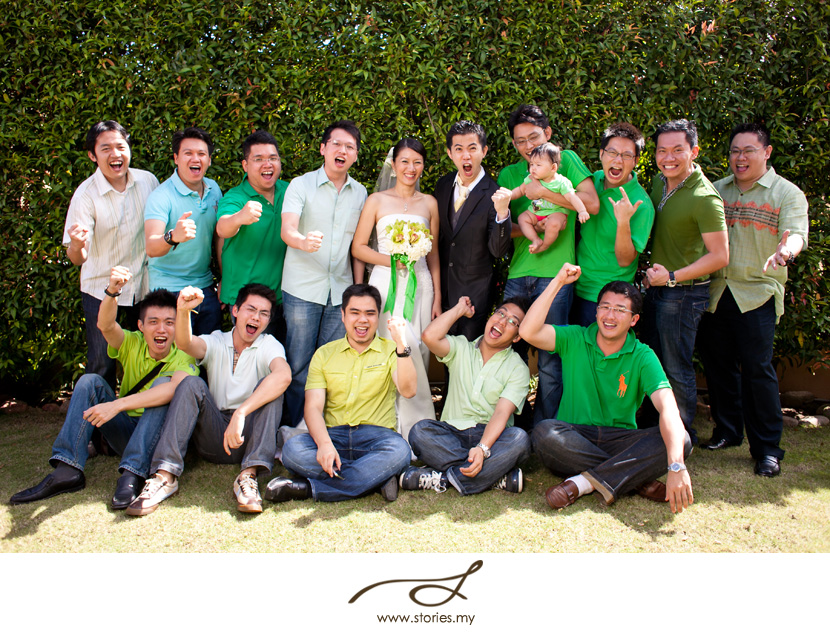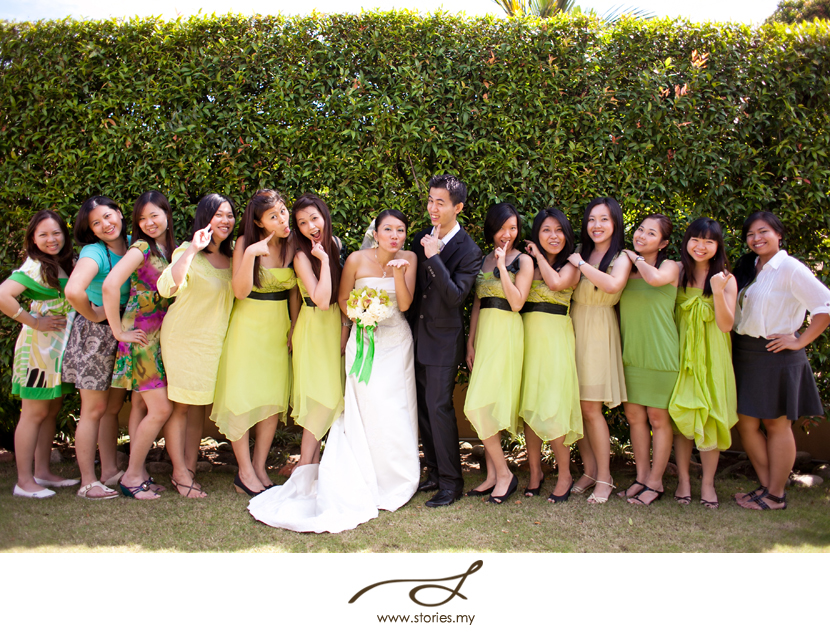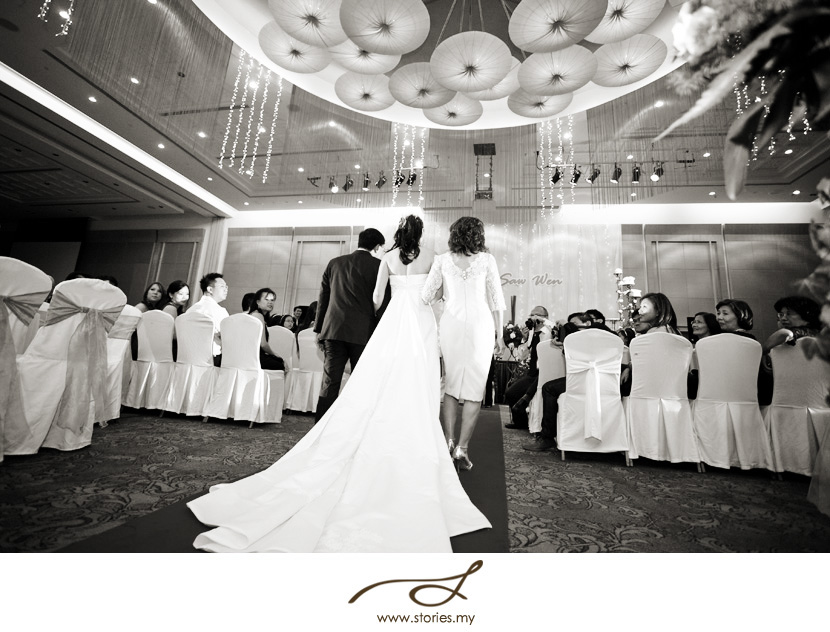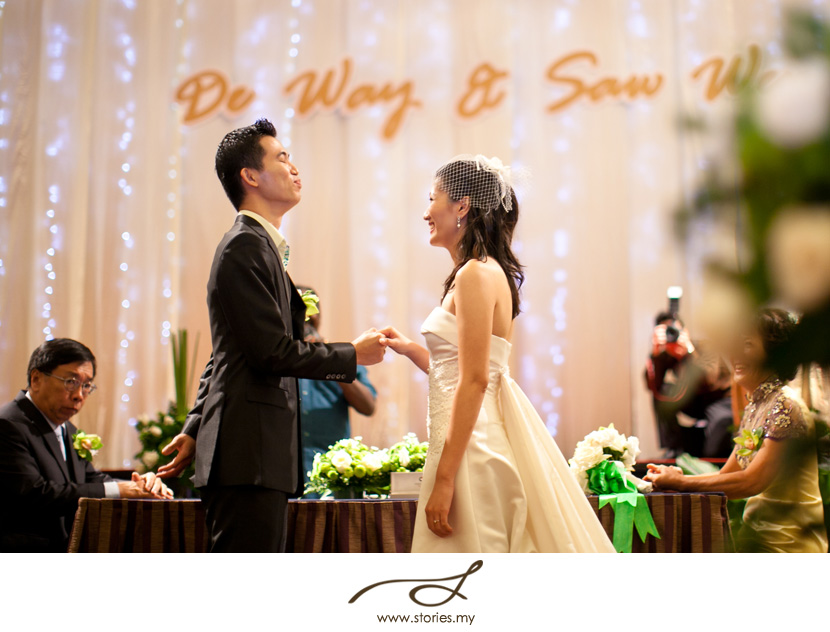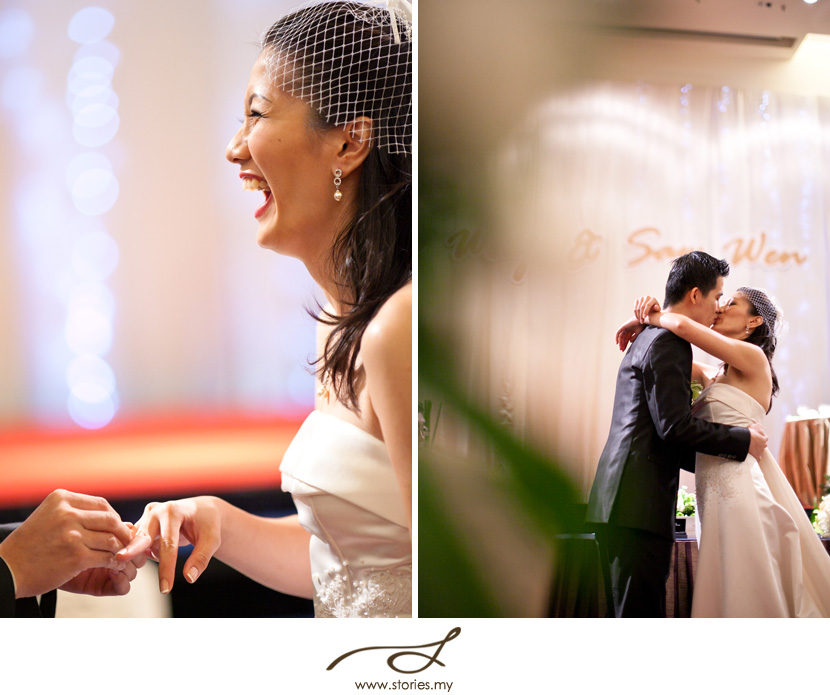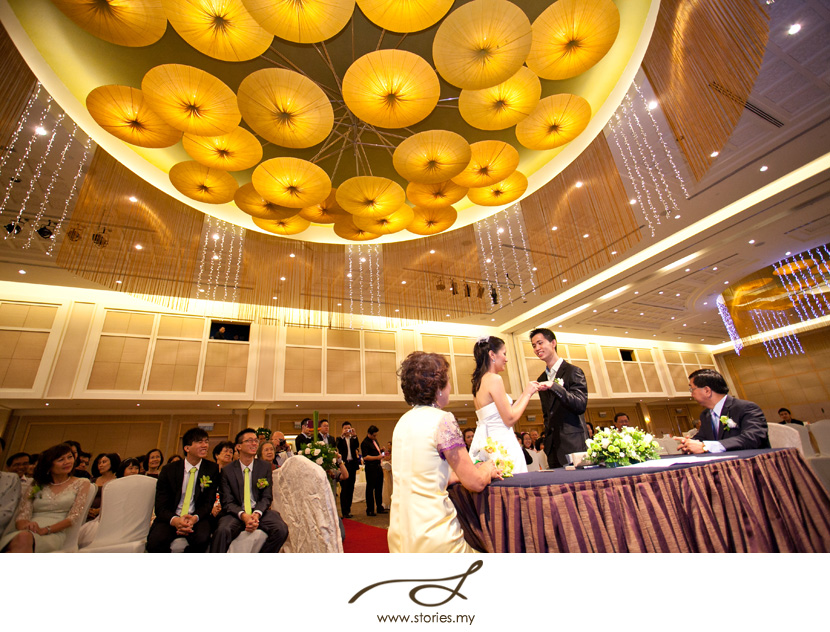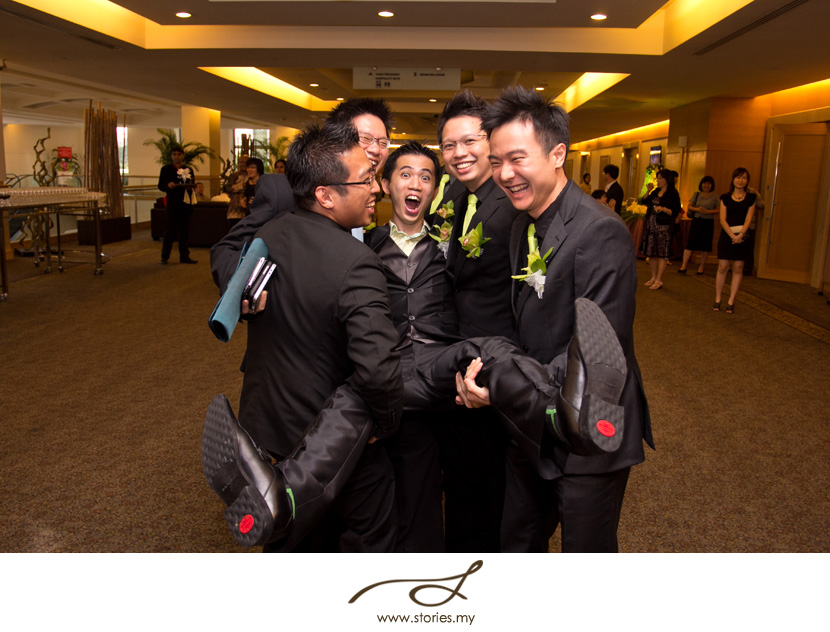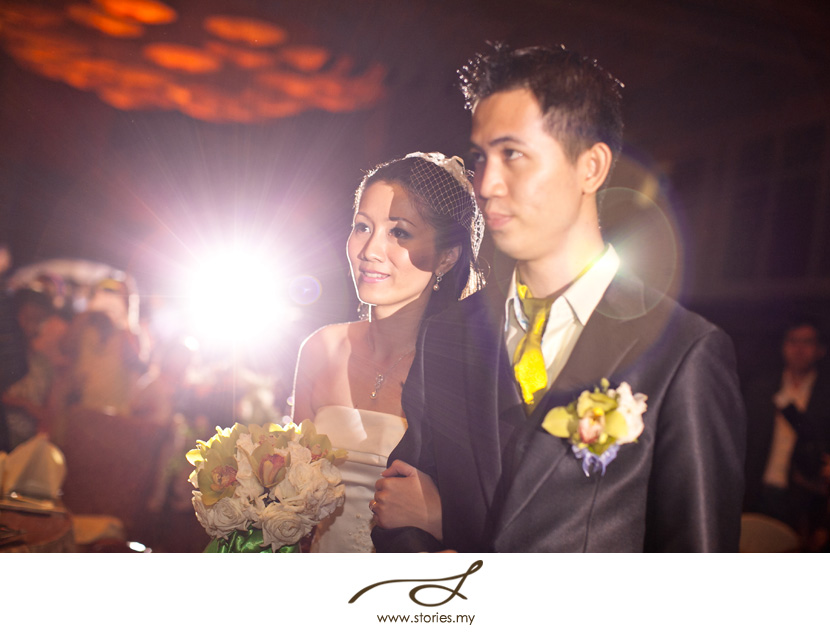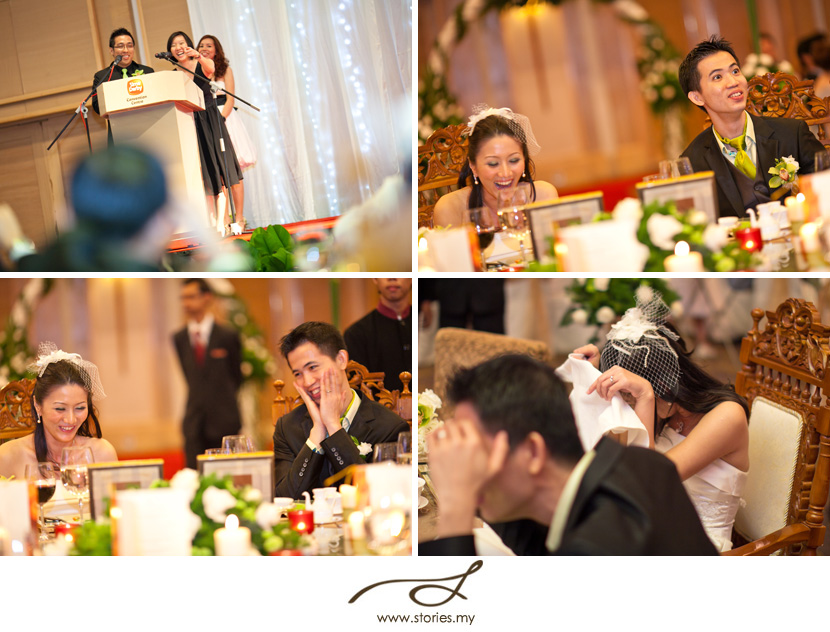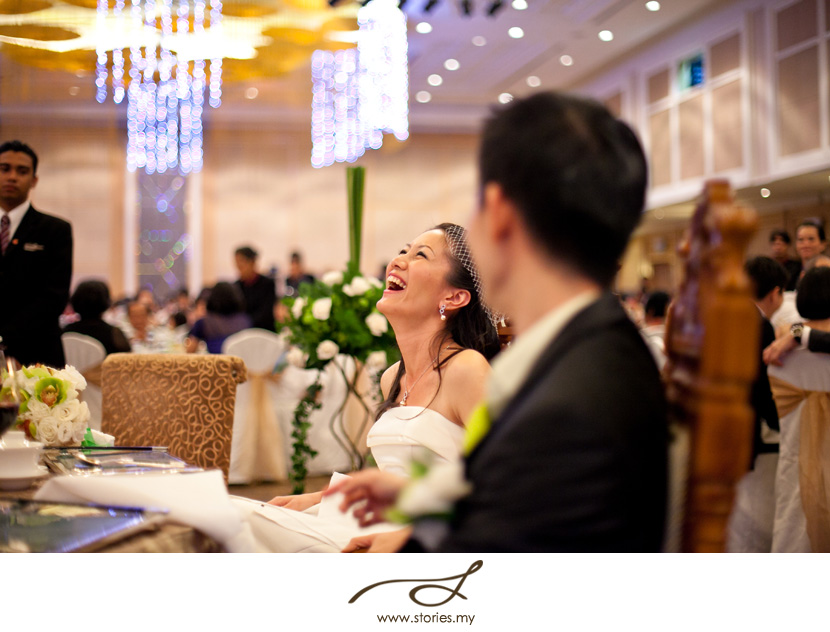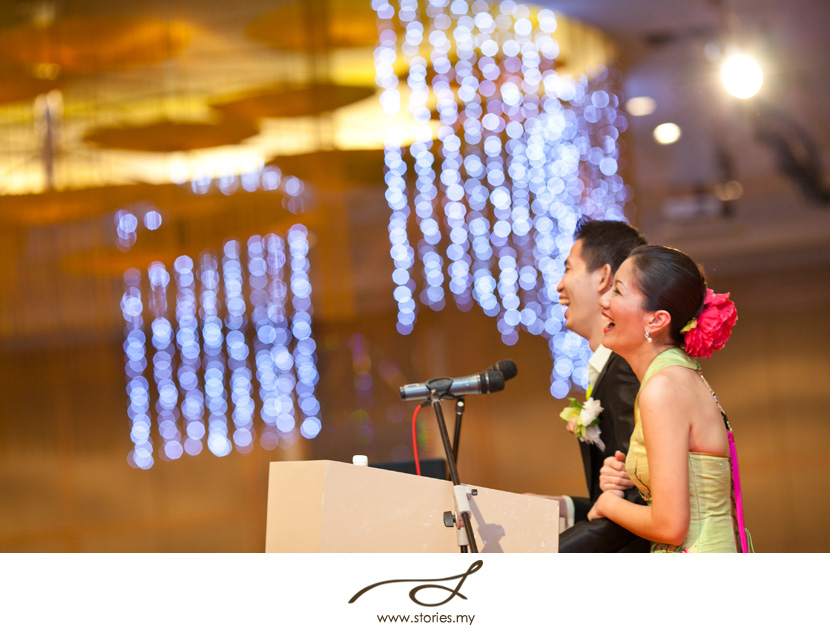 What made this wedding so memorable were the many funny expressions we managed to capture that day. De Way also started learning the saxophone a few months before the wedding day, practiced really hard and performed to hundreds of people that evening. If I was wearing a hat, I would have taken it off as a salute to him!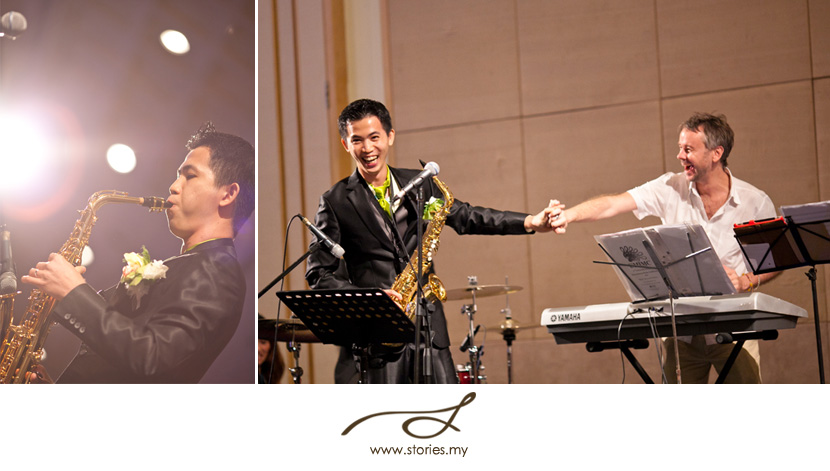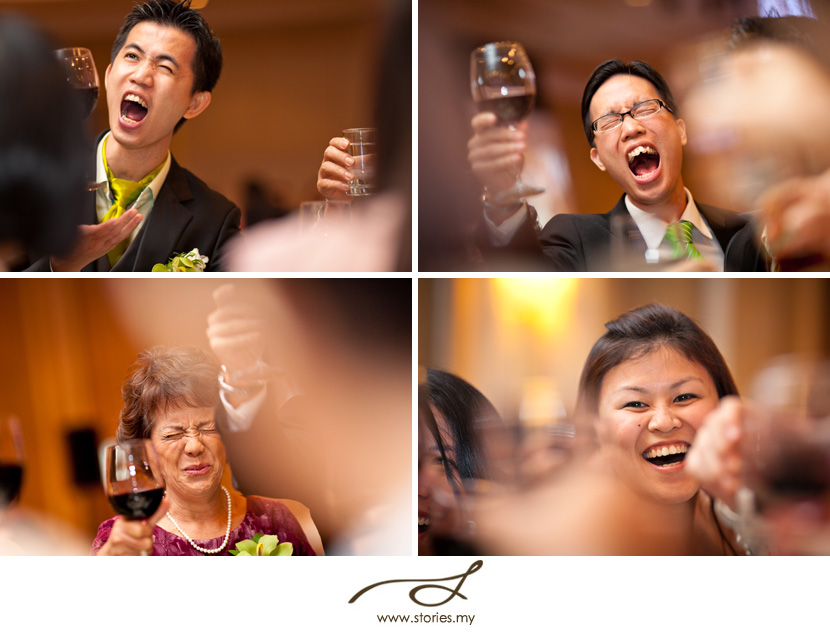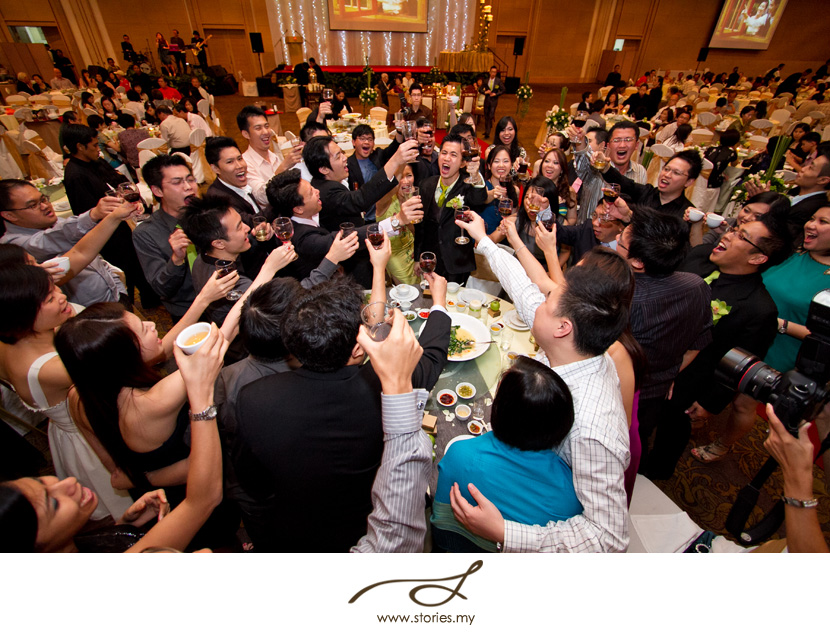 Reflections…
Saw Wen: Why Stories? We started our wedding preparation early and were looking around for wedding photographers. Don't quite recall how we tumbled across Stories' blog and love the rich and vibrant photos which captures the moment and details of the big day. Stories, we truly love the photos captured during our wedding and a BIG thank you goes out to Grace, Johan, Weiming and the entire Stories team! We hope you guys had as much fun as we did! :o)
De Way: Photographically, this is what I have to say – most importantly, what I fancy are photos that are lightly edited. They should look as close as the one out of the camera even after editing. Long story short, Stories was able to provide that feel. Being passionate about photography, I believe the depth of FEEL is larger than the depth of field. And this goes beyond Stories' photos but also the service by the team as a whole, which is awesome.
In a nutshell, Stories team was able to:
Keep it simple. Make it elegant. Keep it personal. Make it happen. Keep it coming. Make it great!
Credits:
Photographers: Grace, Weiming & Johan
Location: Sime Darby Convention Centre
Wedding Gown: Valerie Fan
Groom's Attire: Fit & Match
Make Up: Leric Yap
Cake: bejewelled*
Flowers: Weng Hoa
Dinner Entertainment: One Under the Five