Most couples about to be married, fuss and fret over many details that organizing a wedding would bring. Fancy decorations and gorgeous gowns aside, all it takes to make a wedding absolutely memorable is the love shared between the couple, family & friends. I must say that this was one of the most touching weddings I have ever photographed. And it wasn't only because Vijay and Stefanie committed to marry each other even with a mere RM1,000 in their bank account. Ultimately, it is a story of love and faith… faith in God that He would provide for their every need, down to the last detail.
Their story (as written by Stefanie):
Vijay and I first got to know each other in Multimedia University Christian Fellowship (MMUCF) in 2003. We started dating in 2005 and in December 2010, Vijay proposed to me. While all our friends and family had pretty much expected us to get married to each other at some point in our lives, few people truly realized what a big step this was for us. While most people would have been saving money for years with a house on the side, we started wedding planning with only RM1000 in our bank accounts with no other financial support. Crazy? You bet! However, we both believed and trusted in a loving Father God who gave us several promises that He would provide for our wedding and our married life.

In the course of our eleven months preparations, we faced several financial and personal obstacles but we kept praying and trusting in God to bring us through. Many times, we were challenged by God to give towards our church's (Acts Church) building funds while maintaining our regular tithes to church. Yet, we always had enough to survive and contribute to our own wedding fund.

Despite the overwhelming odds, God's faithfulness prevailed and 2011 proved to be a year of miracles and breakthroughs. I changed my job and my pay increased significantly. Vijay, who works as a pharmaceutical salesman, achieved every single quarterly sales during our entire engagement period. Our salaries and incentives, combined with several surprise gifts or opportunities enabled us to pay off our wedding. Amazingly, none of our wedding expenses were paid on credit but were always paid in cash. God always provided the money when it was most needed. God even provided a beautiful house at half the normal rental price and provided the furniture to furnish it. God's faithfulness was evident in every part of our wedding!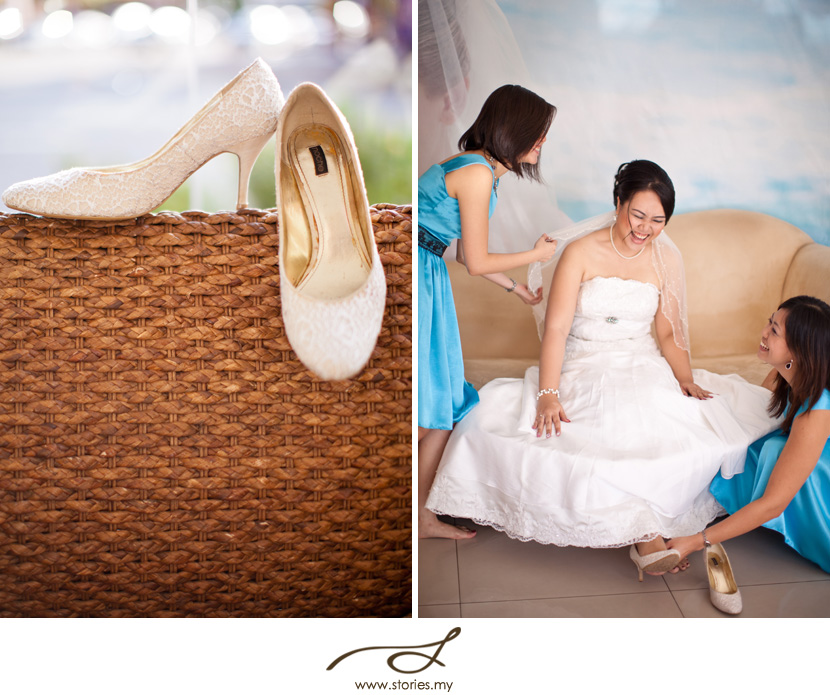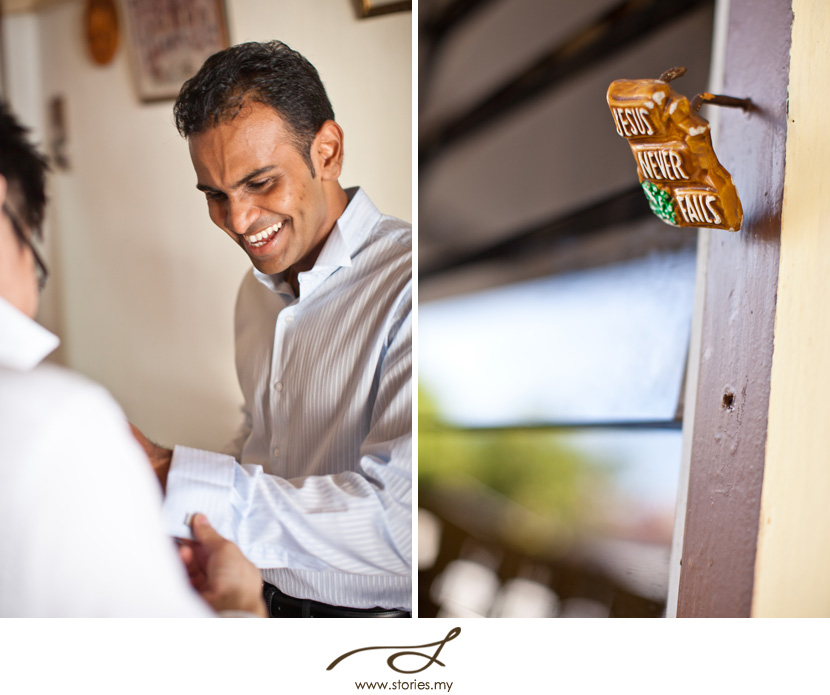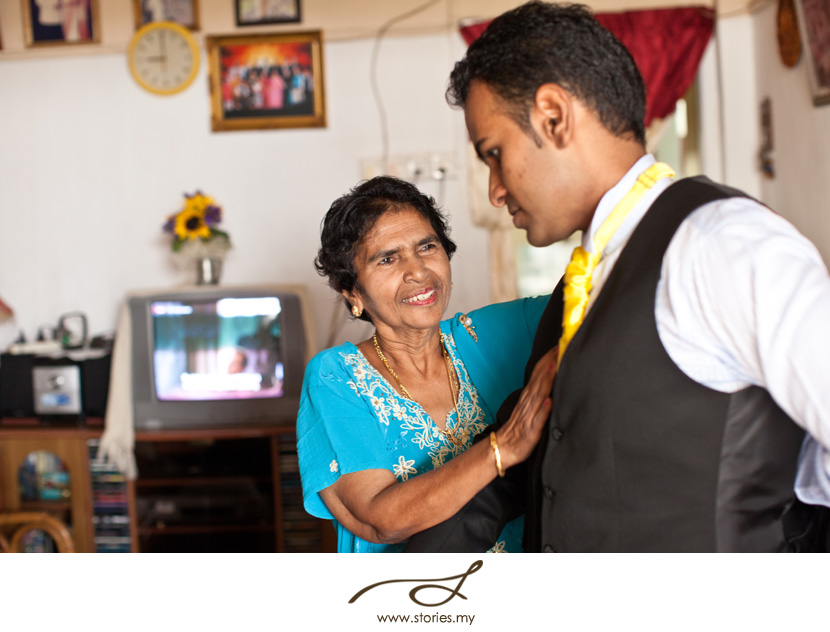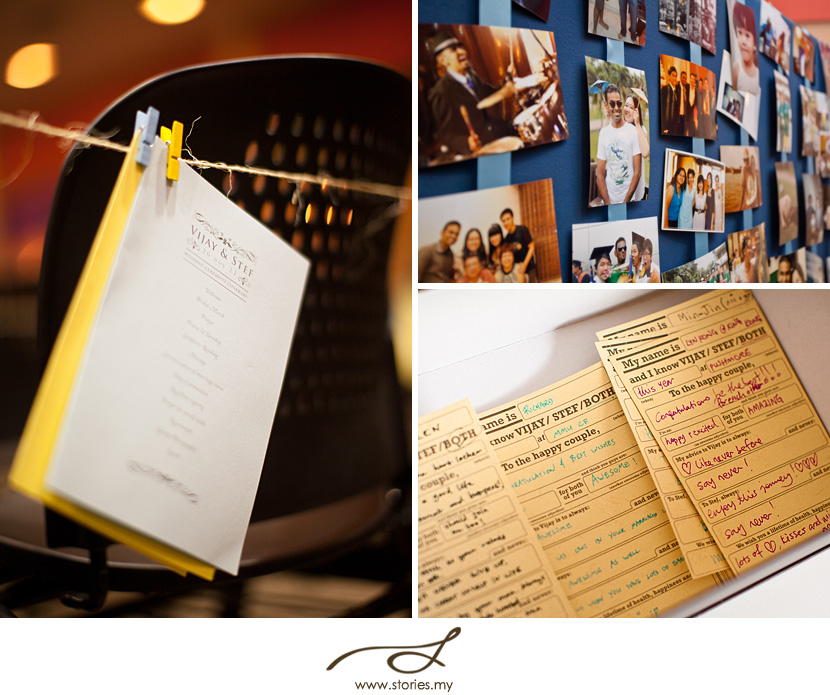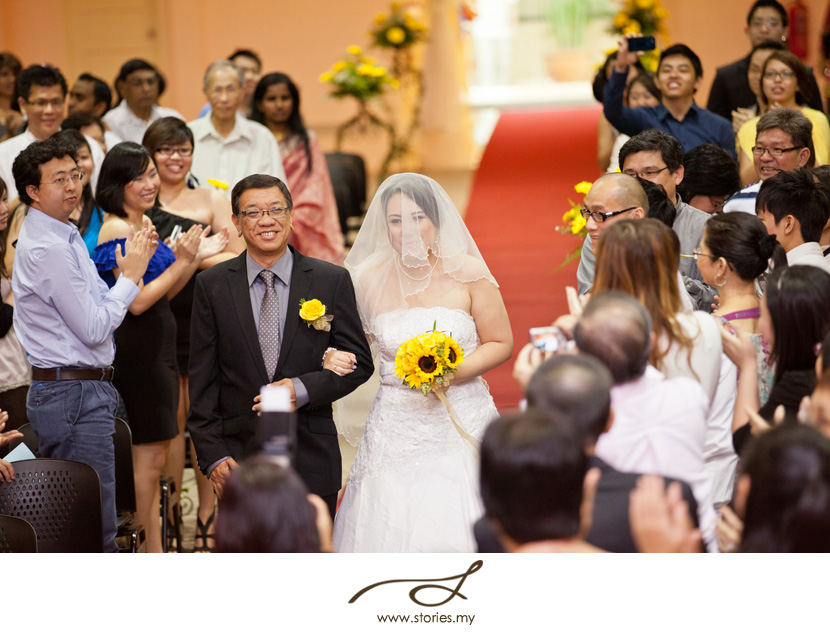 From the moment Stefanie walked down the aisle, Vijay started tearing…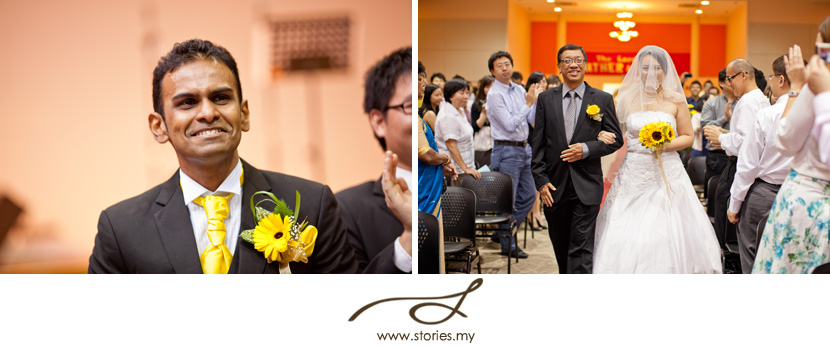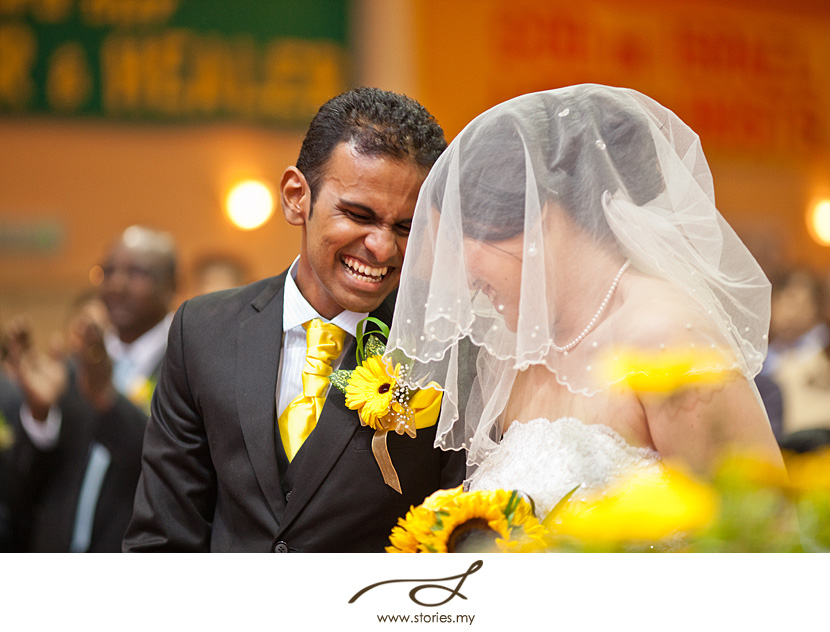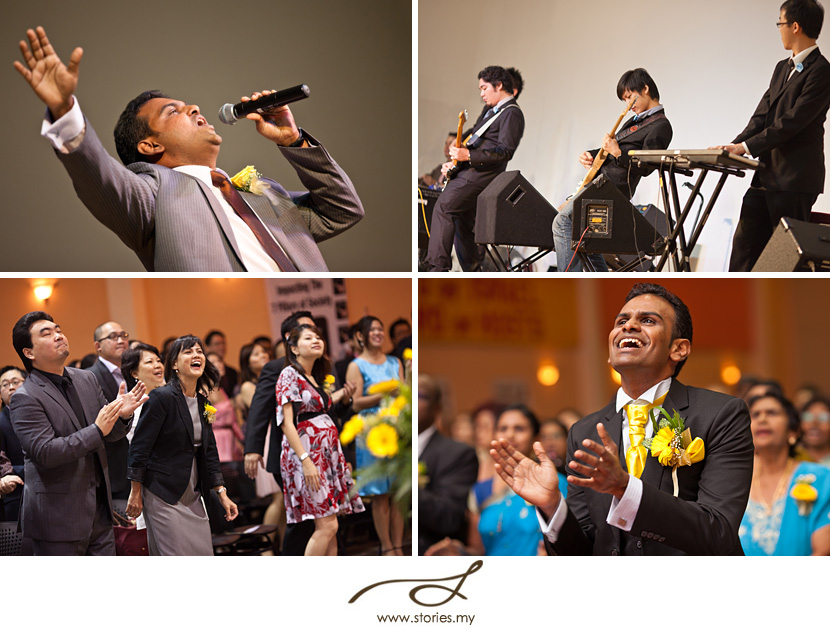 During the praise and worship session, I could not help but feel overwhelmed by the energy and excitement from the crowd. It was the first time I cried at a wedding. A lot of tears rolled that morning, not just Vijay's and Stef's.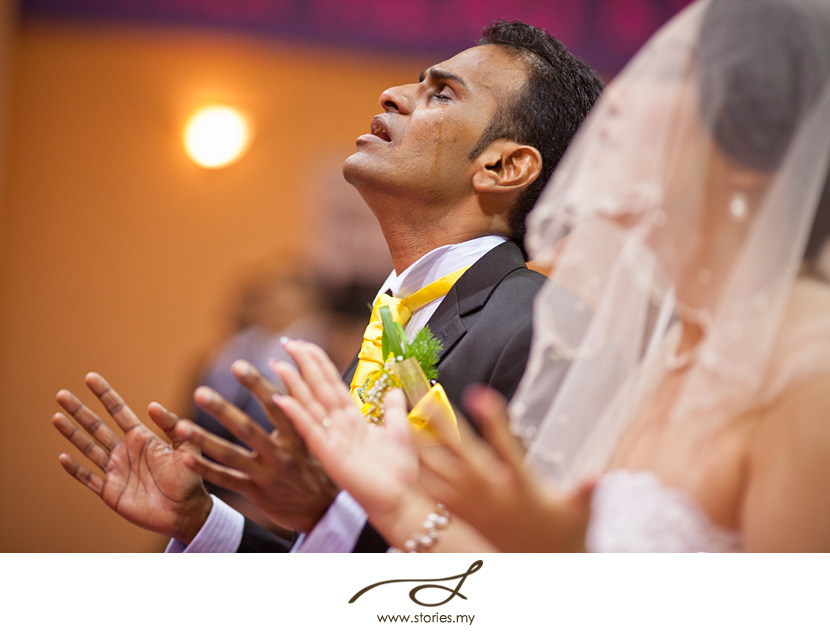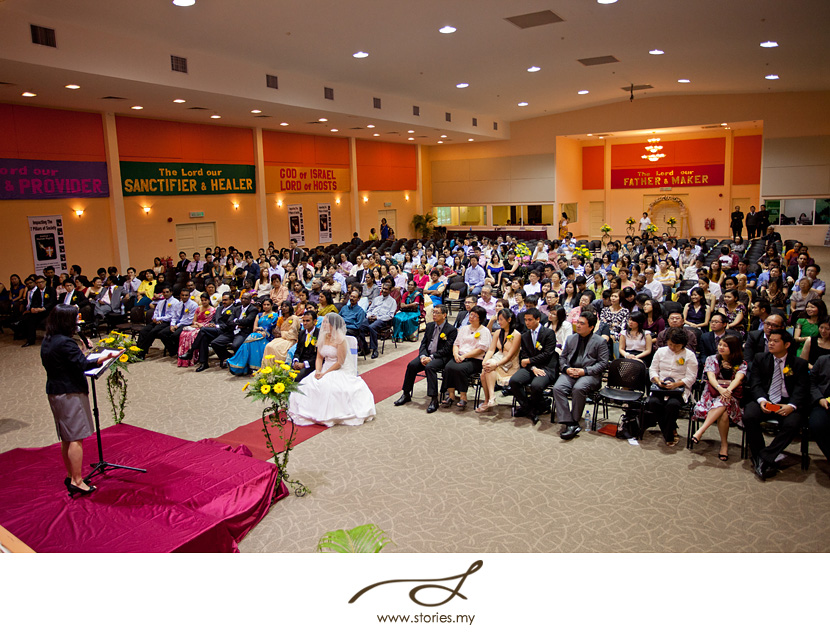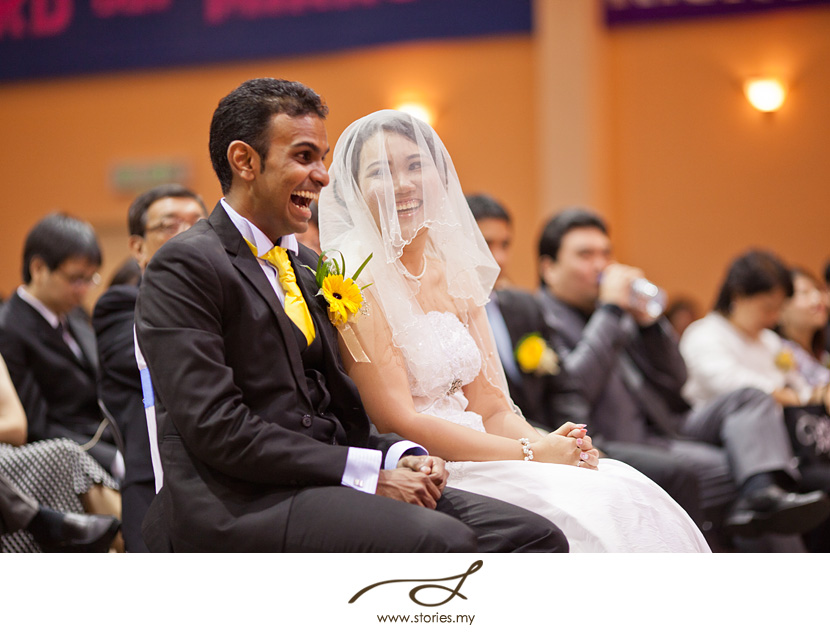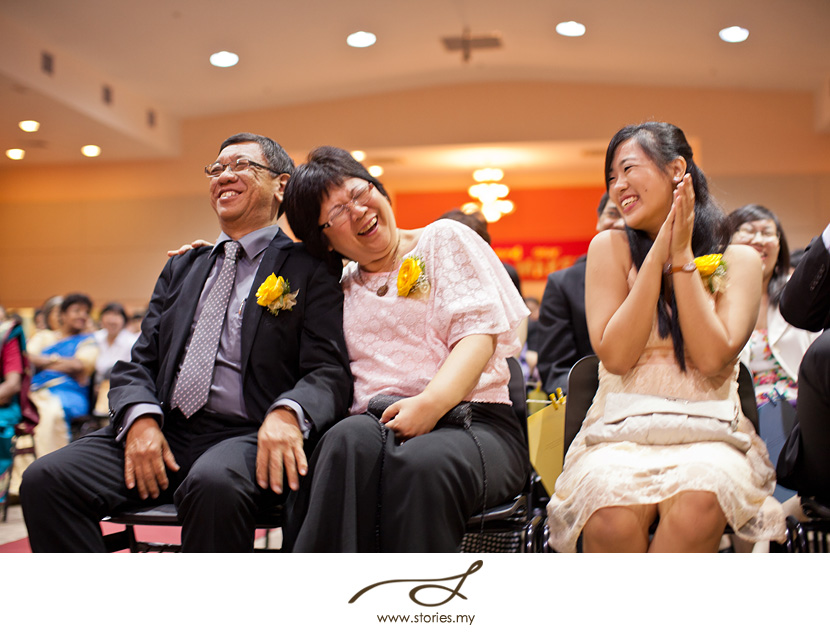 The following crowd shots were taken by Diane. I love how she managed to capture everyone's candid expression perfectly!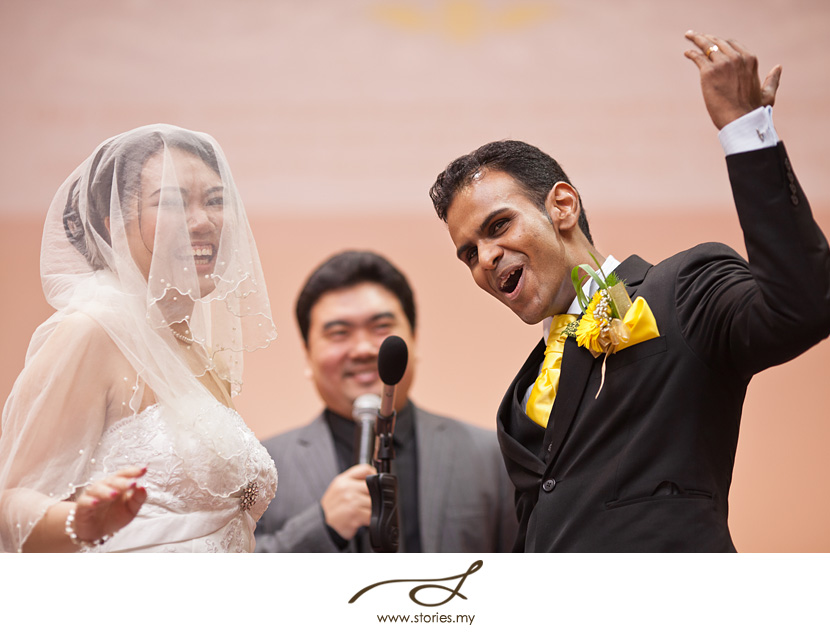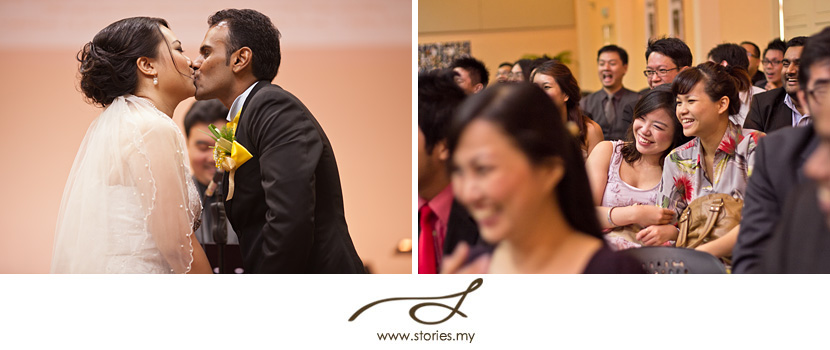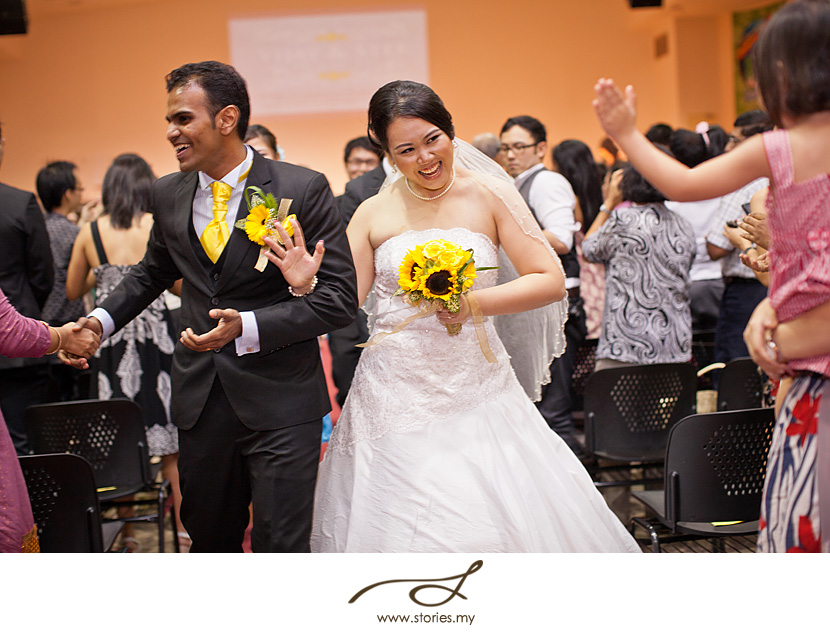 There's always time for a silly group photo…
And portraits, of course! (quite different from their day after portraits, right?)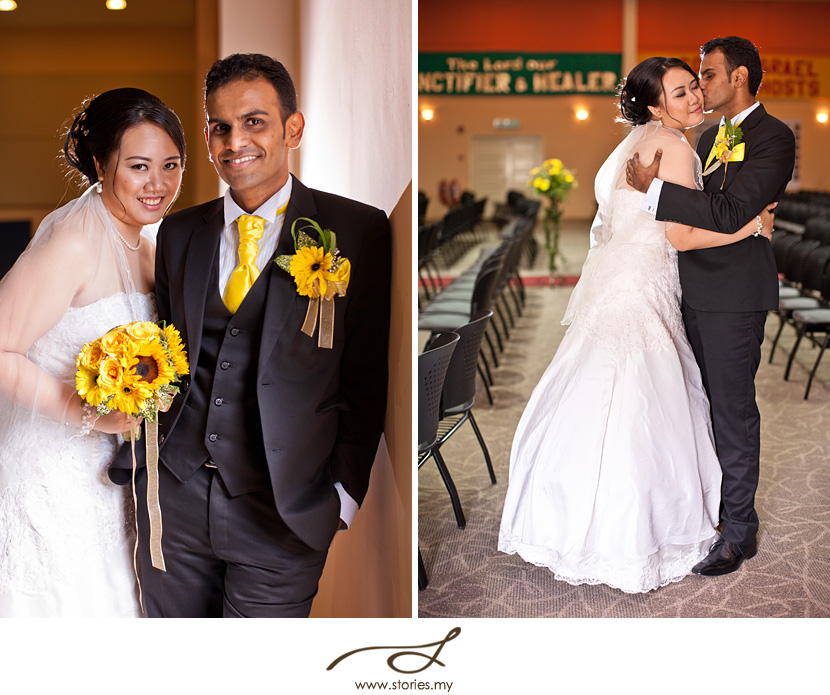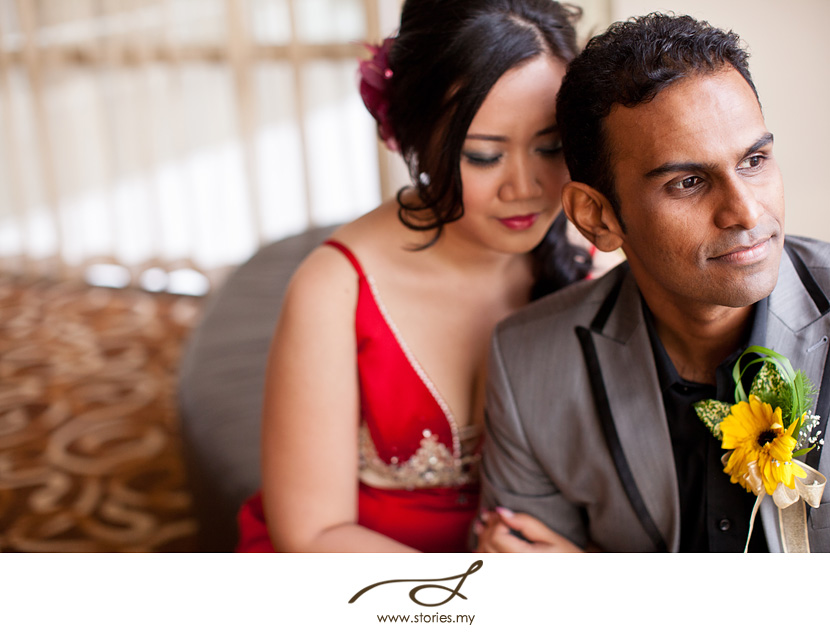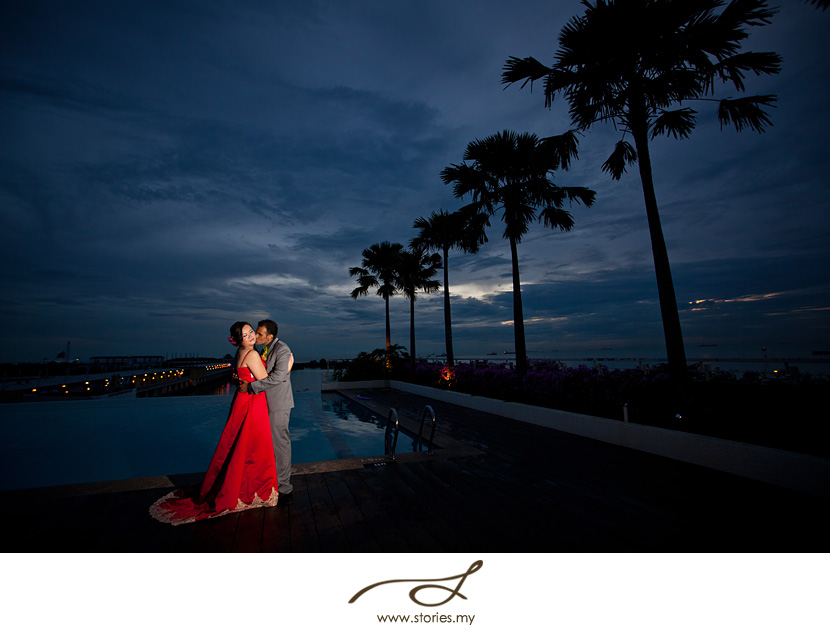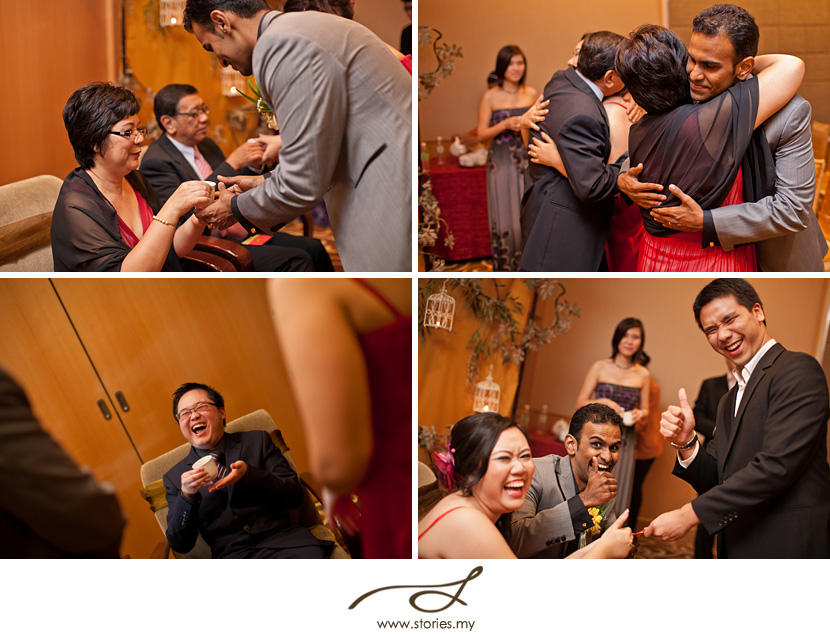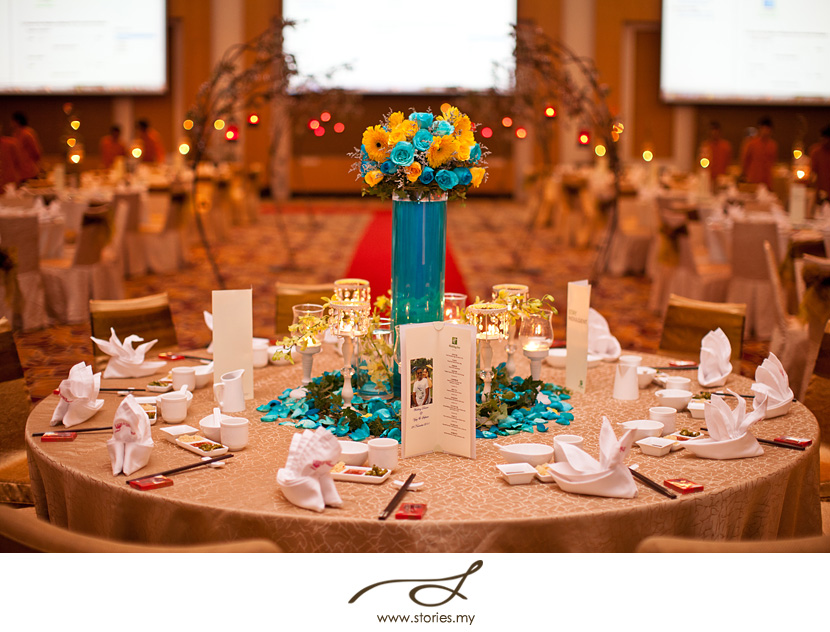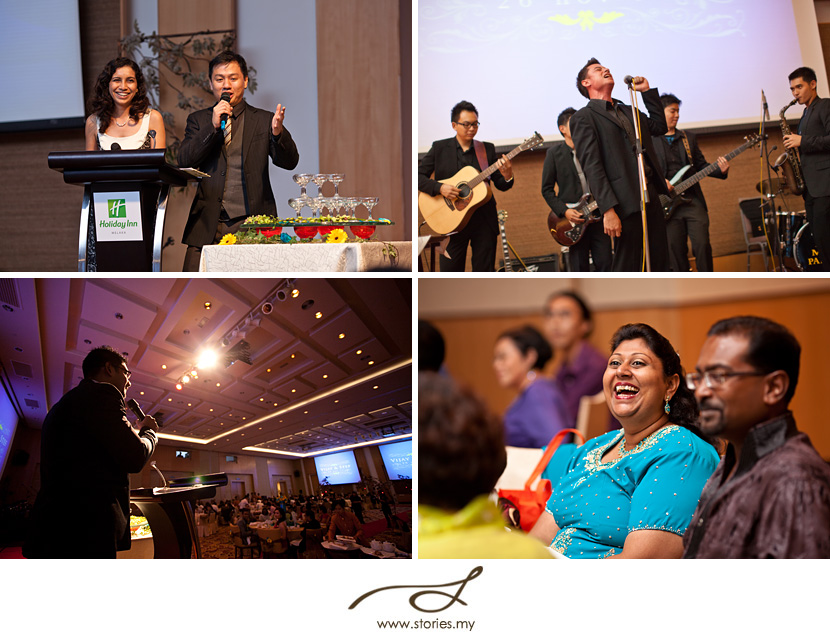 I love this awesome champagne shot by Mark!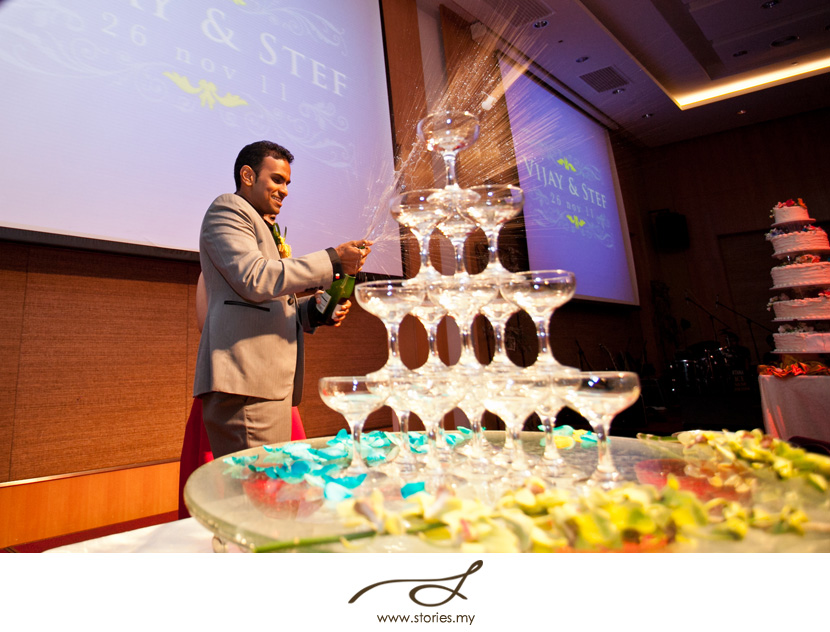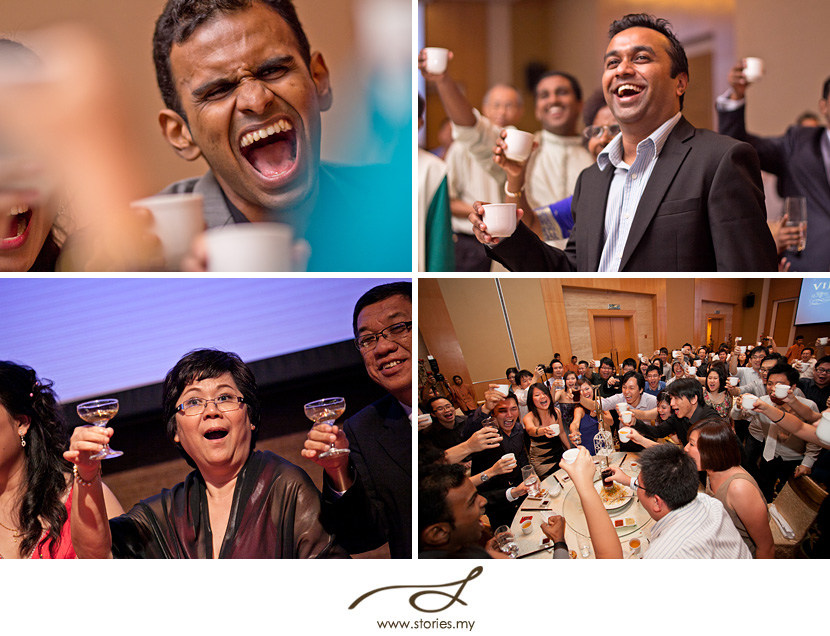 Stefanie: 
While planning our wedding, we discussed several photographers and settled on Stories. We loved their work and decided to take a leap of faith to hire Stories as our wedding photographers. It was the best decision we've made! Not only were our photos simply beautiful, our photographers are the most professional and friendly photographers we've met! Stories captured every single precious, emotional, joyous, fun moment. They tried their utmost best to accommodate themselves to our requests and somehow turned us – the most unphotogenic people in the world – into superstars. Their people skills are excellent and we had so much fun interacting with them during the portraits session.

To Grace – thank you for teaching us how to pose and look our best! Thank you also for accommodating to our requests and giving us the best photography experience!

To Mark – thank you for making us laugh while taking all those beautiful shots! It was so much fun working with you and Grace. We hope you enjoyed all that Melaka food!

To Diane – thank you for your warmth and professionalism in dealing with us before and after the wedding! You're such a upbeat and friendly person and made the whole experience great! Appreciate all your assistance and help!

To the rest of Stories team – thank you for the wonderful editing and lovely shots! Please keep up the great work!

To anyone considering hiring Stories for their event, we HIGHLY recommend them! Thank you again Stories for covering our wedding photography and making it one of the best experiences in our life!
Aaw, thanks Stefanie! :) We are truly honoured! We had an awesome time photographing your wedding! For those who would like to view more photos from the wedding, please click on the same day slideshow below.
Credits: 
Photographers: Grace, Mark, assisted by Diane
Location: Calvary Life Assembly, Malacca & Holiday Inn Malacca
Wedding Gown & Make Up: Increative Bridal House
Flowers: Gabriet Florist, Malacca
Videography: Joshua Chiam
Dinner Entertainment: Cross Fusion