Distance.
That's the key word to describe Danny and Jennifer's first year together as a couple. It's also a running theme for their wedding day, as we had to travel many kilometres to go from one location to another. Danny started the day at his home in KL, while Jennifer got ready in Seremban. Together with his heng dais, they traveled the distance to pick Jennifer up, and then headed back to KL for the tea ceremony. Immediately after, everyone departed KL and headed south again, this time to Port Dickson for their beach ceremony.
But that distance doesn't compare to the one year they spent traveling back and forth from Malacca to KL. They were physically apart, with Jenn working in KL and him in Malacca, completing his final year as a student. It was a tough journey, as they each led separate lives (one working, the other studying), finding it difficult to spend time or even meet up with each other but they never gave up.
Back track 8 years ago… to when their story first began in 2003. They met on the very first day of uni in MMU, placed in the same orientation group. It was not a typical 'love at first sight' story.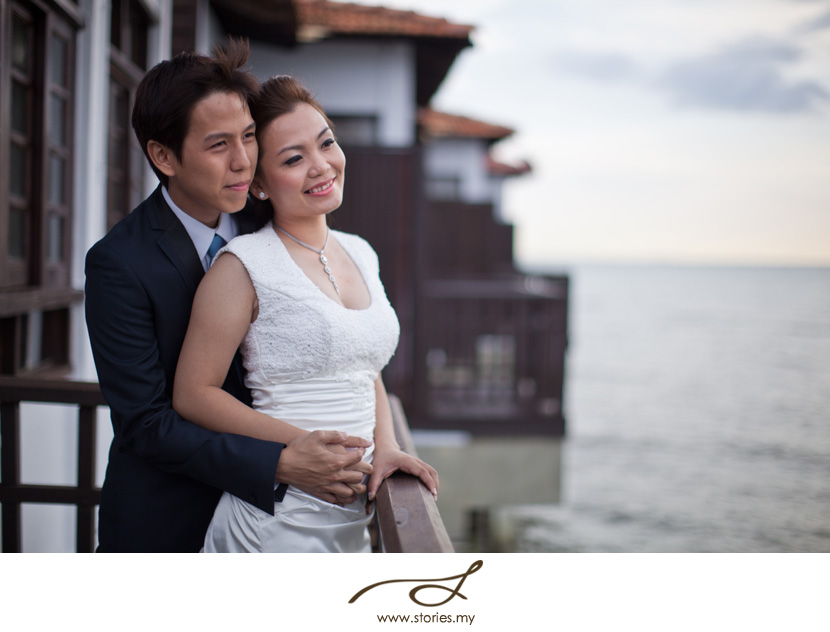 Danny & Jenn's story as written by Danny
In 2007, after Jenn graduated, we began writing our love story. How did we go on a first date? We both loved spaghetti carbonara, that's why we had our first date to try out the delicious carbonara at The Noodle Bar, Melaka. That first year was a really tough year but once I graduated, I worked in KL which allowed us to grow our love and bring our relationship even further.

After 3 years together, we decided to take a big step in our life – to buy a house together. We wanted to spend the rest of our life together, build a beautiful home, and to have our own family. When she least expected it, I proposed. Jenn always wondered if I would ever propose because I was never a romantic person, and always say there's no need to propose.

Buy house = no proposal = get married straight.

On 01/01/11, I surprised her with 99 red roses and a diamond ring. I got down on my knees to propose and of course, she agreed.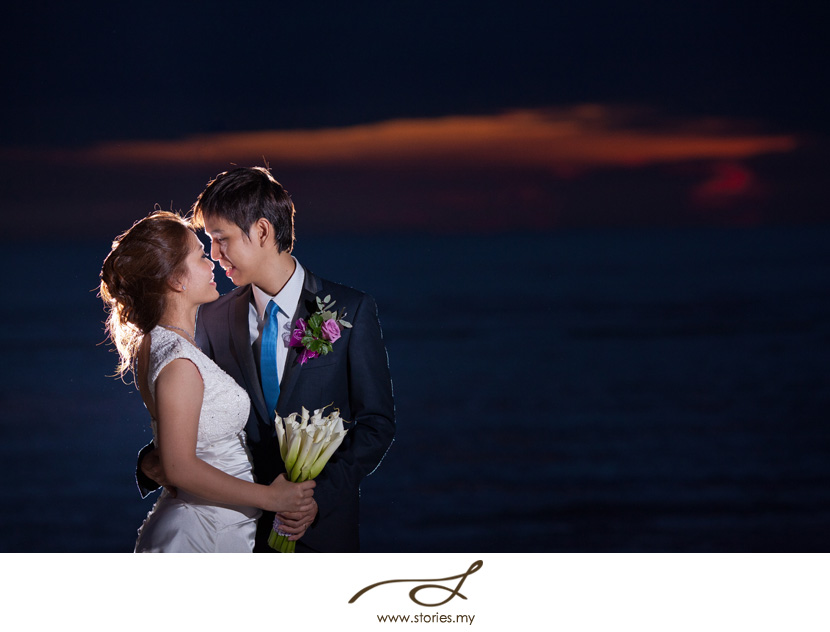 Moving into a new home (not to mention the cost of renovating & furnishing) and getting married in the same year ain't easy. We made the decision to get married in May 2011, moved to a new home in June, and planned for a November wedding. It was really tough, especially on the pocket but we took the huge risk. We only started planning our wedding after we moved in.

5 short months to plan our big day was a real big challenge. Two biggest challenges: 1) Venue, and 2) Photographer. With such a short notice, it was difficult to get a dinner venue and a good photographer. It was a 'hot' year, so many weddings, especially on nice date, 20/11/2011. I really thank God for blessing us as we managed to get our dream wedding venue – a beautiful beach at Avillion PD, and noted photographers – Stories (and Grace was available for it) within a short period of time.

Despite it all, both of us really did enjoy the process of planning. Our wedding theme, 'Sweet Serendipity' was inspired the song title, 'Sweet Serendipity' by Lee DeWyze. The lyrics of the song somehow reflected us and the situation we were in, especially the chorus part…

I ain't gonna stress
Cause the worst ain't happened yet
Something's watching over me
Like Sweet Serendipity

We took the risk, we pulled through the rough road, and on top of it all we were blessed as we got what we wanted for our dream wedding.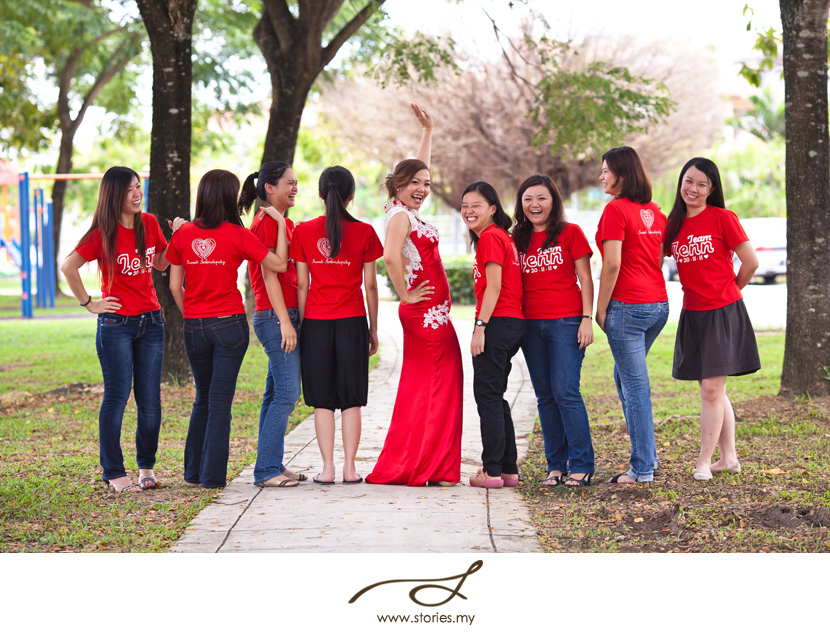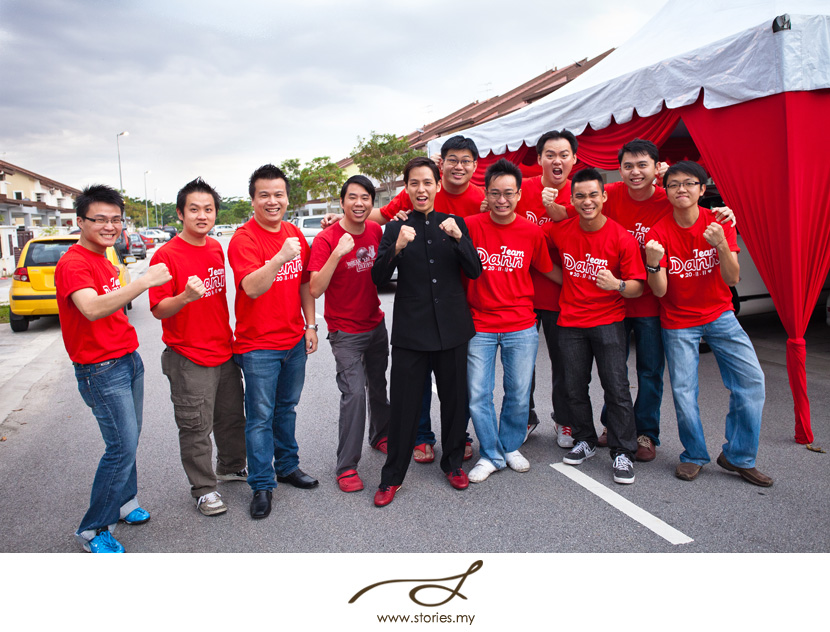 Danny and Jennifer decided to go for a traditional Chinese theme for the morning part of the ceremony. I was really amused when I saw the customized t-shirts for the heng dais and ji muis. In fact, quite a number of items were customized based on their wedding theme and logo, which you'll see more of soon.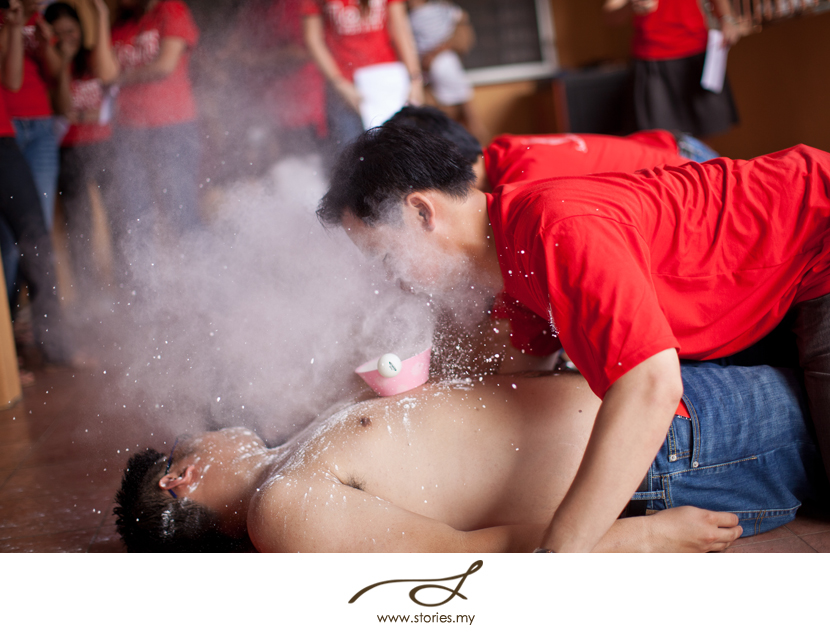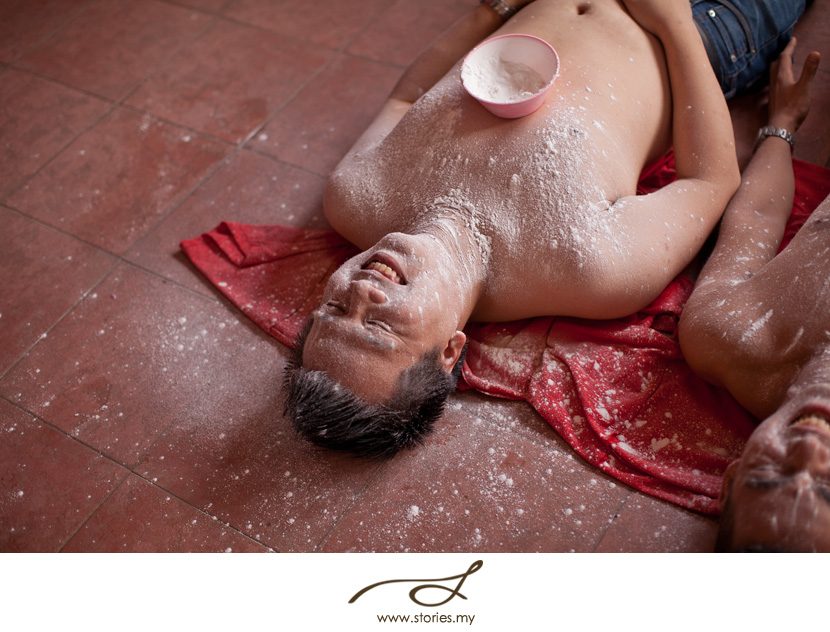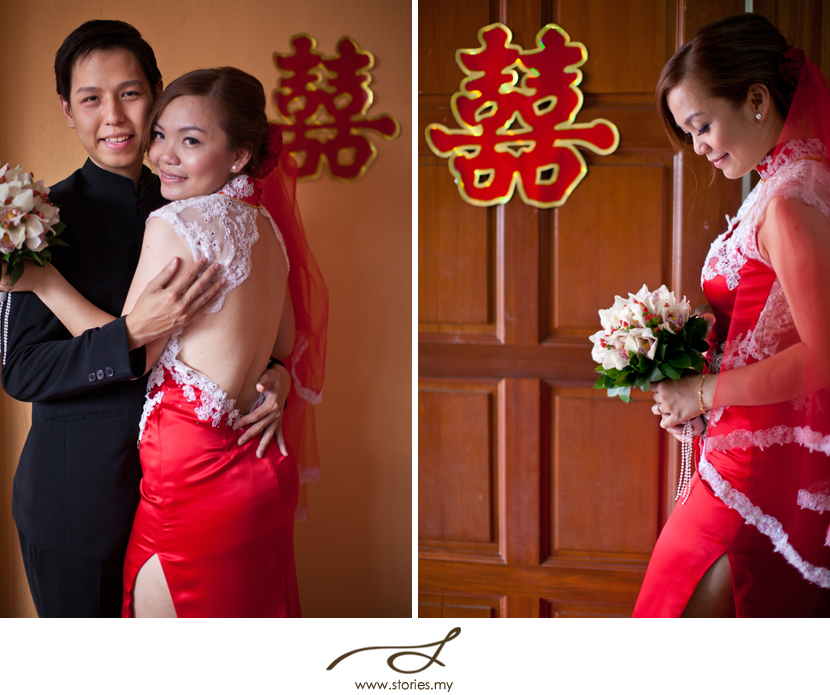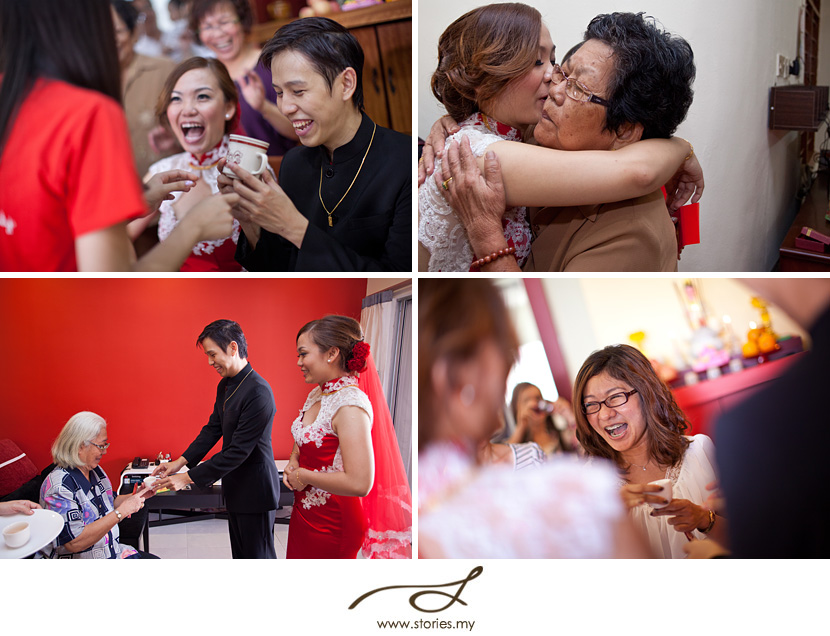 Look at their customized ang pow packets! I salute Jenn for folding so many of these packets!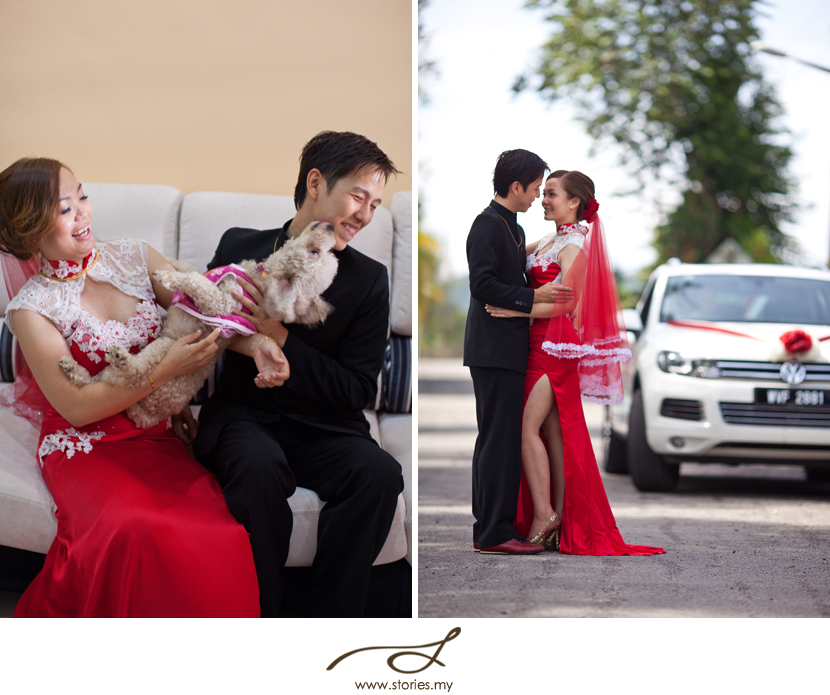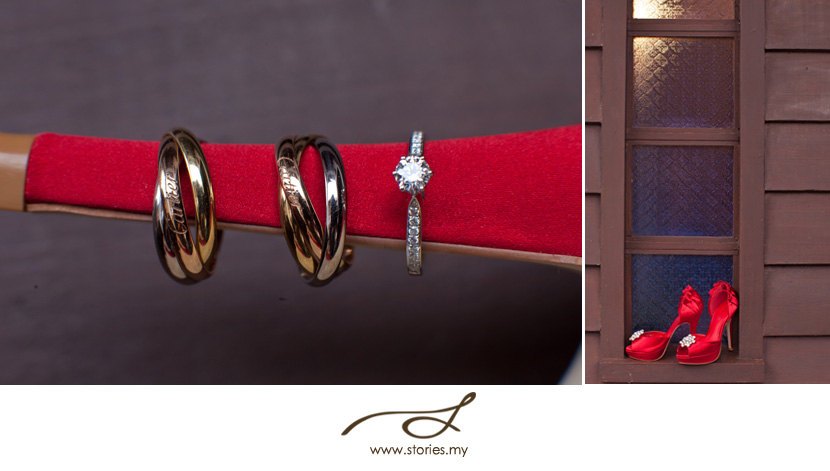 Danny:
We always dreamt of having a beach wedding. It was raining before we had our ceremony.  We had to make a decision if we wanted to move our wedding event to the ballroom. We were a real risk taker and still opted for the beach wedding. We were so stressed looking at the rain, especially when our ceremony should have already started. Everything was delayed for almost an hour due to the rain. Thankfully, it was cleared by then. The rest of the night (both ROM and dinner) was perfect and memorable for both of us.

After being together 1,549 days, we said 'I do' to each other in a small ceremony, witnessed by close family and friends. It was a dream wedding for both of us, as we started our love journey at a beach. =)

Thank you to Grace, Diane, and Mark of the Stories team for being a part of our wedding, doing their magic, capturing the most wonderful moments of our big day, despite of being tired from all the traveling they had to do throughout the day. The photographs were wonderful and we love them so much. Expressions and moments were beautifully captured and the effects were very natural. We definitely would love to have Stories to photograph the next stages of our life – maternity to family portraits. Bravo, you guys!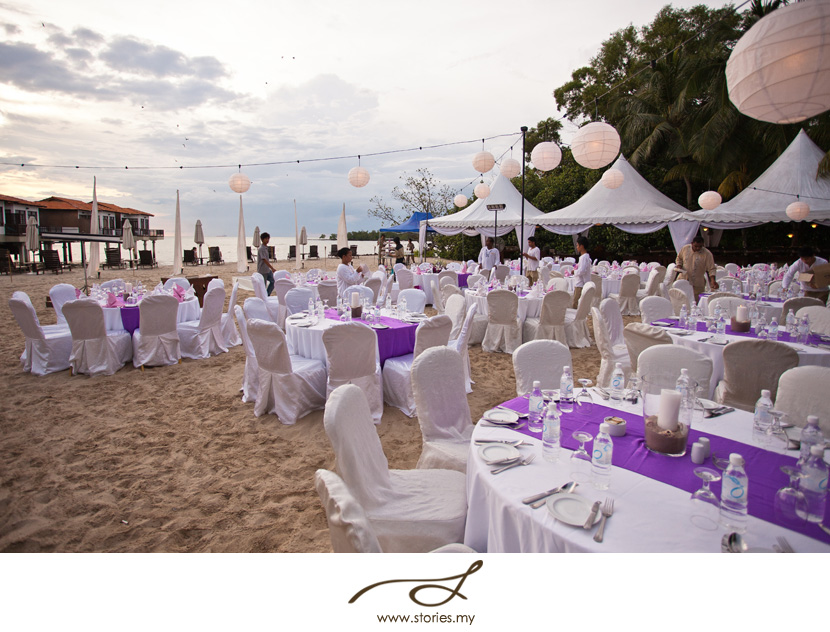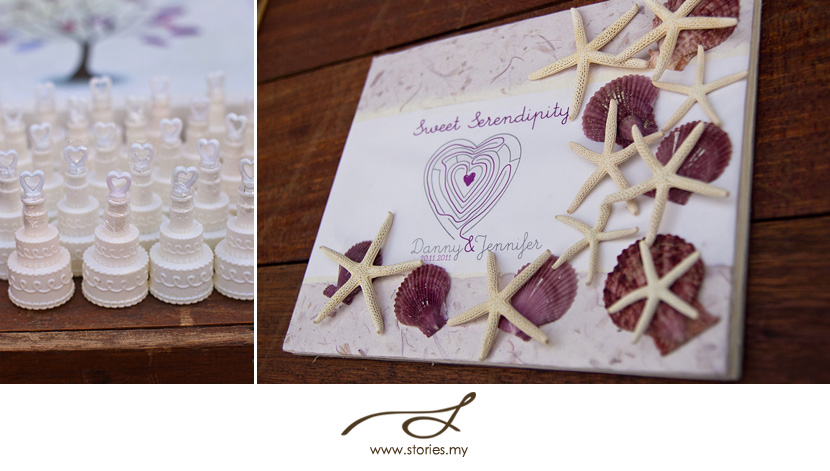 Remember what I mentioned about customization? They customized their guest book, welcome board, serviettes, wedding invites, program fans, seating number badges and even sticky candy stickers, down to the candy itself! I absolutely love the design of their logo! Look closely at the candy and you'll see their names!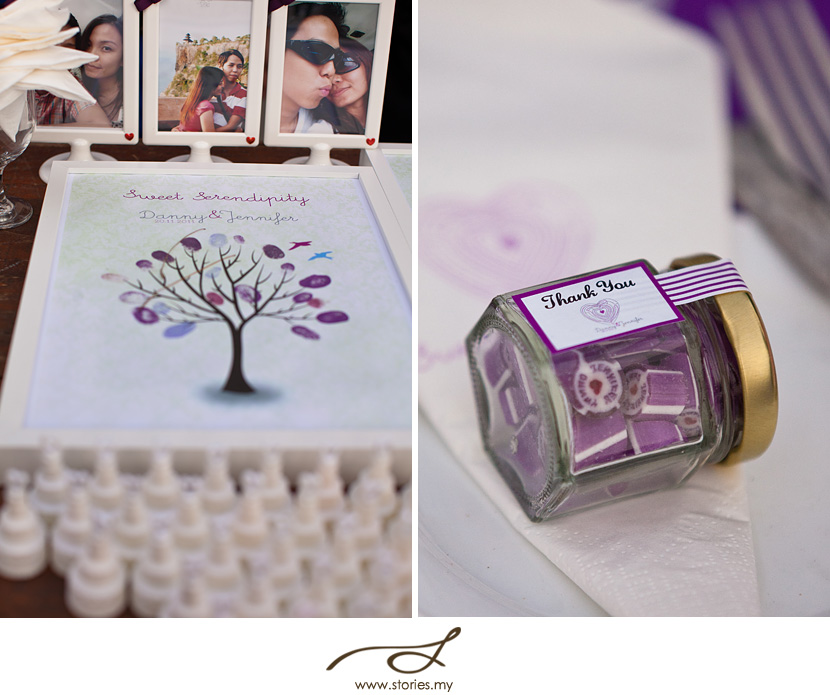 Purple and white's a great theme… hey, great minds think alike cause I had a purple and white wedding too, 6 years ago!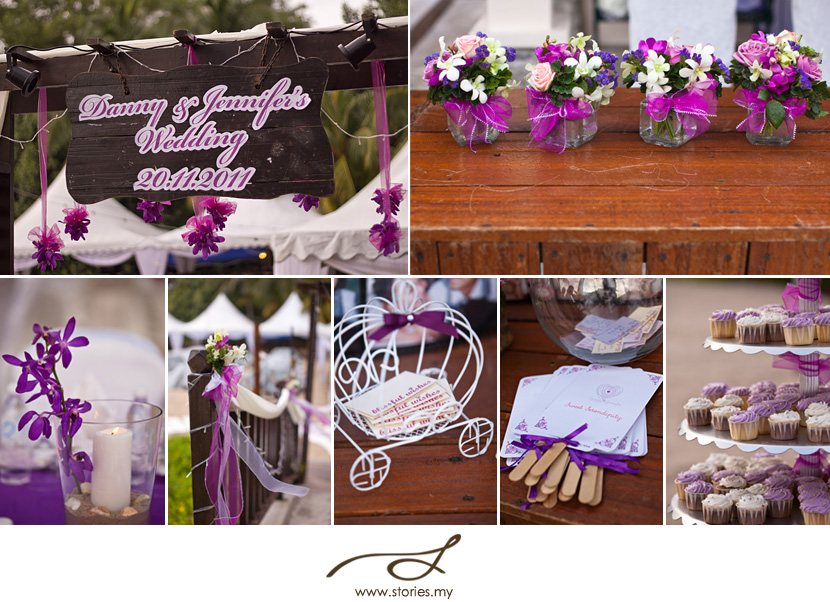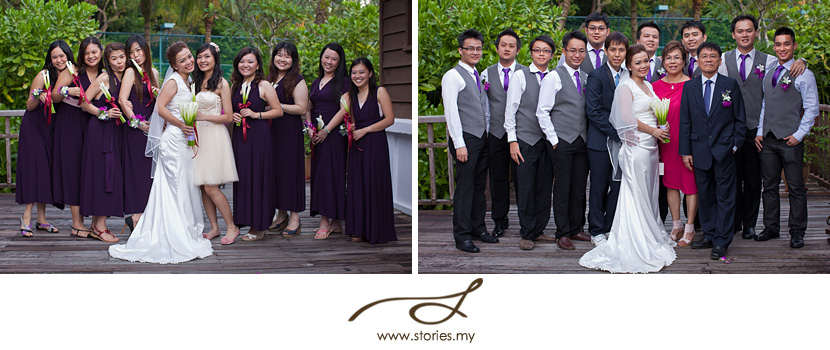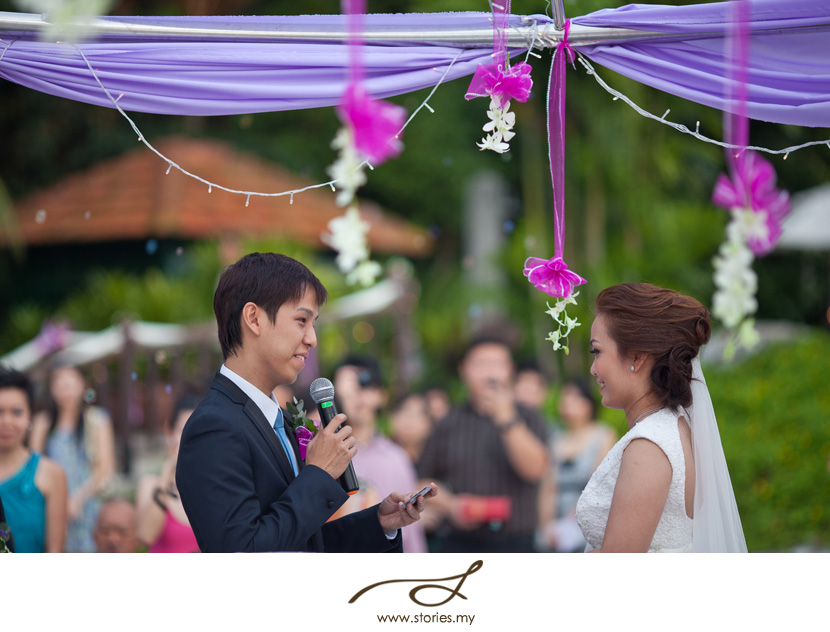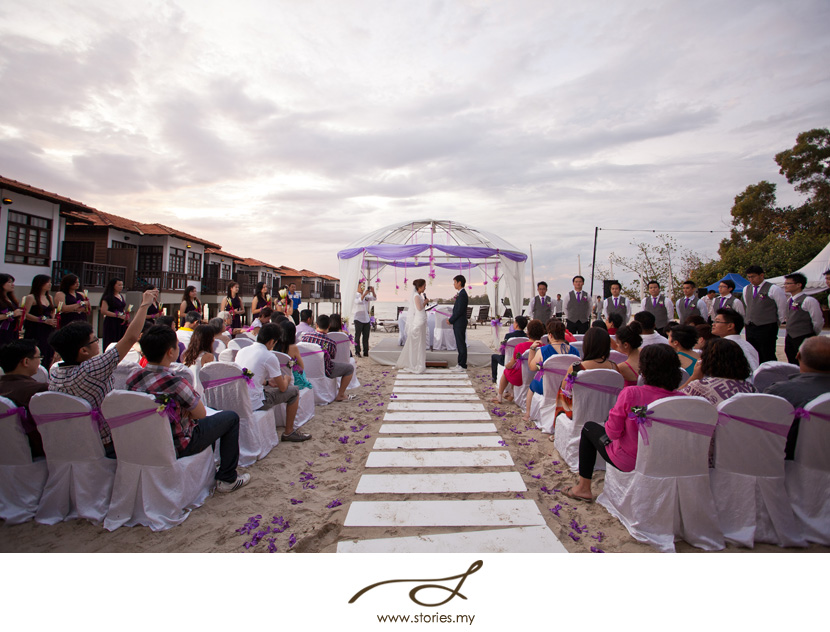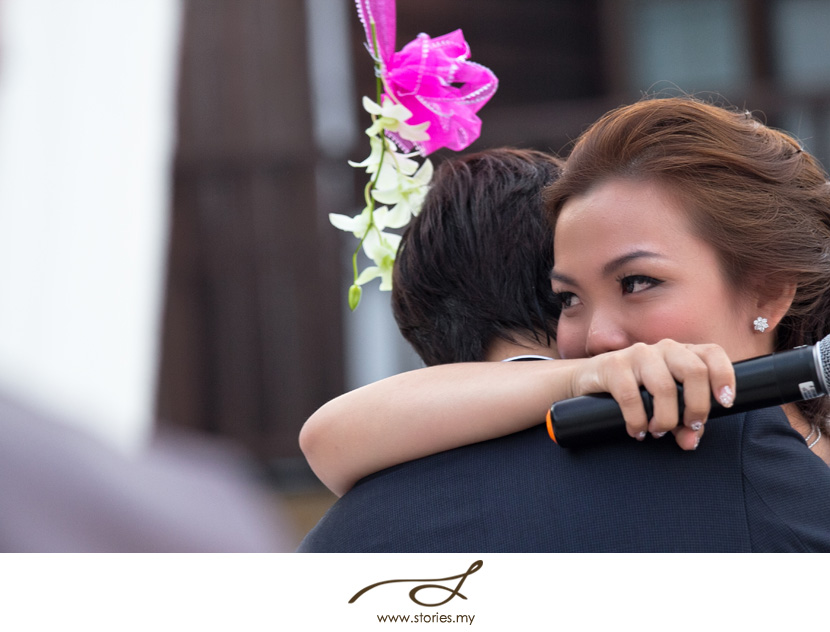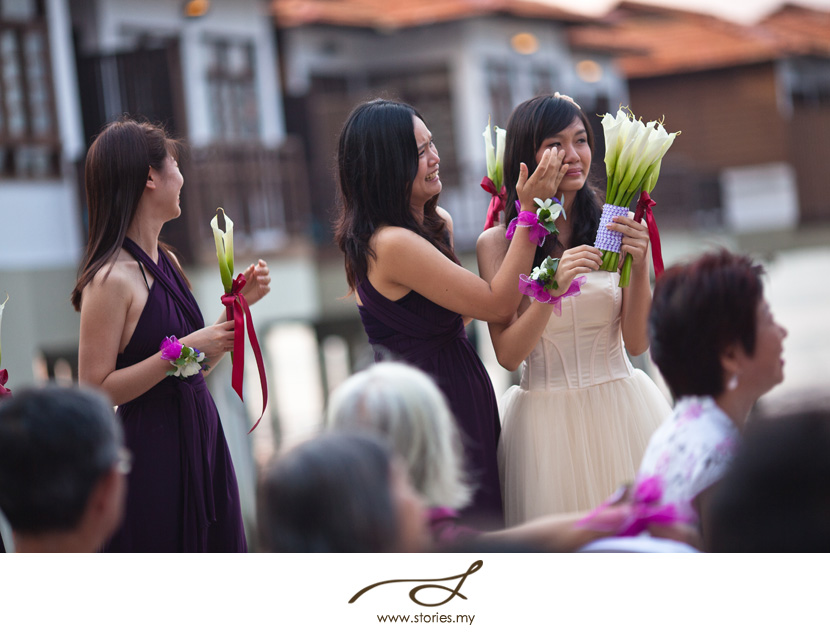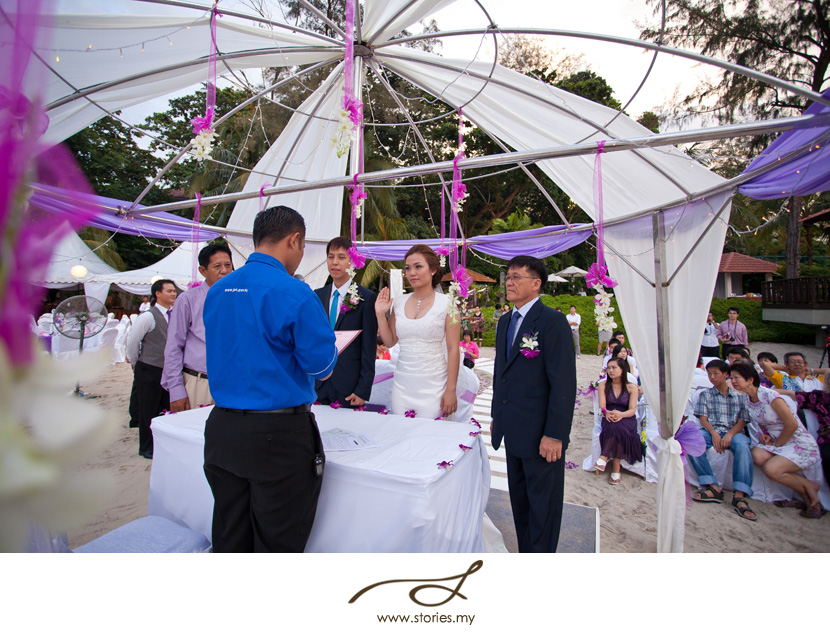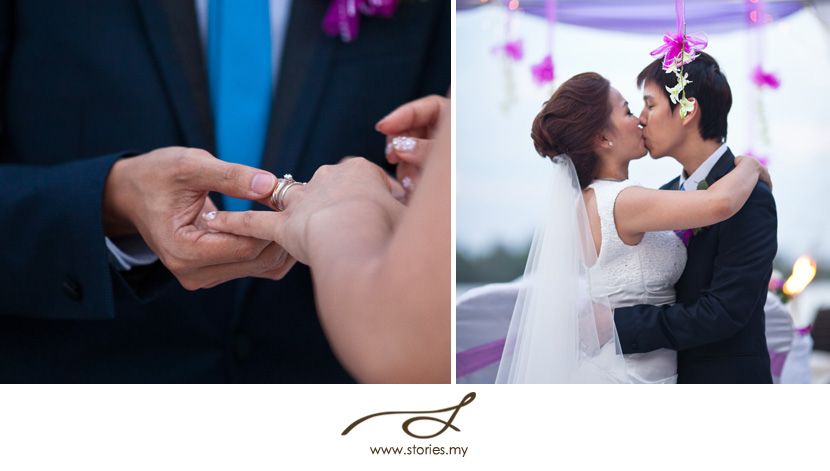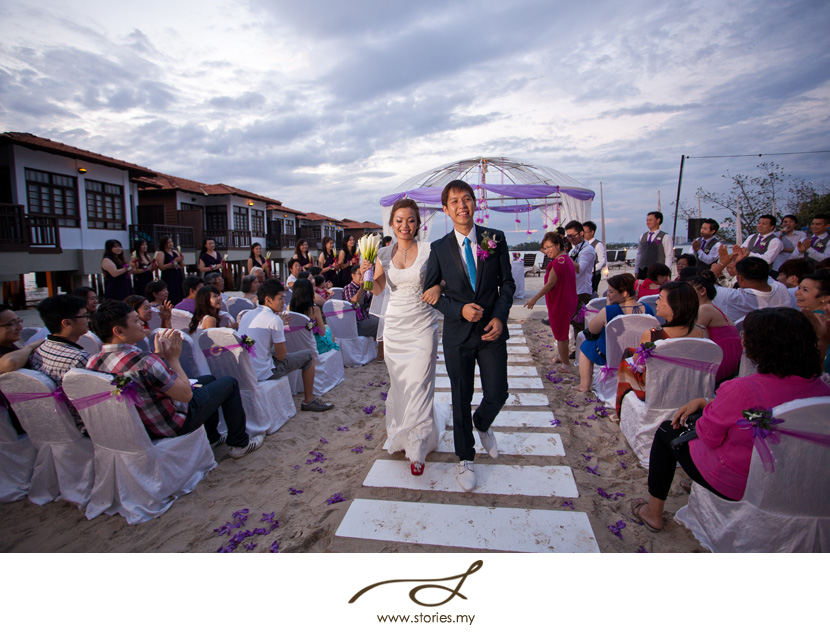 Their evening was made even more perfect with this gorgeous sunset!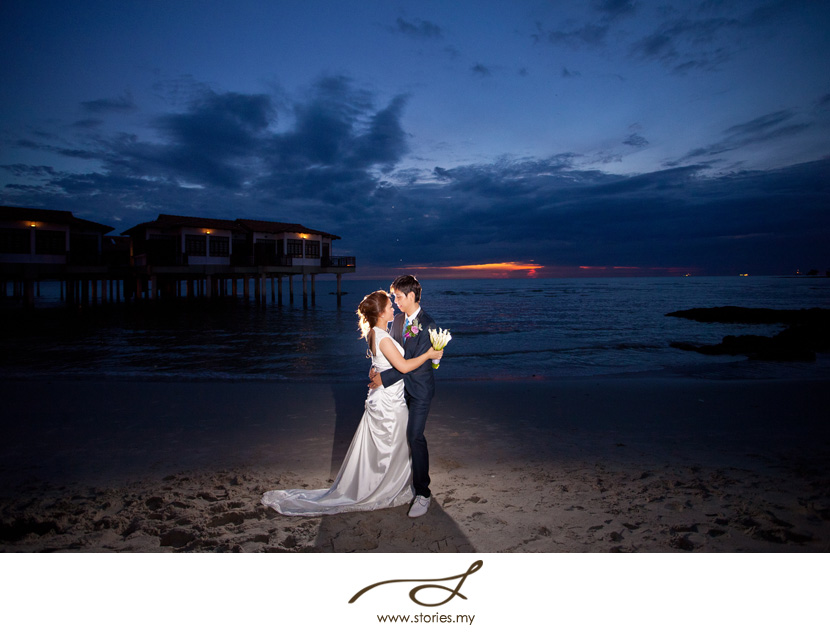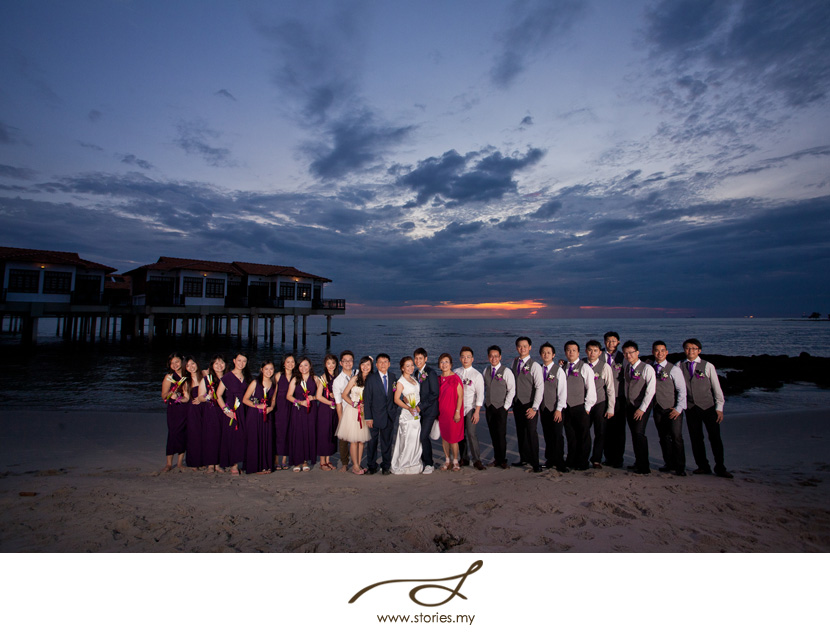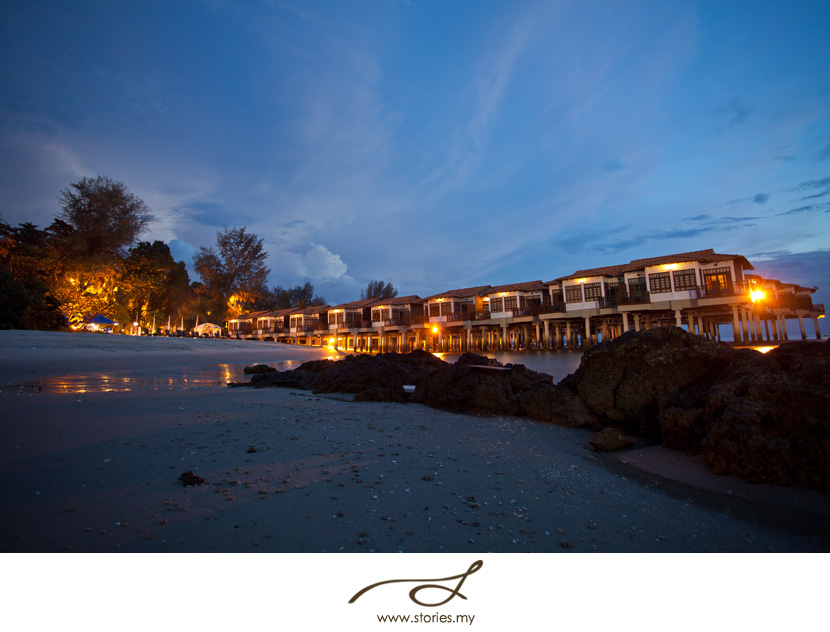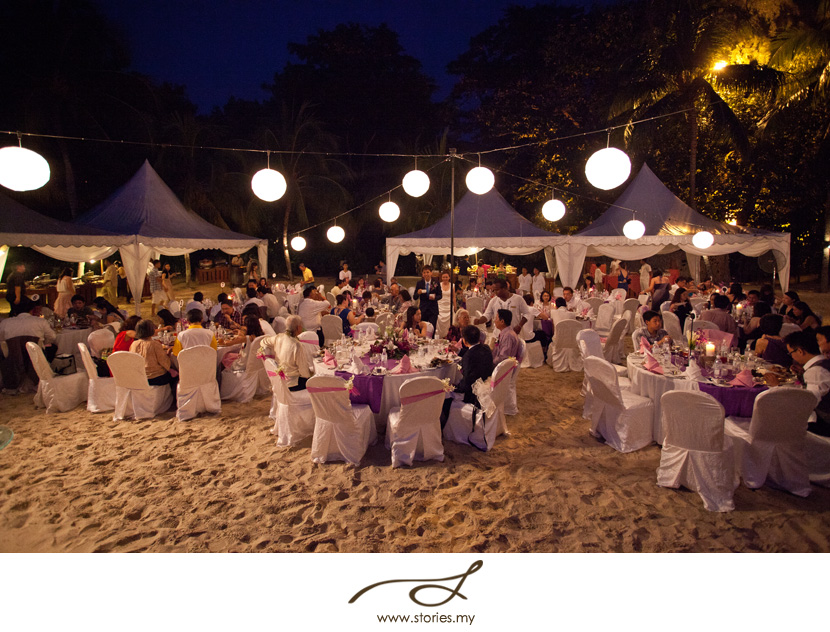 Oh and I so love the cake that I have to show you how it looks from 2 different angles. I do wonder about the ship's anchor though… does it mean that they love going on cruises, or does it mean that each keeps the other anchored? :)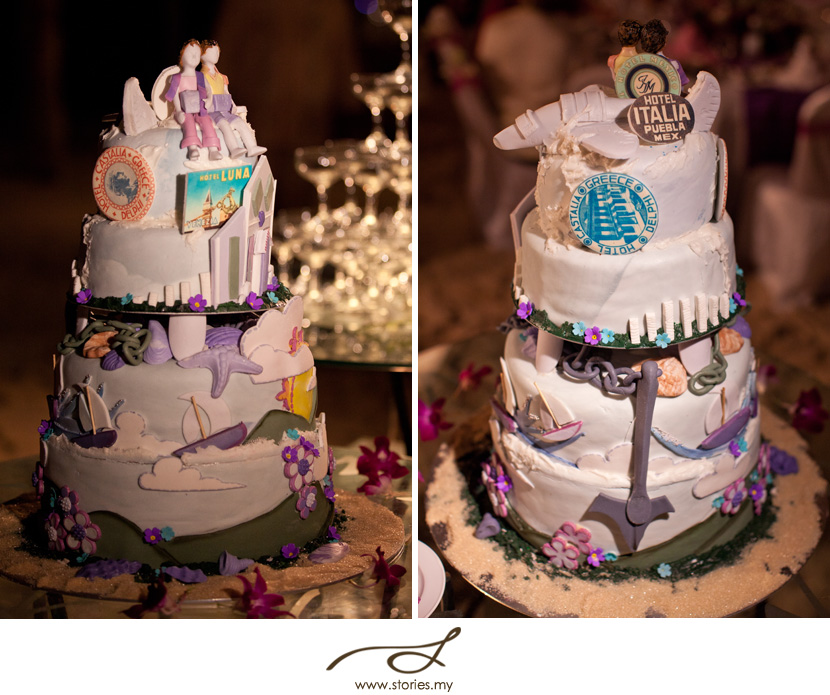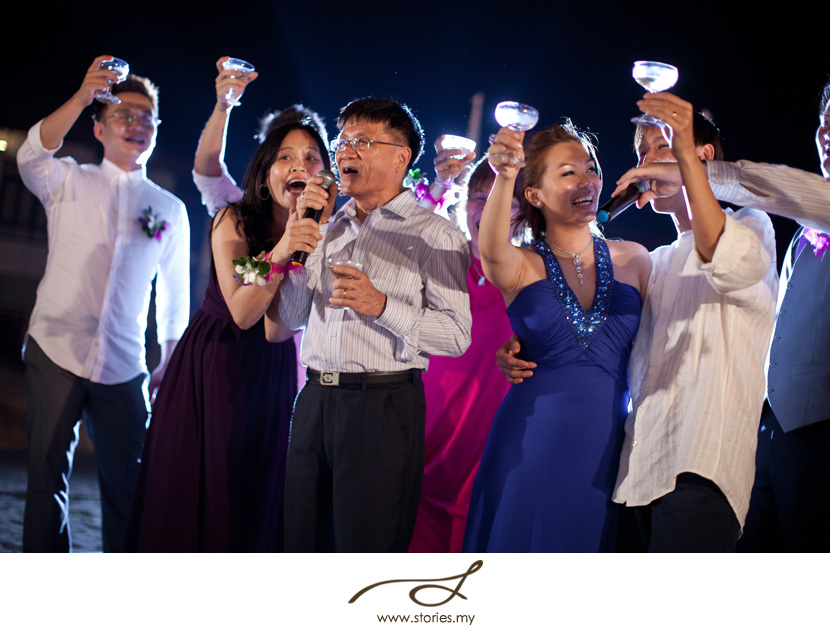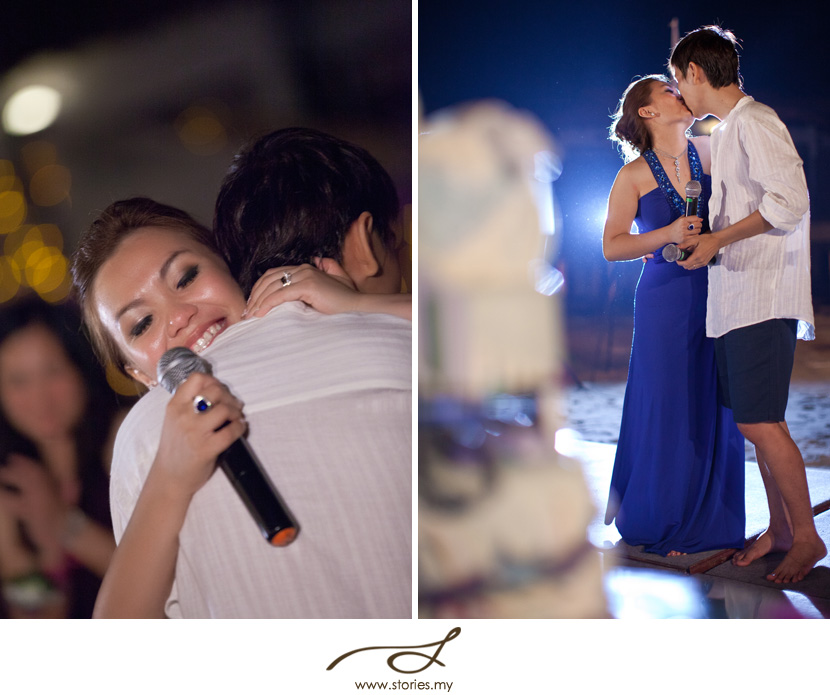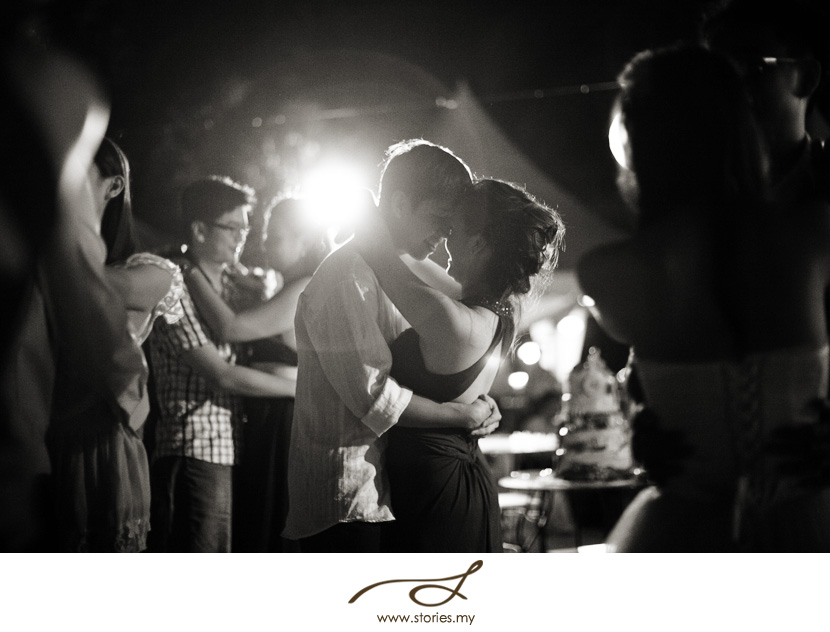 Danny and Jennifer, the day couldn't have been better. I am so glad that everything went well despite the rain. Thank you for choosing us, and we look forward to photographing your maternity and family portraits! :)
It's been a long post, but I'd like to leave you with some tips on how to plan for a beach wedding, as shared by Danny and Jennifer:
8 TIPS FOR A BEACH WEDDING
1)     Size of Beach: Ensure the size of the beach is able to cater for the number of guests invited. It's more comfortable when there's ample space to move around.
2)     Settings (Layout Plan): If you're going to have both the ROM and dinner on the same night, ensure the setting and spacing is sufficient for guests to mingle. Oh, you'll need space to toss the bouquet too!
3)     Wedding Gown: Light weight and comfortable as it allows you to move and walk around easily. You wouldn't want to look as if you are carrying a heavy weight while walking.
4)     Grooms' Attire: Comfortable and nothing too thick as it's gonna be very hot and sweaty.
5)     Shoes: Comfortable! You'll have to walk on the beach in it the whole night. Either you have it on or take it off.
6)     Guests' Attire: Do inform your guests in advance on their dressing. As a beach wedding is an outdoor event, you wouldn't want them to dress as though they're going for a party in a ballroom, especially ladies in heels. It's semi-casual after all.
7)     Make-up & Hair do: A good make-up artist and make-up products are crucial, and ampoules are essential. You are sure to sweat and you wouldn't want your make-up to smudge. An up hair-do gives you a 'non-sweaty-with-wet-hair-sticking-to-your-neck-&-shoulder-look'.
8)     Back-up Plan: Very important, just in case it rains!!!
Credits:
Photographers:  Grace, Mark, assisted by Diane
Location: Avillion, Port Dickson
Wedding Gown: Pretty in White, & DressMe
Groom's Attire: Armani Exchange, Topman & Mohan's Executives
Shoes: Aldo, Pedro
Make up & hair: Michelle Touche
Decorations: Avillion & Javen Florist
Stationery: Paper & Colour
Cake: Sugar Boutique
Flowers: Pure Seed & Javen Florist