Years ago, when I was still a student at Multimedia University, Melaka, I heard about Justin from the MMU Christian Fellowship where he used to be president. Since I was in a band too at that time, I particularly noticed that Justin was in a band  (named PG165) together with Vijay (whose wedding we also photographed!). I also heard about Audrey then, as she was the president of CF MMU, based in Cyberjaya.
So 2 presidents from 2 Christian Fellowships, from the same university ended up marrying each other. Despite it being a half day event, it was a big privilege that Johan and I got to document their wedding. I could feel the strong emotion and genuine love they have for each other on their wedding day. And that made it one of my favourite weddings by far.
The wedding was not entirely about themselves but also about their families whom they really love and care for, friends that spent the entire night lending them a helping hand to decorate the church and also about God. What touched me was that they honoured and gave thanks to God for He had handpicked and brought them together. I particularly love the part where Audrey said she sees God in her parents' lives and wants to be like them.
On behalf of the Stories team we wish both of you much joy, happiness and excitement on your journey together!
– Weiming –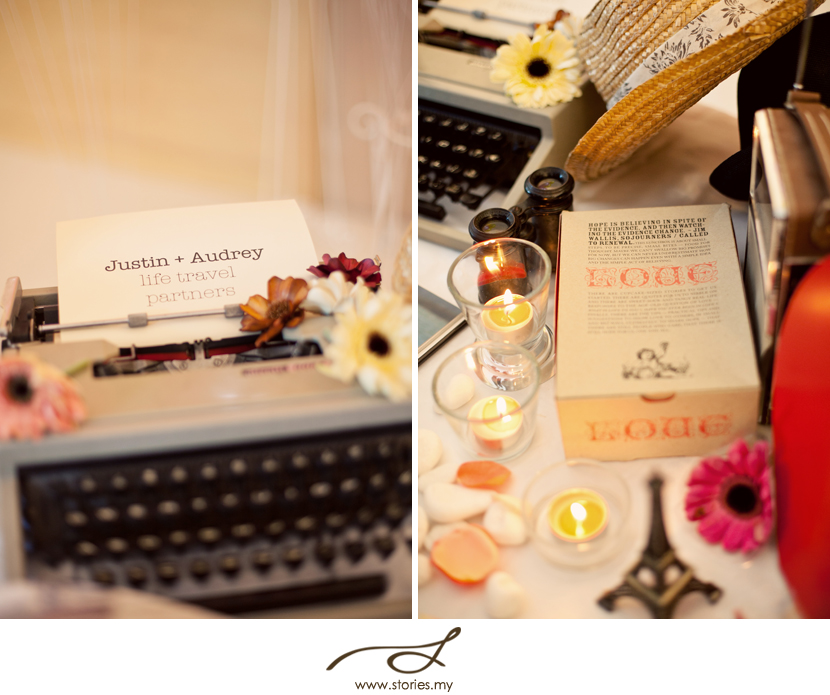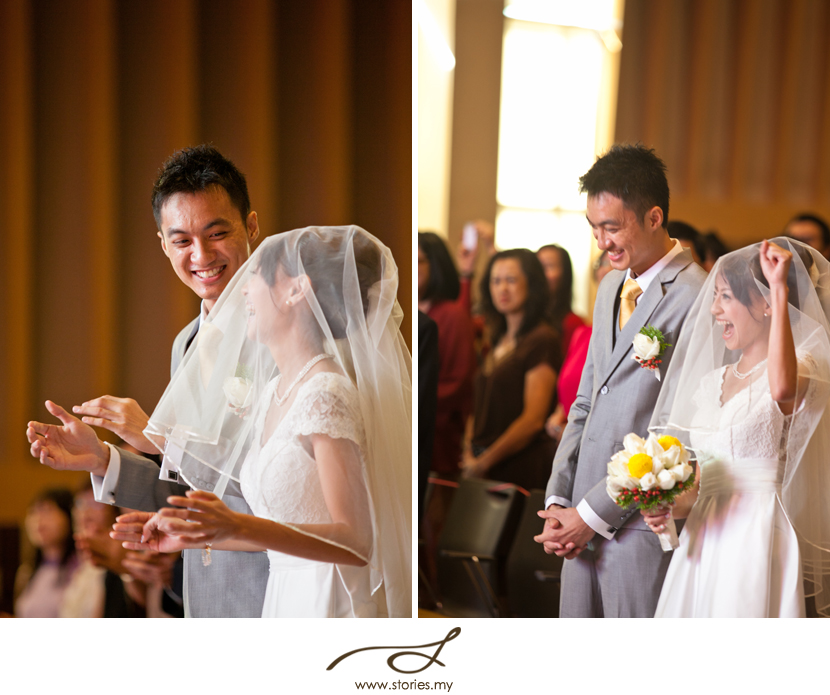 Since Justin & Audrey's wedding theme is about celebration, the coral and mustard theme colour works really well! We love this line that is on their wedding program:
Please cheer and celebrate with us during the ceremony. It's not a funeral! :)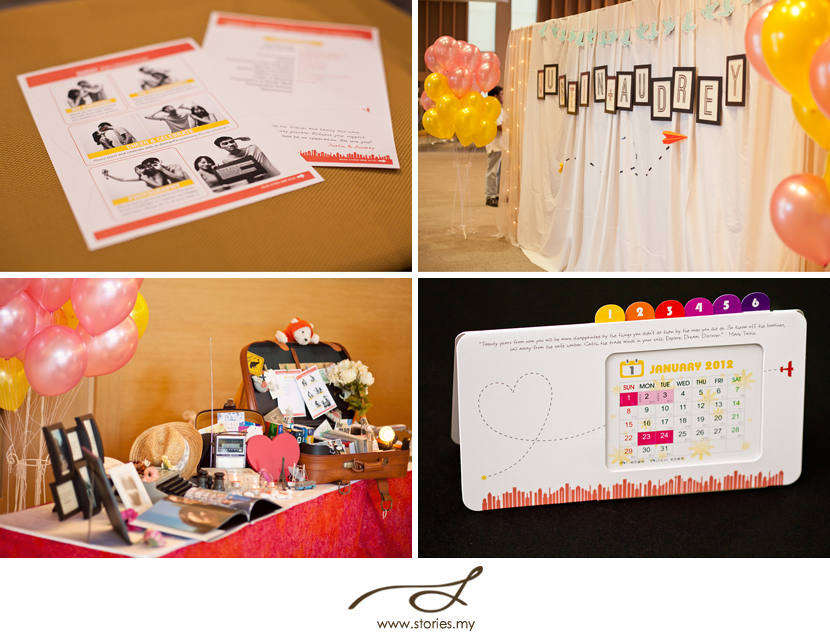 A calendar as a wedding favour is not only unique, it's practical! Featured below is their cool postcard wedding invite with personalized stamp at the back. (same design as the wedding car)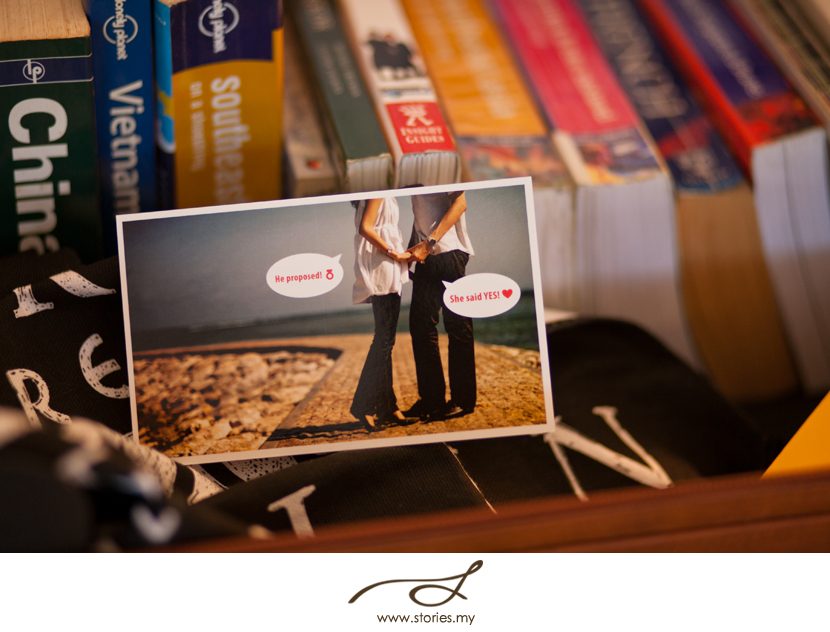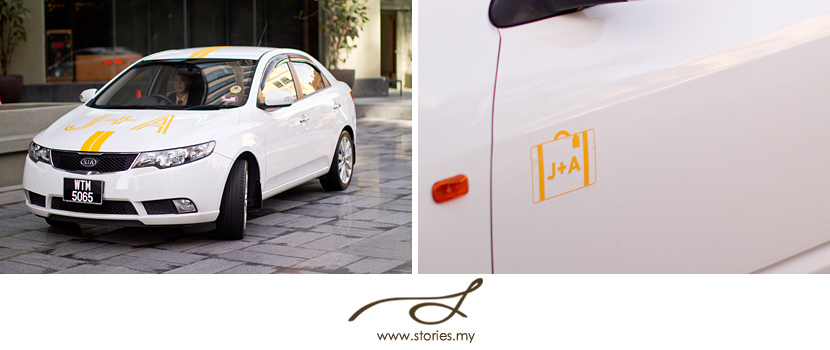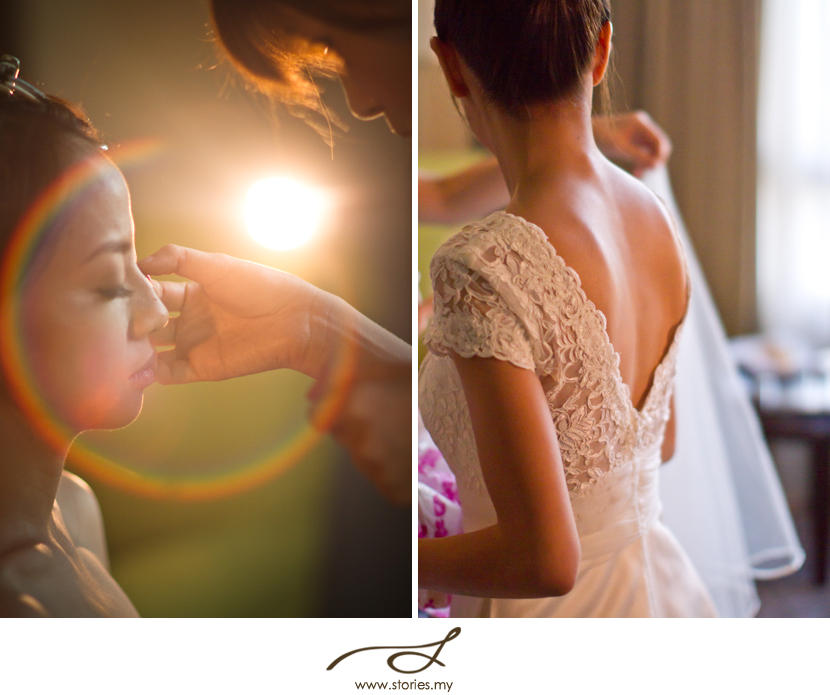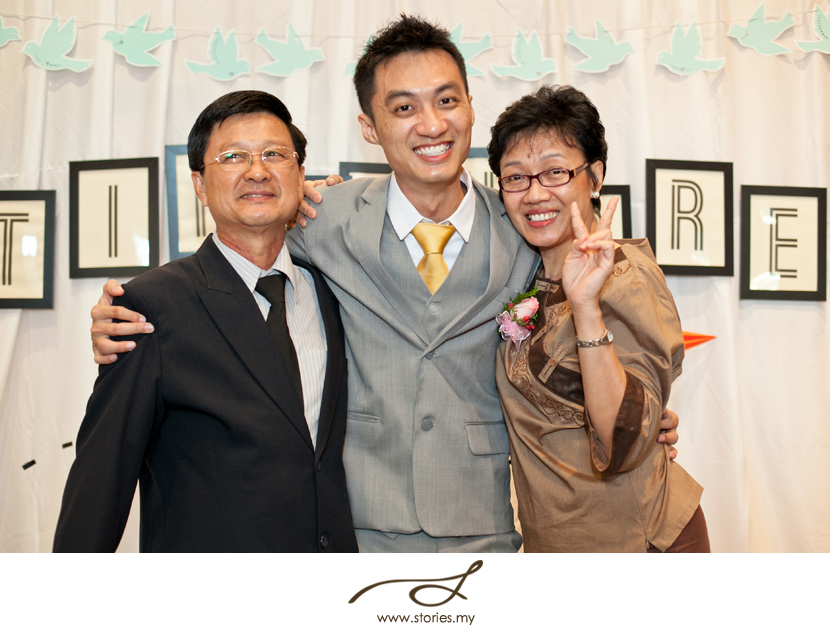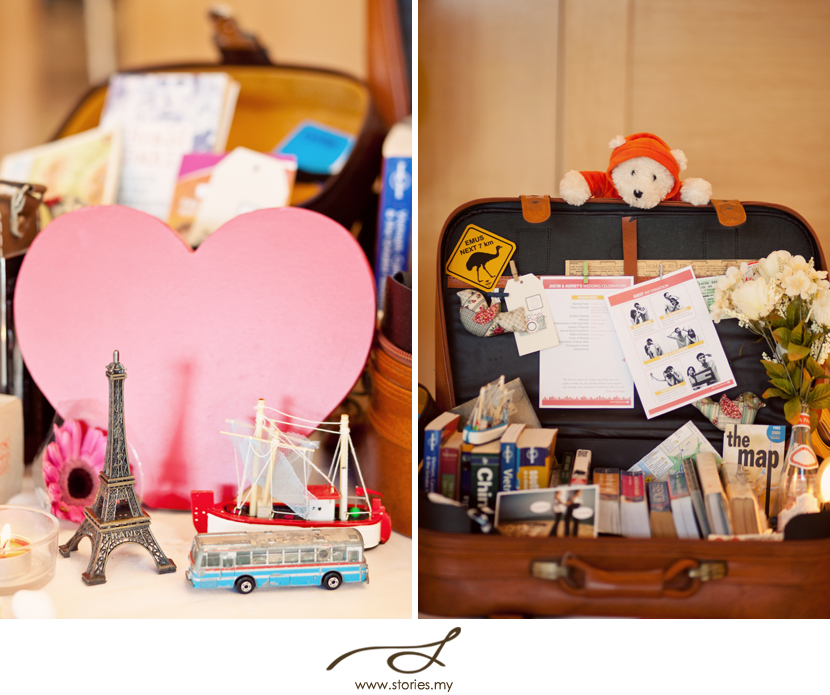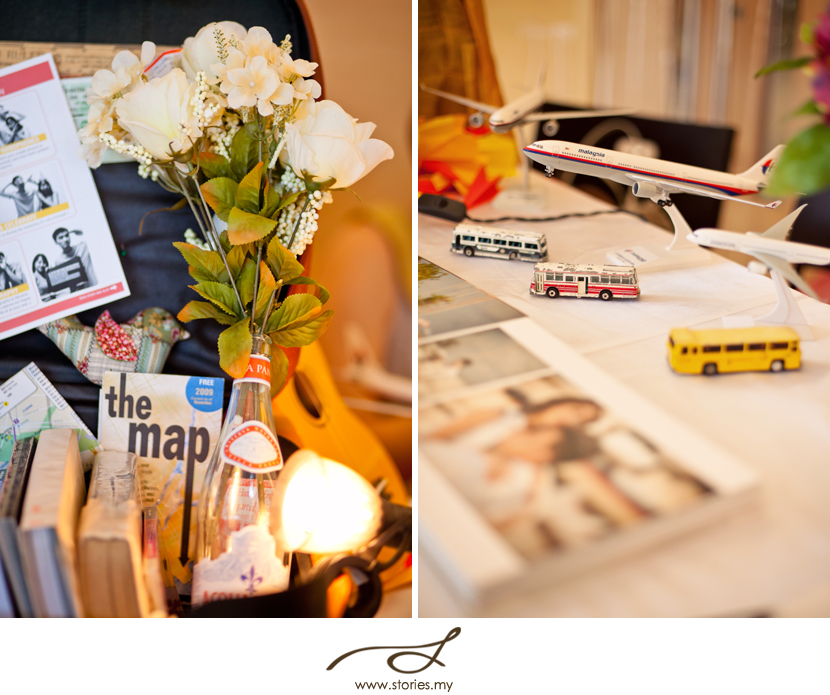 It's important to have some nutrition before the big task of walking down the aisle.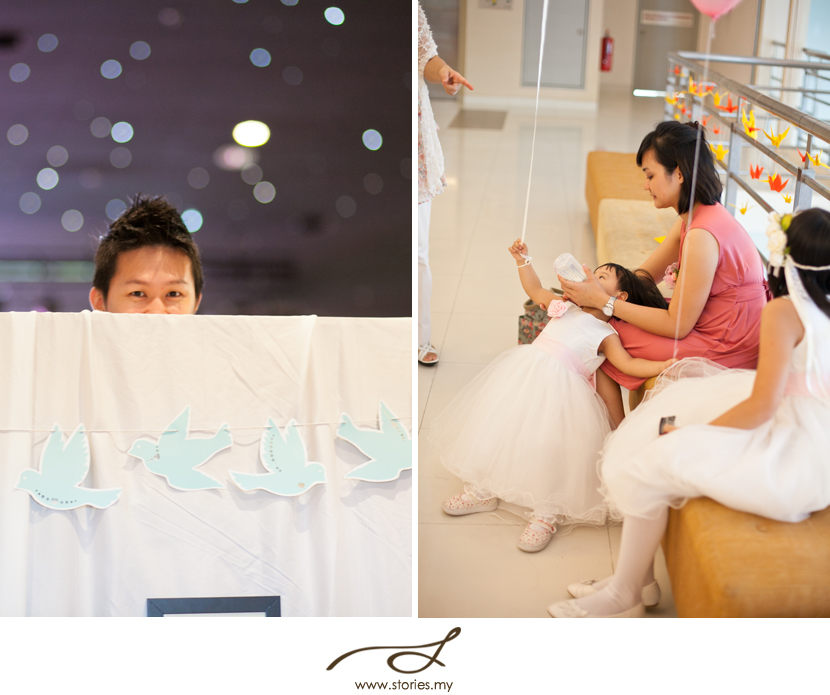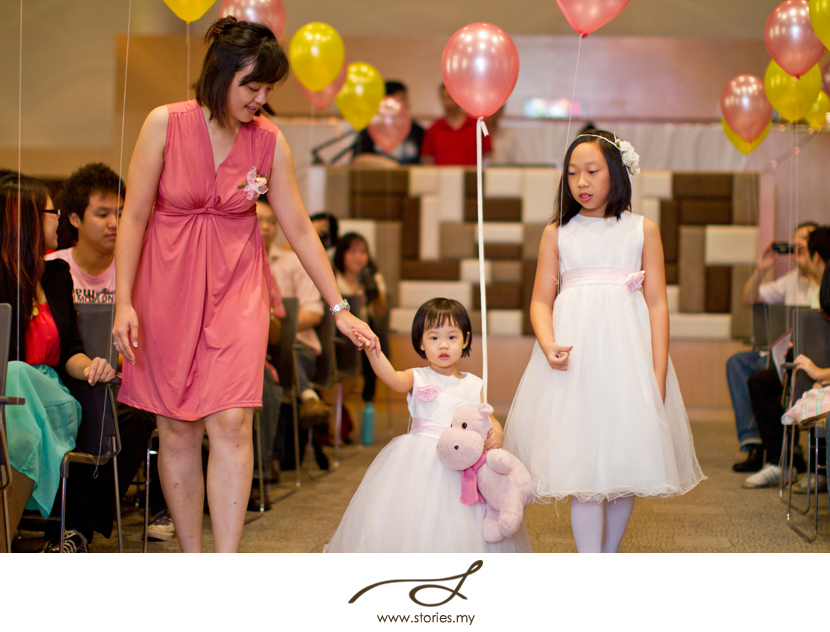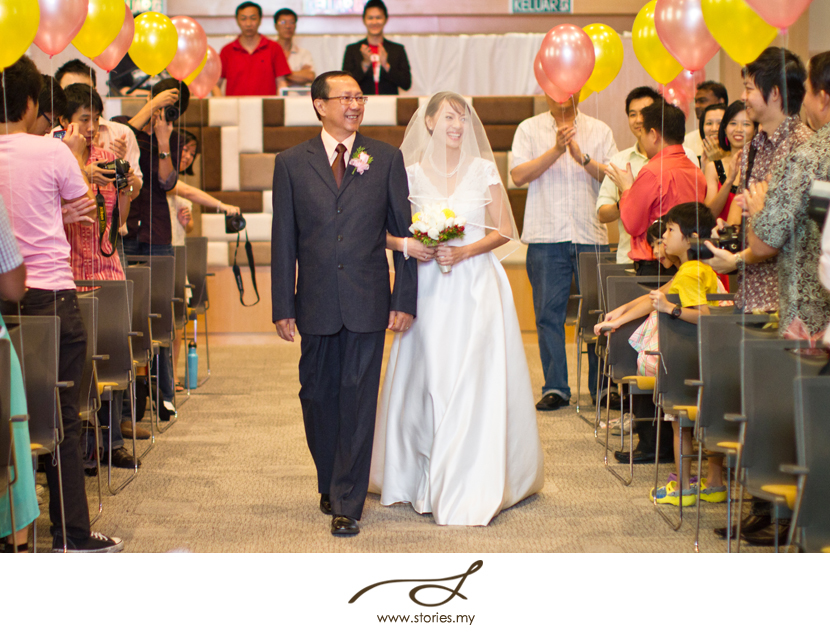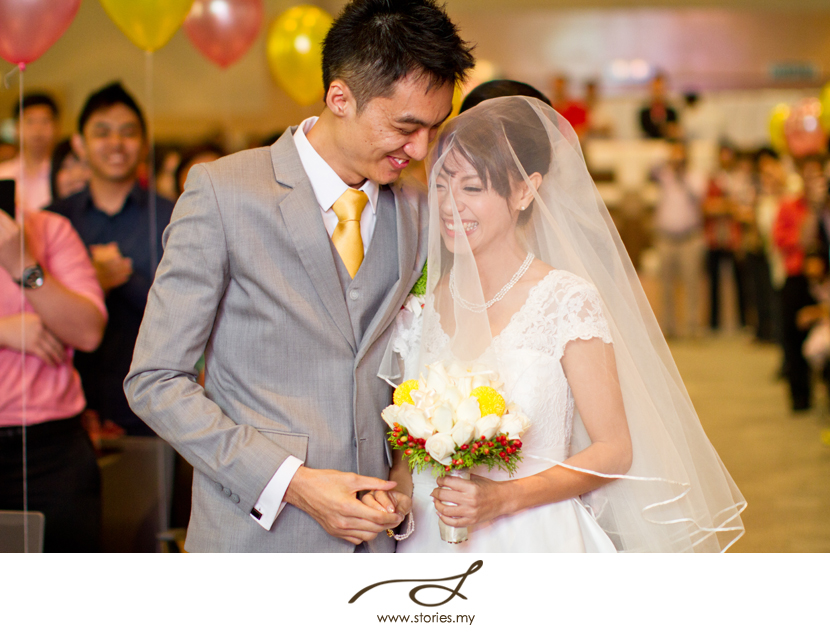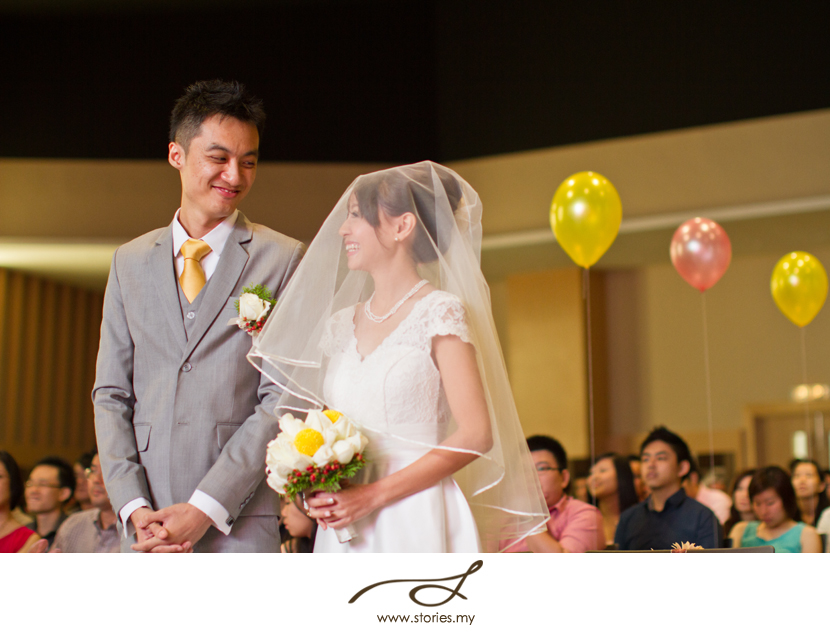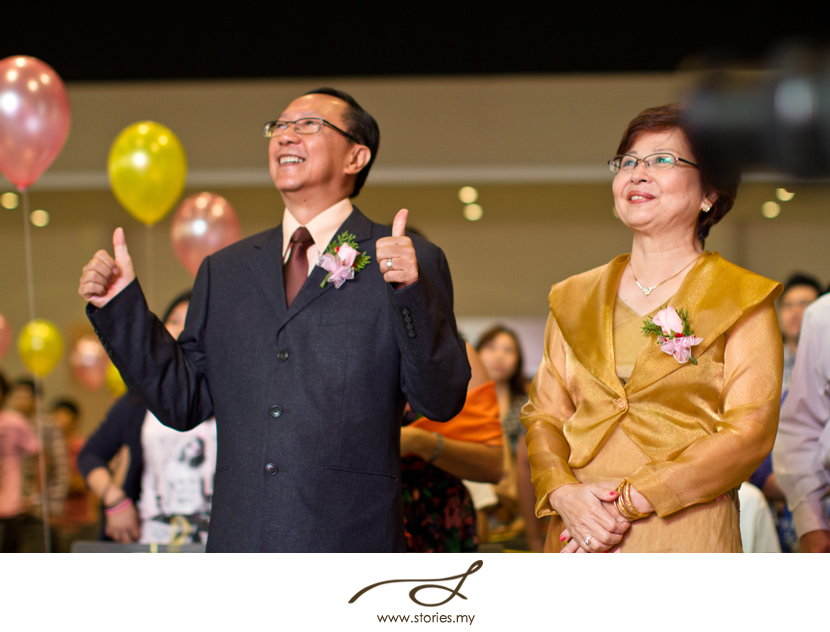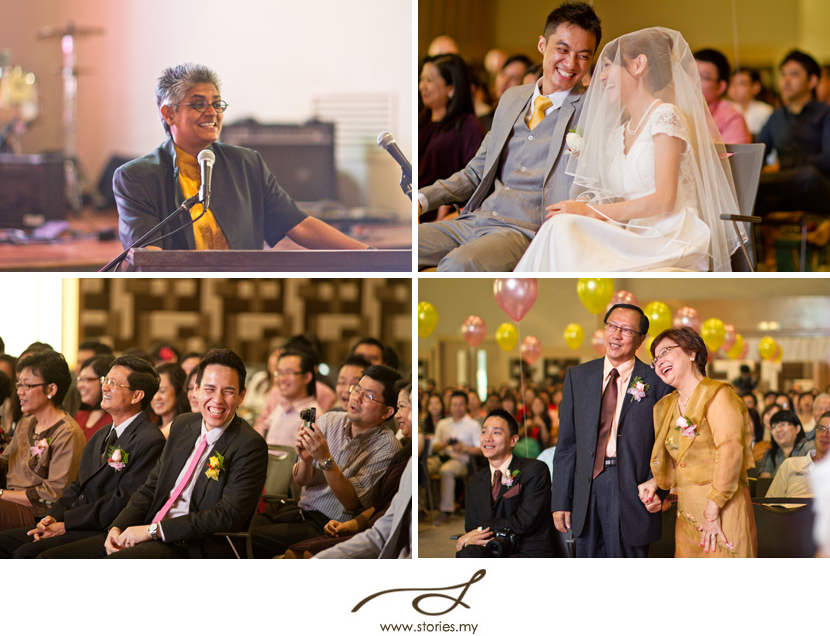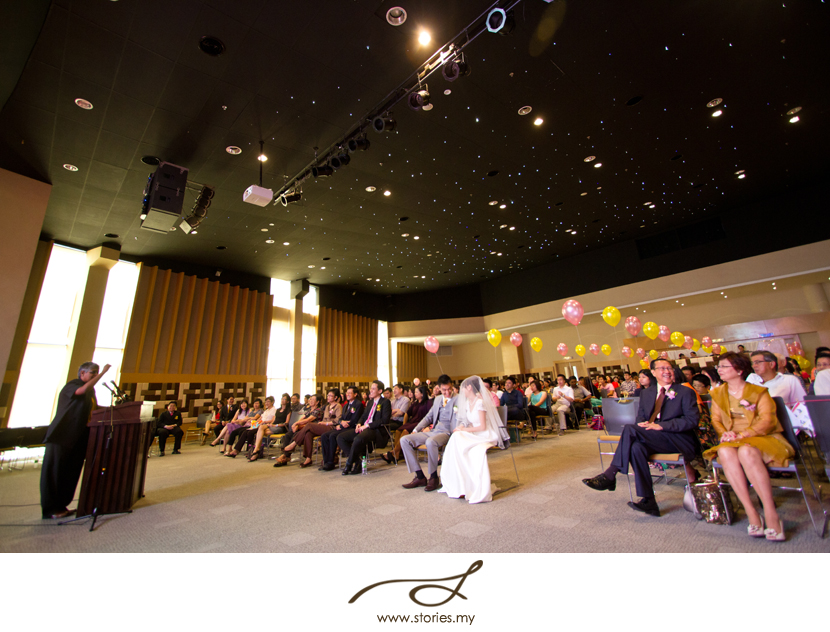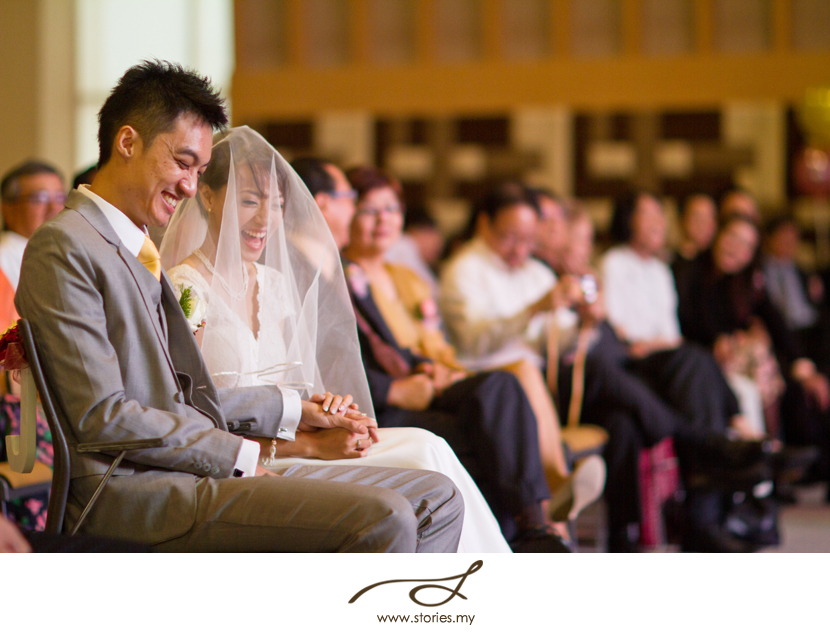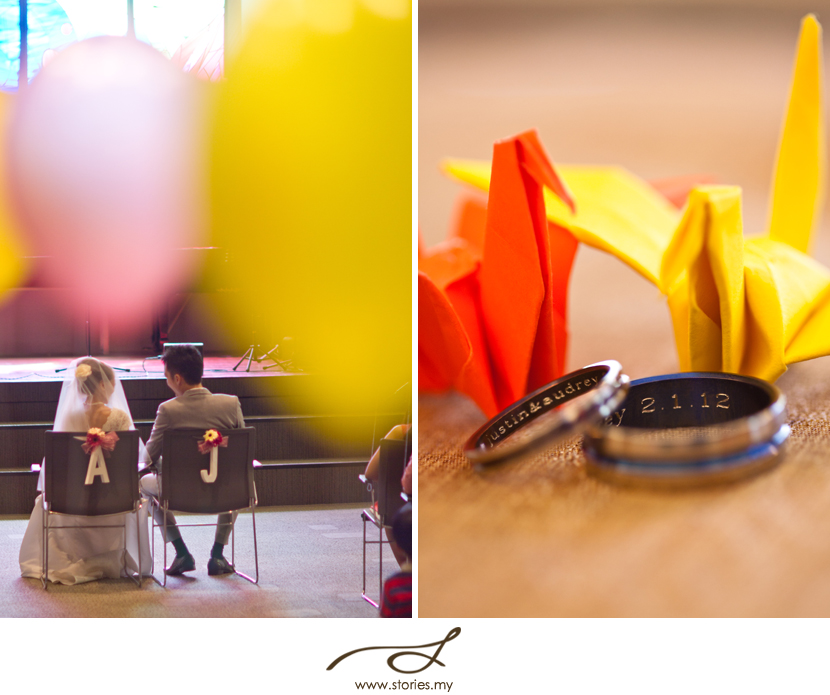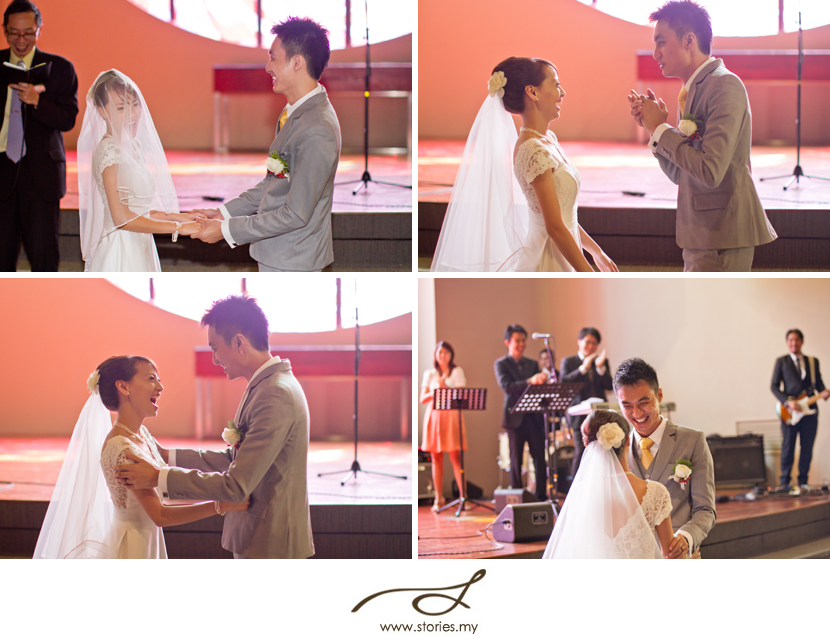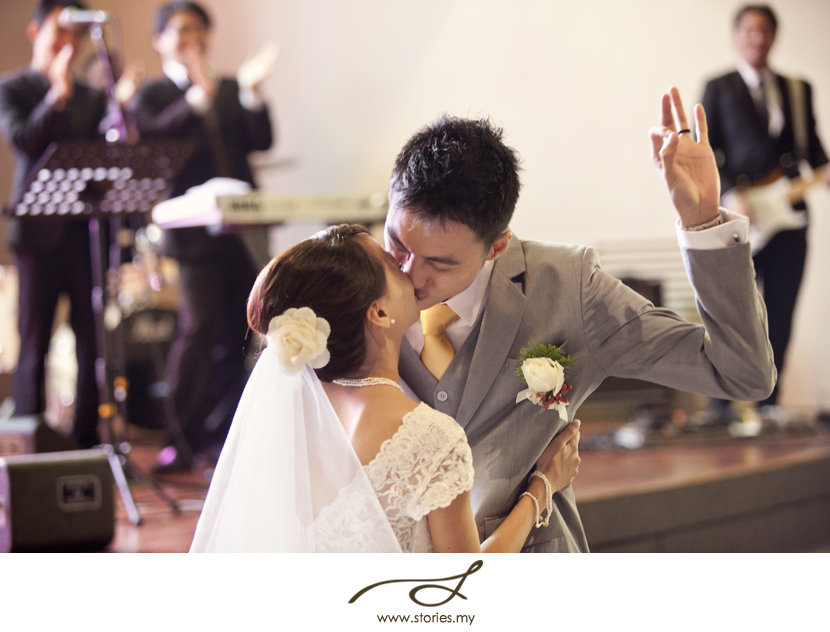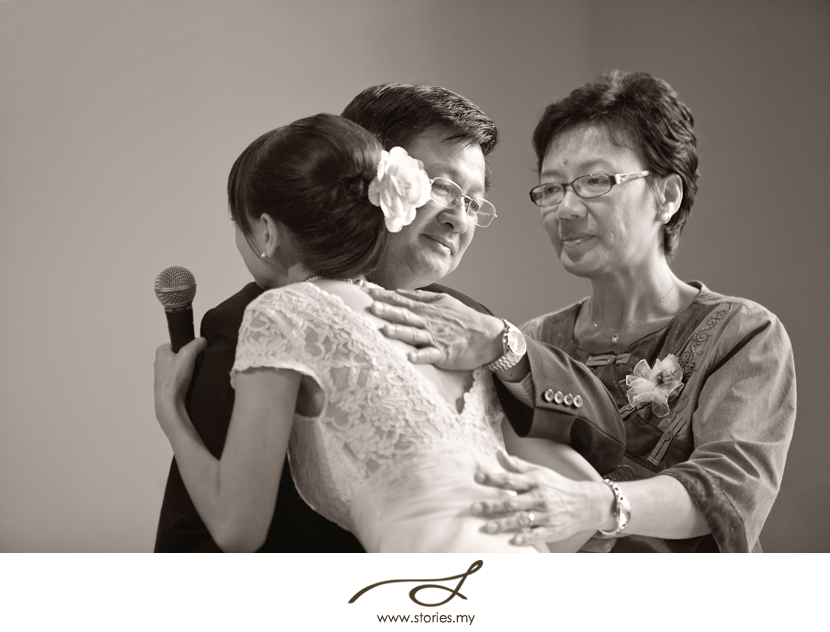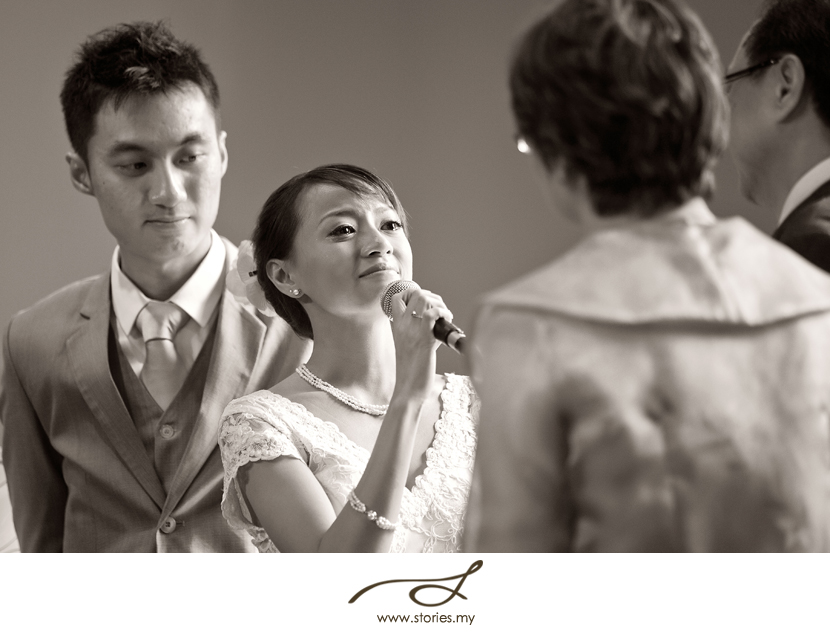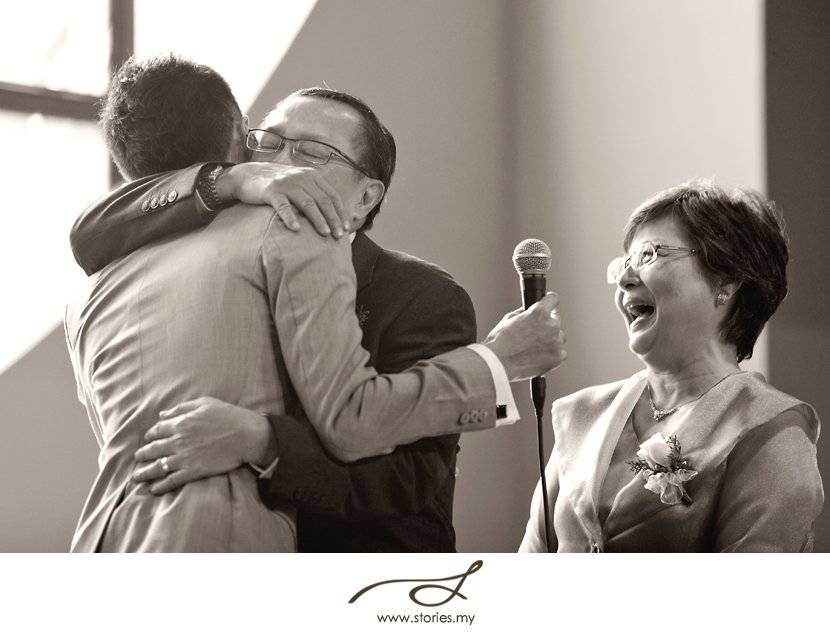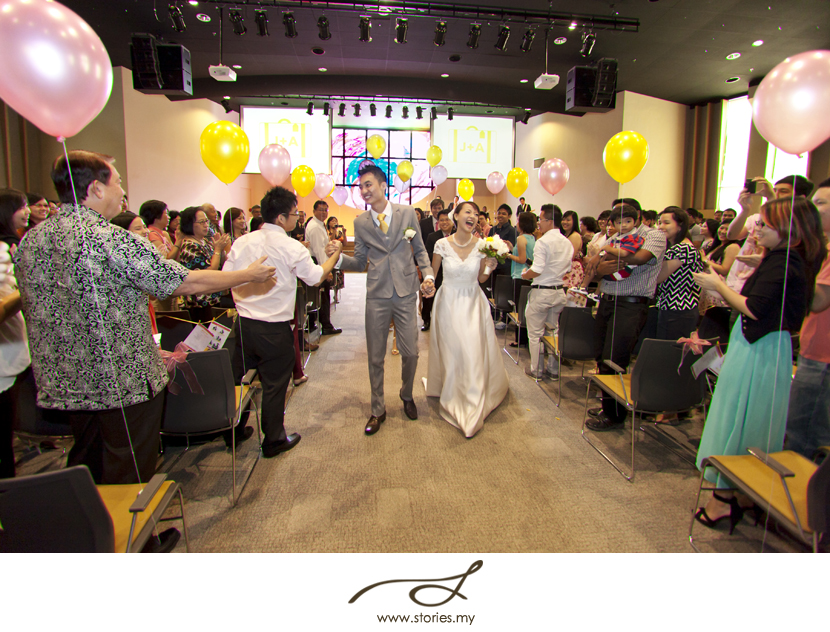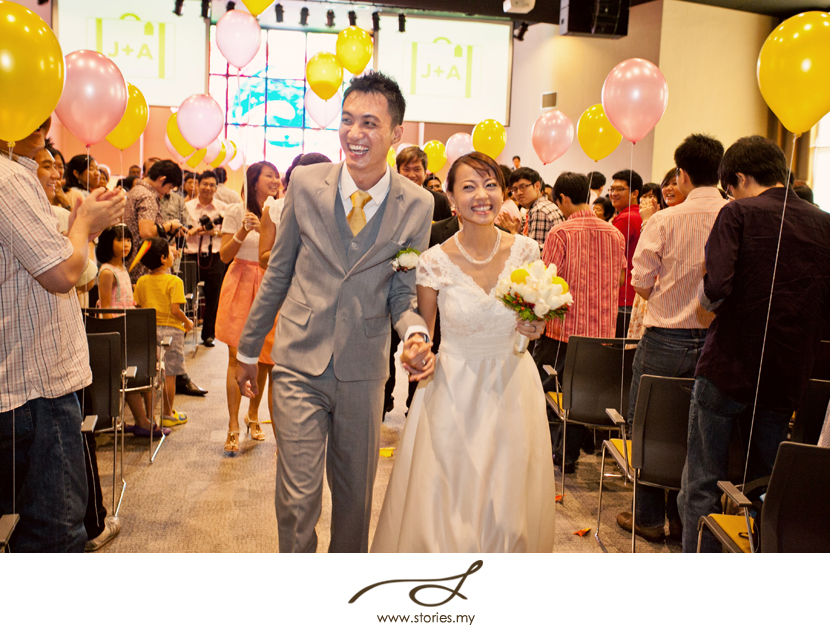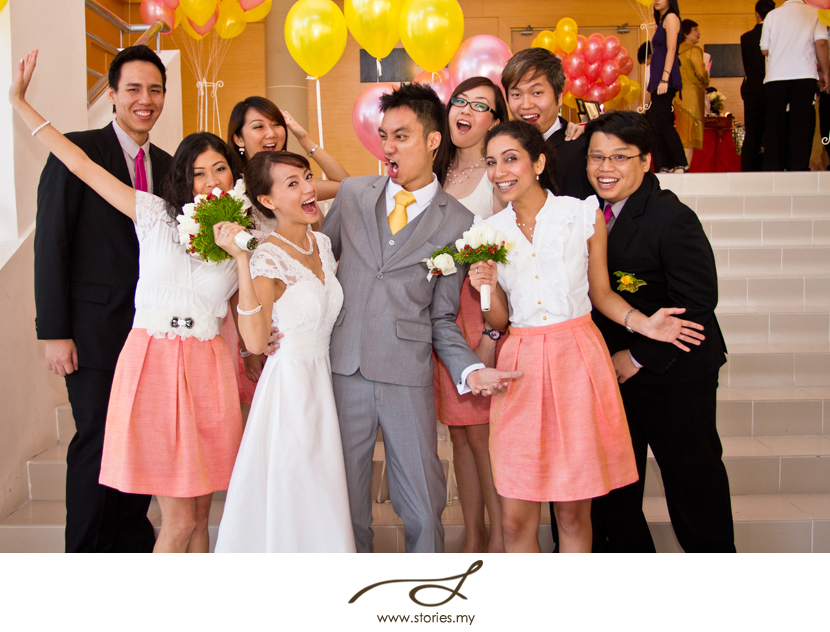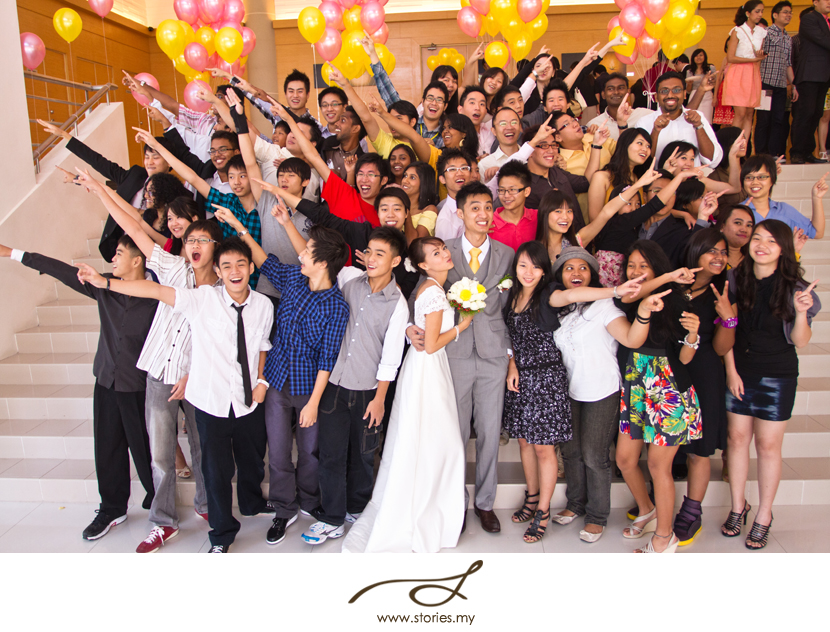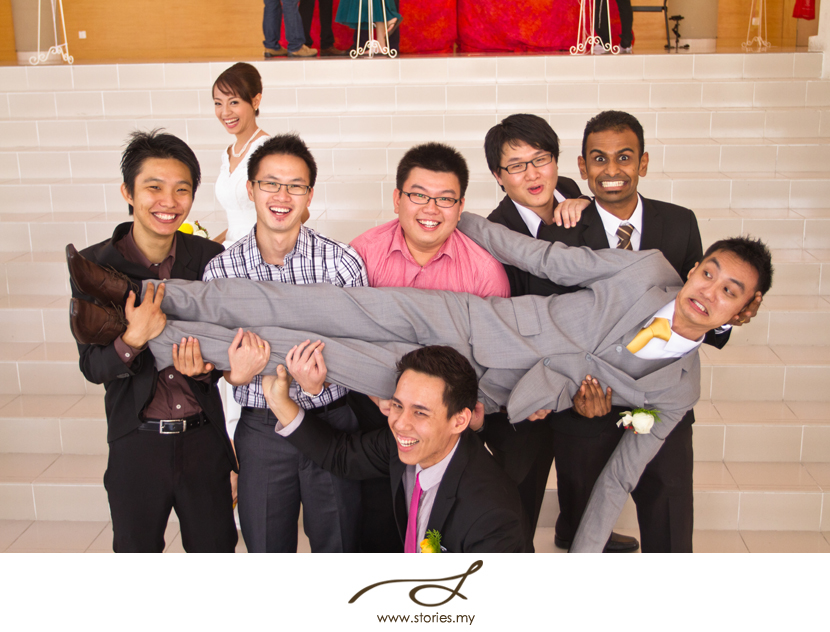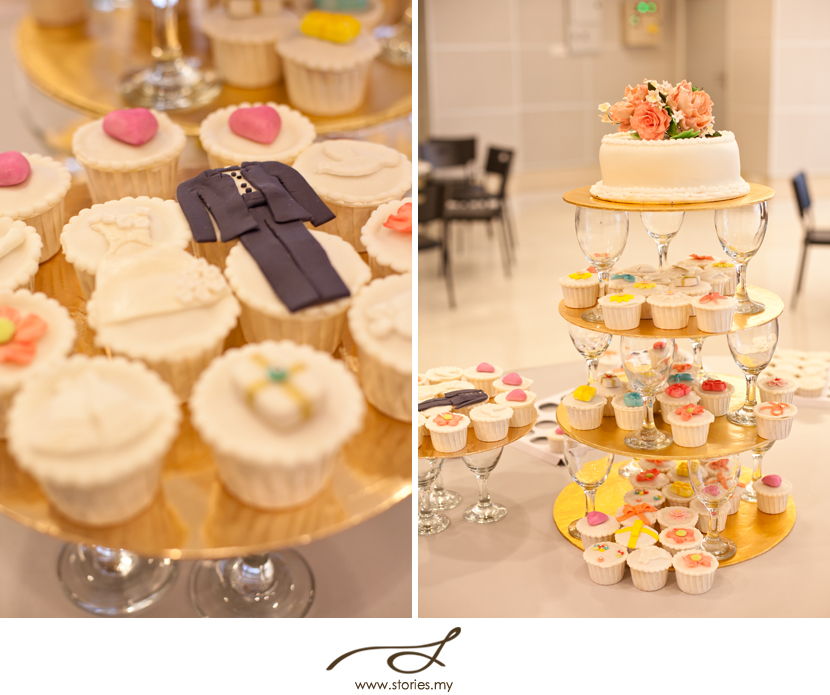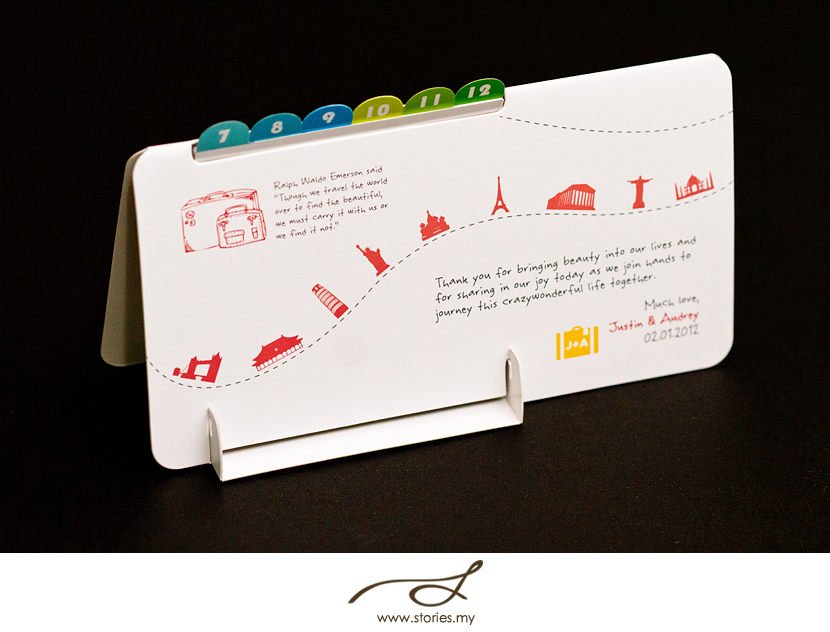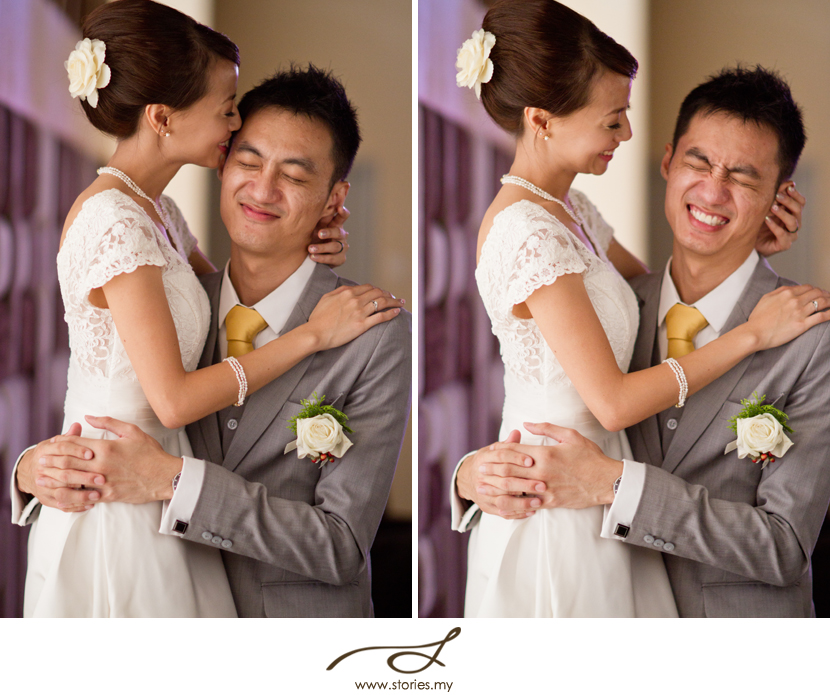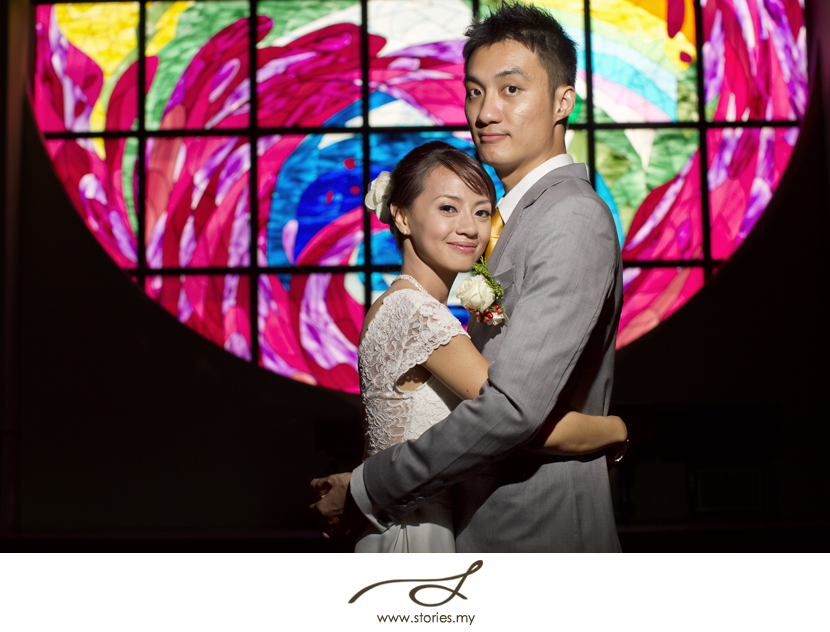 A Note from Audrey:
We had a really pleasant and memorable experience with the Stories team led by Johan. Justin is usually a bit shy posing in front of a camera but the warmth and encouragement given by the team really helped us relax. :) And of course, they were extremely accomodating to our requests, for which we are super grateful for! We also appreciated that Nigel took time to come by during the rehearsal to ensure that the sound would be captured for the video. Oh and incidentaly, Weiming is our university friend, so it was an extra bonus to have a familiar face in the team.
Our wedding planning experience was all sorts of crazy. Justin proposed on 1 August 2011 and we decided to wed on 2 Jan 2012, which gave us 5 months to pull everything together. So I suppose to sum it up, we would say it was a miracle, starting from the obvious fact that we managed to secure our venues with little trouble. :) we also couldn't have done it without the love and support from our family and friends. Our team of helpers totally blew us away with their awesome-ness. (we LOVED the decorations! Our friends were working wayy overtime to get it all perfect. And Audrey's family hand carried the wedding cake and cupcakes from KK)
Most of all it was a wonderful celebration of friendships. Both of us are from Multimedia University, Justin's from the Malacca campus and I am from the Cyberjaya campus. We love how the day of our union was also a day of reunions!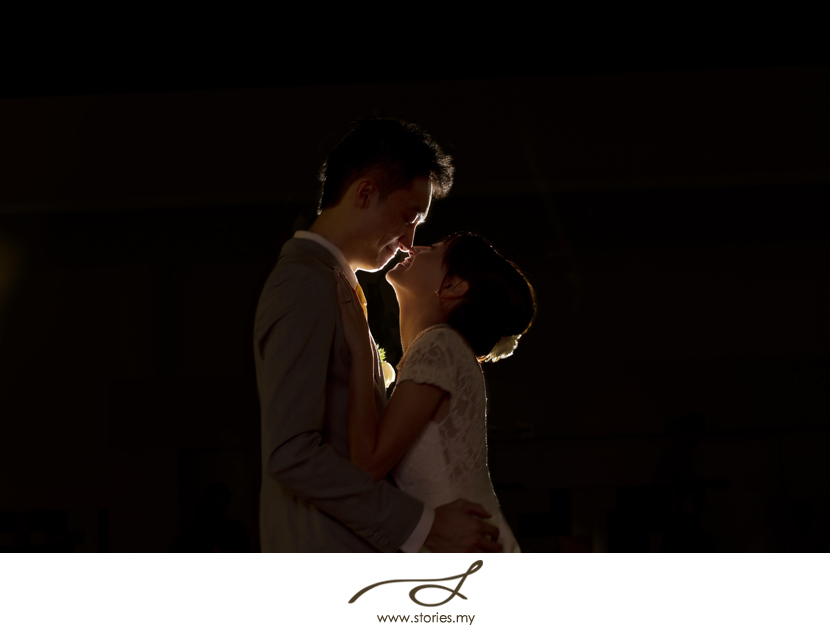 Thanks Justin & Audrey! Recently, the Stories team has been producing wedding videos. Here's a highlight of their wedding day . We hope it brings back memories for the both of you.
Credits:
Photographers: Johan & Weiming
Videographer: Nigel Sia
Wedding Video Edit: Weiming
Wedding Gown: L&L Bridal Collections
Make Up: Haze Long
Decorations: Michelle Ding
Stationery: Designed by Charel Ong & Lydia Chew
Flowers: Gabriet Florist
Church Location: Luther Center, PJ