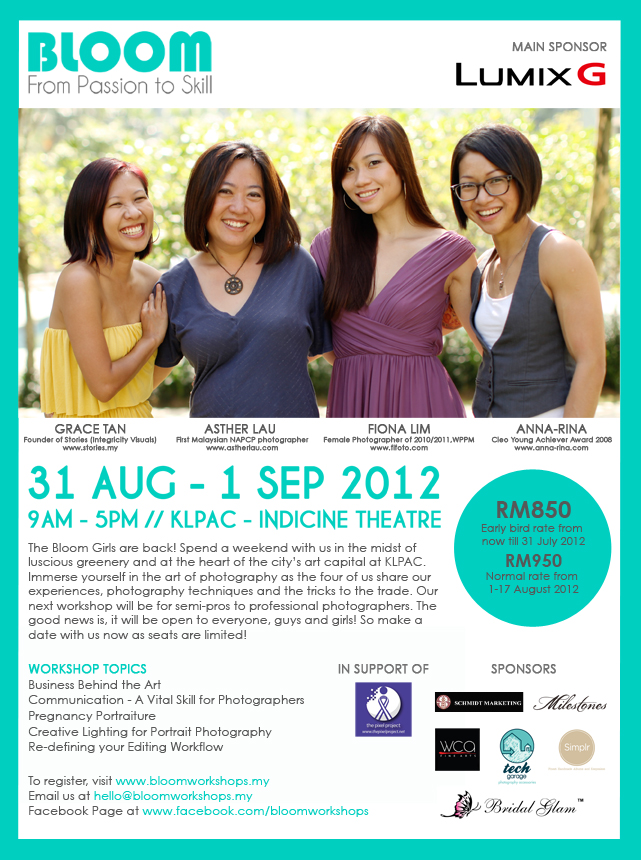 Bloom Promo
We are really excited to announce a new photography workshop coming up this 31st August till 1st September 2012, called "From Passion to Skill"! Earlier this year,  we had our inaugural Bloom Workshops titled "Empowering Female Photographers" and it was a huge success. Frankly, organizing a workshop like this is HARD work.
Together with the pregnancy, I wonder if I am killing myself by doing too many things this year. I hear lots of advice telling me to 'slow down' but I think it's part of my DNA to keep on going! (Interestingly, last week, at the wedding I was photographing, I got lectured by the grandmother of the bride… telling me to be careful since I am pregnant! Coincidentally, during the same wedding, the banquet manager noticed too and he offered me a chair. How sweet!)
The good thing is… I have a holiday scheduled for next week! The unfortunate thing is that… it was meant to be a diving trip at Sipadan island (one of the world's top diving sites!) but now, I can only snorkel. Anyhow, I am not complaining.
Well, back to the workshop. I hope that all our hard work will really benefit someone out there. Actually, the 30 participants that we hope to get. The four of us share our hearts out at these workshops, and we give everyone 100% of our attention and energy, as much as we can. So I look forward to seeing familiar and new faces at the upcoming Bloom Workshops. Good thing is, while the previous workshop was only targeted towards females, this one is now open to everyone!
Have a look at the previous workshop and what we achieved in 2 days. Thank you, Weiming for shooting and editing the video!
[FMP poster="https://www.stories.my/wp-content/uploads/2012/videos/BLOOM_HIGHLIGHTS.jpg" width="672″ height="368″]https://www.stories.my/wp-content/uploads/2012/videos/BLOOM_HIGHLIGHTS.mp4[/FMP]