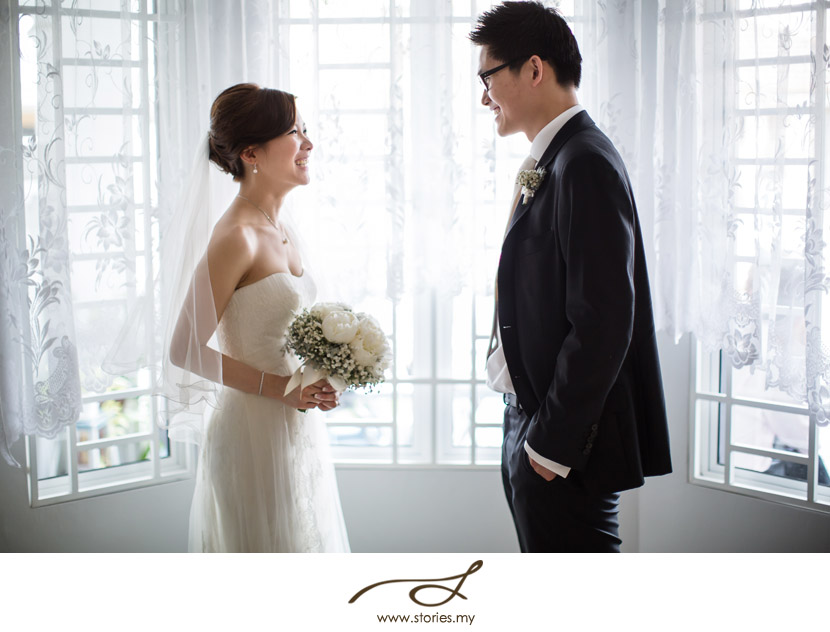 Their love story began as a chance meeting – two strangers enrolled as classmates back in 2001 during their A-Level studies.
"Aldrian was just hanging out with his cousin, Johnny, and refused to enter the classroom on his first day. – no pretty girls lah – he said. Minutes later, I brisked by with a friend, feeling truly nervous about my first day of college. As I passed Aldrian, I noticed that he was quite handsome too – but you don't say these things out loud of course! Not long after, Aldrian sat next to me in that class…. and we have always been side by side ever since. Throughout the years we have truly become each other's best friend and soul-mate. 
After college, we came to the UK together to further our studies. Finally, after 10 years – after completing my PhD and all that hoo-ha of trying to settle down in London, we thought that the time was right. And it was just perfect.
 We now live together in our very own love nest in Canary Wharf with our baby rabbit, Bijoux. Bliss :)"
 – Mei Mei –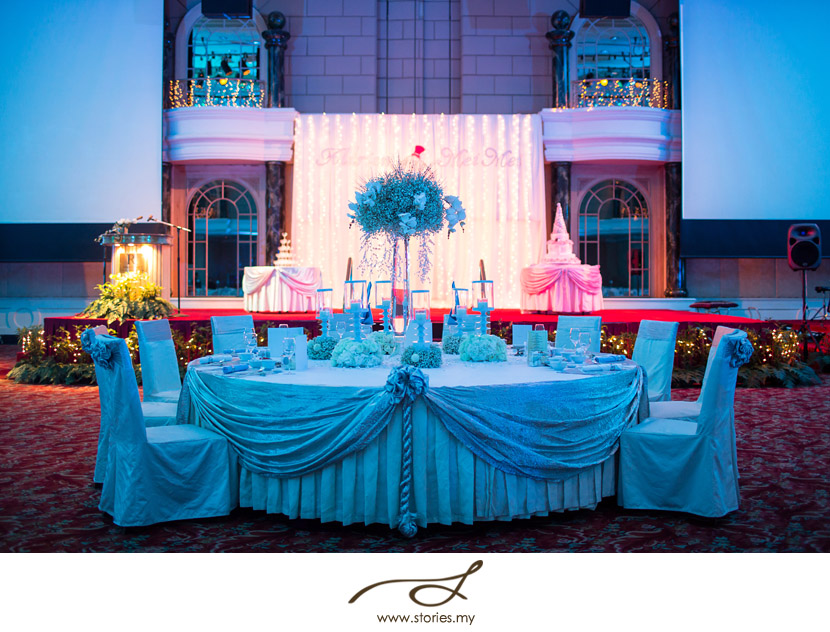 I got to know Aldrian and Mei Mei through a friend of mine, Adelene, who was Aldrian's sister. I had never met them before, and all correspondence was done online, until they came back for the wedding itself. Since they were not in KL, it helped that they had a wedding planner to coordinate everything. I first heard about the winter wedding theme from Mun Tzin of Milestones… and I wondered how it would really look like. Frankly, I was a little hesitant at first, as coloured lighting in a ballroom can either work for you or against you. I have photographed some events with extremely strong multi-coloured lighting shining on stage, and the results… well, let's say I was less than pleased with it.
Some colours tend to bleed onto skin tones, making people look overly purple or green. I was quite concerned that the light would be too strong and we would end up with shots that look like we were at a Smurf convention (sorry, Mei Mei!). But when I arrived at the ballroom that day, I was pleased to see that the blue light was not direct lighting, and that the stage had yellow light, which added warmth to the skin tones! So I loved the end results!
Be prepared, this is a super long post with heaps of photos! Sorry if it is taking too long to load, but I can't help myself!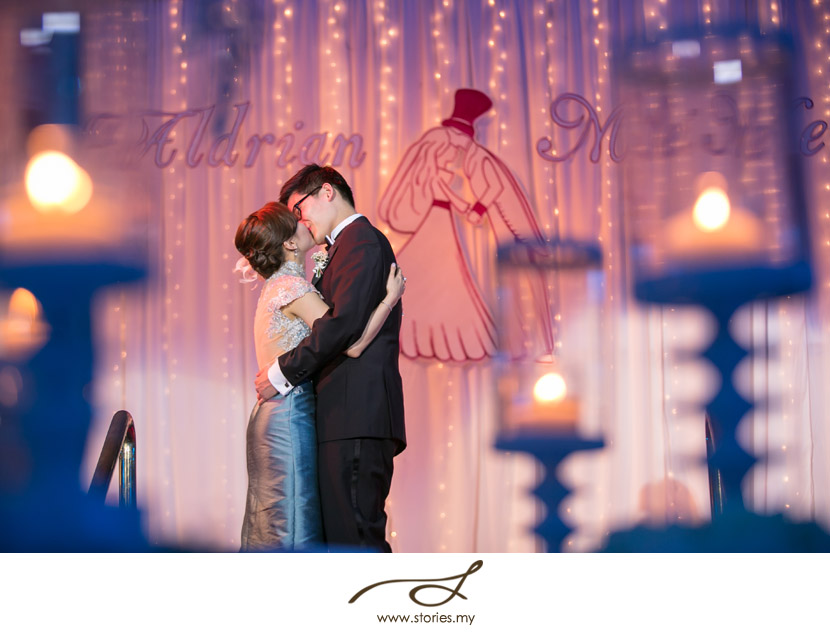 The proposal… as told by Aldrian
"10th Anniversary signals a milestone in any relationship. What better way than to take it to the next level." Those were the thoughts that went through my head a few months leading up to this big day. With Spring supposedly fast approaching but no such evidence in London's dark sky and chilling temperature, I decided something needs to be done to at least make this once in a lifetime occasion happen under some form of daylight.
Panic suddenly flowed through my body and mind so I reactively pushed the planning phase to fifth gear. Not only have I not decided on the venue, but the sight of the sparkling rock is nowhere to be seen. Thank God for the internet and Lastminute.com!
Destination selected (Malta being the obvious choice at that time of the year), flights and hotel room booked and panic slightly averted. Now for the main ingredient – the Rock! I went back to KL and got one, but then felt that this wasn't good enough. Went to the closest Tiff & Co. and bought the perfect diamond ring (with a lot of help from a very helpful salesperson). Everything was now in place (oh wait, I forgot to take time off work yet!)
Soon, D-day was upon us. We boarded the early flight and checked into Le Meridien Malta. Hotel was top class, room in excellent condition, but then panic suddenly appeared again – the question that went through my head: How do I propose? 
A day later, I decided that a restaurant proposal was too cheesy. So what's next? Nothing better than being spontaneous and catching her unaware. So before dinner on the 2nd night, after she dressed up nicely, I took the blue ring box out of my luggage and went down on one knee and proposed. She was shocked and cried! But luckily she said "Yes!". To be honest, I kind of knew the answer already but nevertheless I was still very happy! Mission accomplished and we went for a nice dinner at the hotel."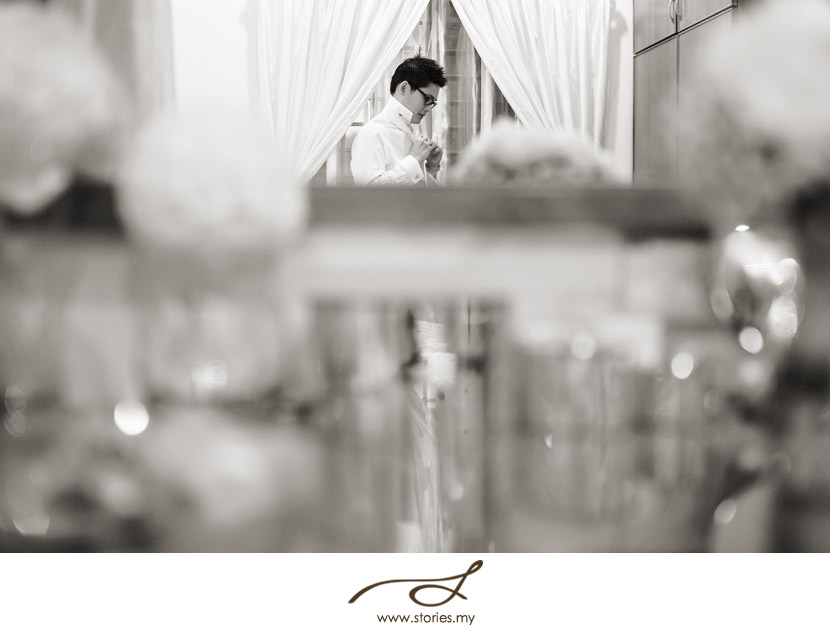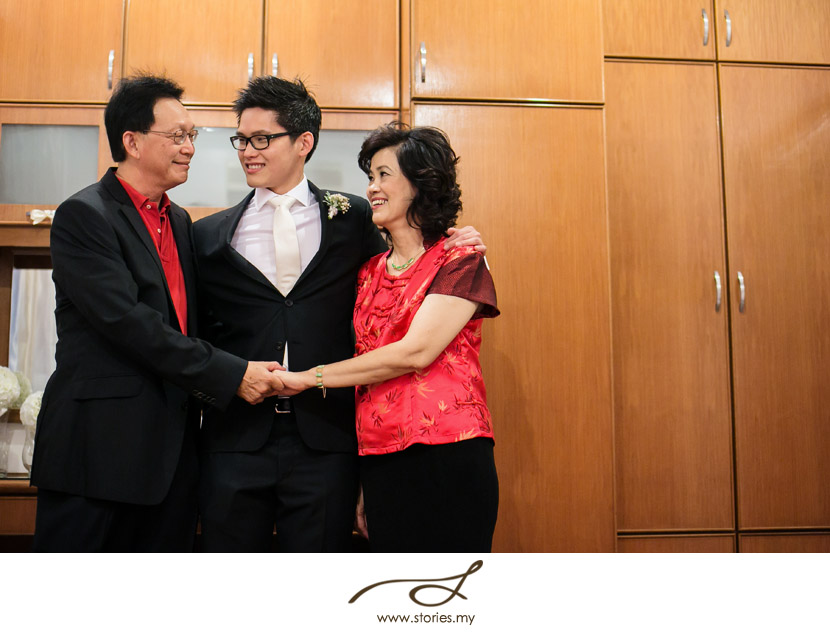 Love the outfits for the guys!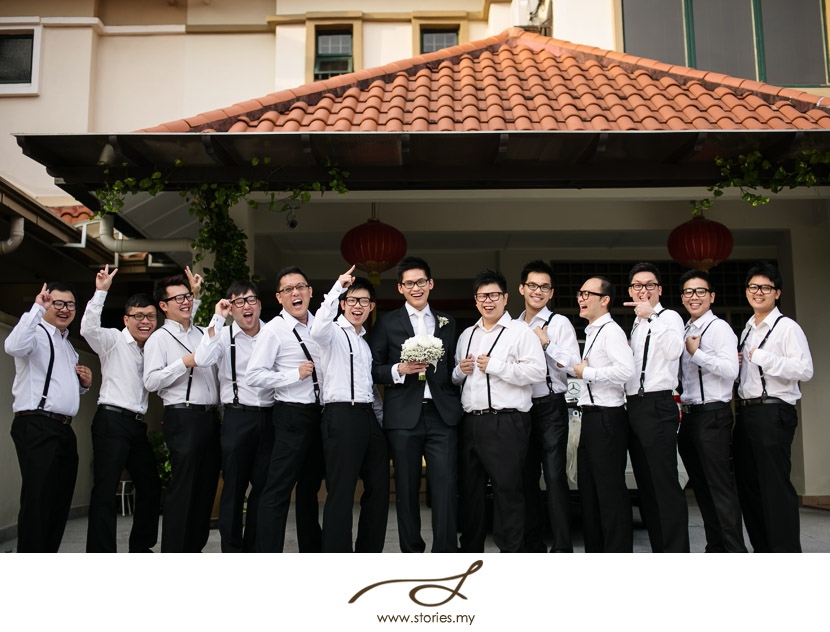 And the girls too!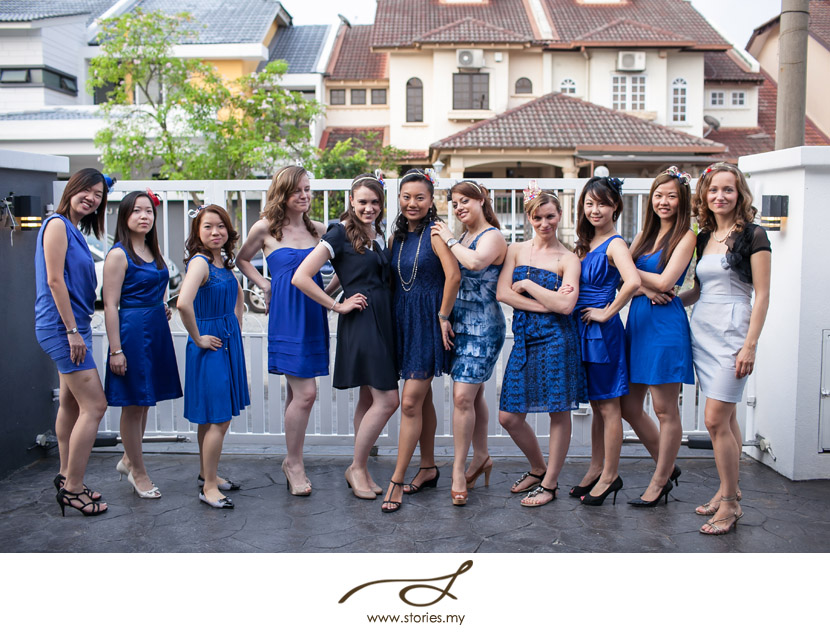 Can't go wrong with Christian Louboutin shoes and a gorgeous Pronovias gown.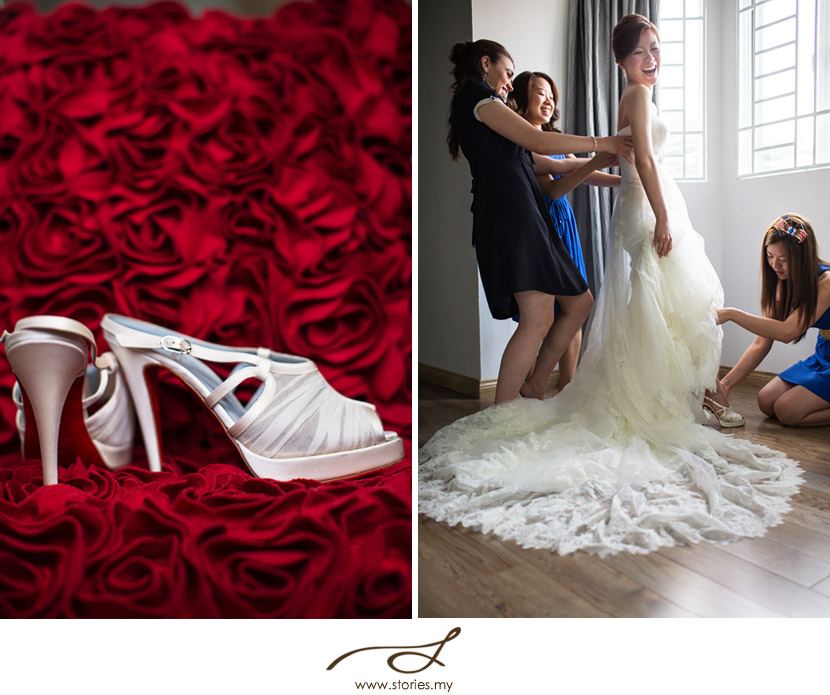 See the resemblance between Aldrian and the bunnies?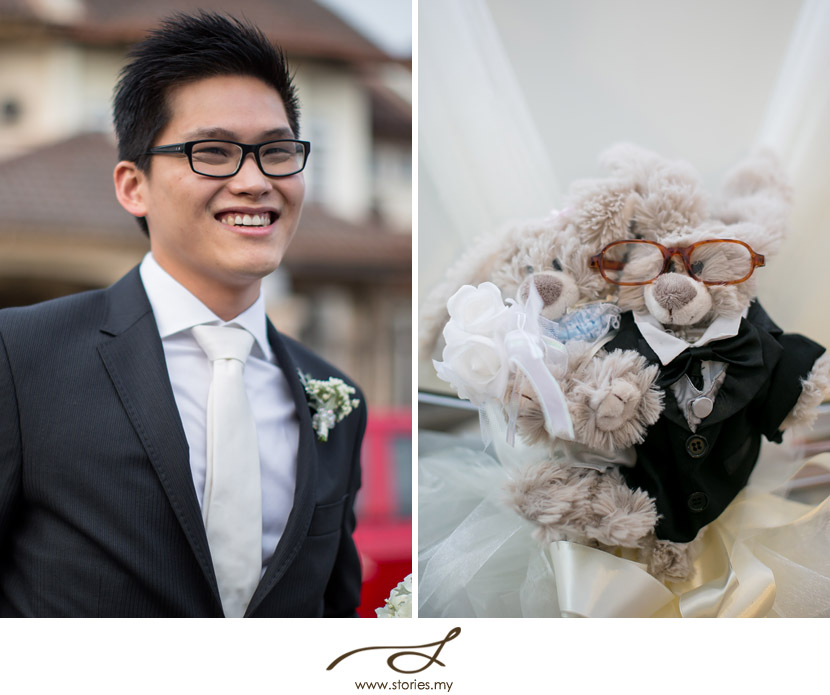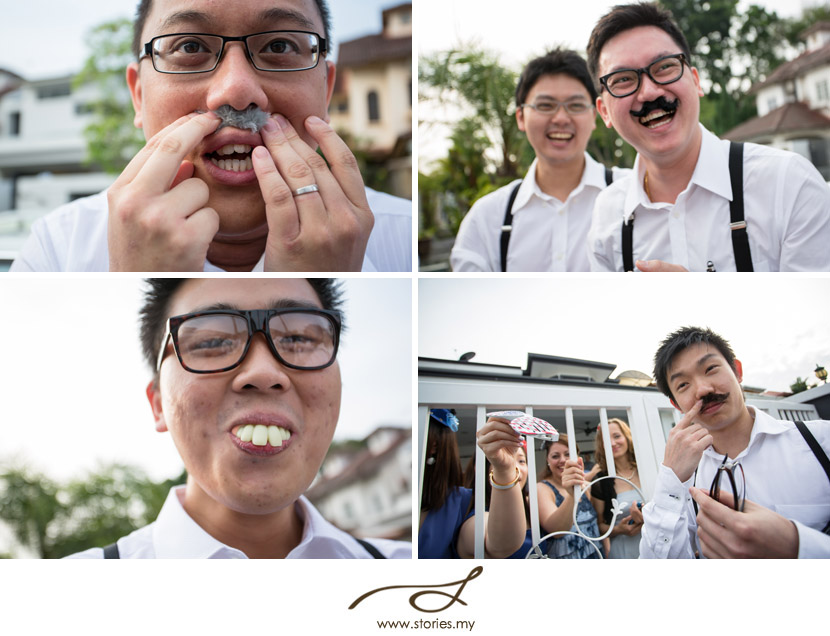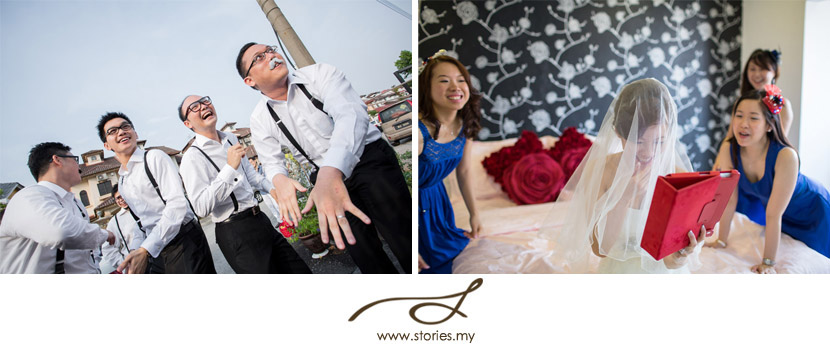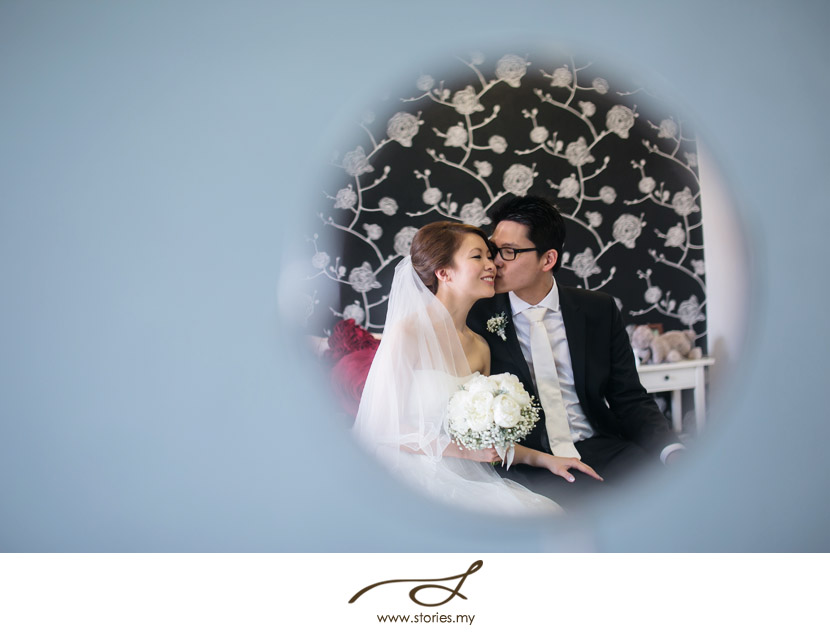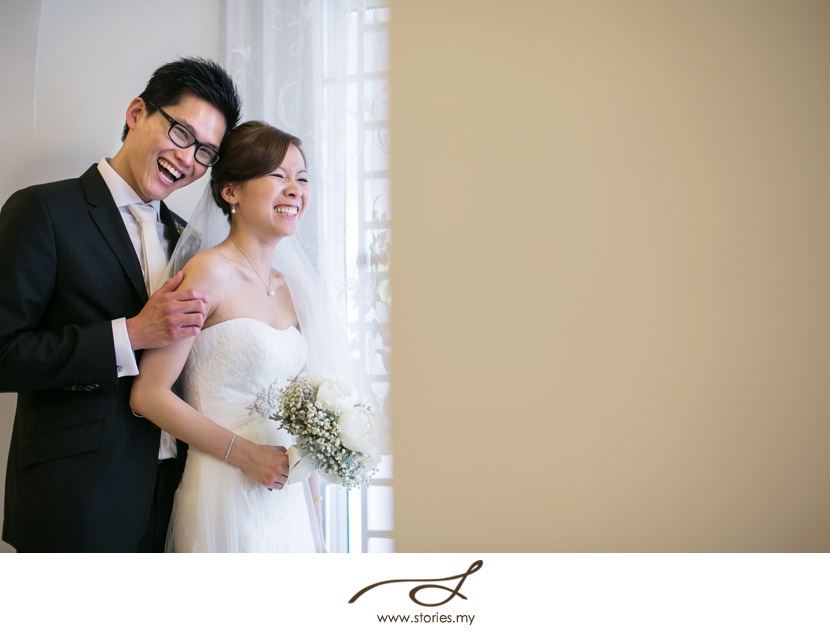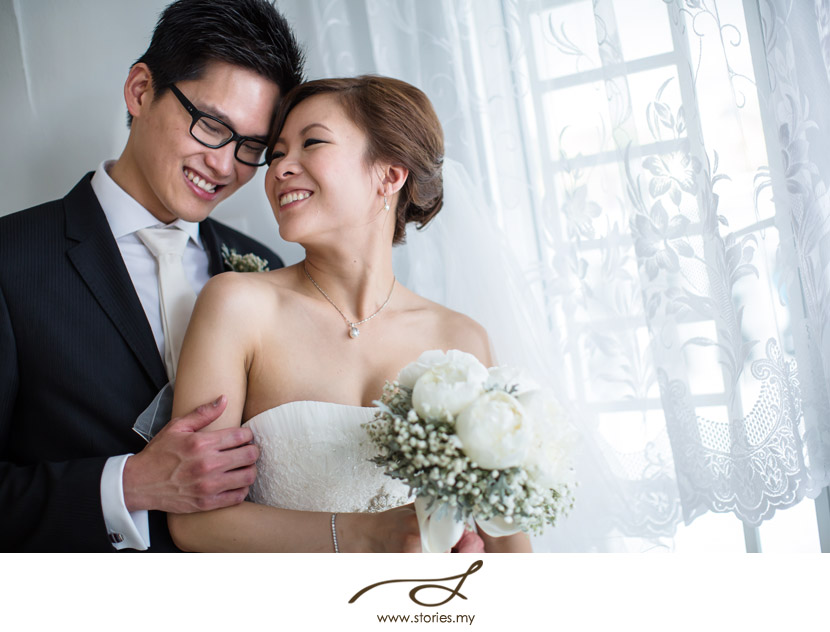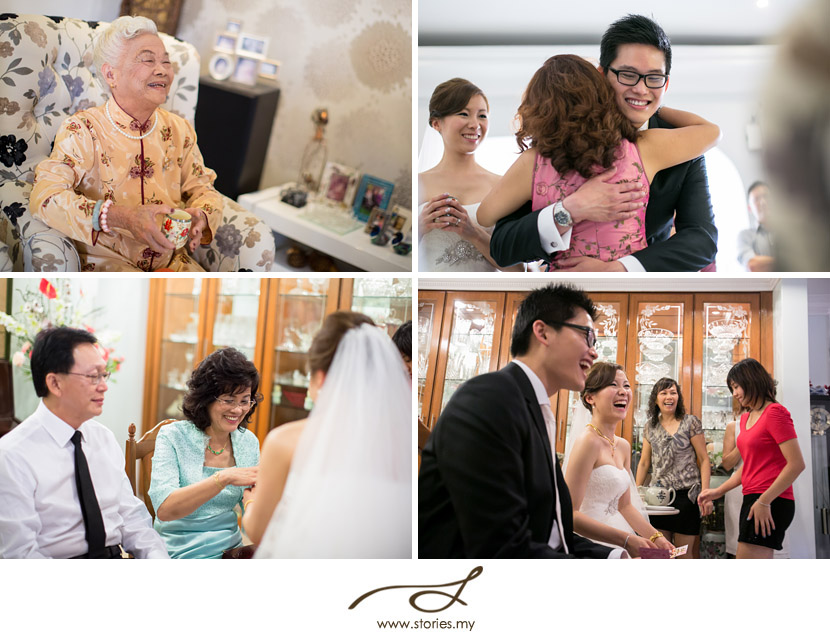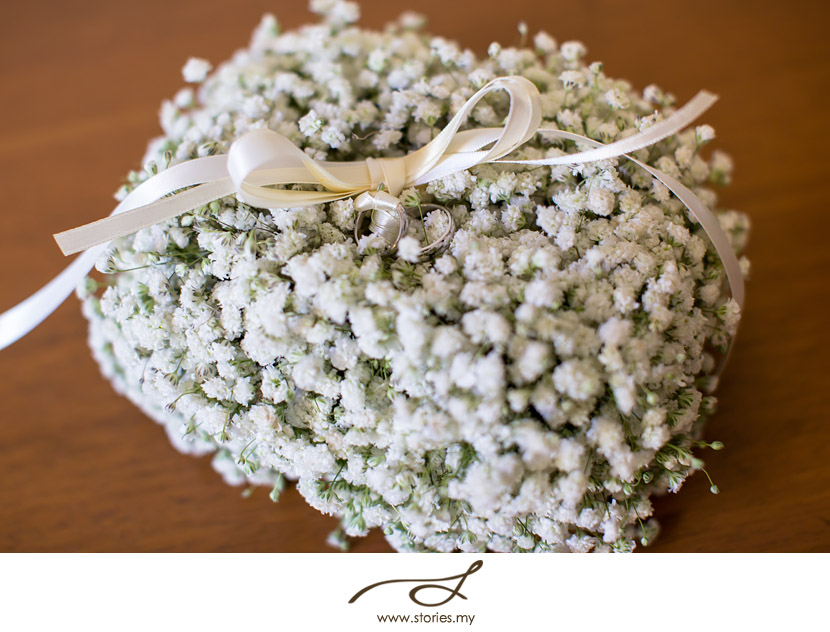 The decorations, bits and bobs… as written by Mei Mei
"During the entire duration prior to the wedding, Aldrian was absolutely cool and left all major decisions for the wedding to me ie stationary, decor, DIY, wedding website, designs of bulletins etc…and just came out with the funding :) 
I'm a bit of a freak when it comes to decor – needing it all to be exactly how I envisioned and planned it to be. So, one year was just about enough to get me going.
It helps to go through wedding magazines – I think I have collected more than 50 of them :) Also useful to get ideas/themes from wedding websites and blogs. My few favourites are http://www.marthastewartweddings.com/ and http://www.rockmywedding.co.uk
Setting up a wedding website was really fun and informative for guests – and a lot of websites are free! I found mine at www.gettingmarried.co.uk/
I have been collecting unique memorabilia for  display during the wedding througout the year – and I buy them all on sale in London. That helped – ALOT!
We have traveled a lot together and so I made table cards myself with each city that we have been to (we managed 60 cities). I also collected postcards from every visited city to create a 'guest book' during the banquet dinner, and even pasted actual stamps on all of them!
We tailor made our bridesmaid dresses to my favourite colour and design (mint – not quite green, not quite blue, not turquoise..haha).
Each bubble bottle was personalized for the flower girls in church. We also had a personalized cake topper (I added my own veil..hehe) for our winter-themed wedding cake. We had our wedding cake and favours (macaroons) designed to go with the winter theme..and lots of silver candles to light up the ballroom as guests walked in."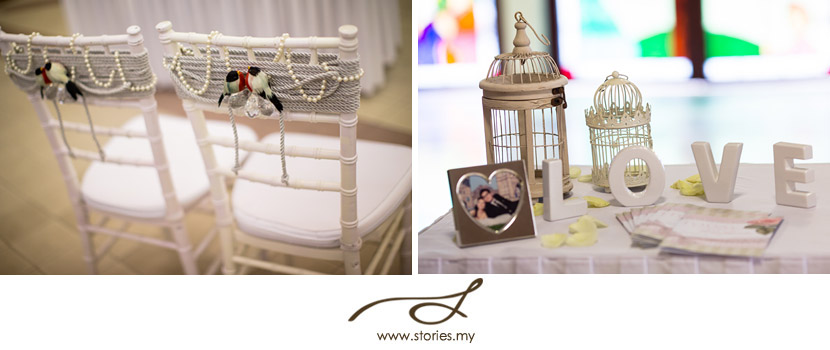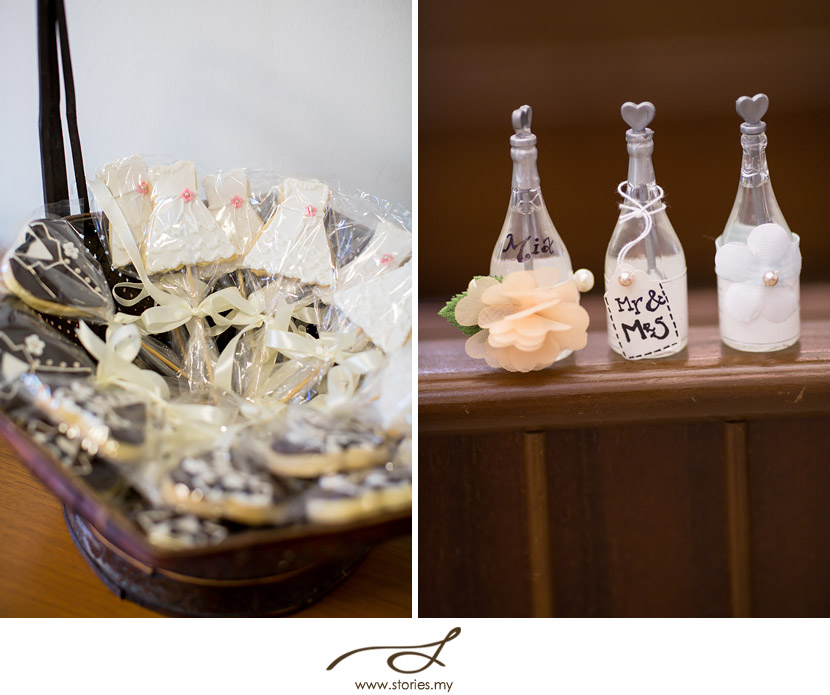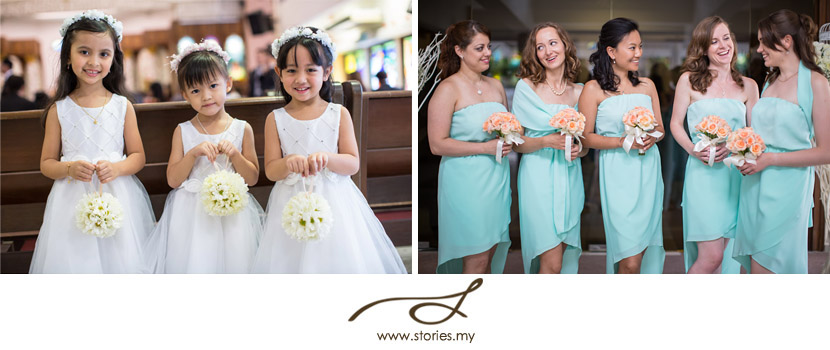 Love the personalization! Mei Mei walked down the aisle to the tune of harps.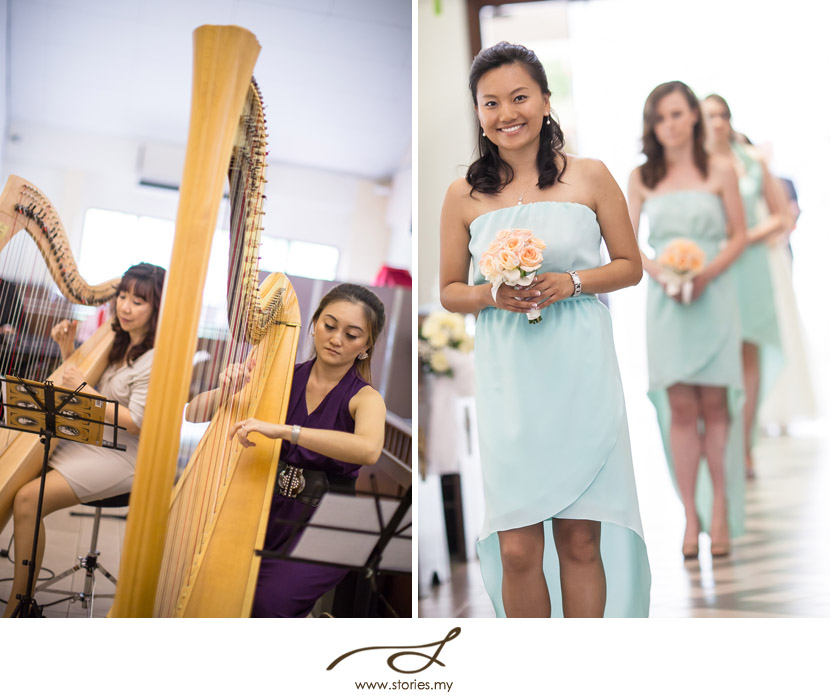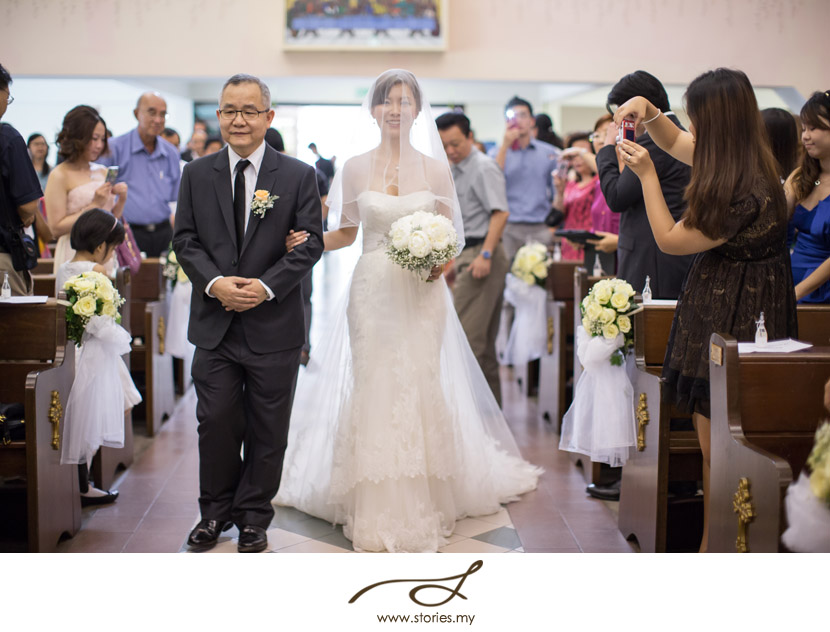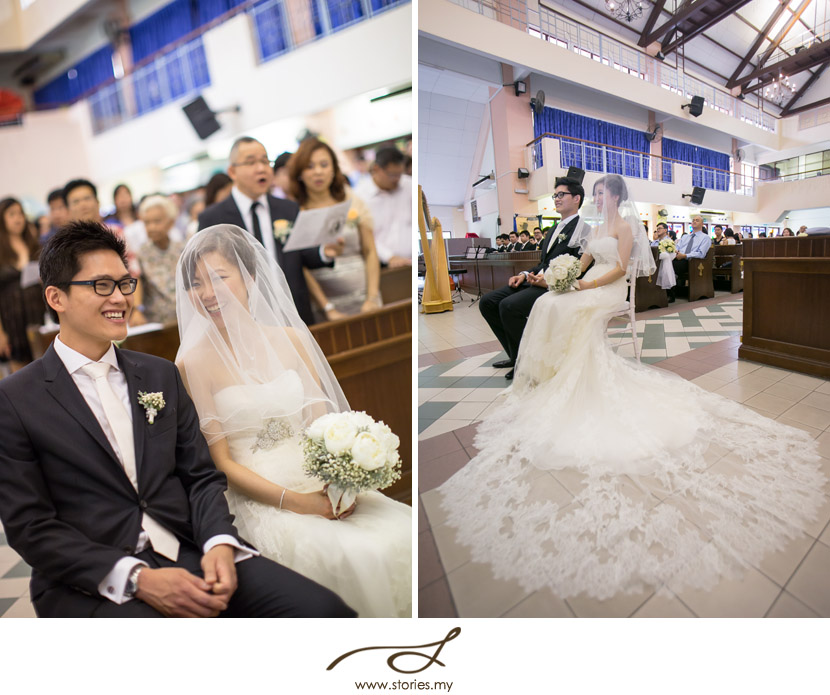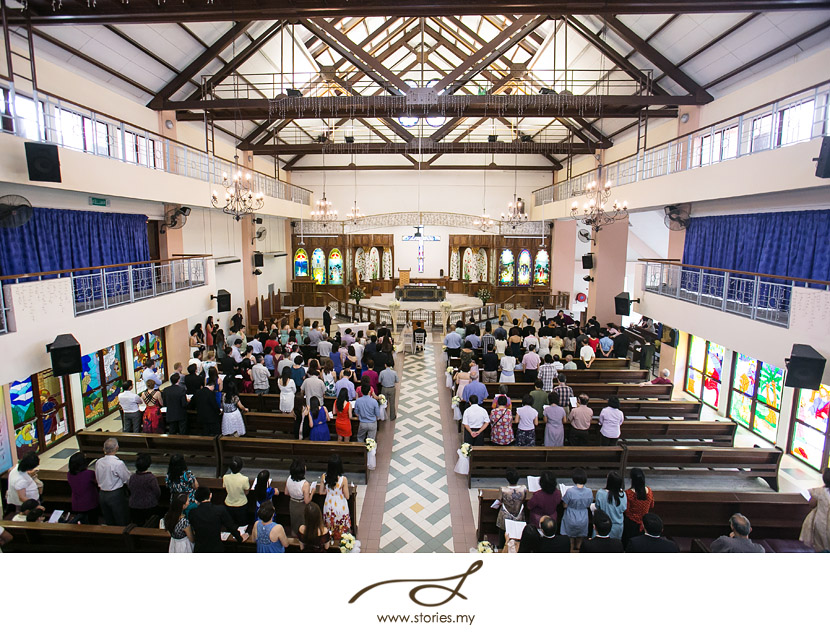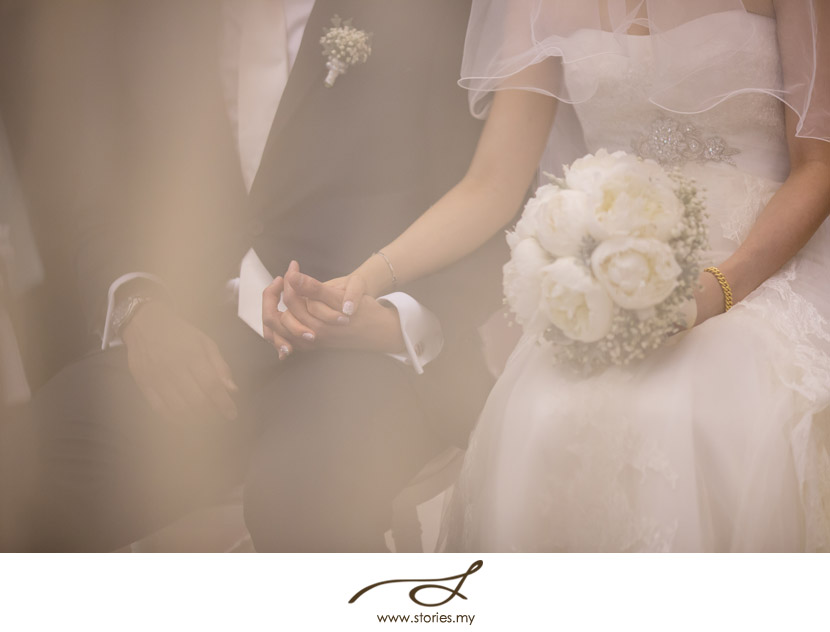 This little page boy tried to share some love with the flower girls… guess they weren't too sure how to react to all that 'love'!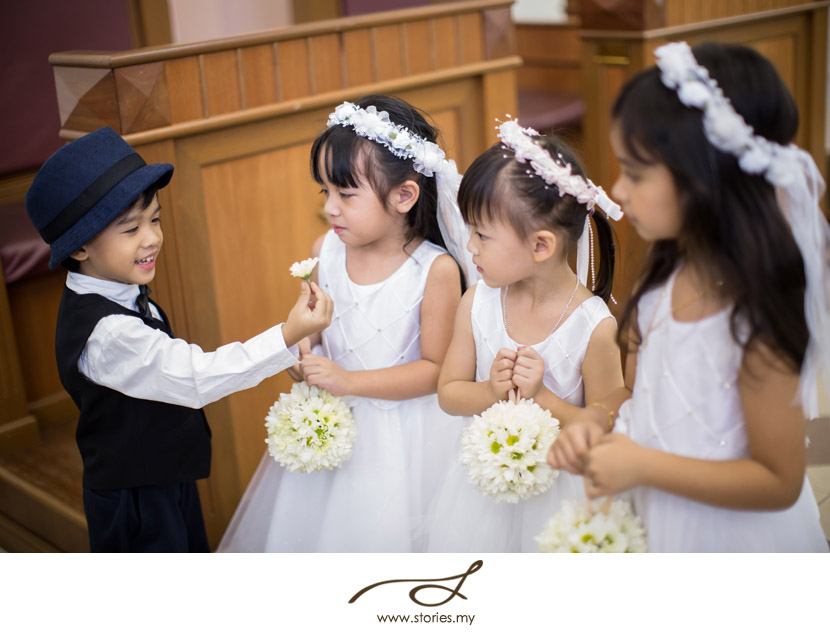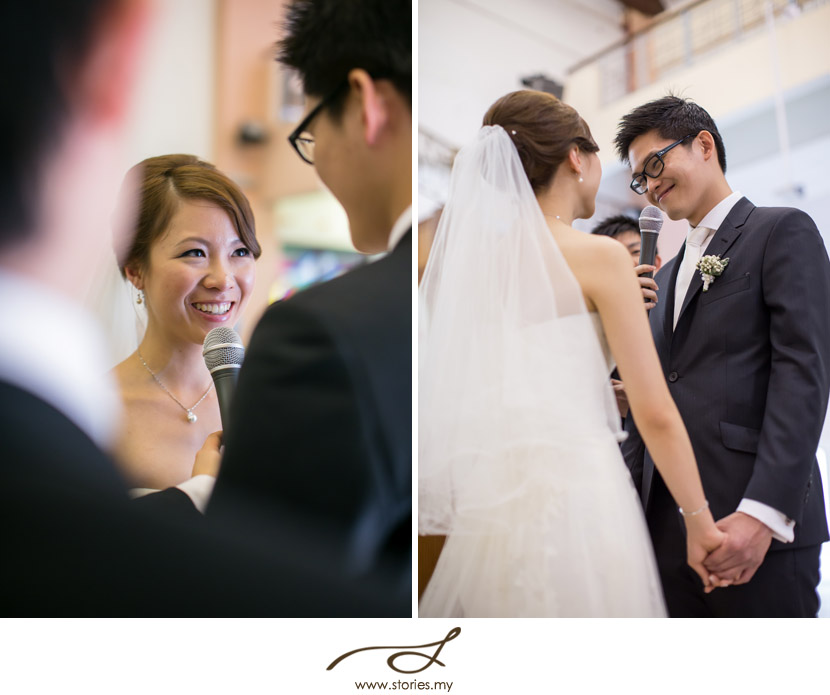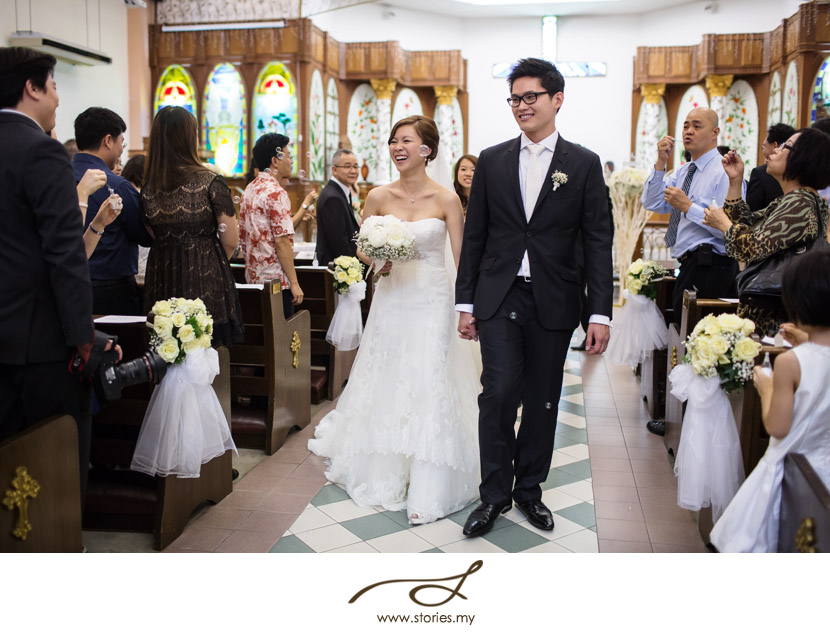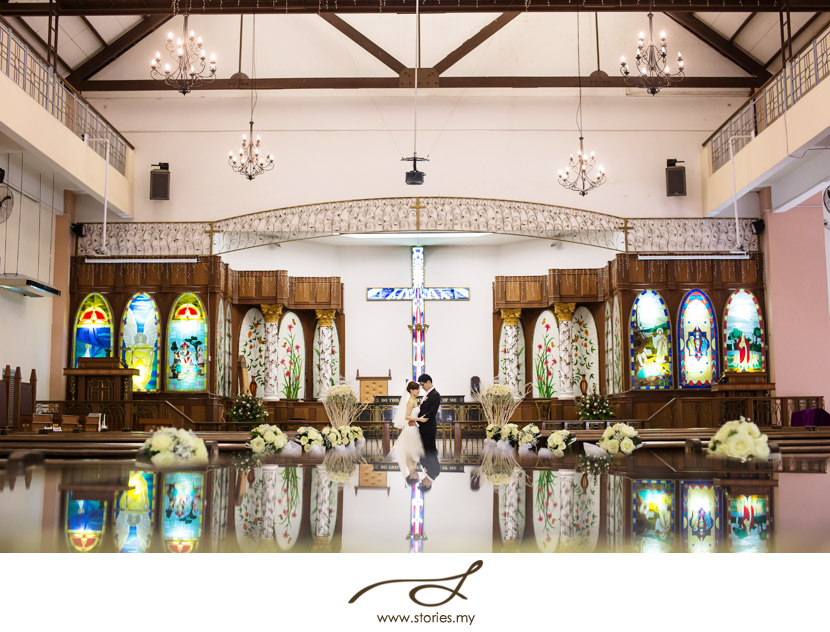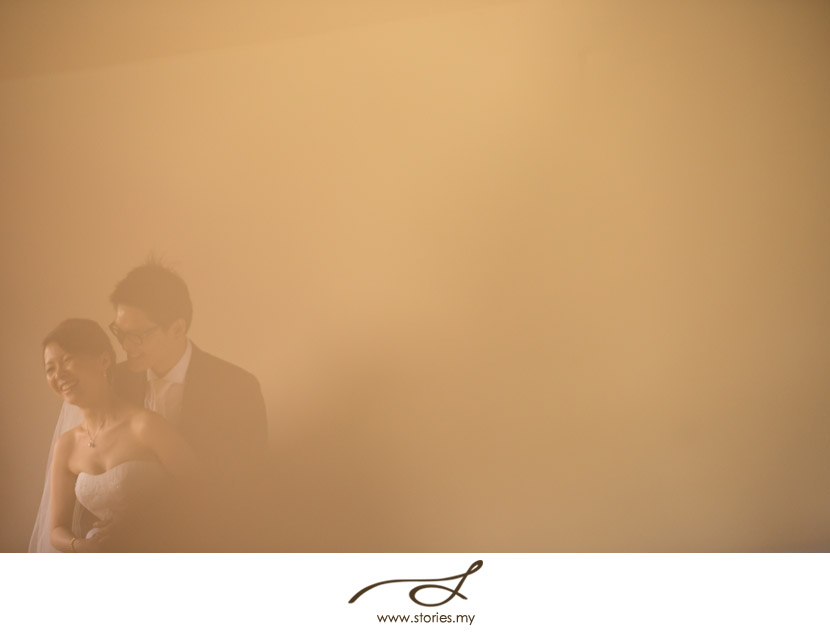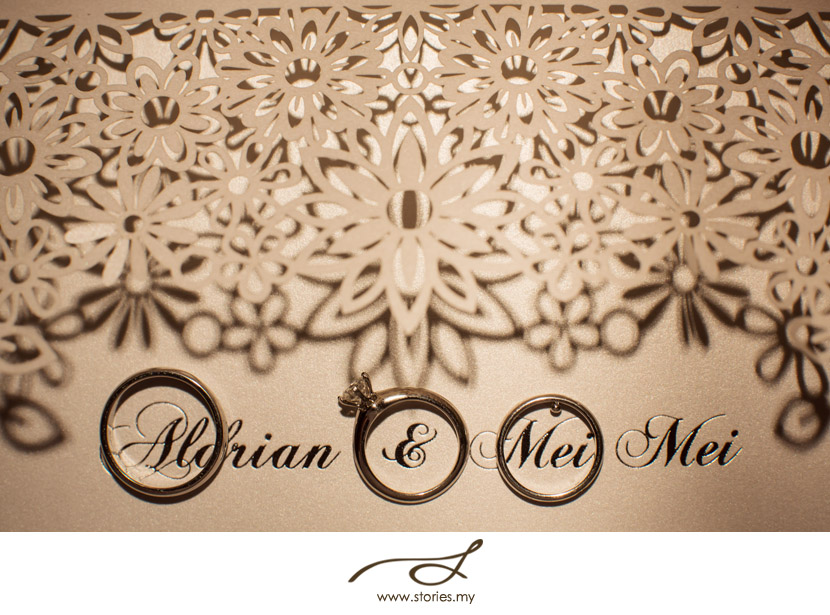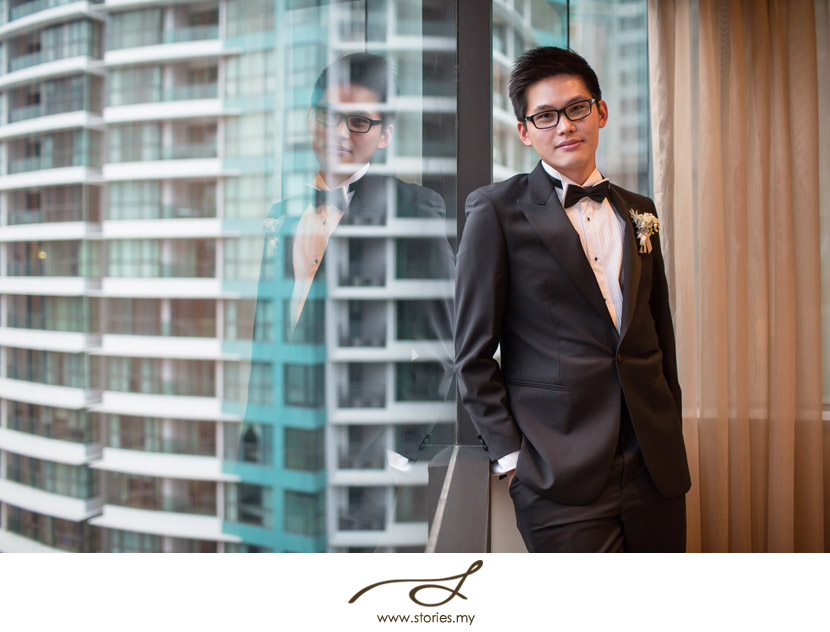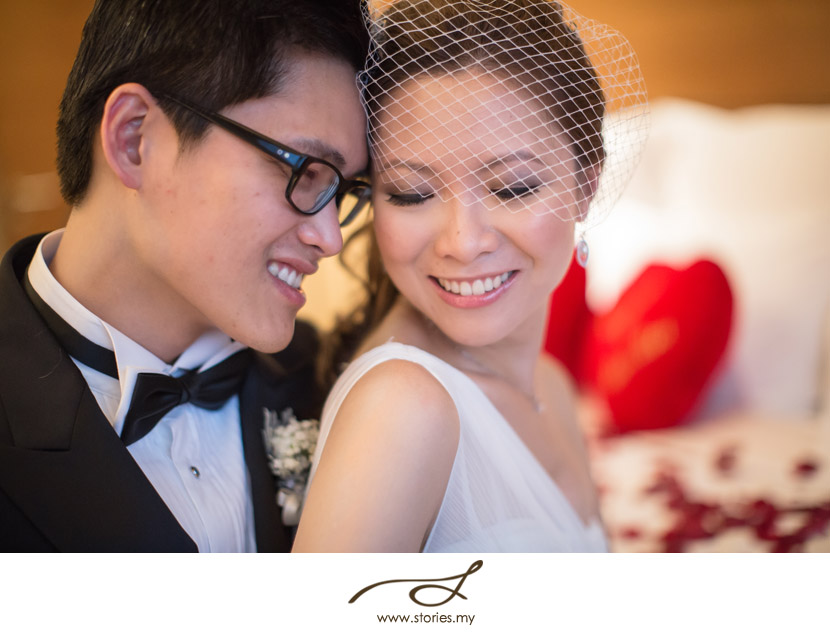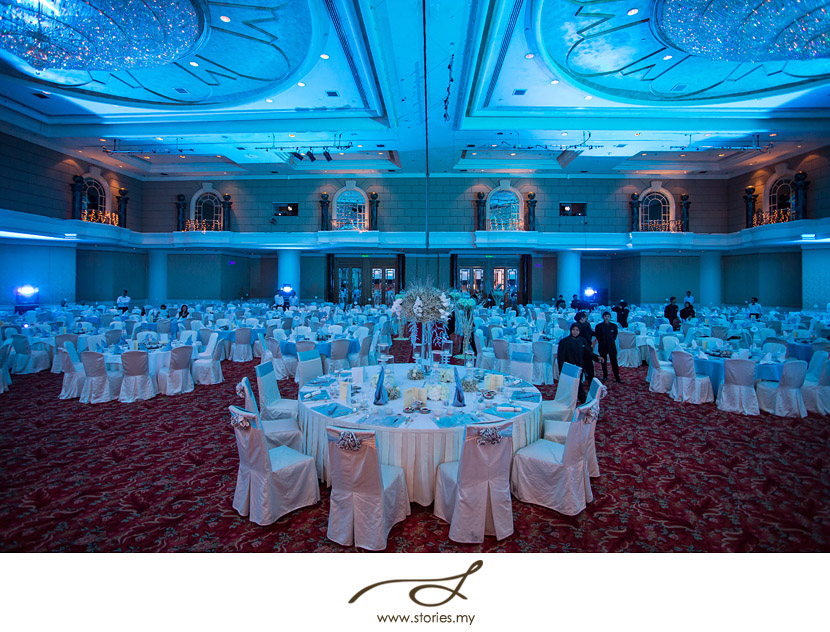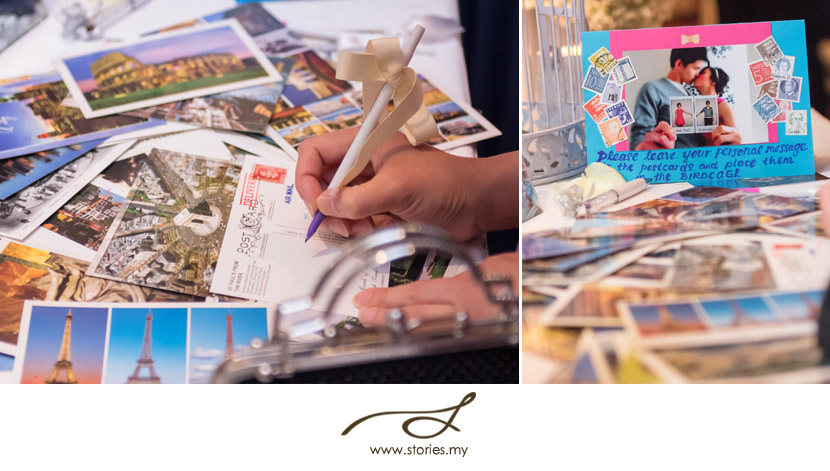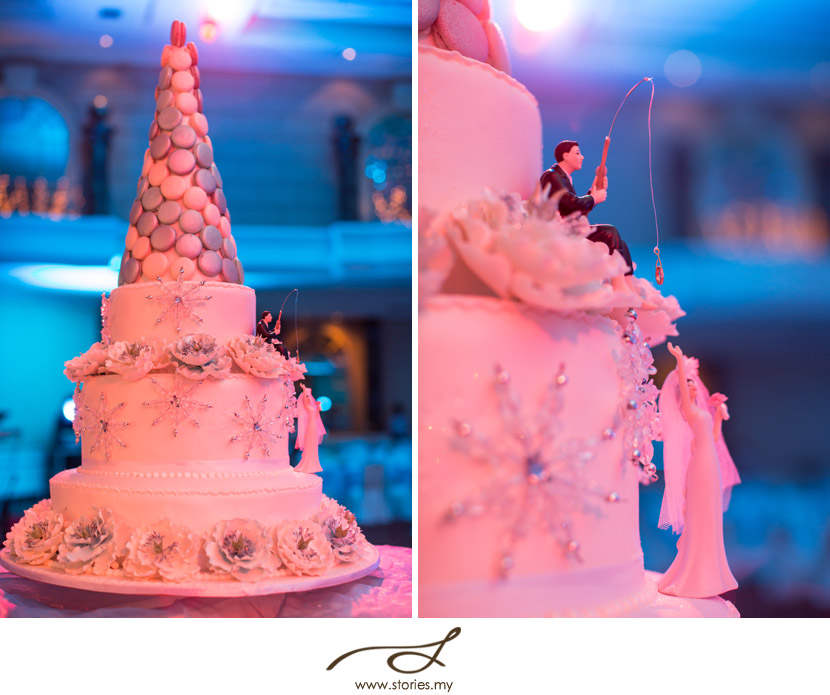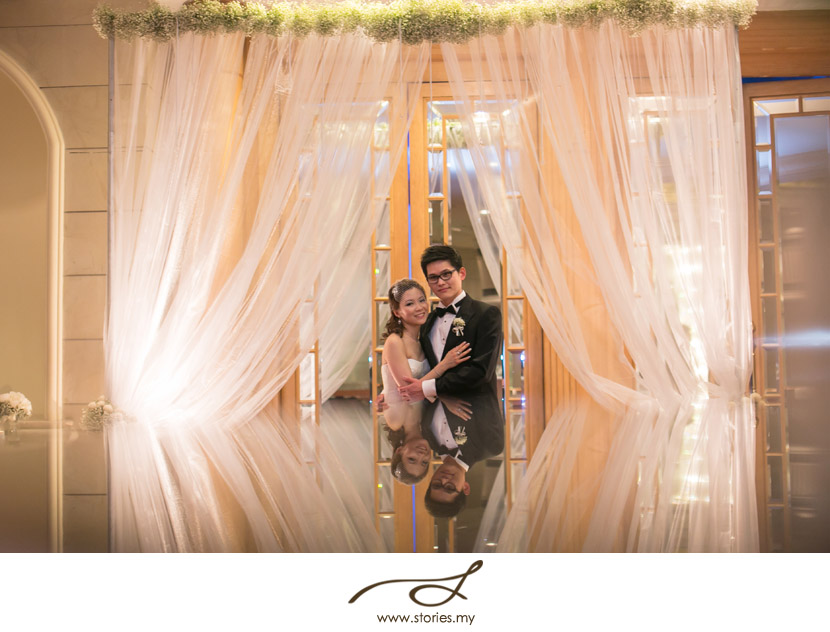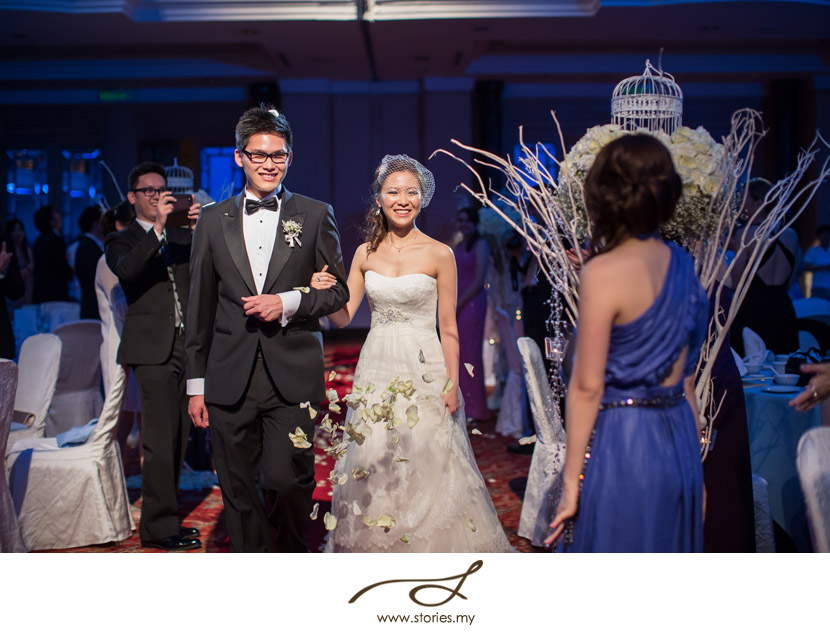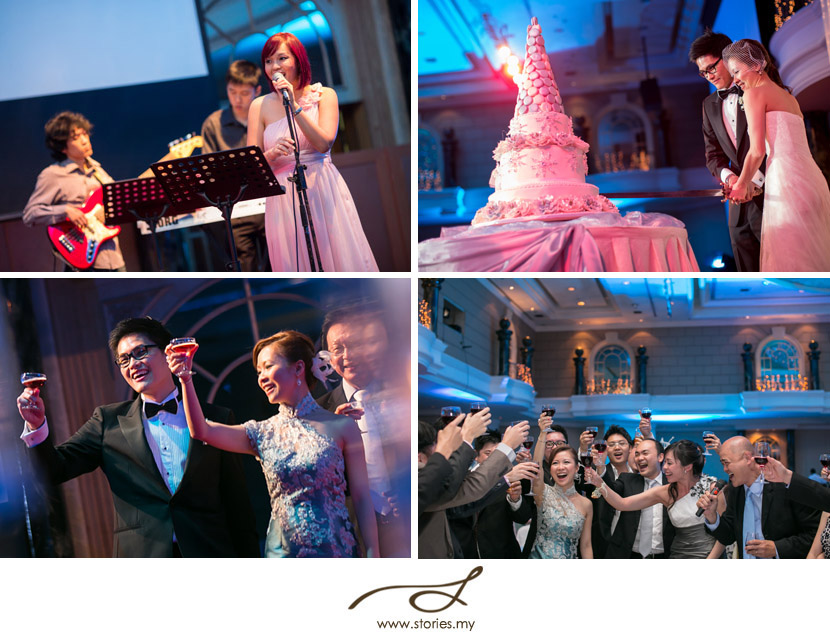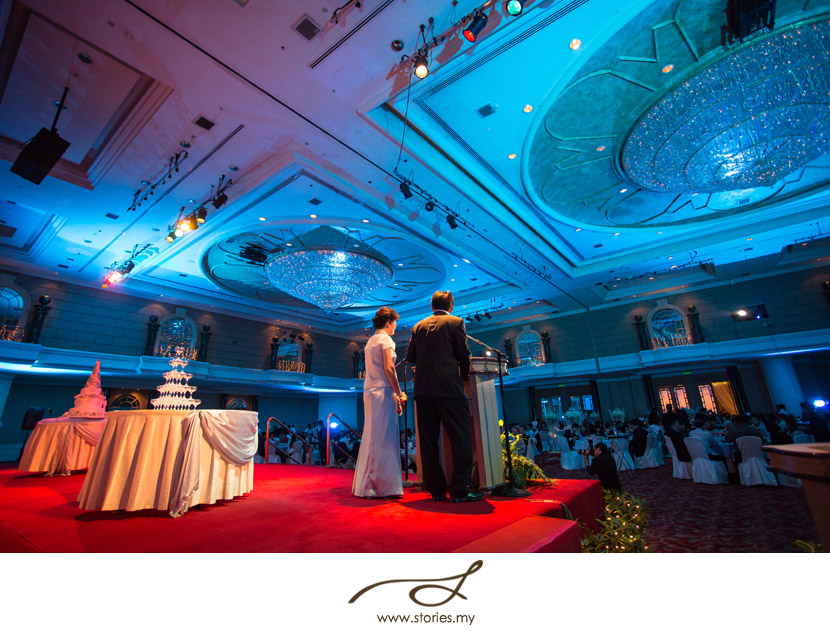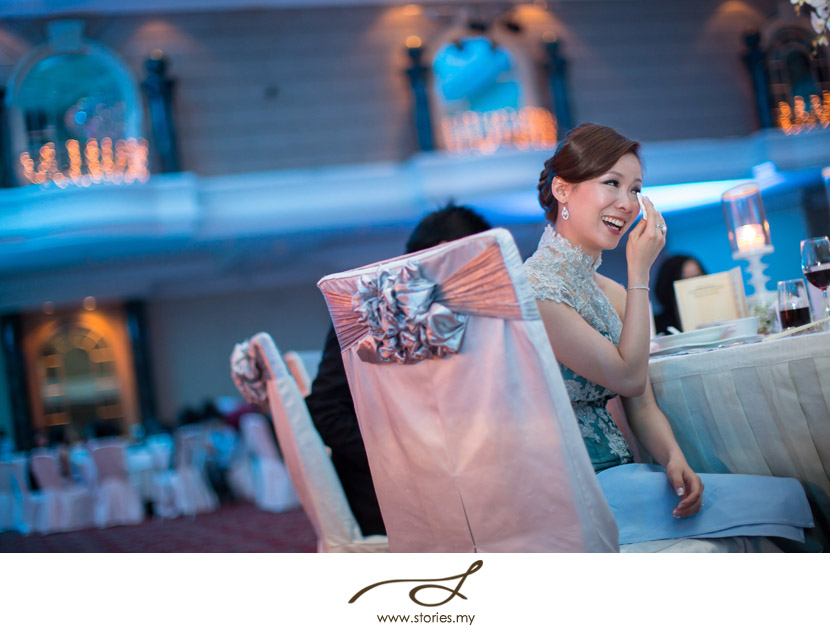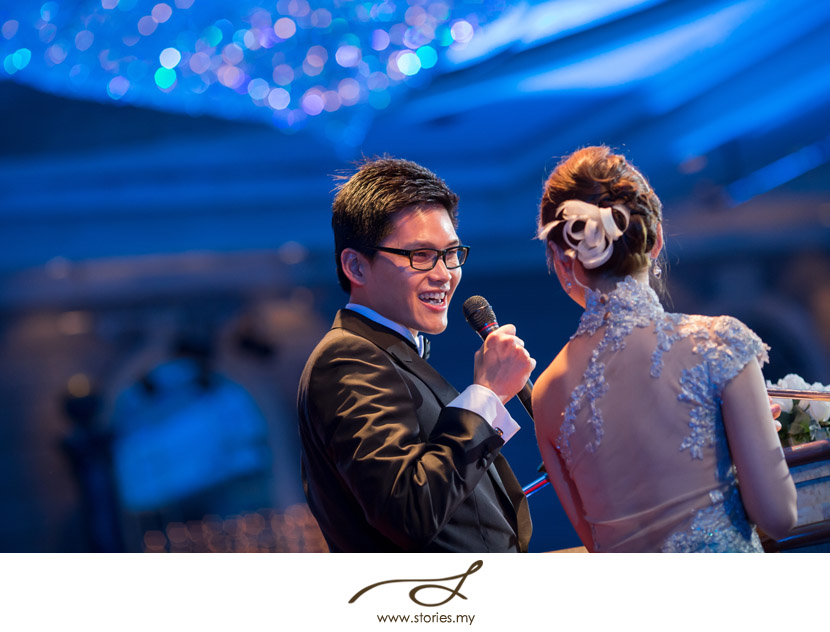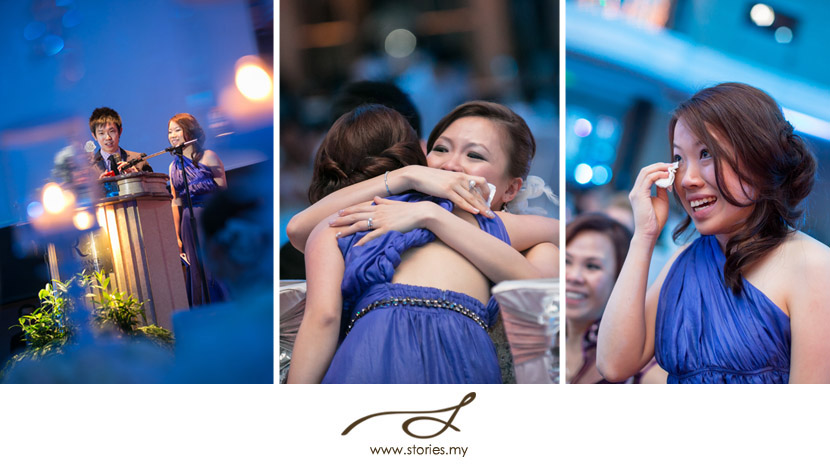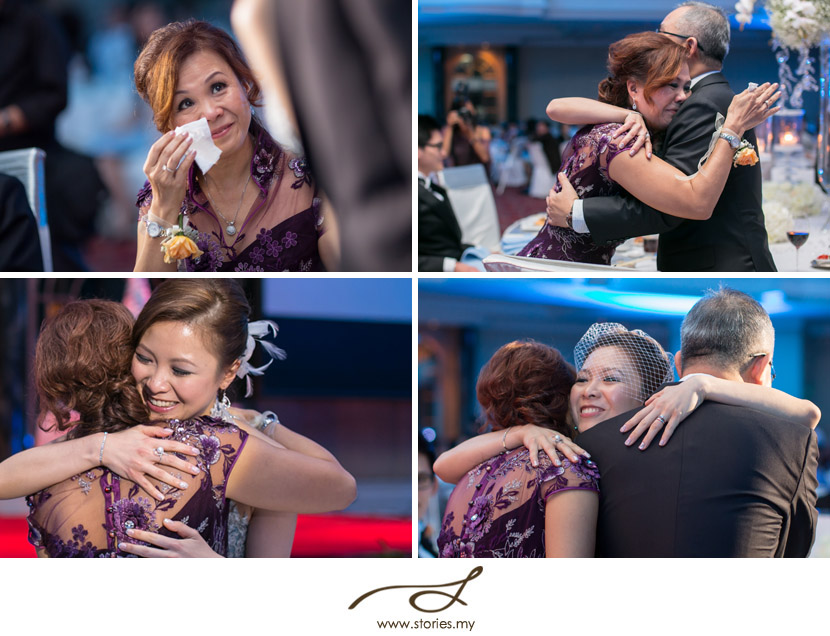 Aldrian and Mei Mei, thank you for giving us the opportunity to photograph your wedding day! It was a beautiful wedding, and we were touched to see how close you are to your family. Mei Mei, I hope you are not suffering from post-wedding planning blues, but perhaps you could help Adelene as she plans for hers this December! Take care and we will meet again soon!
Credits:
Photographers: Grace & Eric, assisted by Samantha and Felicia
Wedding Gown: Vera Wang, Pronovias, White and Lacy
Groom's Attire: Hugo Boss, Paul Smith, TM Lewin
Shoes: Christian Louboutin
Make up and Hair: Wedding Isle
Decorations & Flowers: Wishing Tree and DIY
Stationery: Sunflower
Cake: Groom's aunt (Rosalind)
Dinner Entertainment: Amy Yeoh
Wedding Planner: Mun Tzin of Milestones
Church: St Peter's Church, Bangsar
Dinner Reception: Renaissance Hotel, KL