And we have a brand new website! It's been 3 years since Stories first opened its doors to brides and grooms, families and children. Since then, we've photographed more than 200 bridal couples and 100+ families. From a business that started with one person (me!), we now have 5 full time staff.
I am truly grateful to God for providing for our needs. Running a business is probably one of the scariest things I've ever embarked on in my life. Even during the low seasons when we didn't have a single booking in a month… God saw us through. Honestly, I never thought that one day, I'll be running a photography and videography business. The worry that business owners face is something I never wanted for my life. I just want to live a carefree, easygoing life… pretty much take on whatever comes my way.
But I guess He had other plans.
I read this verse in the Bible recently.
Be anxious for nothing, but in everything by prayer and supplication with thanksgiving let your requests be made known to God. And the peace of God, which passes all comprehension, will guard your hearts and your minds in Christ Jesus. (Philippians 4:6-7)
It sounds simple but often times, worry is a condition that usually doesn't just 'go away'. How often have you heard someone say, "Don't worry…" but it made no difference whatsoever to your lives?
However, when I read the verse before that… "Rejoice in the Lord always, again I will say rejoice." The little devotional I was reading reminded me that I can't just start by praying and then expect my anxiety to simply vanish into thin air. We have to start by habitually drinking at His well for joy, with an inclining of our heart toward Him throughout every moment of each day and every moment of life. (Quoted from Worklife.org)
If this doesn't really make sense to you, what it basically means is that I should focus on the positive things that God has blessed me with, and not on the negative. And ultimately, my source of joy… God Himself.
I look forward to another year with our team, creating amazing images for our clients and making a difference in people's lives.
And so, with a thankful heart, we are feeling generous this season.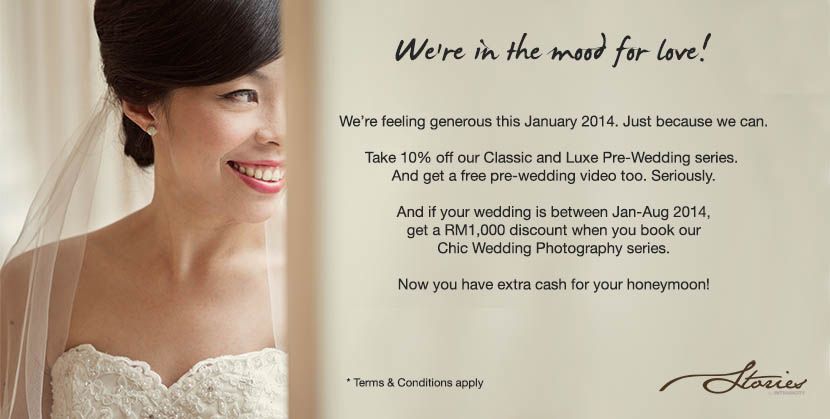 We hope you will join the hundreds of Stories alumni who have graced our cameras with their presence.
Have a look at the promo details here or contact us to make an appointment.