Planning a destination beach wedding in Malaysia? Without a doubt, Langkawi is at the top of the list. It has everything – deep blue seas, white fluffy clouds, white sandy beaches, great 5-6 star resorts, duty free shopping and great Malaysian food. Of course the other famous beach wedding destinations like Maldives, Hawaii, Bali or Phuket has its own charm, but if you are hoping to have a beach wedding in Malaysia, Langkawi is the place.
As a team, we would take the one hour flight from Petaling Jaya to Langkawi pretty frequently to cover beach weddings there. Organizing a beach wedding can be relaxing and yet stressful at the same time. Everyone is away at an exotic location, just ready to have fun in the sun. But planning for a destination wedding from a faraway country on your own can be a pretty daunting task.
To make your life a little easier, I'd like to share some thoughts about how to best organize your day so that you can get the most out of your photography. Since I consider sunset as the focal point of the day, I'll work backwards from there and give you a pictorial journey of planning a beach wedding from a photographer's viewpoint.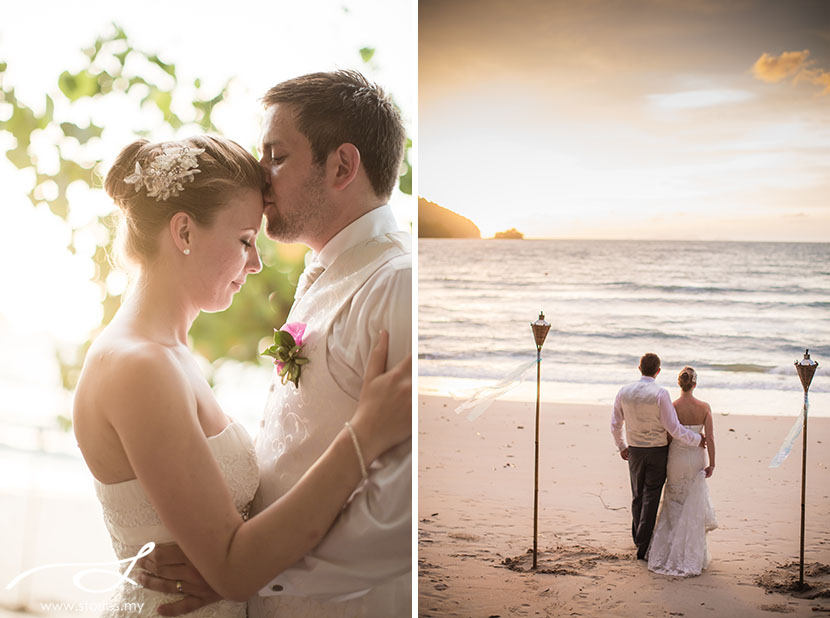 1. Do check on sunset times for the date of your wedding. 
On average, the sun sets about 7.30pm in Langkawi, so a good time to start your ceremony would be 5.30pm. It will be slightly warm at that time, but starting this early would give you ample time for portraits and formals after the wedding ceremony. There's always a rush to document all the dinner reception details too after the wedding, so if your ceremony starts too late, we will be running around like headless chickens trying to capture all the important shots before night falls. Ideally, I would like to have at least an hour for portraits after the ceremony ends.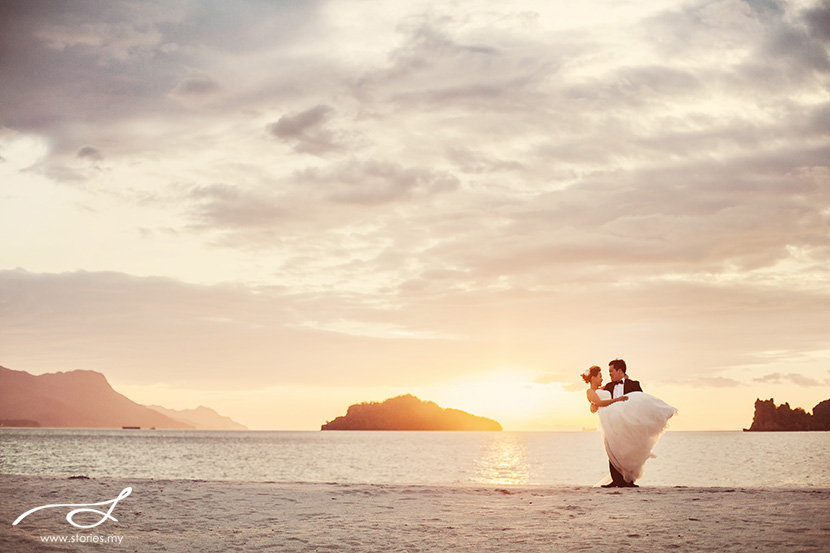 Portraits at the Tanjung Rhu beach (View from Four Seasons)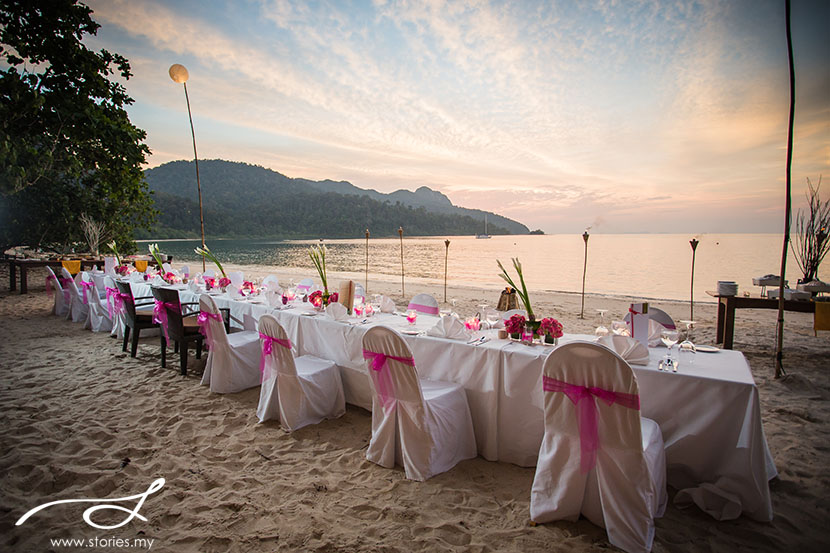 Dinner Reception details at sunset, Andaman Resort
2. Give yourself enough time to get ready.
Most of the couples I have photographed start getting ready anytime between 12-1pm. They are usually very relaxed, but after a few rounds of champagne, they realize that time is running out, and by 4.30pm, they are rushing to complete their hair and make up. Usually, I request for half an hour of portrait time, which I hope to do around 4pm. That will give me ample time to walk to the beach (sometimes the walk from the rooms are 20 minutes in duration!) and capture the event set up before the guests arrive.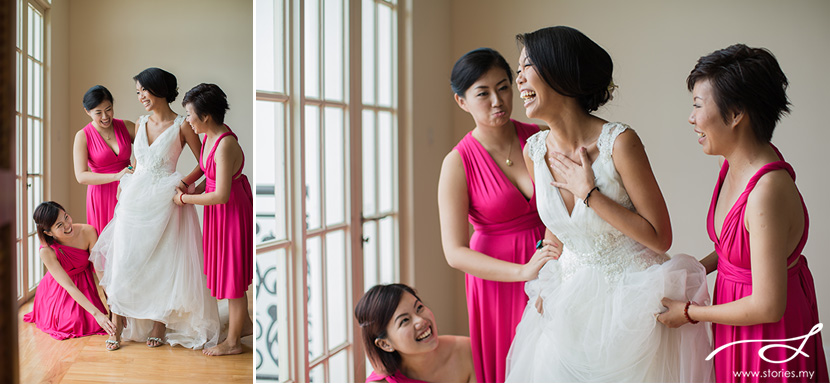 Getting ready before the ceremony at the Danna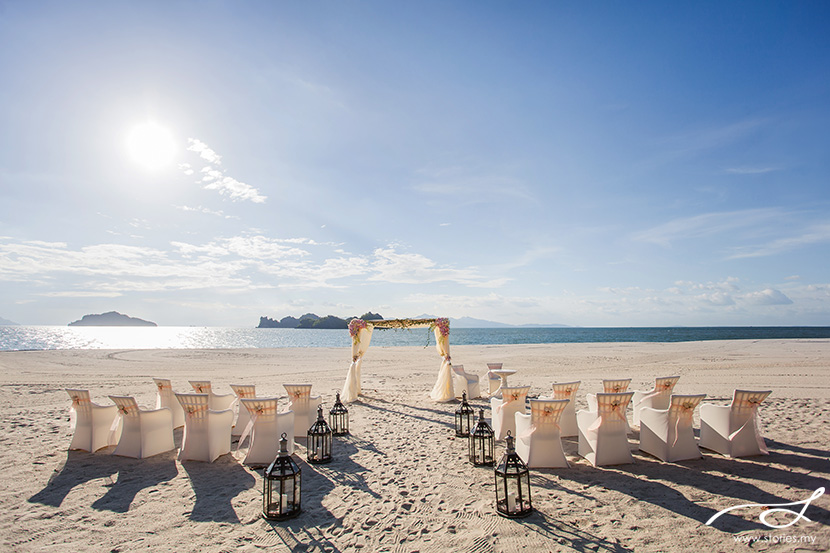 Ceremony at Four Seasons
3. If you'd like large group shots, please inform the photographers before the wedding day. 
Photographing a large group of 30-50 people on flat ground is rather challenging. Without a doubt, someone's head will be blocked by the person in front. We prefer to take large group photos from a higher angle so that everyone can be seen clearly. But this takes planning. Do inform your wedding planner that you require a tall ladder to be on standby for the photographer. A chair will not be high enough. Once the ceremony ends, this group photo should be done first before everyone wanders off for cocktails.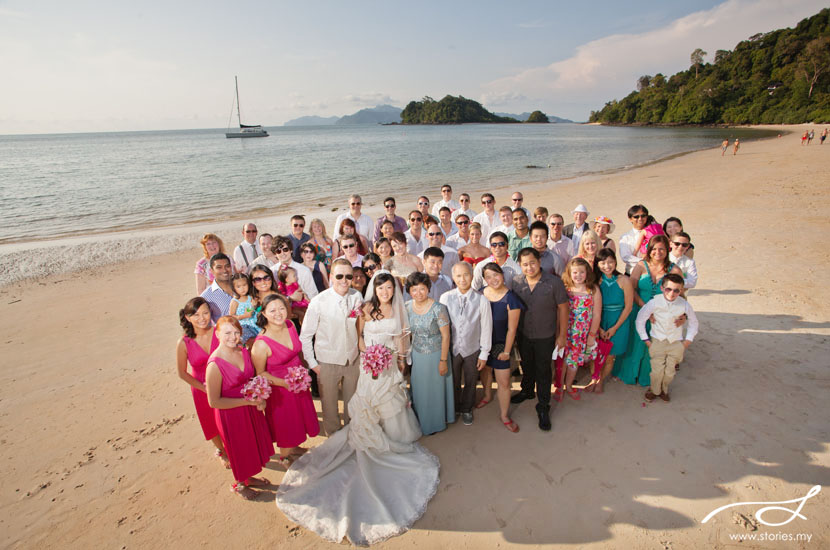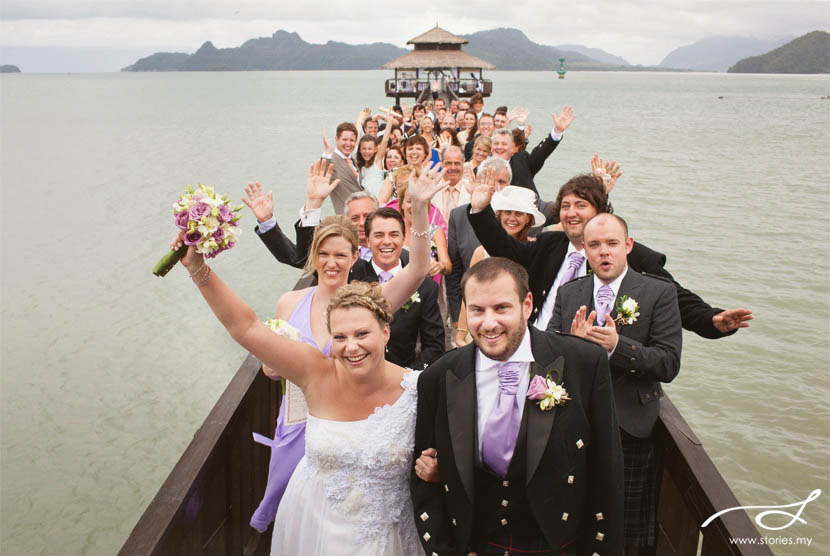 We do not guarantee that everyone's face will be clearly seen in fun group photos like these! :) Jetty at the Westin.
4. Plan for enough lighting at night.
Dinner reception on the beach sounds like a lovely romantic idea, but it is a photographer's nightmare if there is not enough lighting. The beach and sea will turn out pitch black in photos. Having additional lighting will add ambience and will make for prettier photos. We do bring additional lighting of our own, but I think it's much nicer if the lights look like they are part of the decoration. Personally, I would stay away from coloured spot lights like red or green. You can just imagine what kind of skin tone you'll end up with.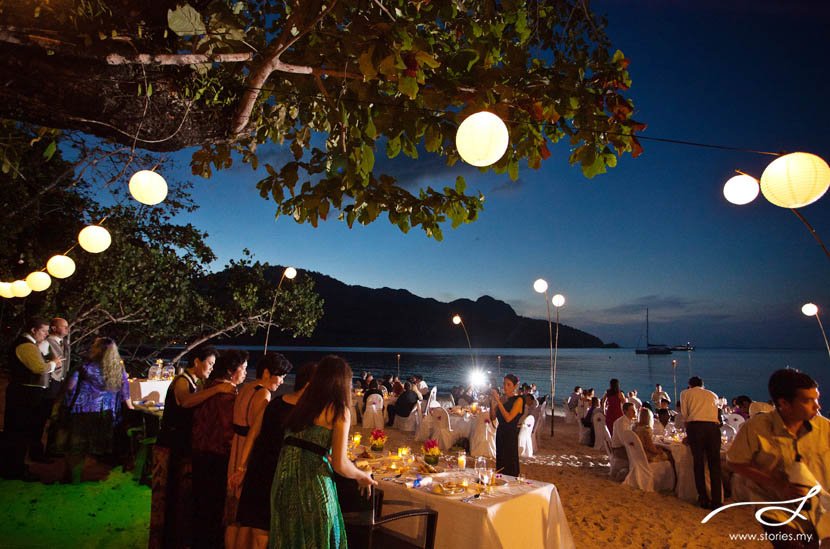 After the sun sets and darkness sets in, those round lanterns will not have enough light to illuminate every table. Make sure each table has additional lights (2-3 tea light candles are too few).
I hope these tips will give you some insight into planning your beach wedding. All the best, and we hope to be there to capture your wedding day! If you'd like to see our collection of beach wedding portfolio, click here.