One of the most wonderful things about being a wedding photographer is the ability to connect with others on a deeper level, one that goes beyond a client-vendor relationship. Ever since I discovered the wedding photography industry, my life has changed for the better. I have developed friendships and have photographed families as they grow through the years. En Ruey and Jas Min are one of those couples who are now my friends. To date, we've photographed their pre-wedding shoot, wedding, En Ruey's family portraits and Jas Min's parent's birthdays. I look forward to spending more time with this wonderful family as we mature in life.
I'll let them share their story and thoughts about the wedding as you view the photos below.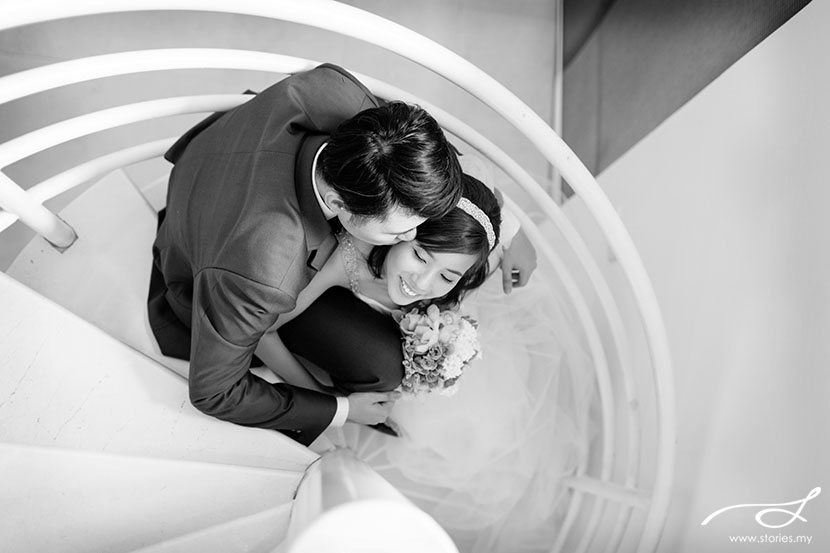 How They Met
"We both were classmates in high school during F4 & F5. Amazingly we never really met each other until then. I think our classmates were even more amazed that we even got together despite all the bantering, yelling and slinging books at each other across the classroom. To be honest, at that age, there wasn't really any "he's the one" sort of moment and this was of course compounded by our breakup 6 months into the relationship.
But after two years of being apart, he realised he had made a mistake and asked me to be his girlfriend again. It didn't help that about a few weeks after, we went to uni in different parts of the UK separated by a very expensive 4 hour plus train ride. To me, the gradual pacing of our relationship coupled with his maturity in handling all my 'crisises' allowed me to see him as someone very suitable for the long run (read: husband material). It also helped that despite the distance and only being able to meet up every 2-3 months, we very rarely had any fights or arguments. That to me proved that we were very much in sync with each other."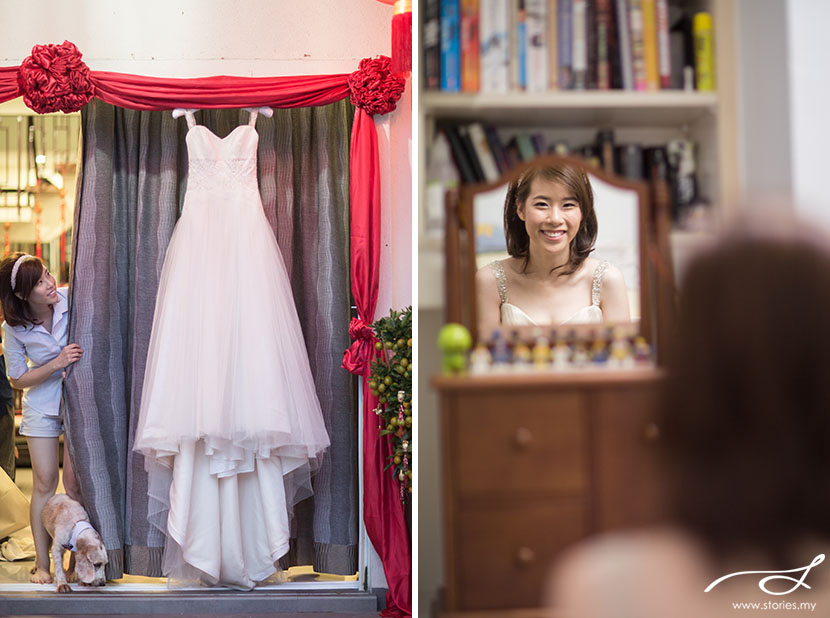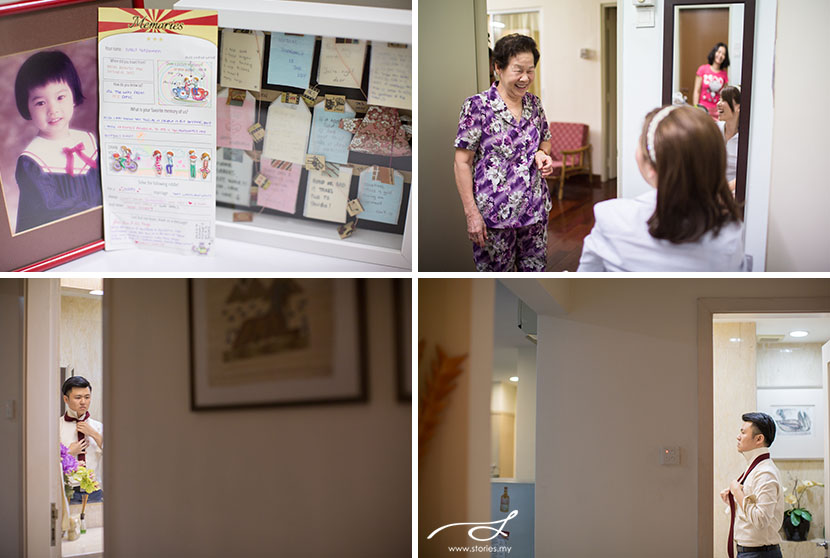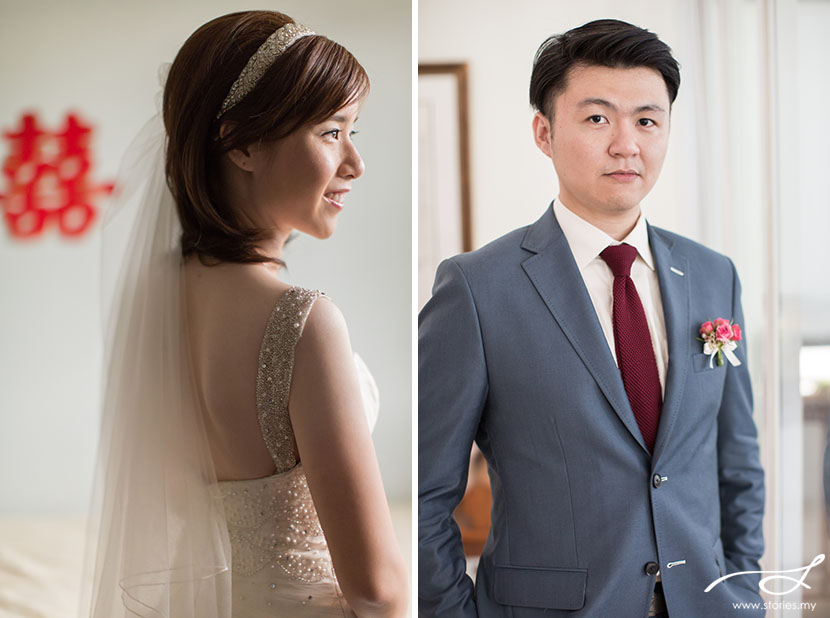 The Wedding Preparation Process
"It was quite relaxed on the whole but this was largely due to having our very capable wedding planner Mun Tzin on board with us. Both of us were working crazy hours during the first few months of planning (plus we only had a 9 month engagement) so it was only logical that we got some professional help. We completely trusted her and she played a pivotal part in making our wedding as successful as it was. Thankfully, we didn't have much problems with our guest list on the whole and it was a proud moment for us that only 1 person on the final guest list didn't show up. It was also likely because of our self imposed cap on number of guests, we only invited those that really mattered to us so everyone was really keen to come.
En Ruey & I were also very realistic with our expectations and what we wanted to achieve for the wedding so DIY was largely avoided (as we're all thumbs!) except for the invitation/guest cards, VIP table stationary and the old wedding photos display table. These, including our unique logo, were all designed and printed by the groom. I admit there was a bridezilla moment somewhere in the middle (for something which I can't even remember now!) but En Ruey managed to talk me down from my teeth gnashing and feet stomping moment. Lol. As with all adversaries, they only serve to bring us closer. =)"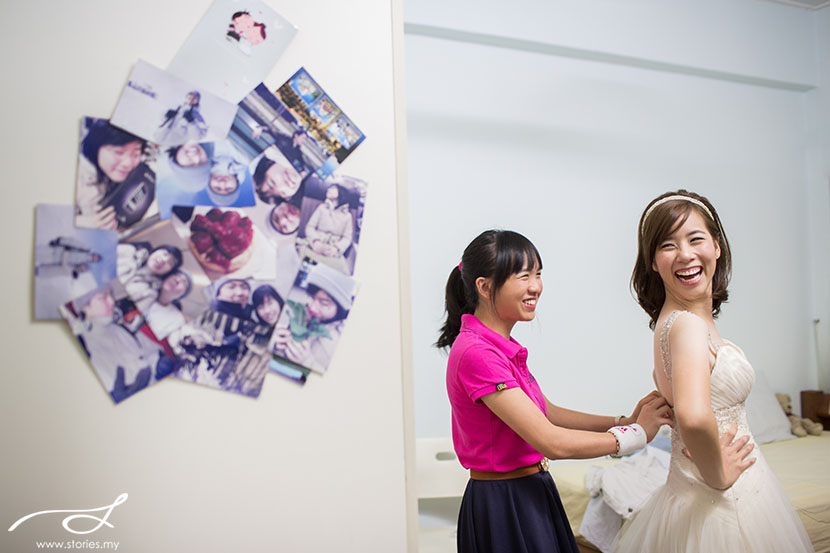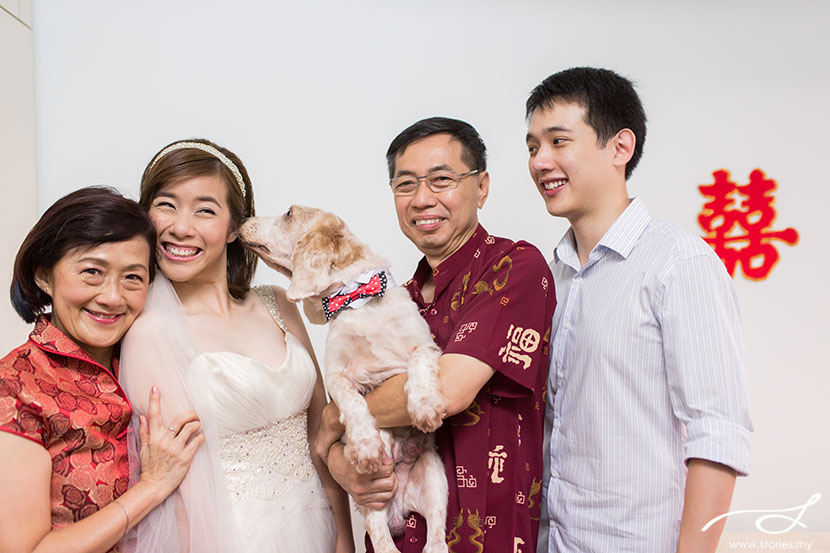 Grace: One of the things that was memorable about the wedding were the strong bond between family and friends (and dog!). I also love some of the little customized details, like the wrist bands for the girls below (take note of the one on the top left corner!). They had a sports theme going for the morning chip san leong session.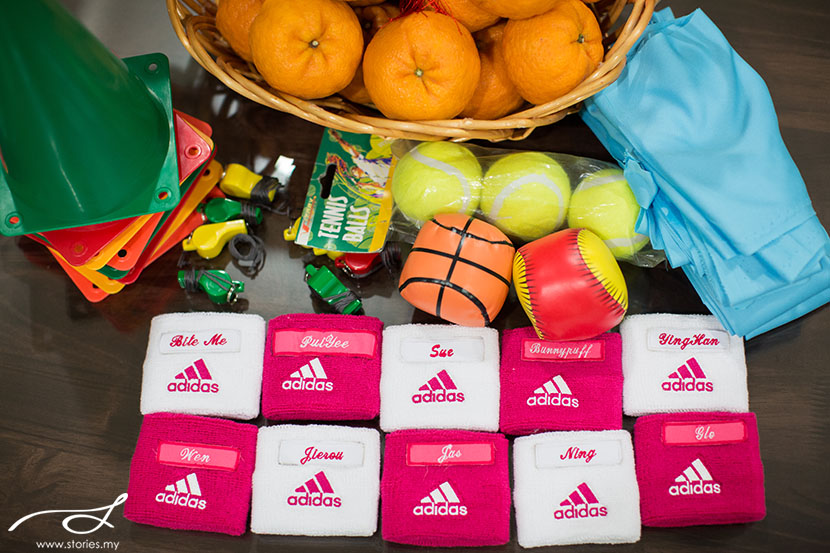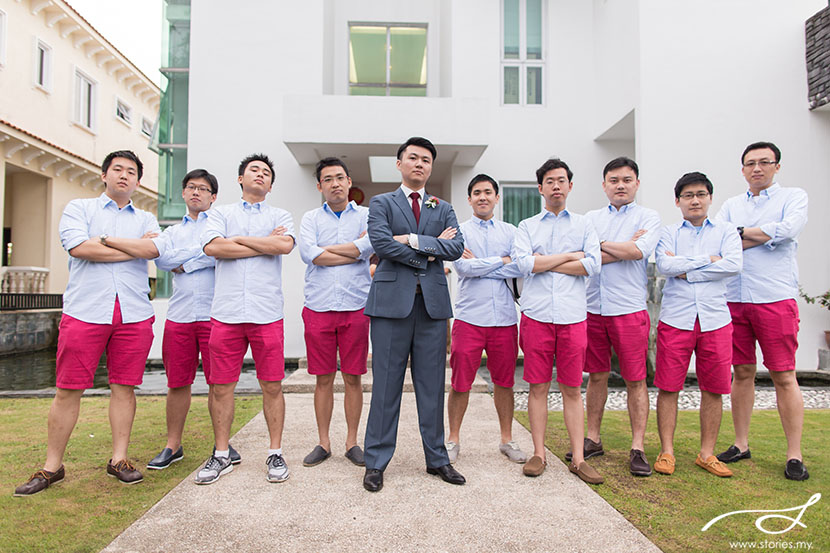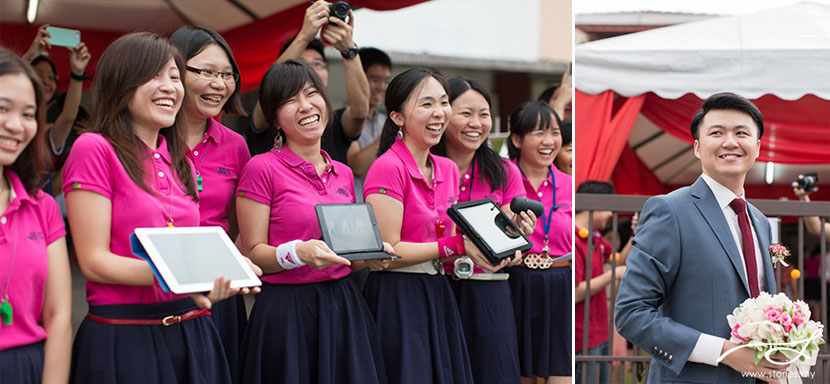 En Ruey knew how to work those dance moves!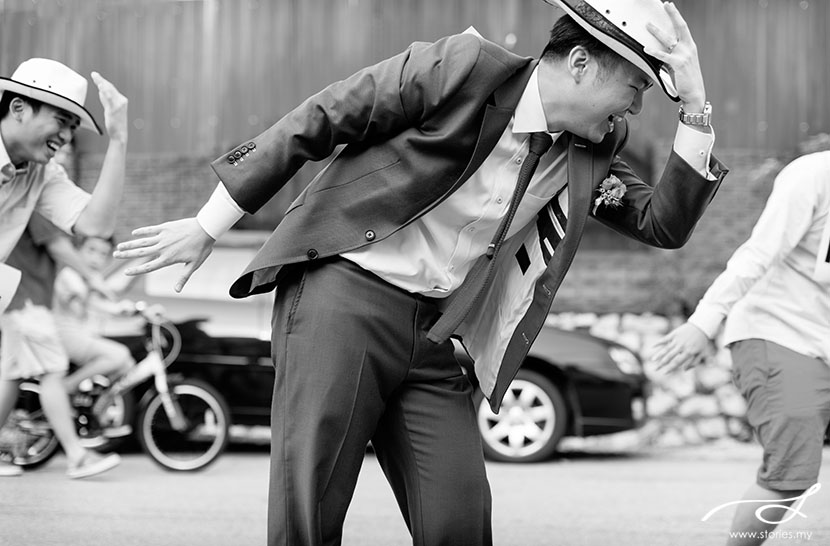 And check out the change of outfits!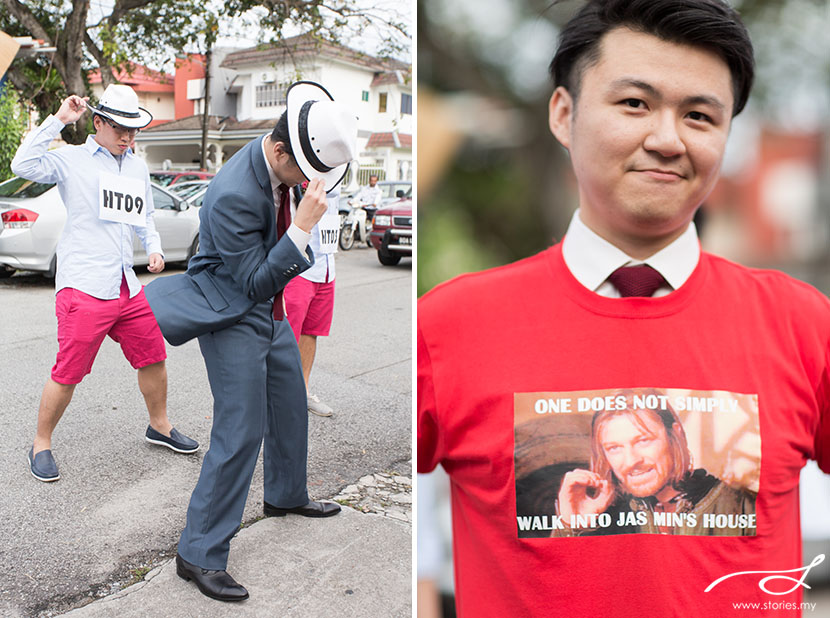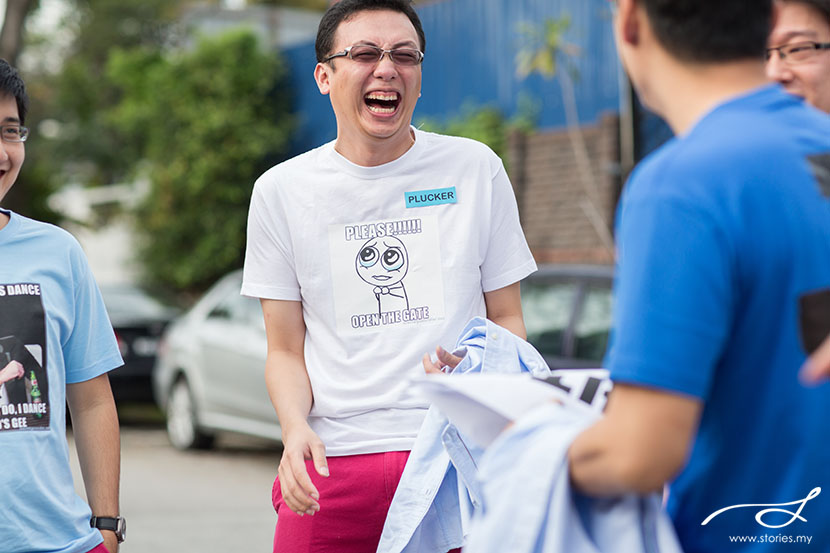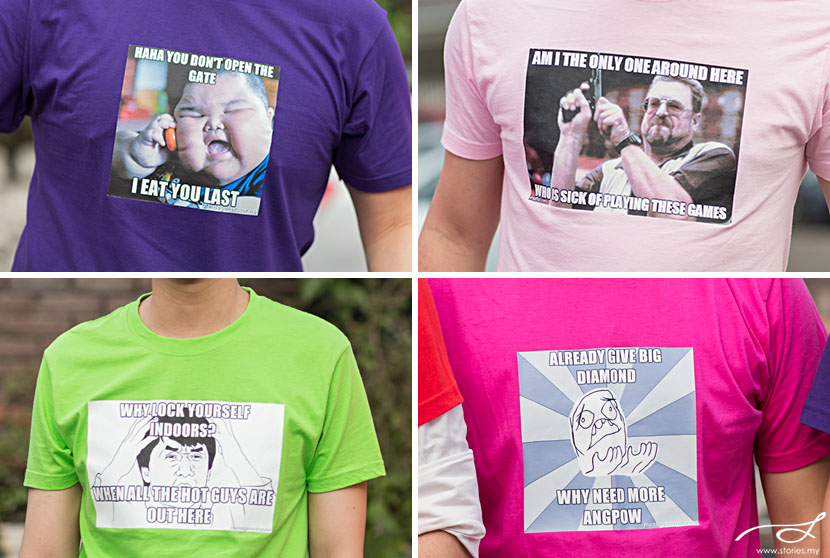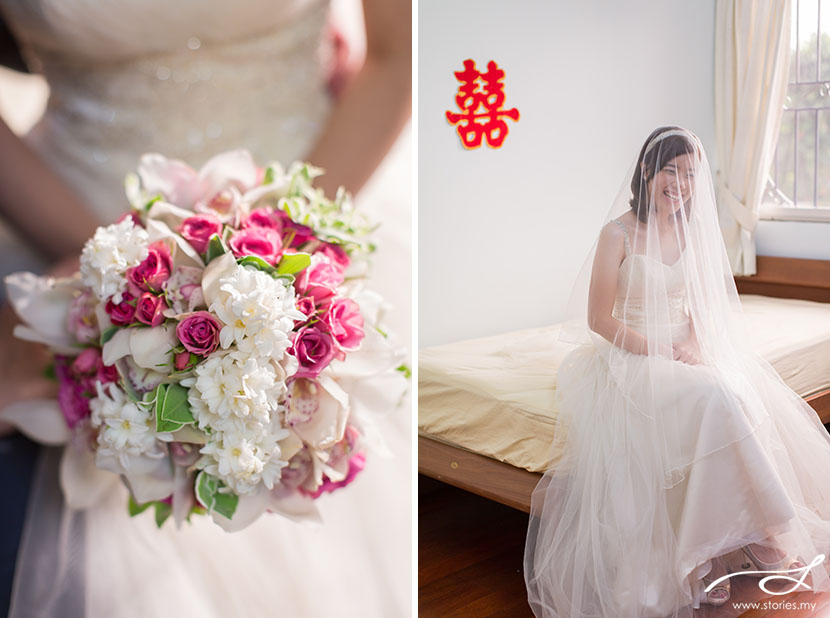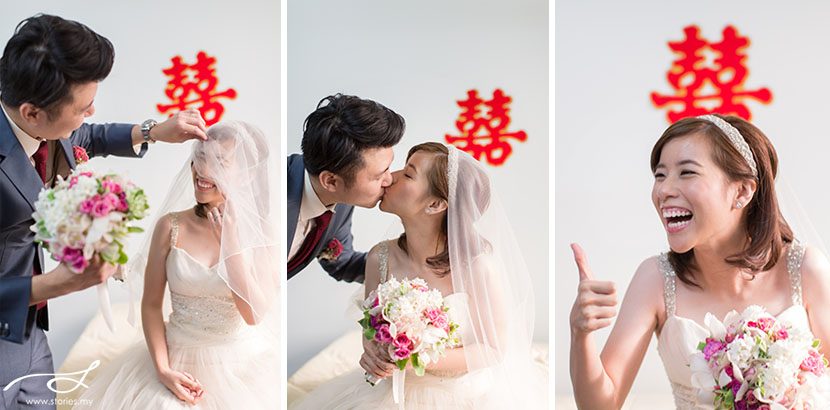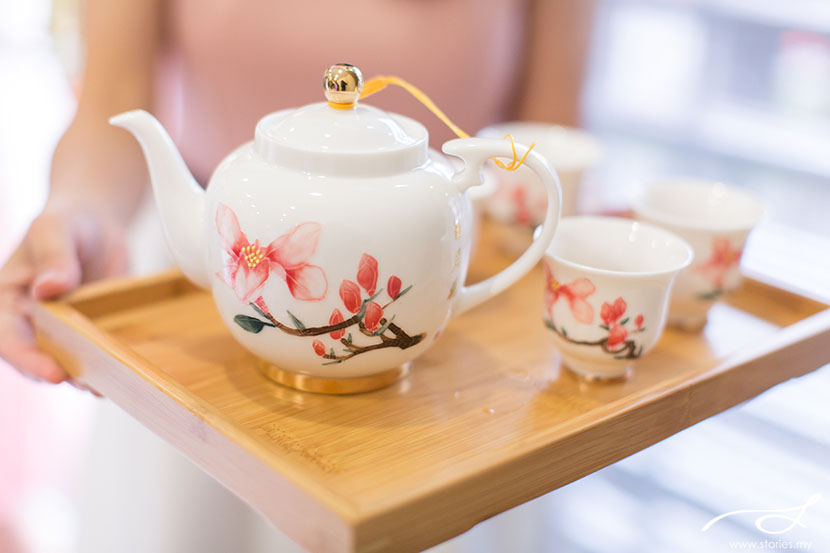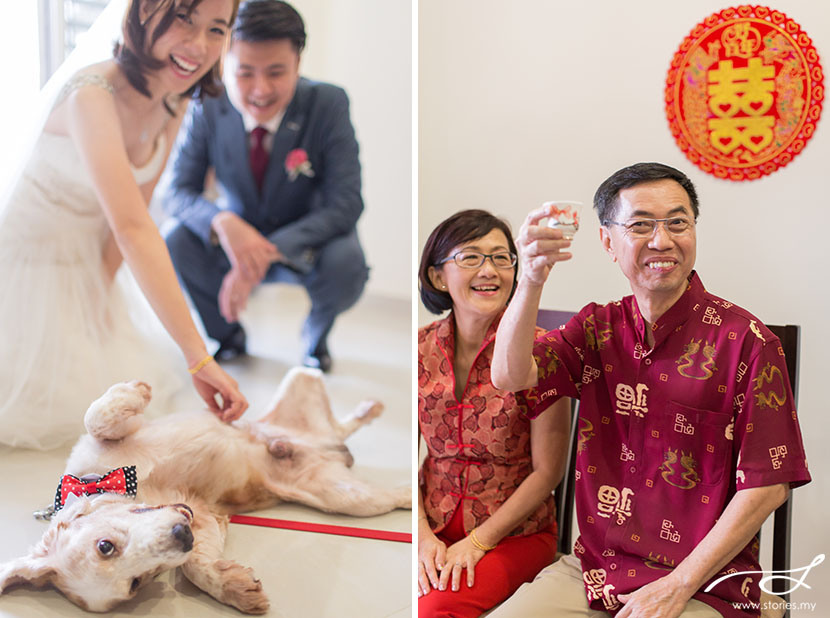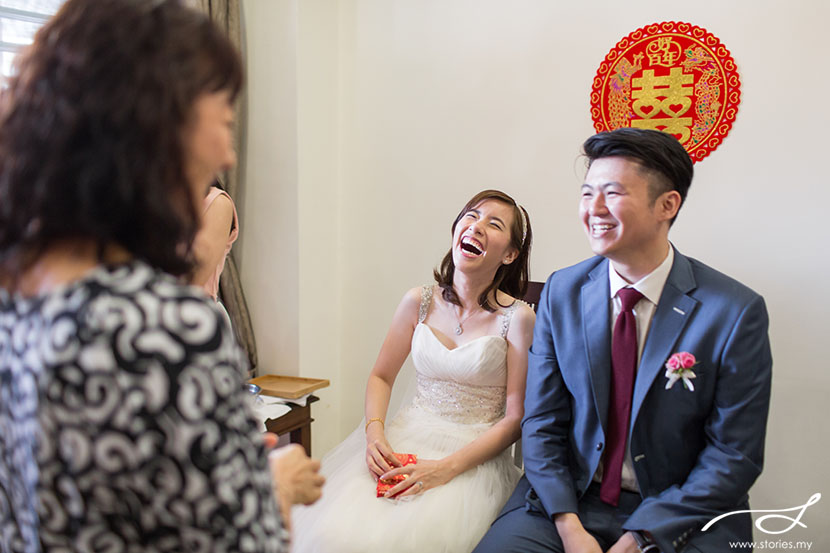 Favourite part of the day
"Our favourite part would have to be the feeling of being surrounded by the joy all our closest friends and families throughout the day. It is only when you are in the thick of things that you realise that the thing that is making you the happiest in that moment isn't the carefully laid out plans or the beautiful dress or the perfect venue. It is the sheer happiness of all our guests and families at witnessing our marriage, our once in a lifetime moment, that has been 9 years in the making. We could truly feel the sincerity in every word of congratulations uttered by the owner of every hand we shook. That to us was the best feeling in the world. (Another favourite part of mine that is a close contender to the above are the fantastic candid shots of my dog during the morning ceremony. Everyone loved them to bits! In fact, after seeing the complete set of photos, my aunt commented that the one that is most beautiful/good looking in the photos is my dog! Hahaha. He stole the limelight on that day for sure!)"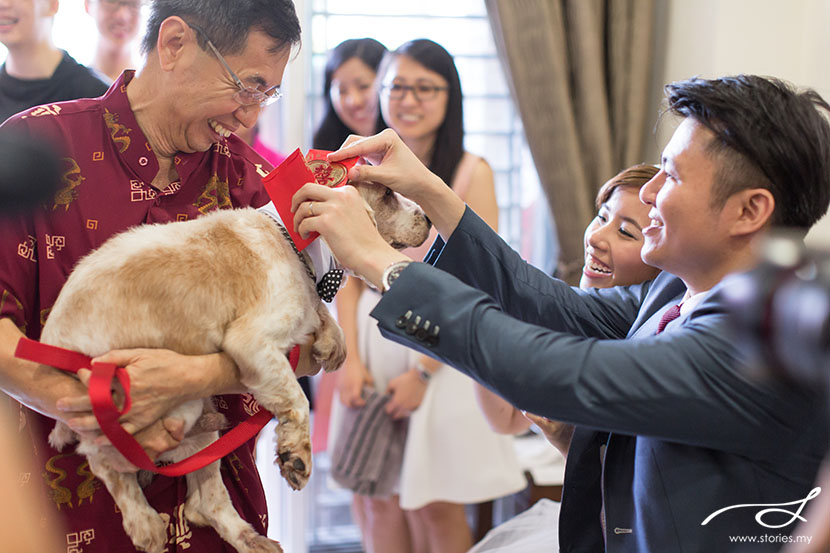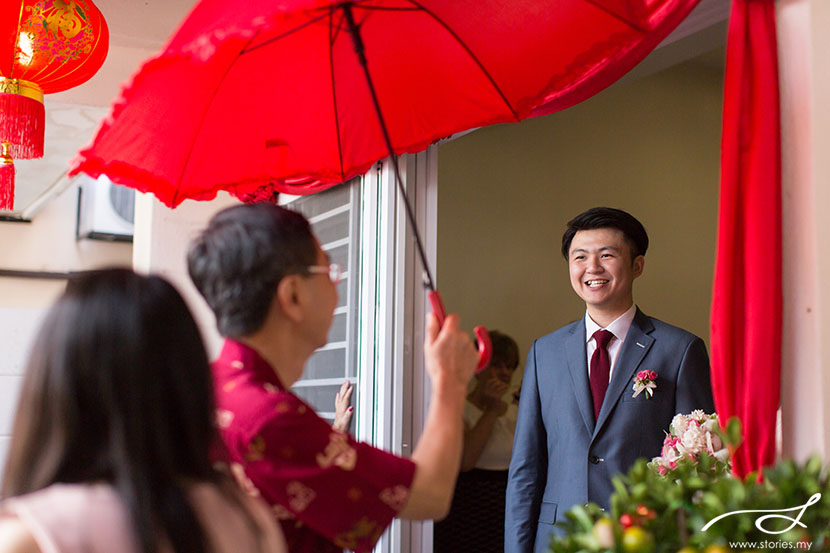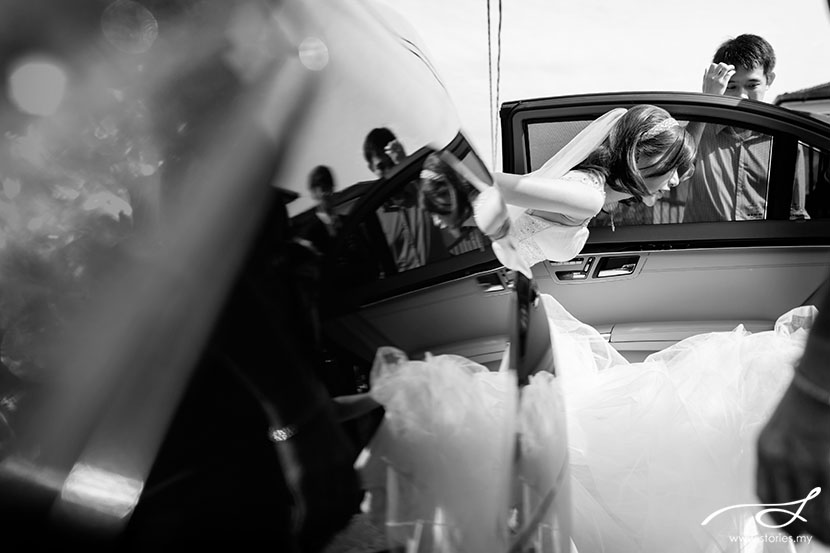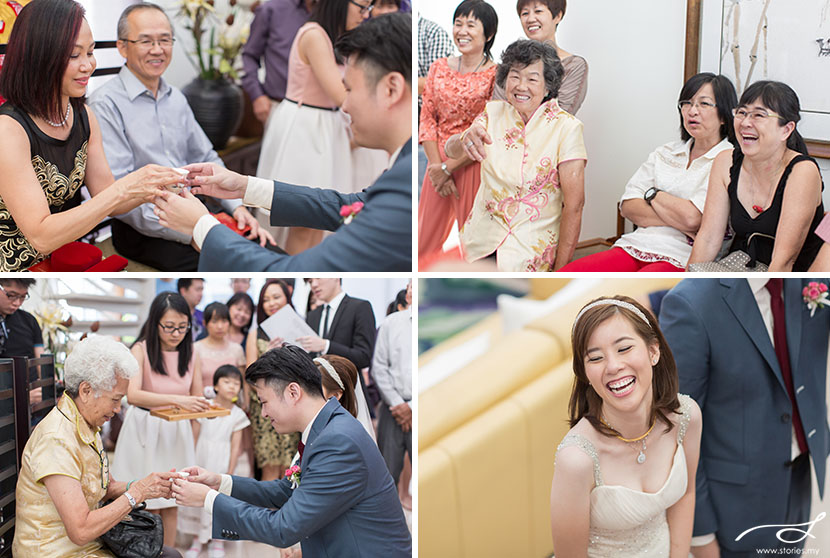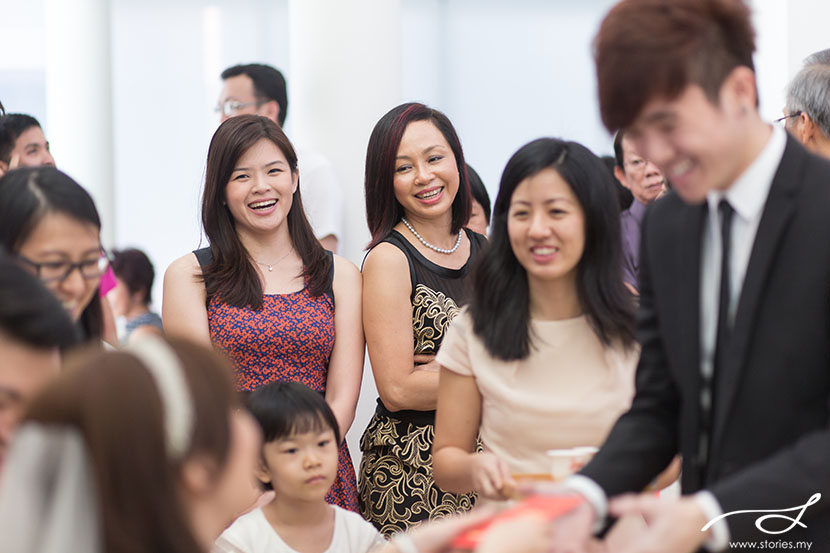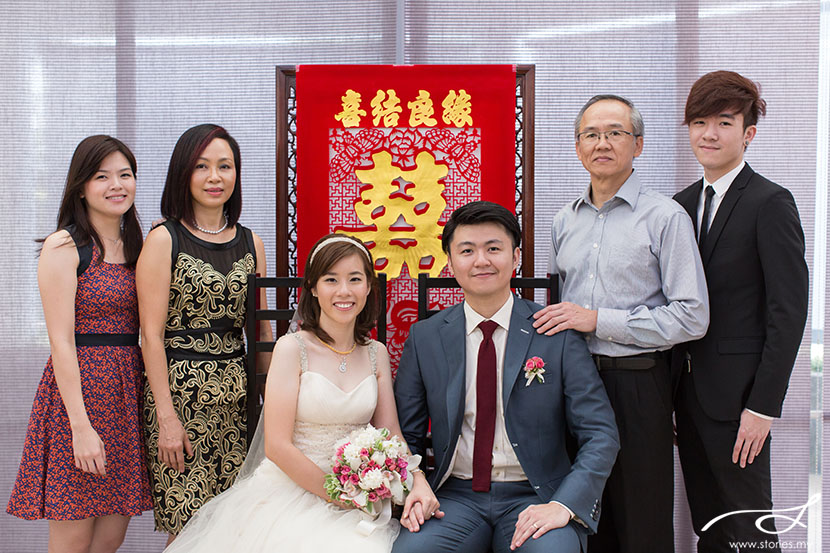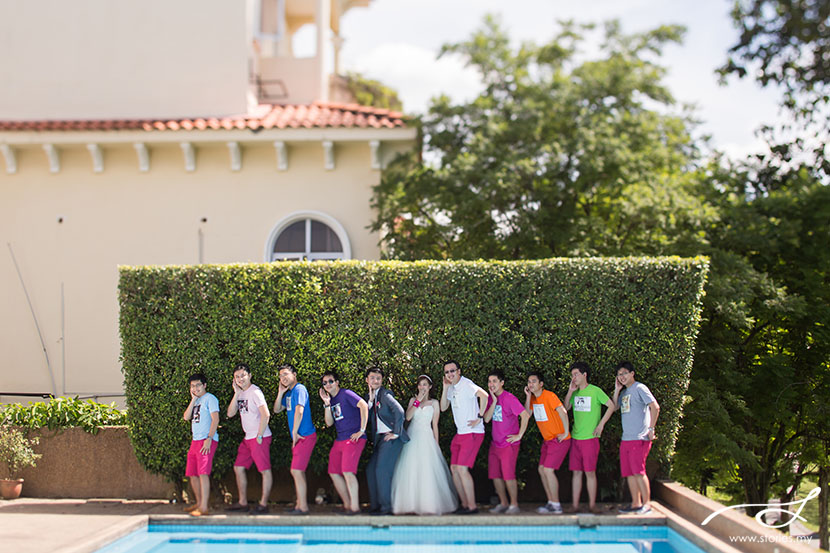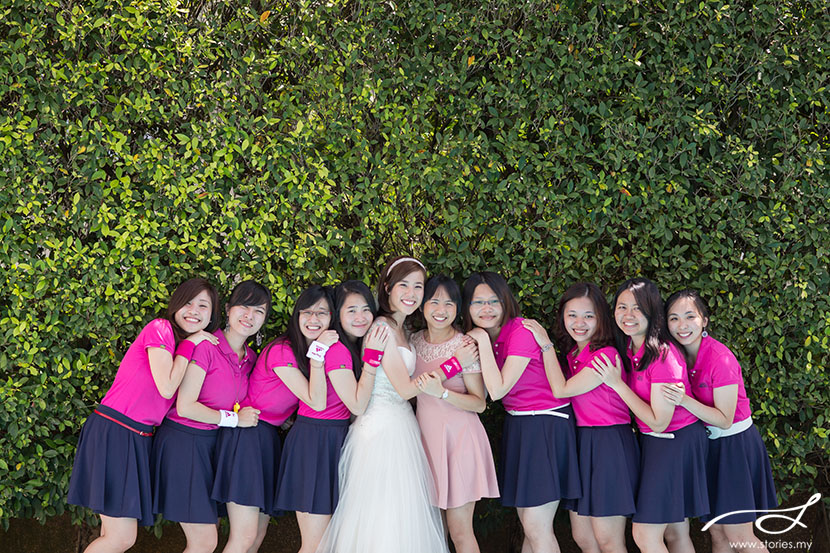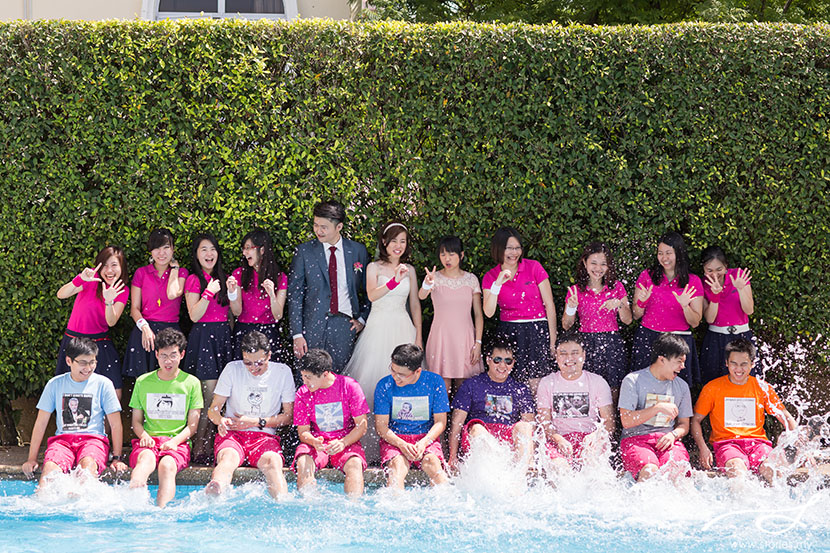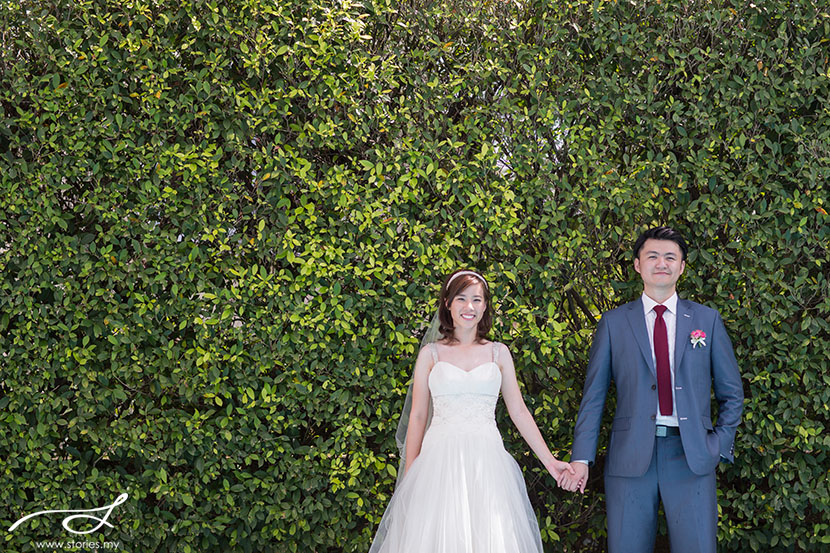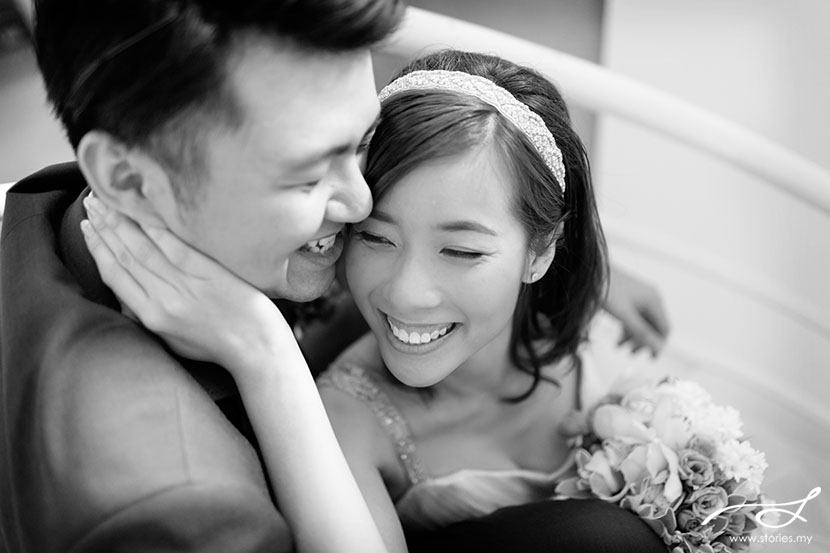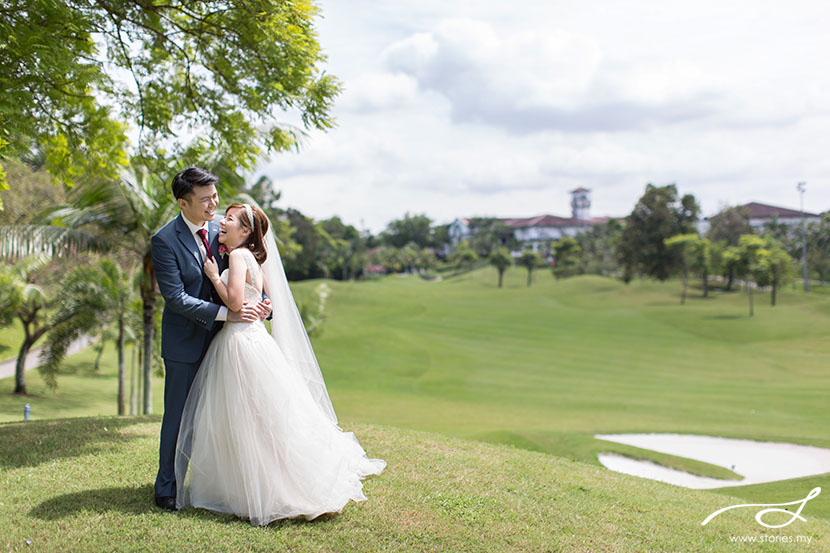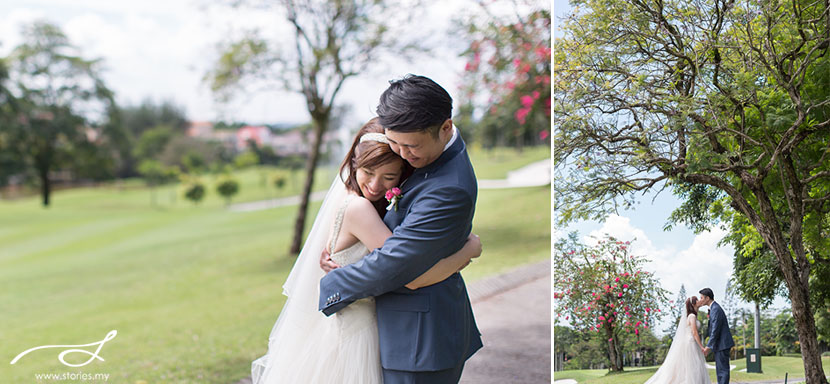 The dinner was held at the Grand Hyatt Hotel in KL. We love the floral decorations done by Wishing Tree!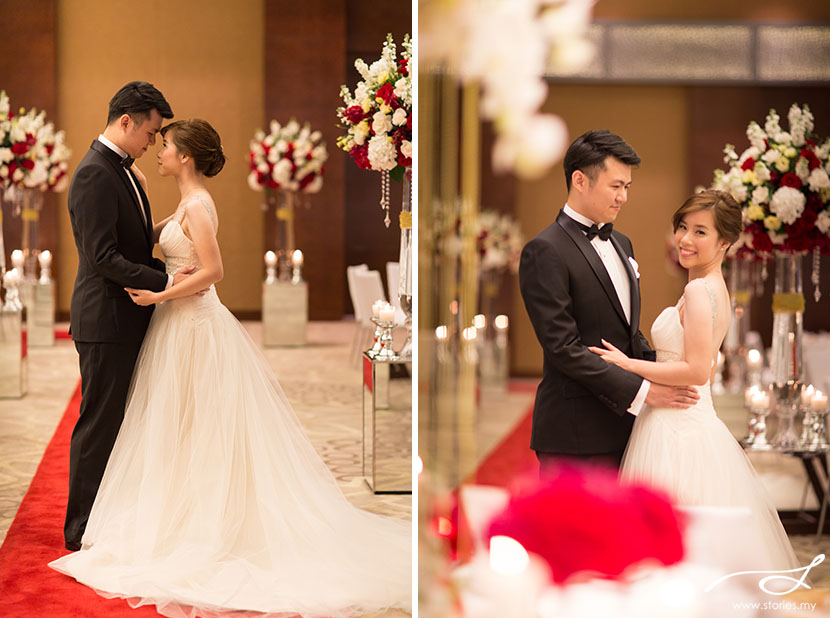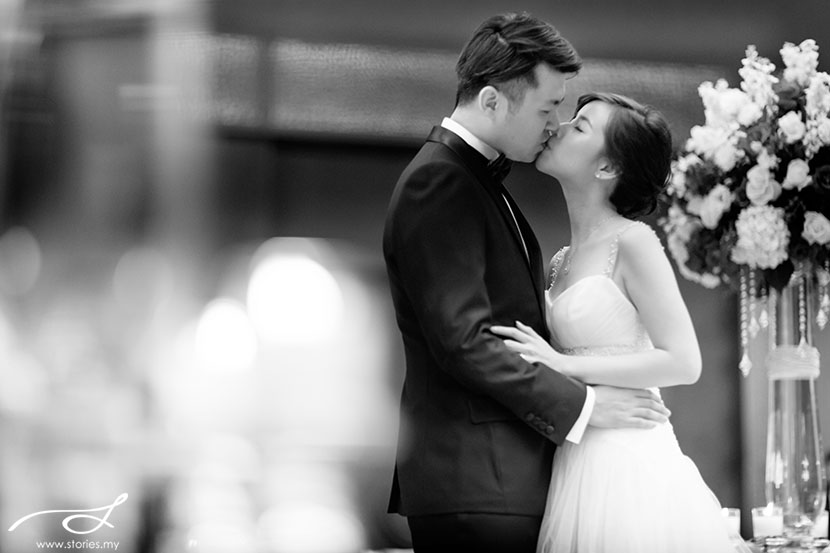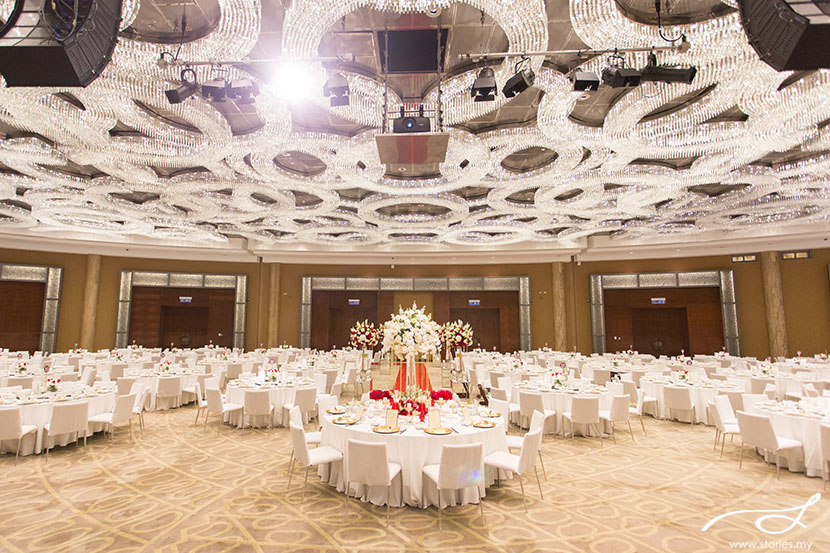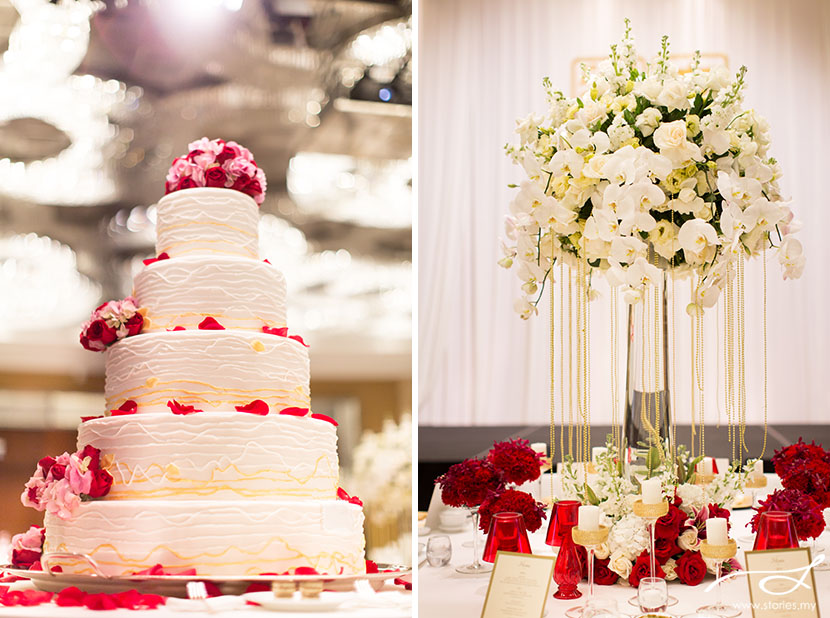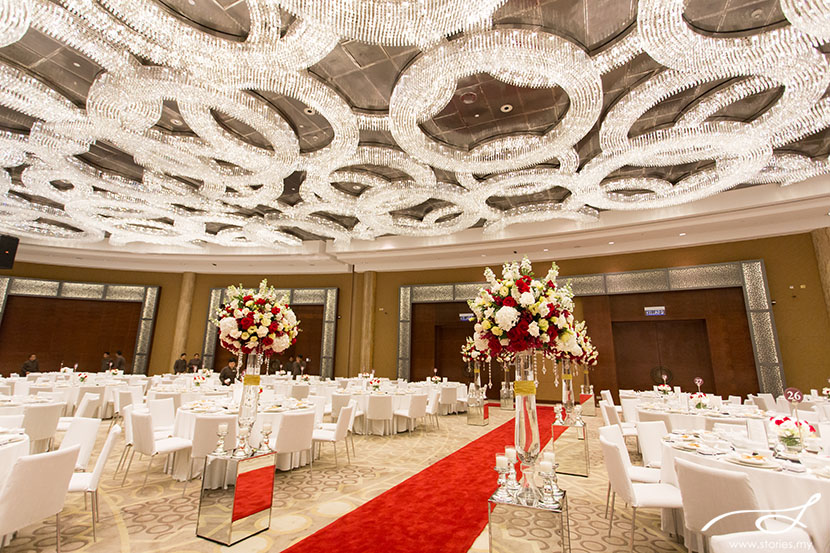 They had a lovely table filled with generational photos from their grandparent's days right up to present day – one of the images was a photo of En Ruey and Jas Min taken that very morning itself, and printed in the afternoon!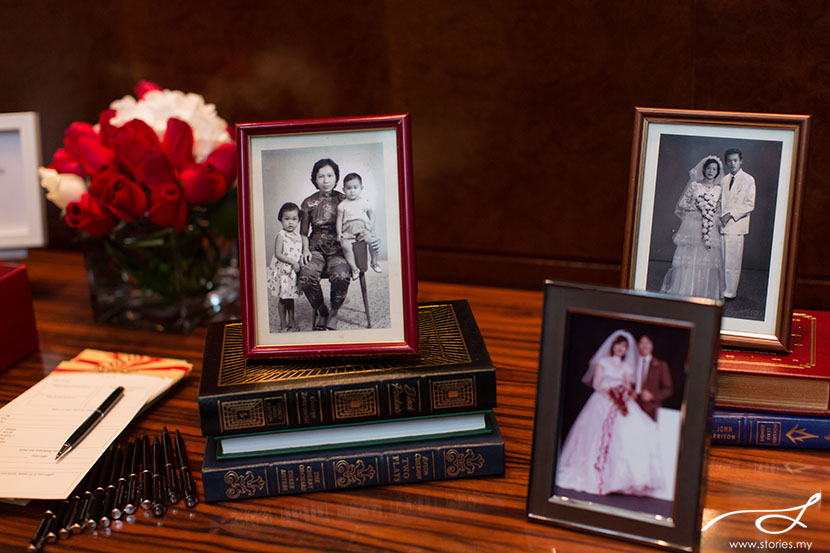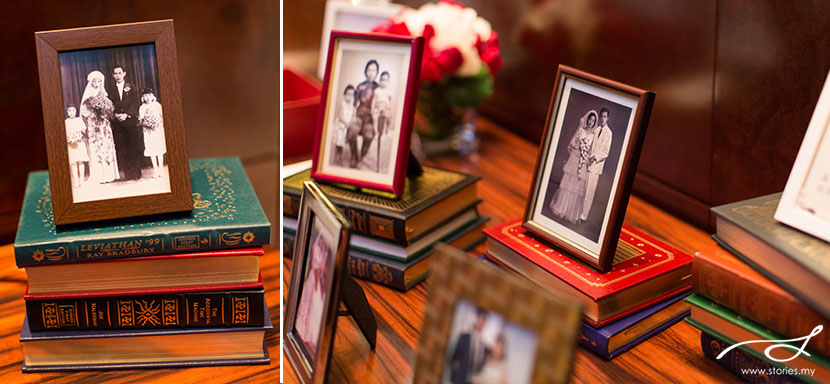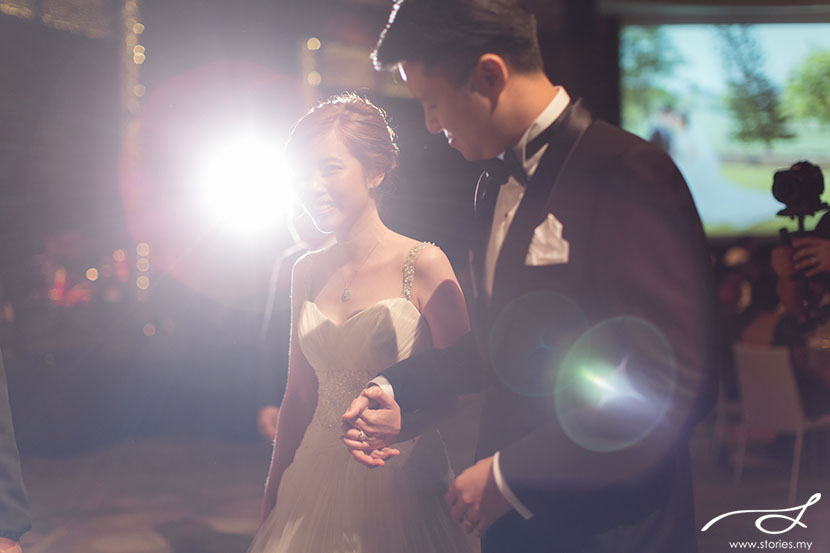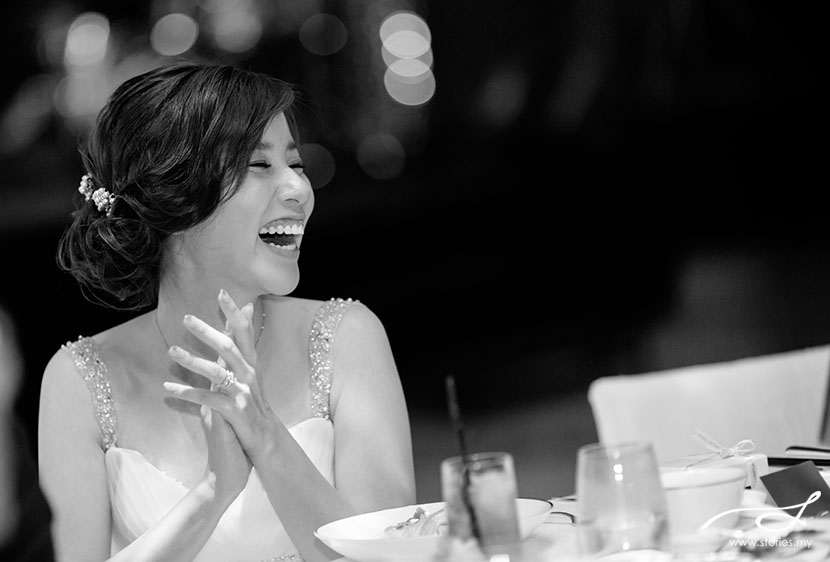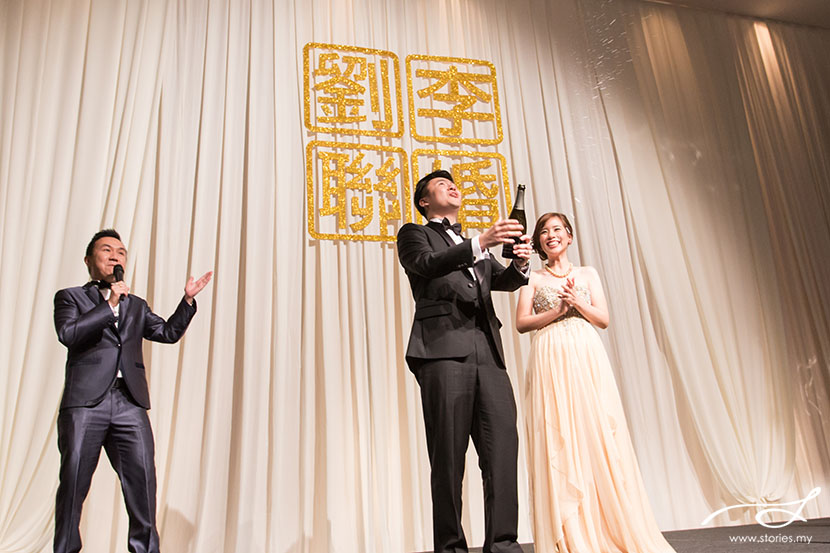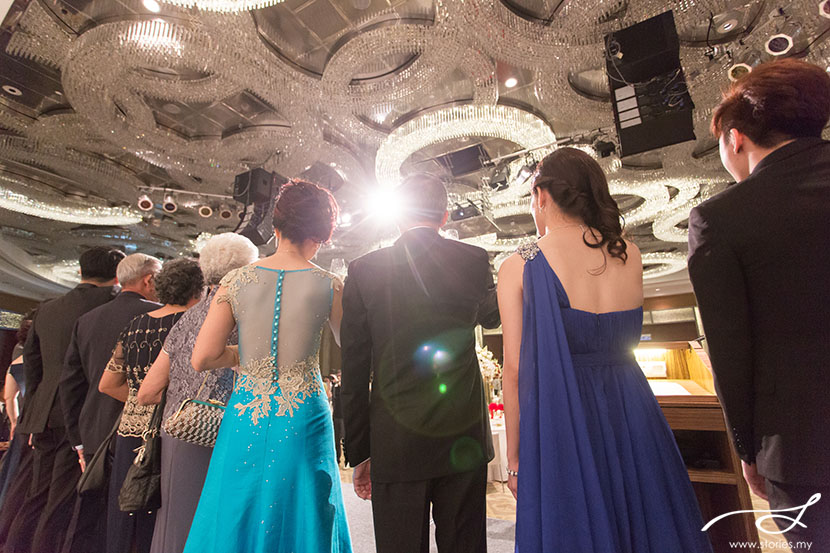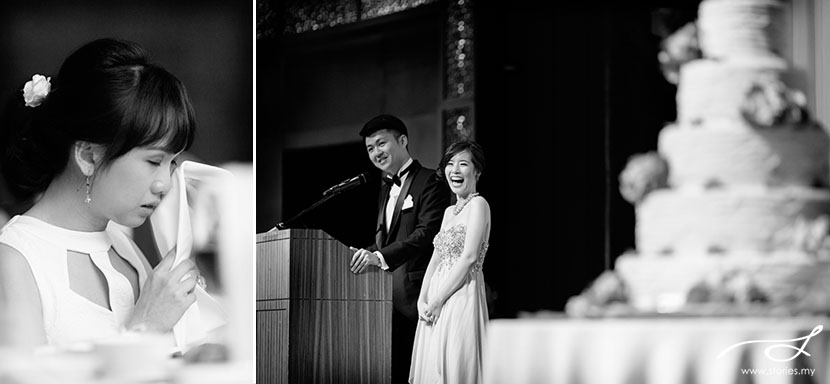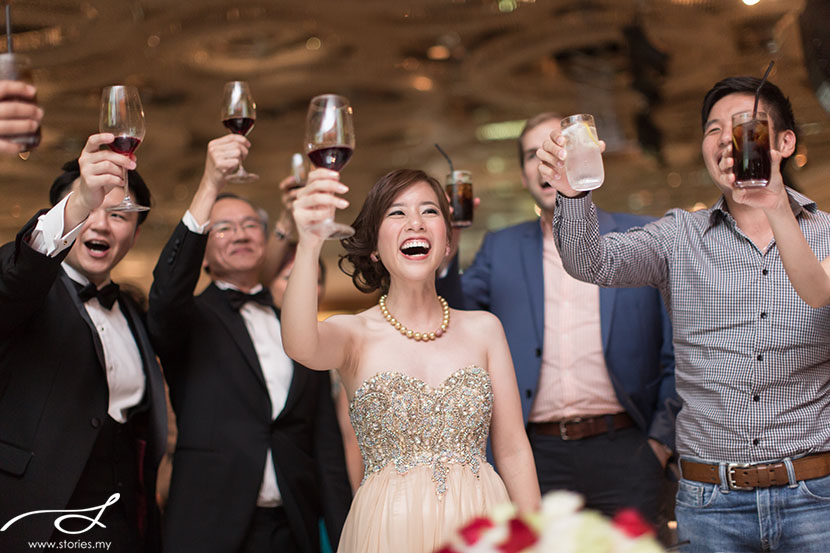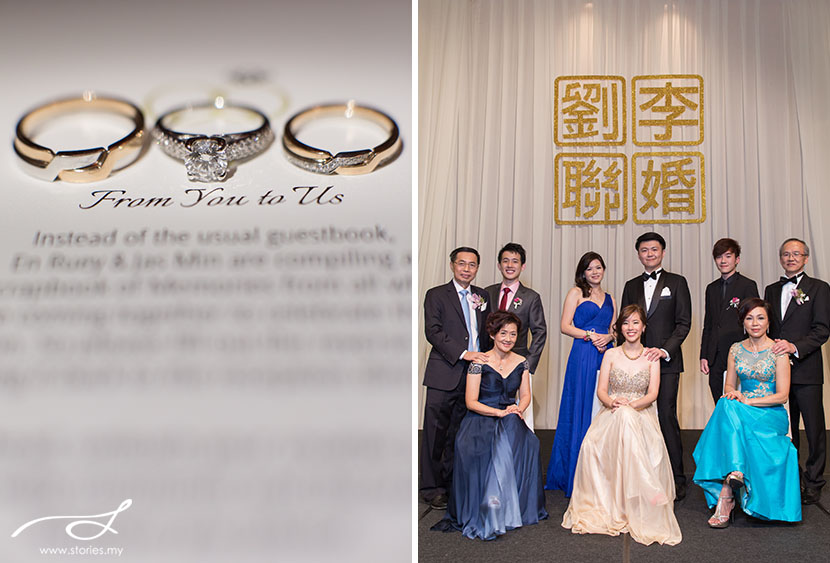 En Ruey and Jas Min, we wish you all the best in the coming years as husband and wife. Nigel and I were really blessed to have been there to witness your wedding day through our lenses. We hope the party never stops, so let's celebrate life daily! Oh, and since behind the scenes photos rarely make their appearance on a wedding post, I thought, let's just do this for a change! (PS: The slippers were not mine! I am usually pretty well dressed at weddings! Ahem ahem) Thanks for the awesome testimonial too, two of you!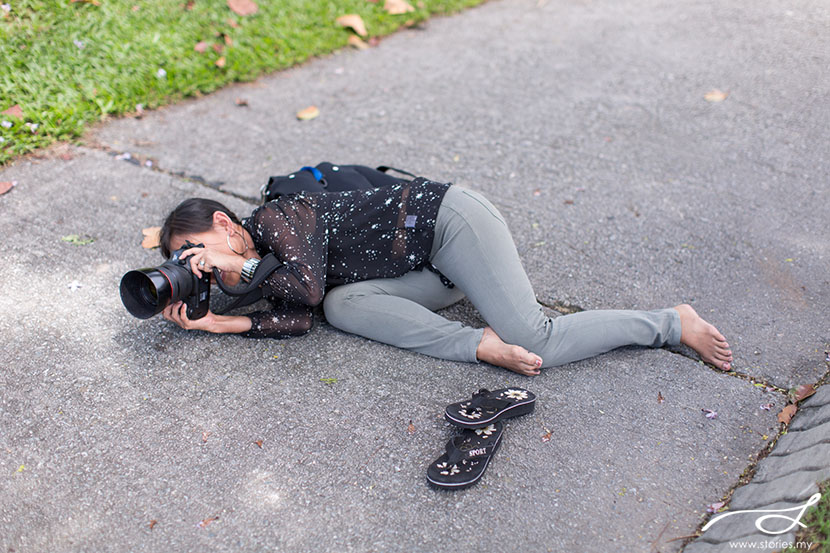 Upon receiving the images
"The photos completely blew us away. They were so much more than we expected with the images being so crisp and clear and the colours being so vivid. It was exactly like our memories of that day but in high def. ;) The candid shots for the morning ceremony were fantastic with so many moments (and emotions!) that you guys caught that we didn't notice. You completely nailed our main requirement which is to "capture the moments that we may have missed". I must give special thanks to whoever it was that managed to catch my maid of honour tearing during the dinner banquet. She couldn't believe you guys managed to catch that as she thought she was quite under the radar. You guys are so stealthy!
We were also amazed at how beautiful the portrait pictures we took before the dinner turned out to be considering how we were rushing you through it. So sorry for how topsy turvy everything was that day. But all in all, personally, En Ruey and I loved all the pictures that we had such a blast looking through them and laughed so much at all the hilarious moments. We relived all our memories of that day through your hard work and just like our pre-wedding session, the decision to hire Stories was one of the best we made throughout this entire experience."
Credits:
Photographers: Grace & Nigel
Dinner Reception: Grand Hyatt, KL
Wedding Planner: Milestones
Wedding Gown: Veralyne Ng
Evening Gown: Jovani
Groom's Attire: Bespoke by Ian Chang
Make up & Hair: Wedding Isle
Flowers: Wishing Tree
Videography: Nigel Sia
Dinner Entertainment: Amy Yeoh