I have never conducted a photography workshop that is just focused on family portraits, so this is the first! If you are a parent who is interested in taking better family photos, I would totally encourage you to come for this workshop! The workshop is targeted towards beginners and amateurs who may have some experience taking family portraits. I will share my experience, not just technically, but also some really practical tips that will help you achieve better results. Even if you are not a parent, but love taking photos of families and children, I do encourage you to participate.
If you do have any problems registering for the workshop, do contact us and we will assist you.
So do join us this 3rd August. Space is limited.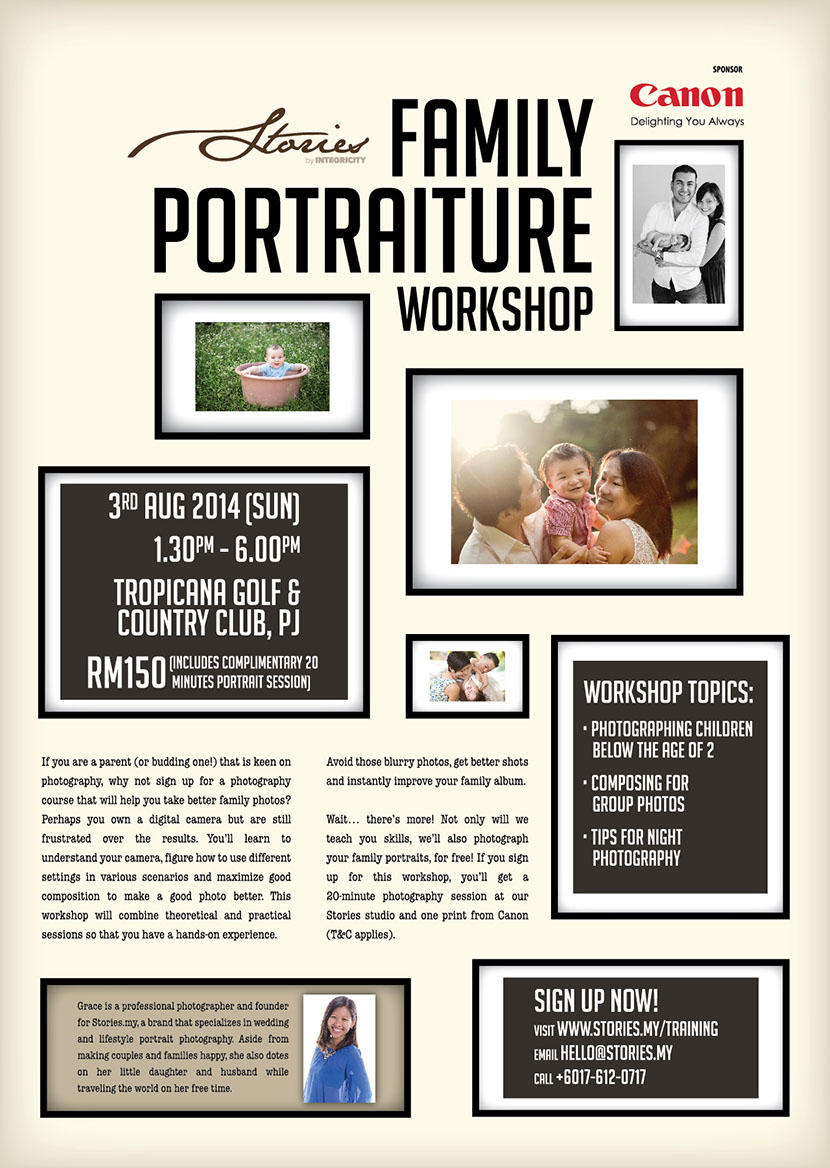 How to Sign Up:
Visit Canon EOS Academy website and sign up online.
Terms & Conditions for the Complimentary Portrait Session:
1. The selected shoot date must fall within the month of August 2014, and on weekdays only.
2. The shoot location is at our studio in SStwo Mall, PJ and will be done by one of the assigned Stories photographers.
3. You will get 3 digital soft copy images (printable up to 8R size) and one photo print from Canon.
4. Rescheduling of dates is only allowed once, after which, the session is considered as forfeited.
5. Maximum of 6 persons in a session.
6. Please arrive 15 minutes before your session as we value punctuality  and we may have another family scheduled after your session. No extension of time will be given if you are late for your session.
7. Limited weekend sessions are available with a commitment fee of RM30 to book your time slot. This fee will be considered as forfeited if you are unable to make it for your time slot.
8. You may purchase additional high resolution photos, prints or upgrade your session to a full one hour session at an additional cost. Please contact us for more details.
I look forward to meeting you at the workshop!