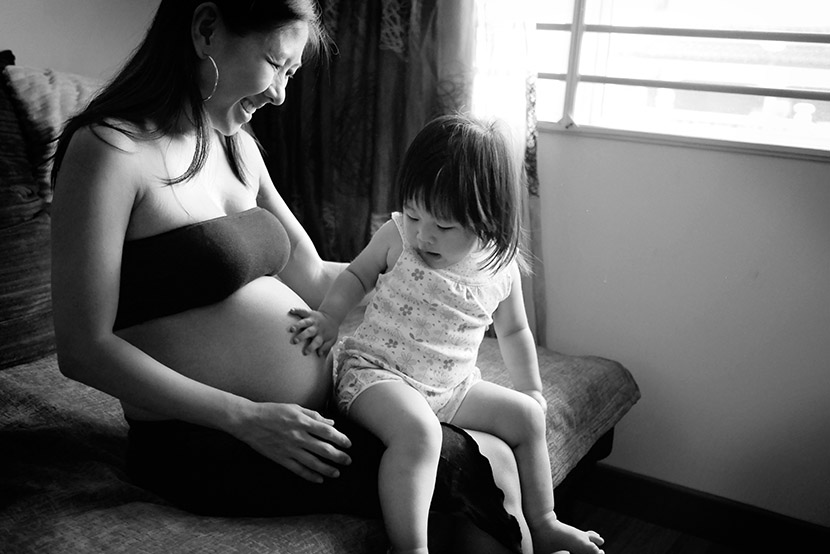 Photo taken by my talented hubby Alex.  
After going through pregnancy for the first time, the second round kind of feels a bit of a broken record. It's terrible, I know, but somehow, you are not fully aware of what is really going on in your body (unless your morning sickness is worse compared to your first pregnancy!). I remember when I was pregnant with Krysta, I diligently followed the Baby Centre app, telling me which week she had developed fingers and what stage she was at. Now, I have to think twice when someone asks me how far along I am. (By the way, I am approaching my 7 month of pregnancy!)
But even though I may be 'breezing' through this pregnancy, the challenges of shooting while you are pregnant is still very real. I have more backaches than usual (I think it also has to do with carrying a 10kg toddler!) and squatting for even 2 minutes feels like a massive ordeal. Not to mention, I have to be more careful as I almost tripped over stones or cracks on the ground due to my heavy front load!
Maybe I am ambitious, but I still have 3 full day weddings and countless portrait sessions to shoot, before I stop early October. And I hope to take 1 month off and then I am back again end November for our peak season in December. Not too sure how I can accomplish all of these things, but I am trusting God that with His strength, I will be able to give my 110%.
I thank God for Alex who has been extremely supportive as usual, and for my staff who are efficient, dependable and able to work independently so that I can have an 'almost' stress-free lifestyle. Without all of you, I would absolutely cave under the amount of work and pressure that running a business entails.
As I head into my 3rd trimester, I look forward to meeting my new little baby this November.
We are still taking bookings for shoots this 2014, so even though I will be out of action for 2 months, rest assured that you're in the good hands of the Stories team.