Amidst lush, majestic and mature trees just alongside the Batu Feringgi beach, David and Nandini were wed at the Shangri-La Rasa Sayang Resort, Penang. The garden was beautifully decorated for their Hindu wedding ceremony, and all their guests came in traditional Indian attire. It was a tropical treat for David and Nandini's guests from Ireland, who basked in the sun, witnessed a meaningful wedding ceremony, and enjoyed delicious Indian cuisine. Both Weiming and I were really blessed to have such thoughtful clients who really looked out for our best interests. Even Nandini's mum made sure I was well fed since I was well into my 2nd trimester of pregnancy by then!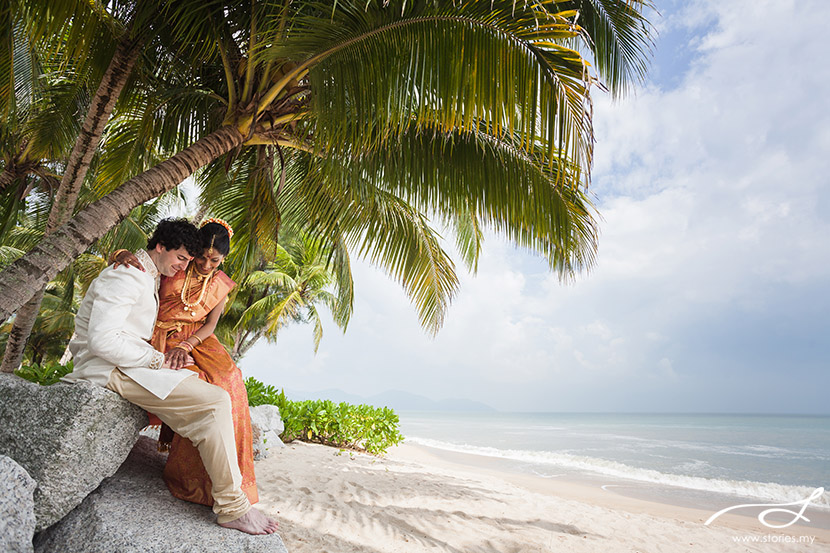 David & Nandini's Story

David and I first met at his sister's wedding over 5 and a half happy years ago.  I had to move away from Dublin for work in 2013 and a month later, David proposed. Obviously, I happily accepted! Being from Penang myself, we had spent a fair bit of time there and we both loved the idea of holding our wedding ceremony, which was to be a traditional Sanskrit Hindu wedding, outdoors and by the sea. The Shangri-La's Rasa Sayang hotel's stunning gardens were the natural choice. After choosing the venue, we left most of the actual wedding planning to my parents who live in Penang, after giving them an outline of the kind of ceremony we had in mind. Okay there may have been (daily) input from me via Viber and Skype!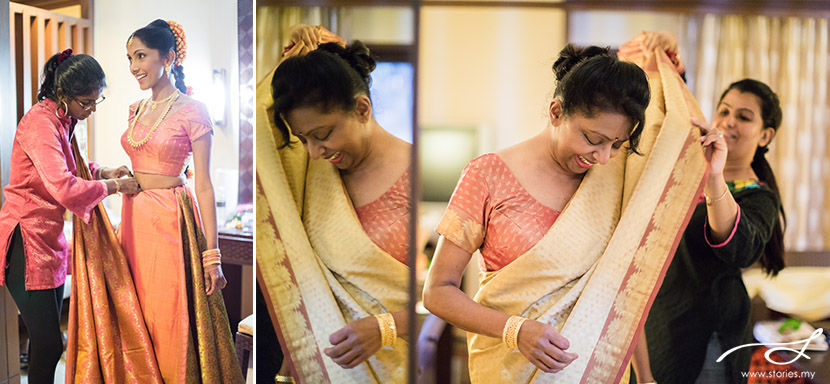 We selected Stories as our photographers even though they were based in KL because of the beautiful, natural photographs we randomly found online. We thought the Skype chat with Grace was a nice touch as it actually made us discuss the type photographs we wanted with each other, before then conveying our thoughts to Grace. The slideshow was a new idea to David as it's not something that's done at Irish weddings.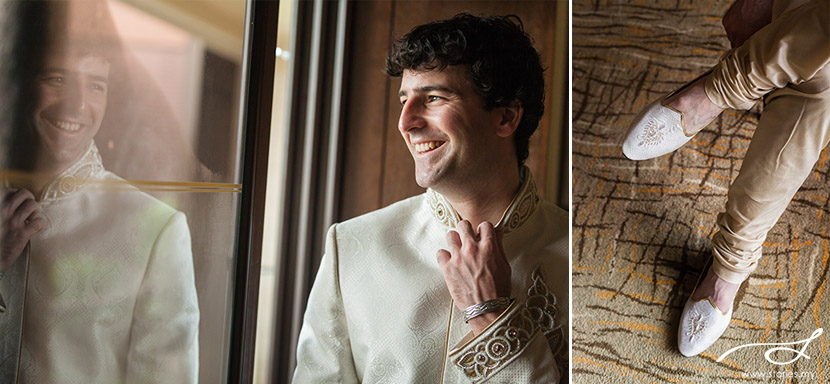 We were blessed with beautiful weather for our wedding. Despite having to wake up at 0430,  I didn't have to fake a single smile through the day. I could not have imagined a more beautiful setting and the dais simply took my breath away. Most of our friends turned up in Indian outfits, which looked amazing. The entire ceremony went off without any hitches. David and I were over the moon at having so many of our friends and families present. We even got a few casual photos with our friends on the Parkroyal beachfront during our pre-reception drinks. I'd expected it to be hazy but because of the daily rainfall (which stopped 2 days before our wedding), the skies were clear and as if on cue, there was a stunning sunset in the background. David and I had decided we would throw our actual outfits (his a suit, mine, a white dress) on at the last minute as we had a feeling the party would end late, and it did…at 6am! We had a fantastic time and didn't want the day to end. One of our friends called it a fairytale wedding, and I couldn't agree more.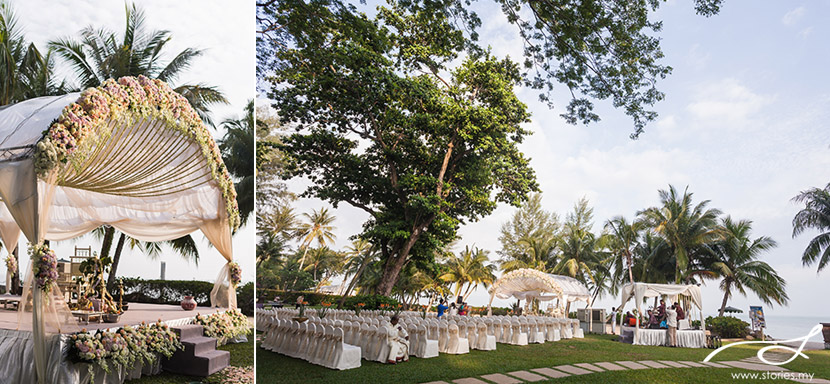 Grace and Weiming remained remarkably energetic and chipper despite being on the move, non-stop, from 6am till the end. My heart nearly stopped at one point when Grace (who was 5 months pregnant at the time), almost slipped off a rock whilst trying to capture a shot from a good angle! We were able to sample a selection of the photos they took in the morning during the beautiful slideshow at the start of dinner and we absolutely loved them. Grace and Weiming, we are still receiving compliments on this! Thank you so much for being so positive, in spite of the heat in the afternoon, and a groom who is not particularly camera-friendly. Thanks also for being so respectful of the various Hindu traditions throughout the ceremony. Everyone was full of praise for you both!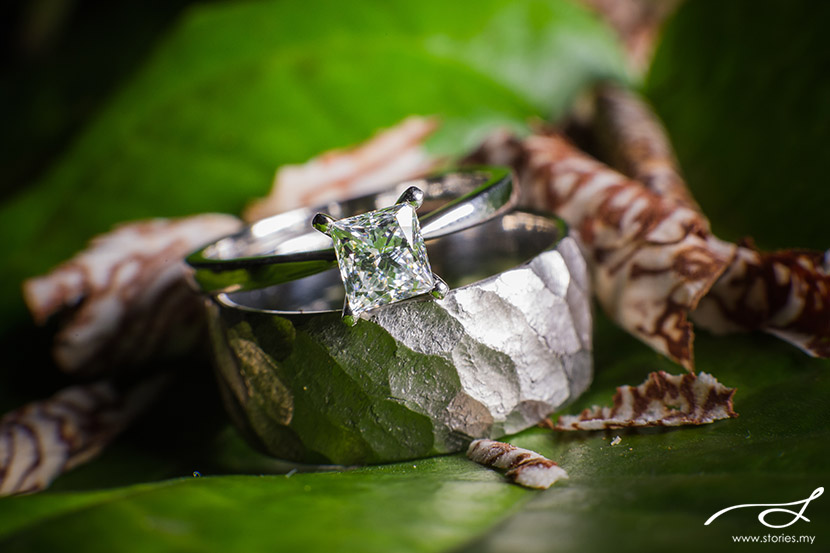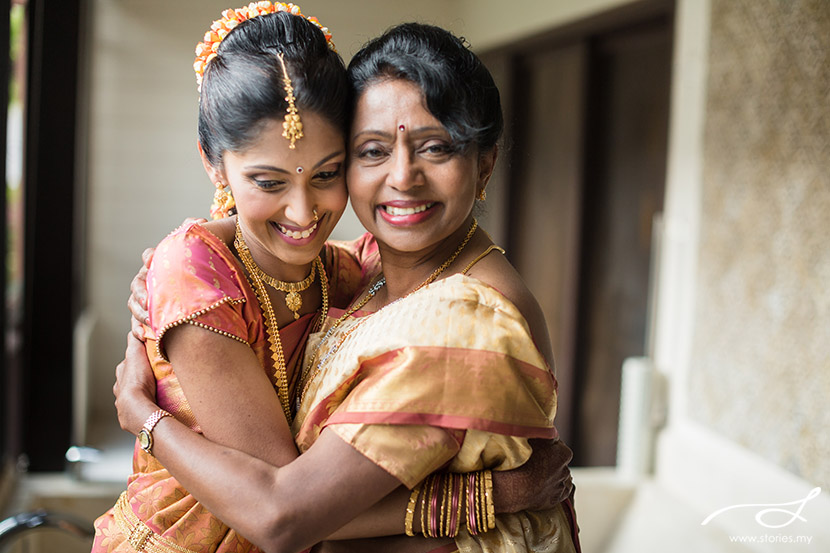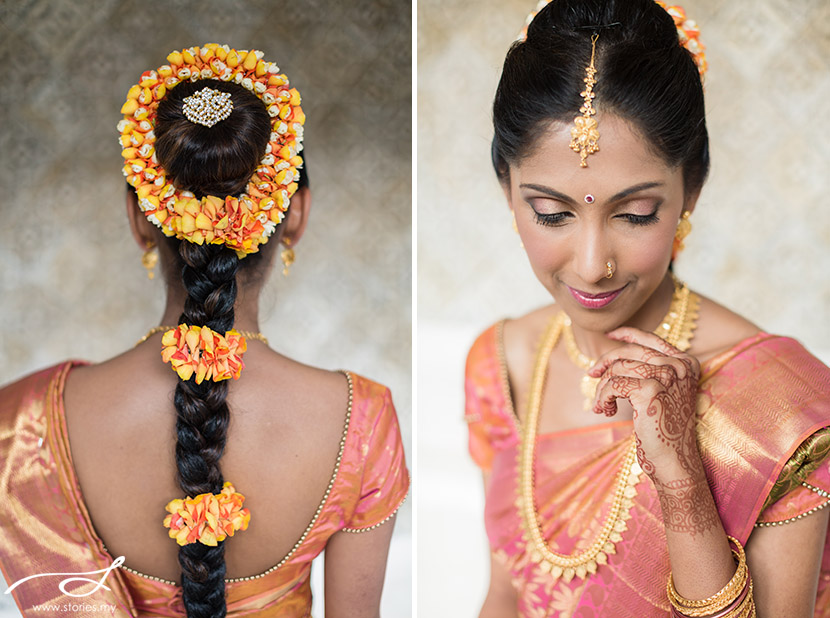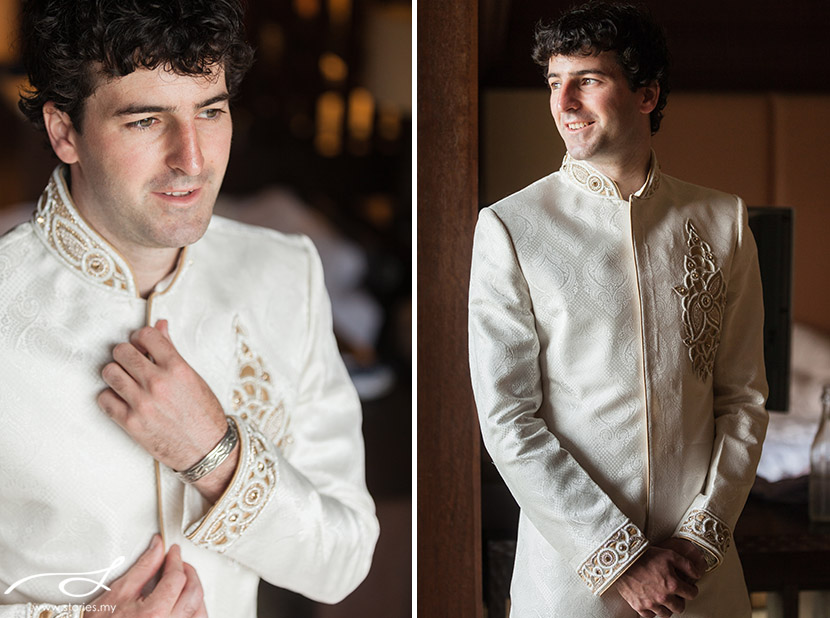 Grace says:
I love how David and Nandini took extra effort to write up all the details and meaning that is behind the rituals of a traditional Hindu wedding. It was really informative, even for me! Despite having photographed many, many Hindu weddings before, the significance behind these rituals were unclear. So I'll take some excerpts from their write up to share here.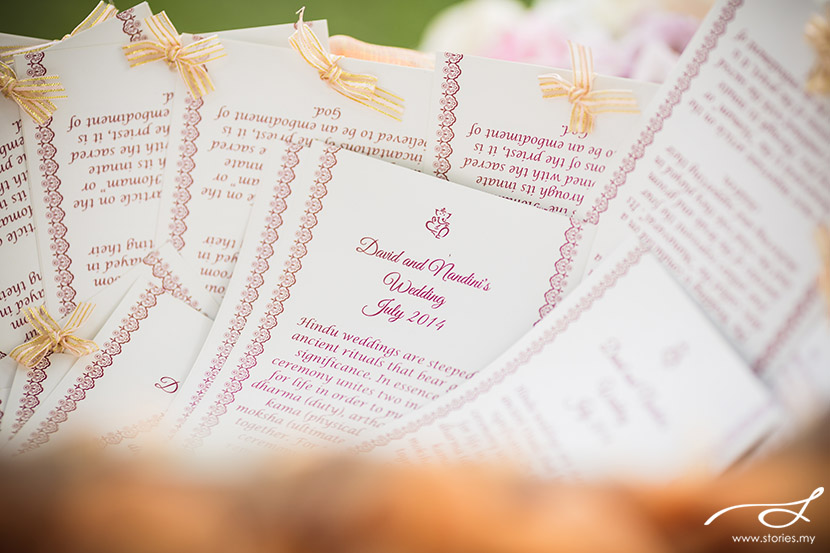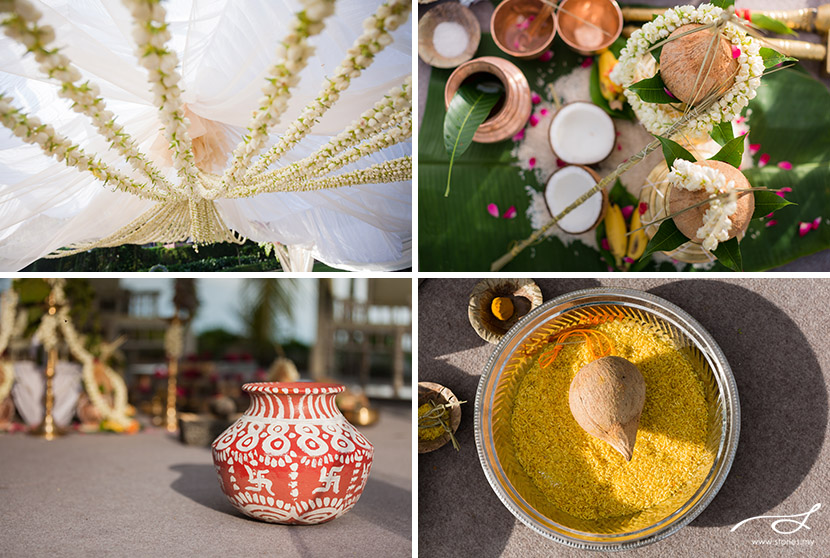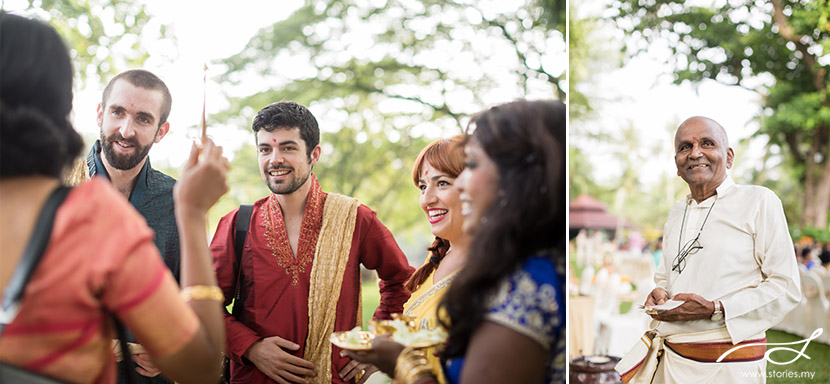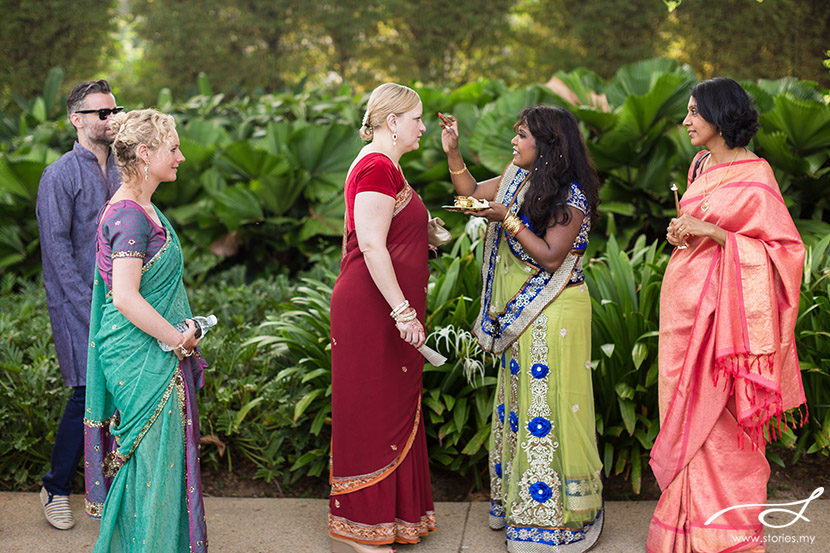 The beginning of the ceremony is marked by the entrance of the groom with his entourage. He is accompanied by his best man, usually the brother of the bride, and in this case, Nanda.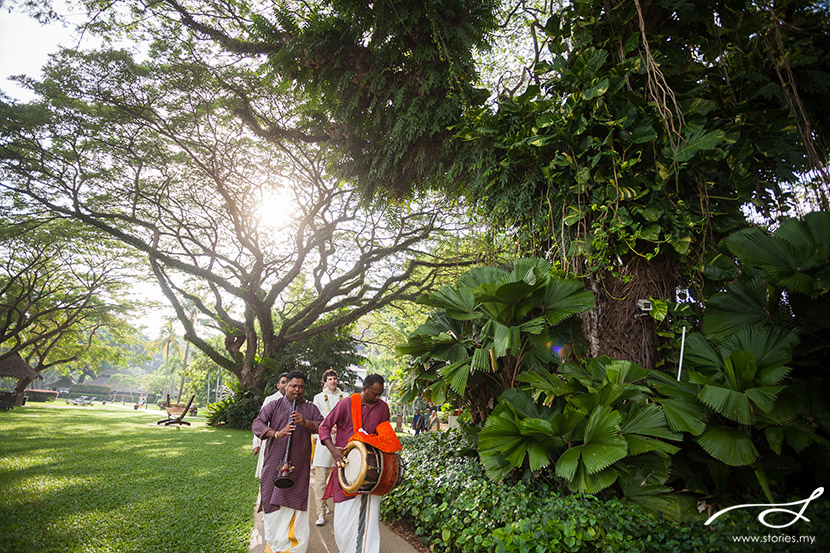 David gets his feet washed by Nanda, who in turn is presented with a ring.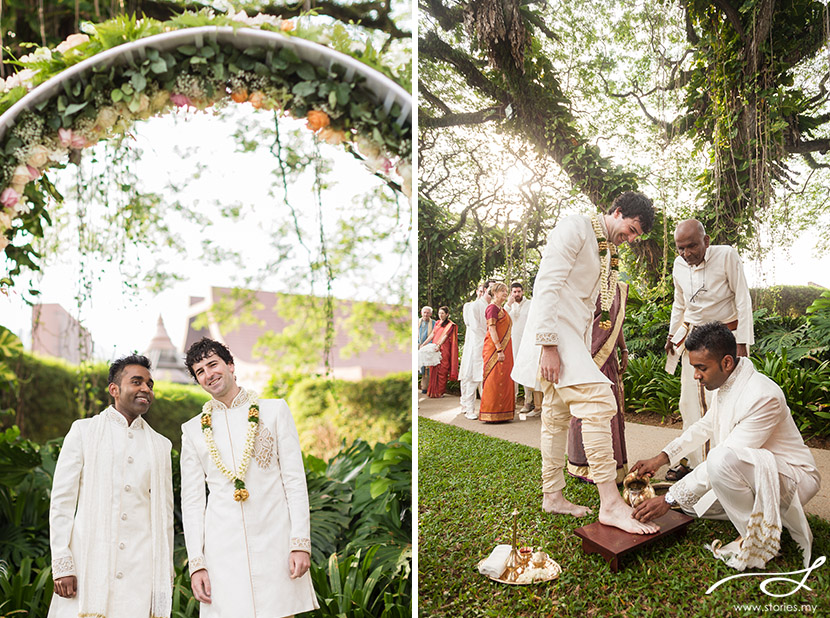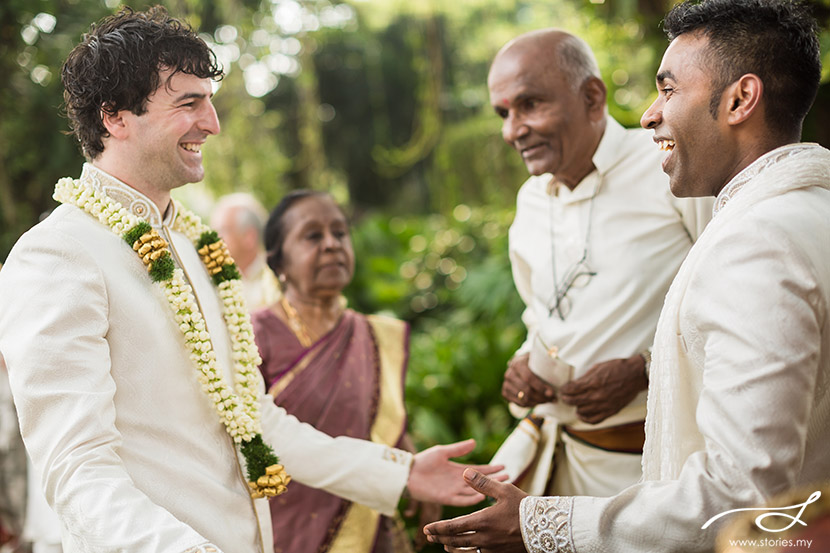 David then takes his place on the main stage (the dais) and then the priest conducts his prayers.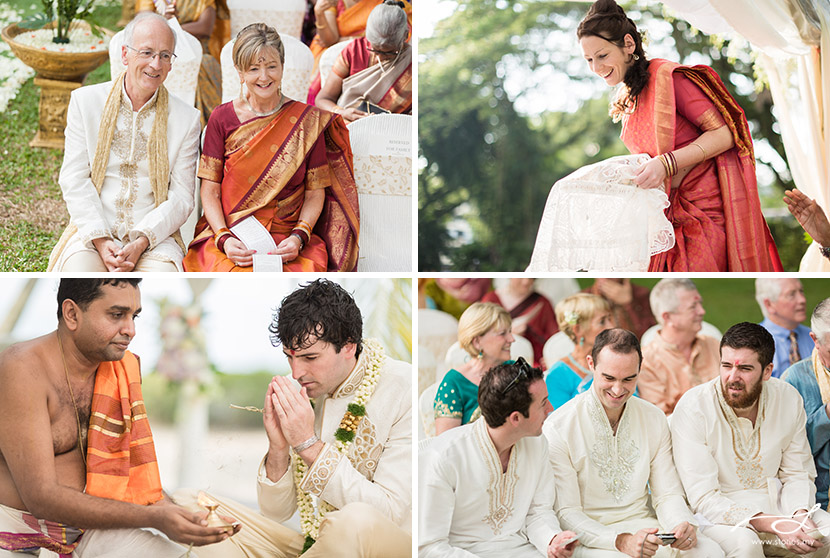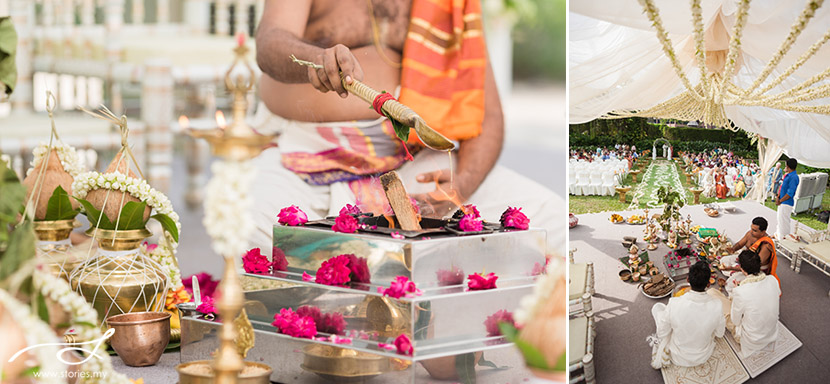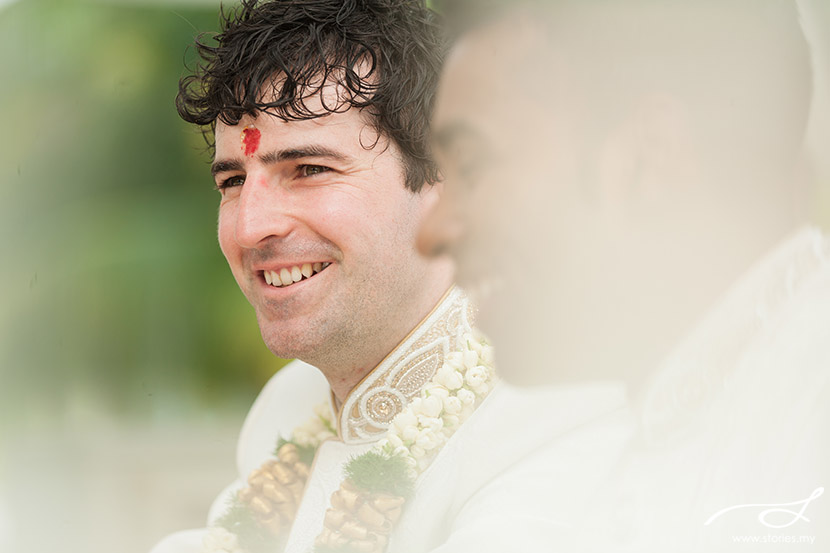 Soon, it is Nandini's turn to walk in with her entourage. She undergoes a similar cleansing ceremony and prayers.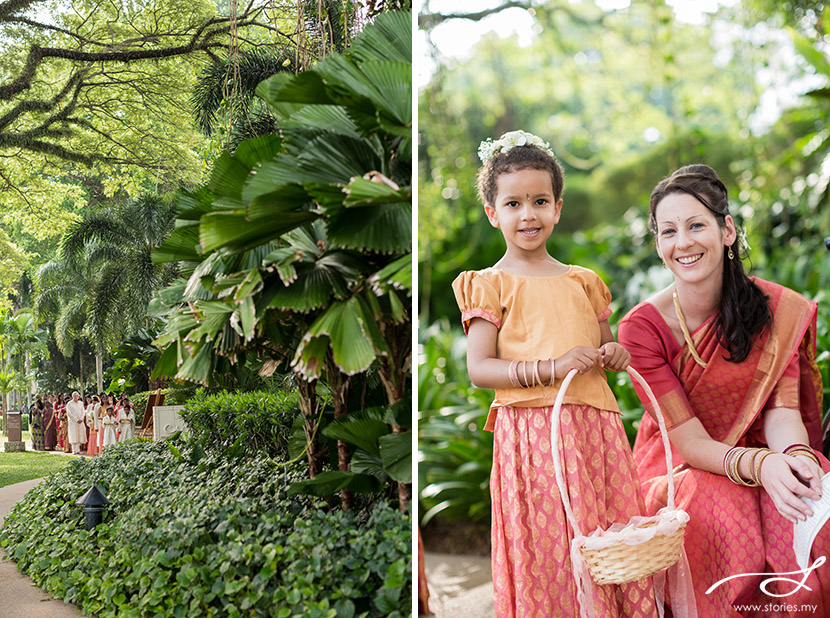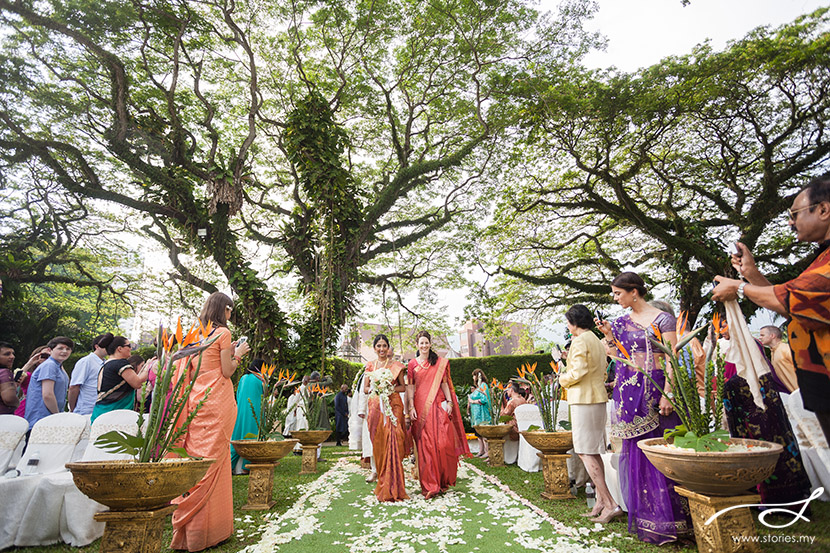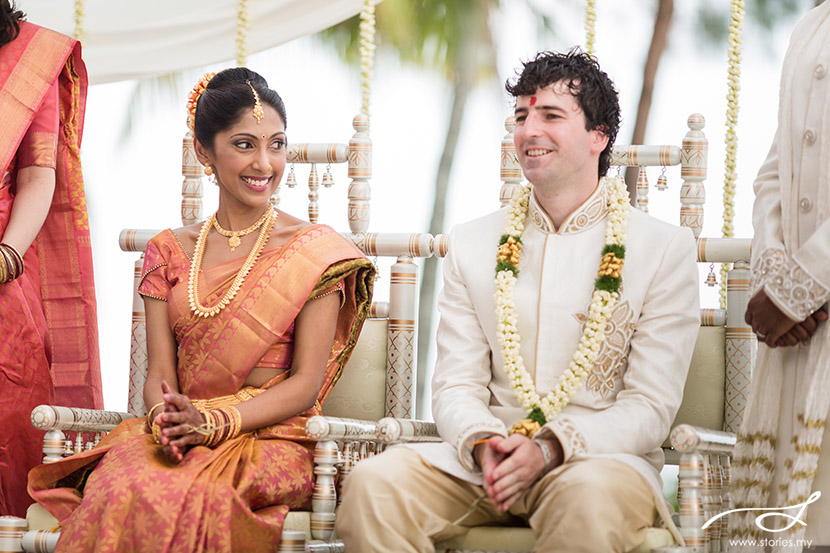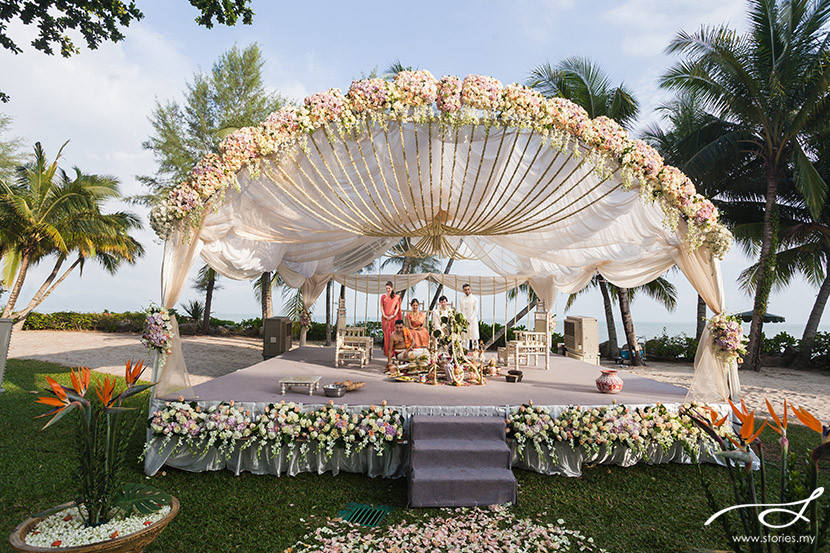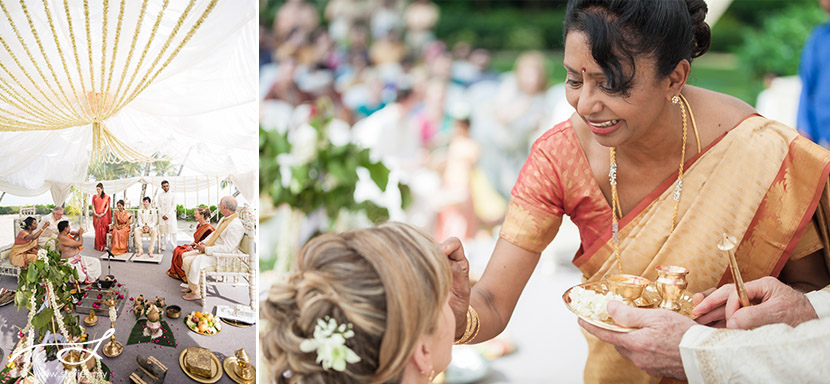 The highlight of every Hindu wedding ceremony: The tying of the Thaali!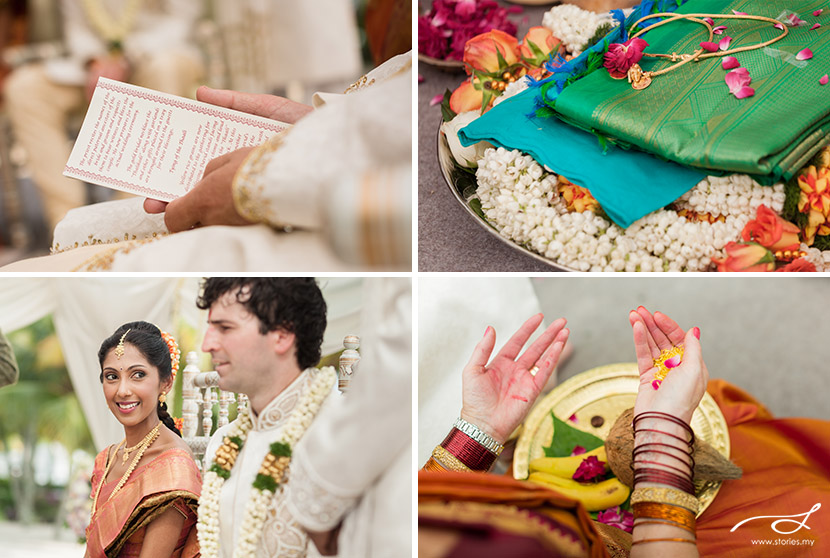 And with every significant moment in a Hindu wedding ceremony, a coconut is broken!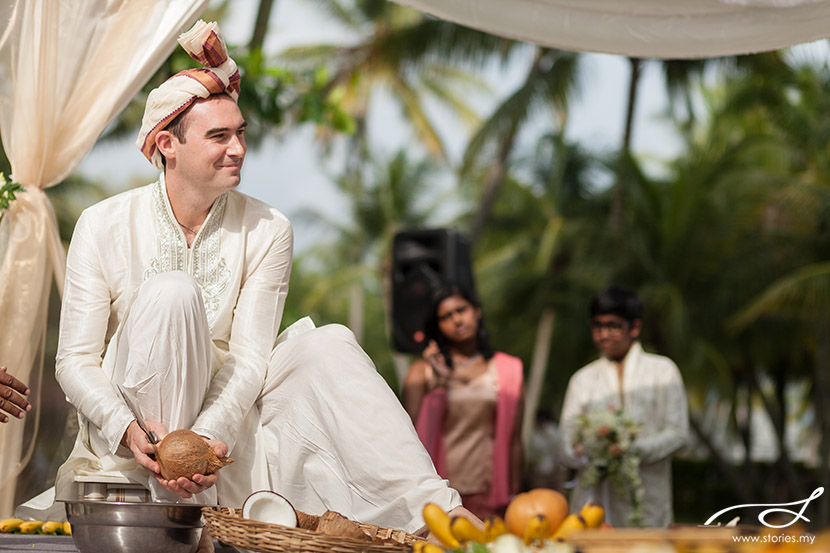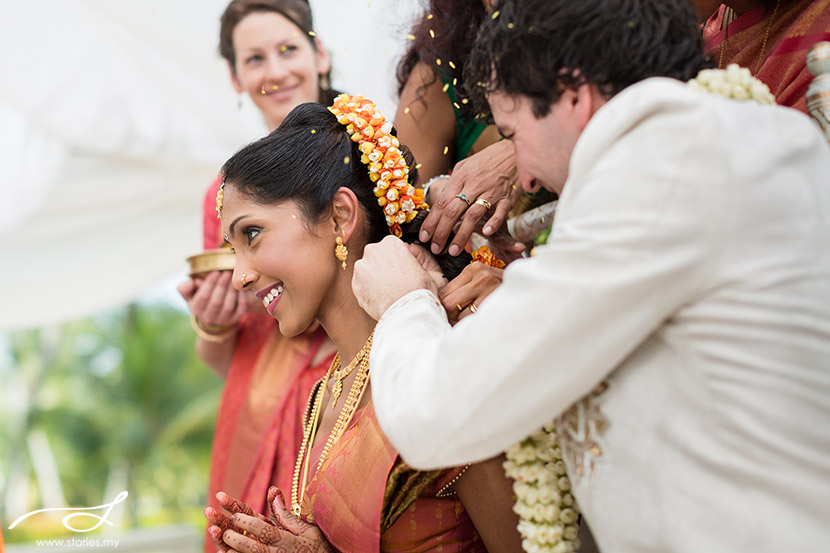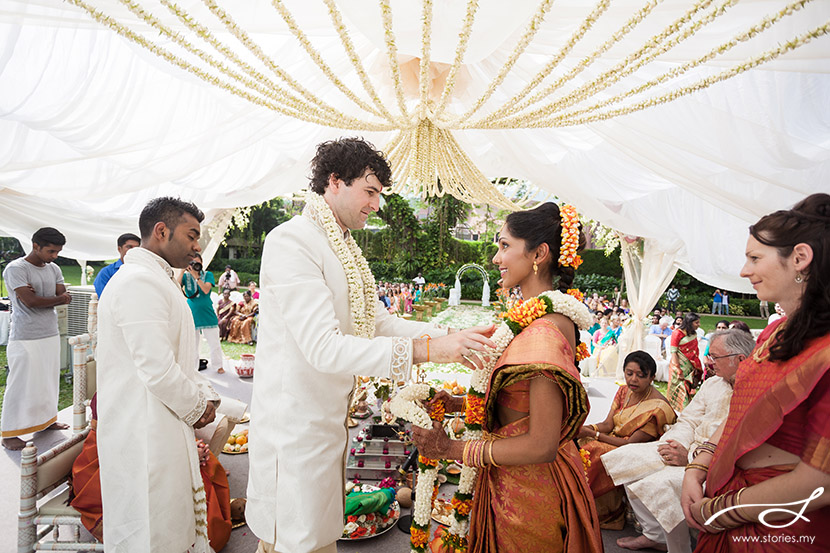 After exchanging garlands, David and Nandini look into the mirror simultaneously for the first time, symbolising their unity of purpose.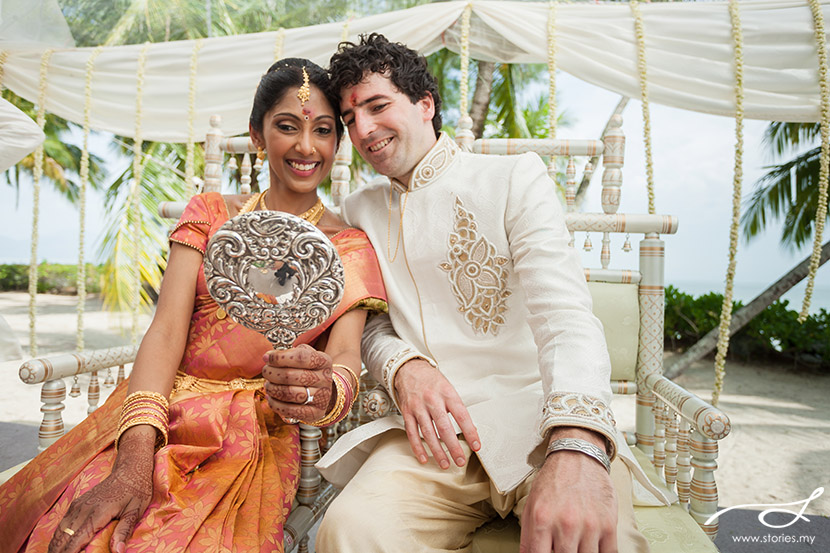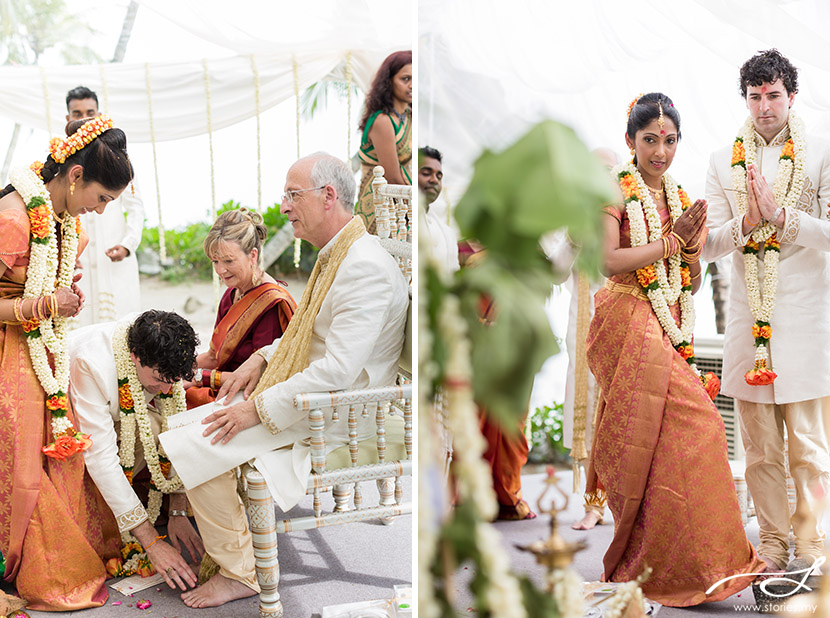 Oh and I love this fun part – the bride and groom have to reach into a bowl of water in an attempt to fish out a gold wedding ring. This ritual is performed 3 times but if the same person acquires the ring two consecutive times, he/she must allow the other person to succeed the 3rd time. This ceremony is performed to nurture a feeling of 'give and take' between the couple. (I just thought that the person who got the ring would rule the household! Haha)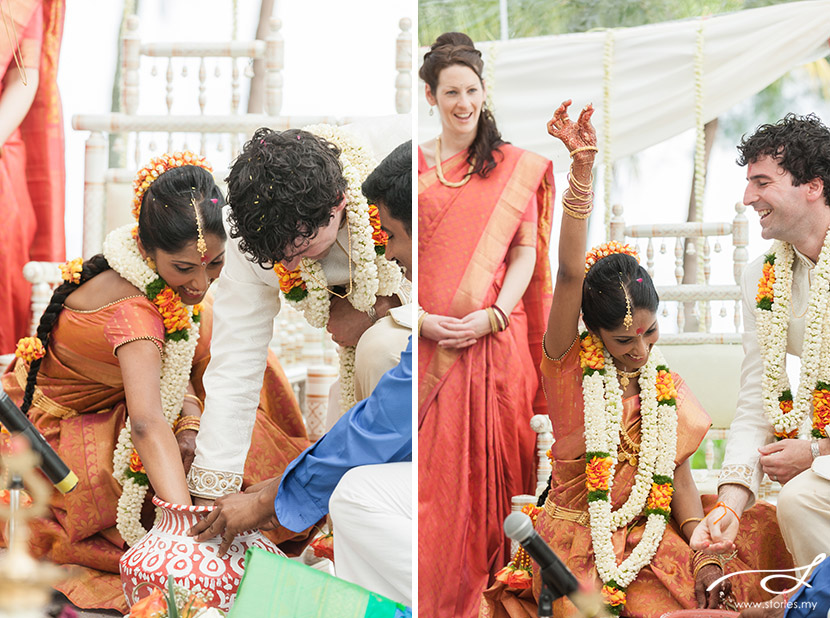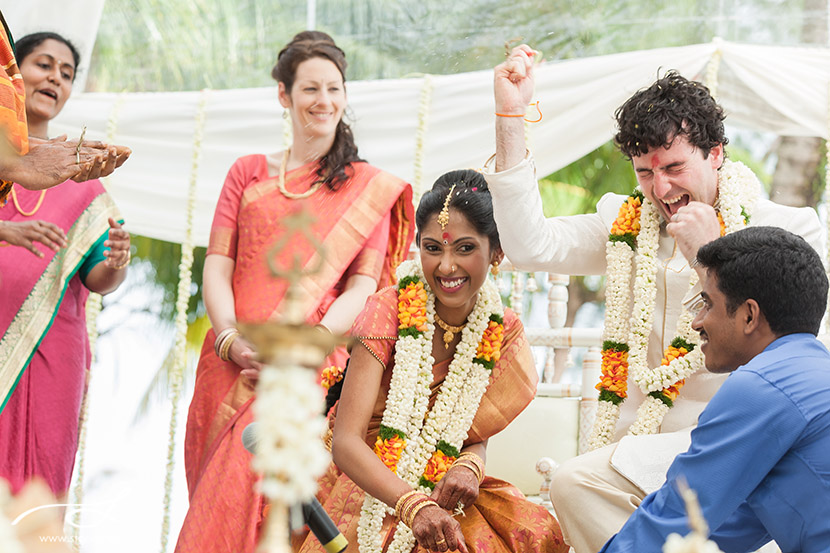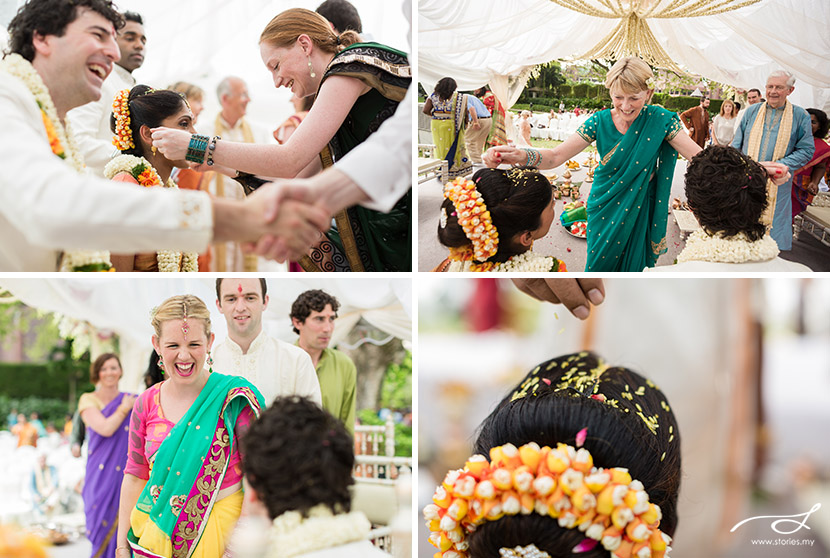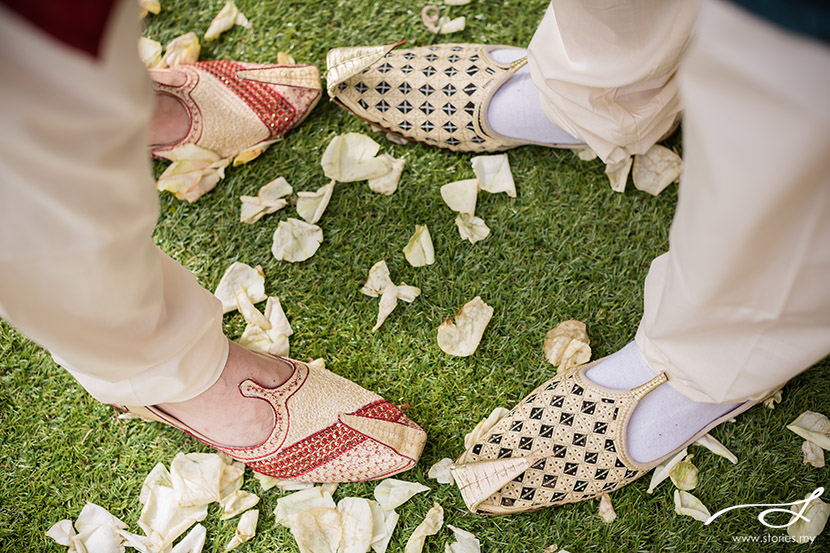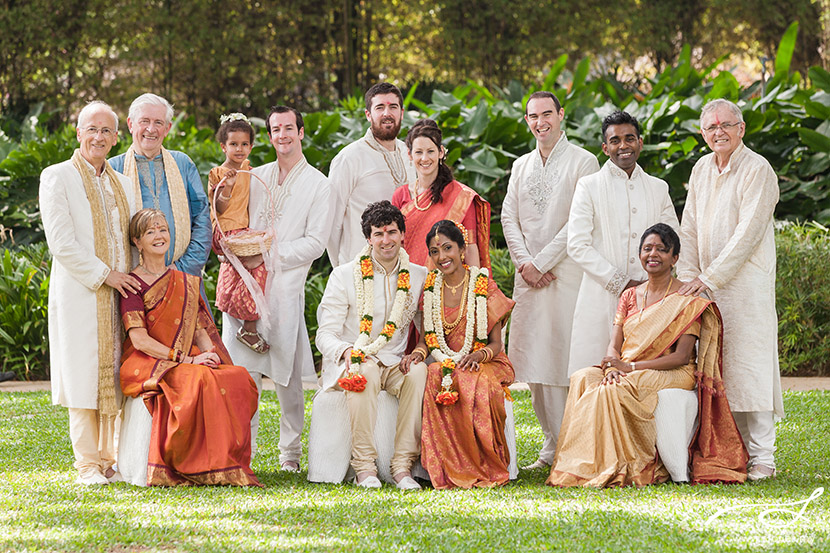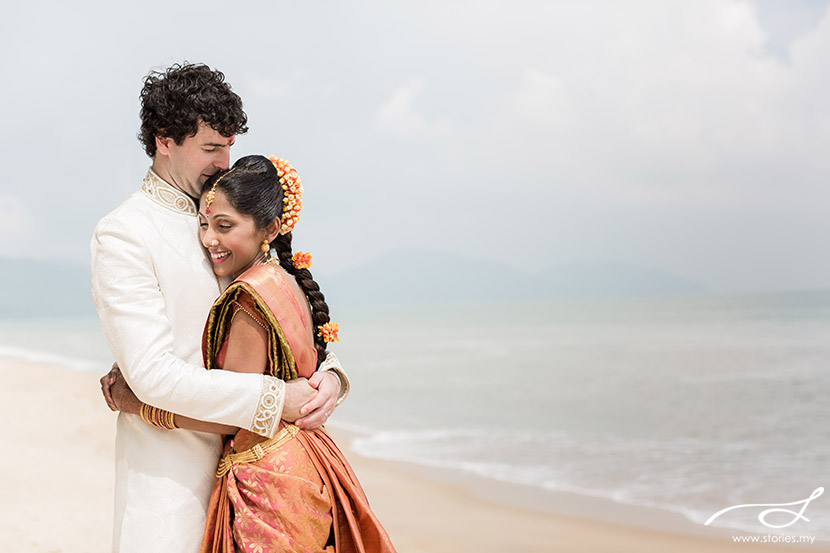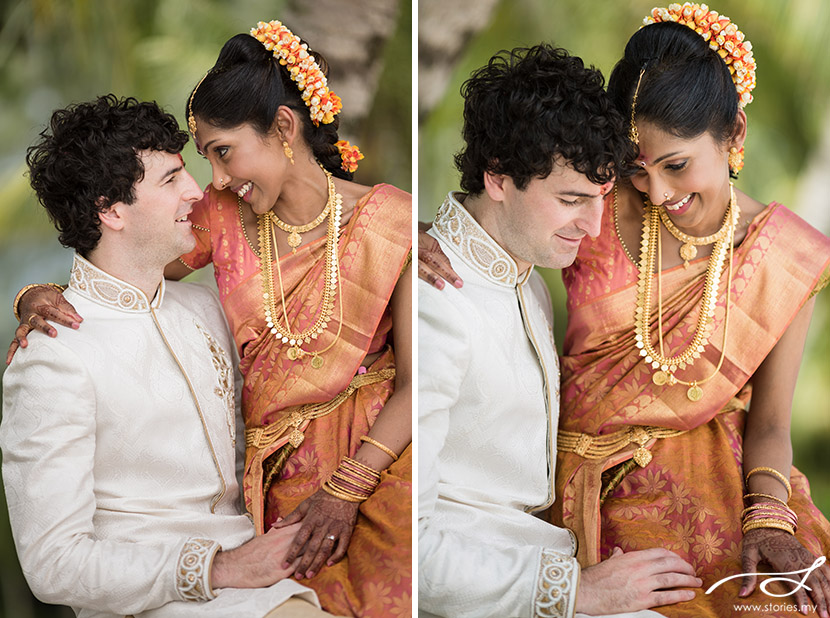 In the evening, the cocktails and dinner reception were held at Parkroyal Hotel, Penang.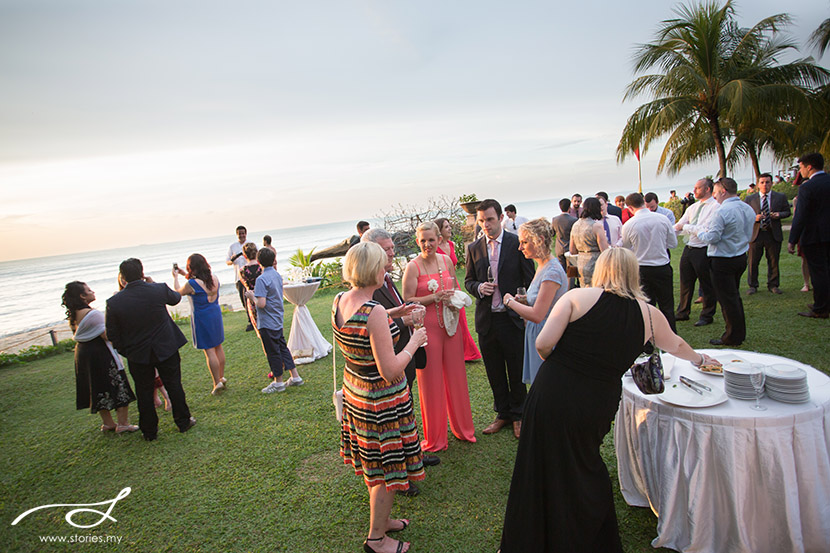 We had a gorgeous sunset that day! (this is the epic photo that had me standing on a ladder, camera in one hand, and flash in another. Don't worry, I was really really careful!)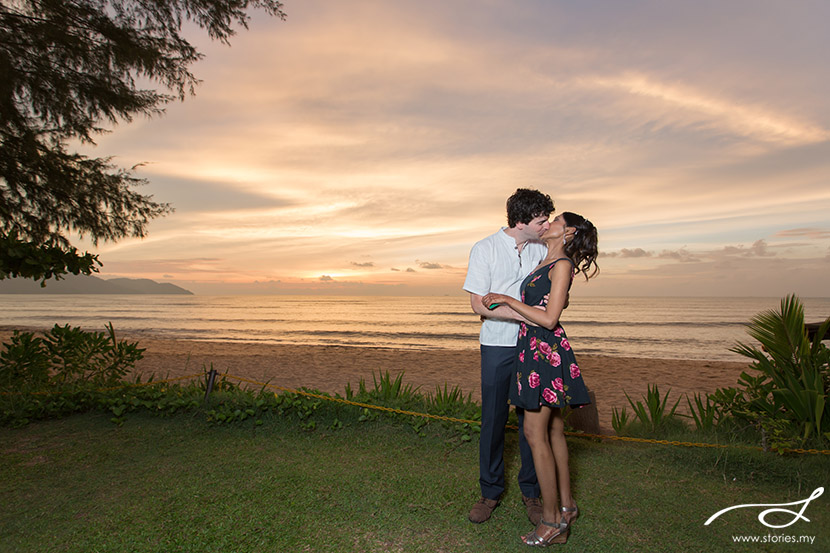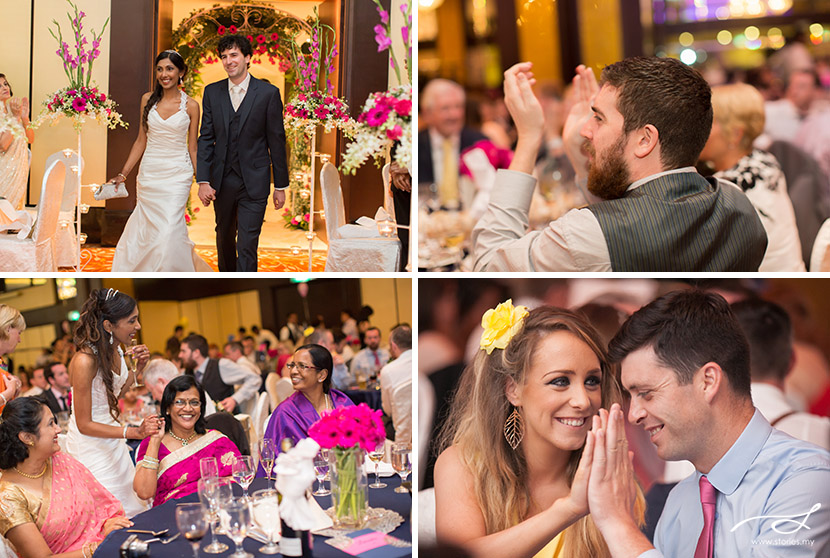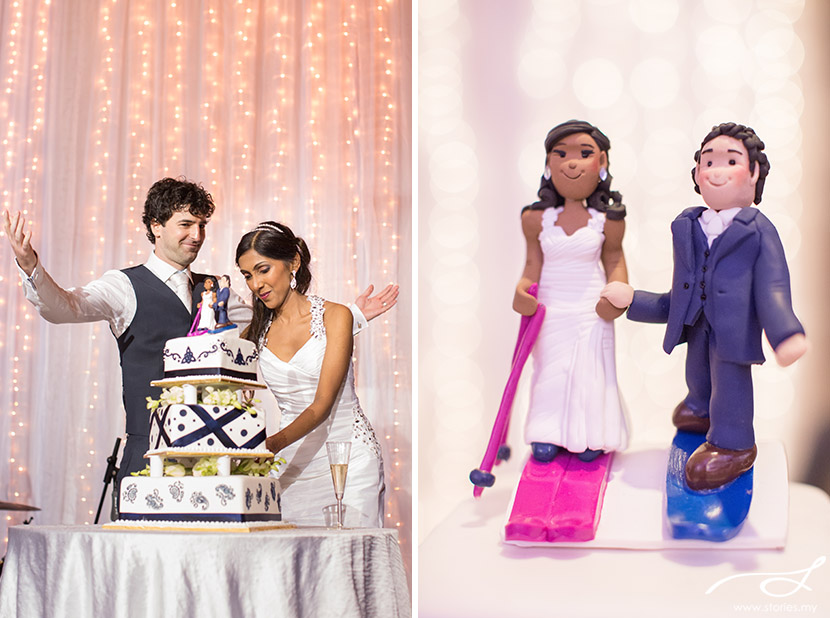 Hurray! Married now and on an adventure of a lifetime! Congratulations, David and Nandini! Lots of love from us!
Credits:
Photographers: Grace & Weiming
Ceremony Location: Shangri-La Rasa Sayang, Penang
Dinner Reception: Parkroyal, Penang
Decorations: Venus Florist, Little India, Penang