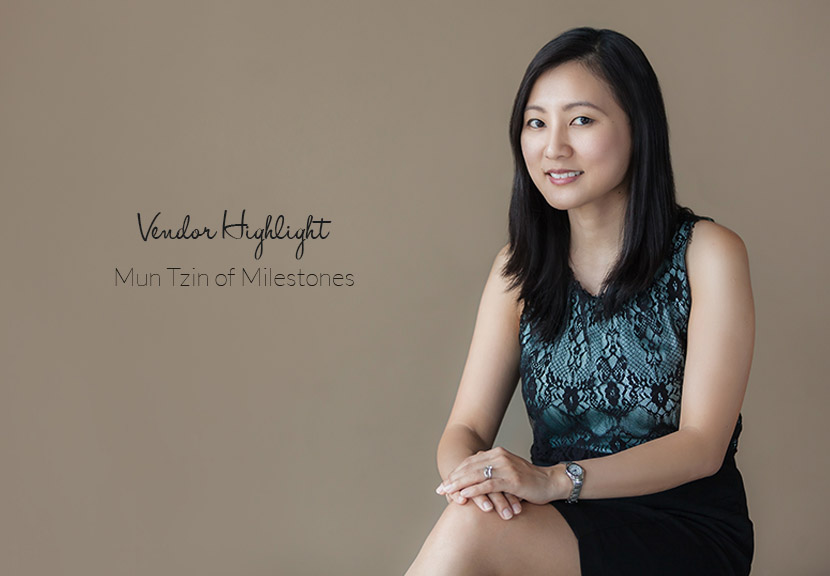 Preparing for a wedding can be a daunting task- sourcing for a venue, food tasting, hiring the various vendors, planning the schedule and, well, you get it, it's really a whole lot of things to do! While we may have a huge headache trying to figure out how to navigate through this seemingly intimidating long list of tasks, there are people who are gifted and finds delight in helping you with these tasks (thank God!).
The person I know who is perfect for the job is Mun Tzin from Milestones. Her meticulous and detail-oriented personality is exactly what is needed as the wedding planner to make your wedding a memorable feat, without the headache on your end.Mun Tzin's interest in weddings started off during her university days helping out at friends' weddings, contrary to the belief of others who thought she picked it up while planning her own wedding. She likes the role of planning, organising and conceptualising things. Seeing it materialise gives her great joy and satisfaction. Mun Tzin helps couples plan their wedding from A-Z – from sourcing vendors to bringing them to see gown designers, as well as delivering the stationeries to hotels. A wedding planner is not just there to plan your wedding. Mun Tzin has occasionally worn different hats, like being friend, a counsellor, seamstress and make up artist.
Take time to enjoy your day
When asked what are some advice she would give to couples who are planning their wedding, Mun Tzin recommends that couples allocate time to take time to enjoy the wedding day. The saying that goes 'time flies when one is having fun' is especially true for weddings, therefore it is important that the couple live in the moment and spend some quiet time together.
Trust is key
Only in a perfect world will you find things running flawlessly. The same can be said about weddings in this fallen world. Things will go wrong, like a slight delay on the delivery of the wedding cake. With that, trust the wedding planner to help sort these minor problems for you and don't fret over it. Focus on the big picture, whereby everyone is enjoying themselves and after all, no one will notice that the wedding cake is missing for a short while.
Credits:
Photographer: Weiming