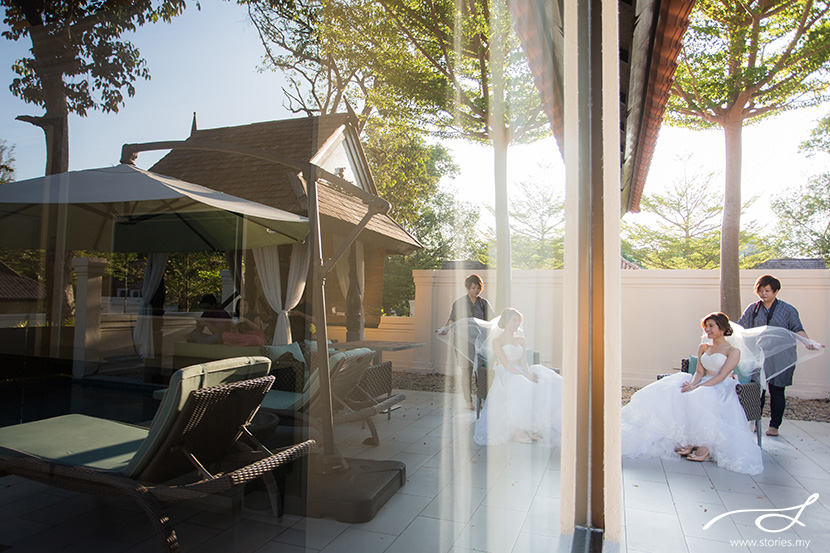 A white wedding veil is seen as a traditional norm in weddings, symbolising the purity of the bride. Interestingly, Wikipedia mentioned that the earliest reference of a veiled woman was recorded in an Assyrian text from the 13th Century BC. Now, at a Chinese wedding, a red veil is usually the norm, though nowadays, most couples prefer to opt out of it.  Red symbolizes good luck, happiness, and prosperity. If you would like to read more about it, this website talks about how the tradition dates back to the Qi period (479-502), where women farmers would wear a veil to protect their heads against the cold wind or hot sunshine.
Whatever the origin, I find veils to be so lovely, almost mysterious. Ten years ago, when I got married, I was quite an ignorant bride, and one of the biggest mistakes I made was that I didn't try on my veil until my wedding day! It was then that I realised it was too short to cover my face (it was one of those veils that only looked good at the back of your head!). So yeah, with no alternative at hand, I lived with a white veil that stopped short next to my chin. Thank God I didn't allow that little boo-boo to ruin my wedding day!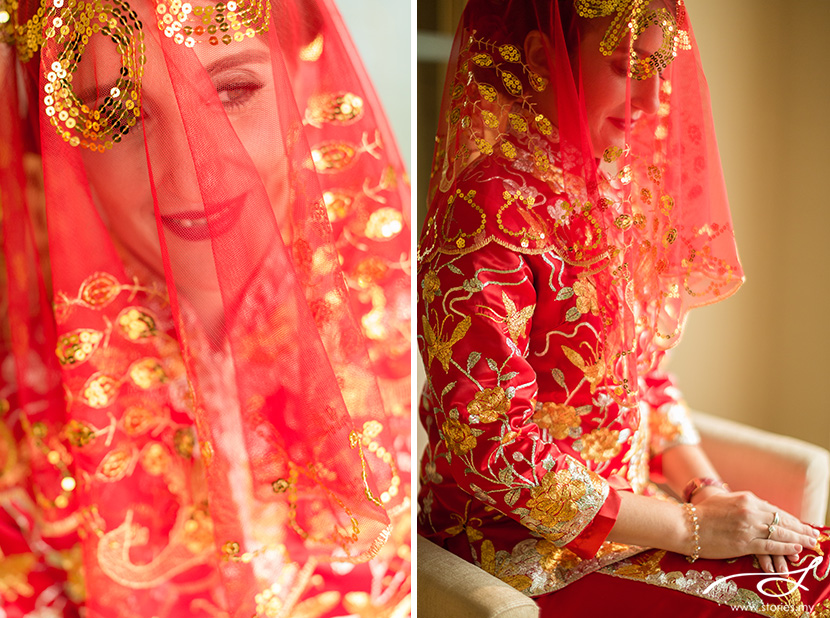 A traditional square veil matched with the Chinese kua outfit.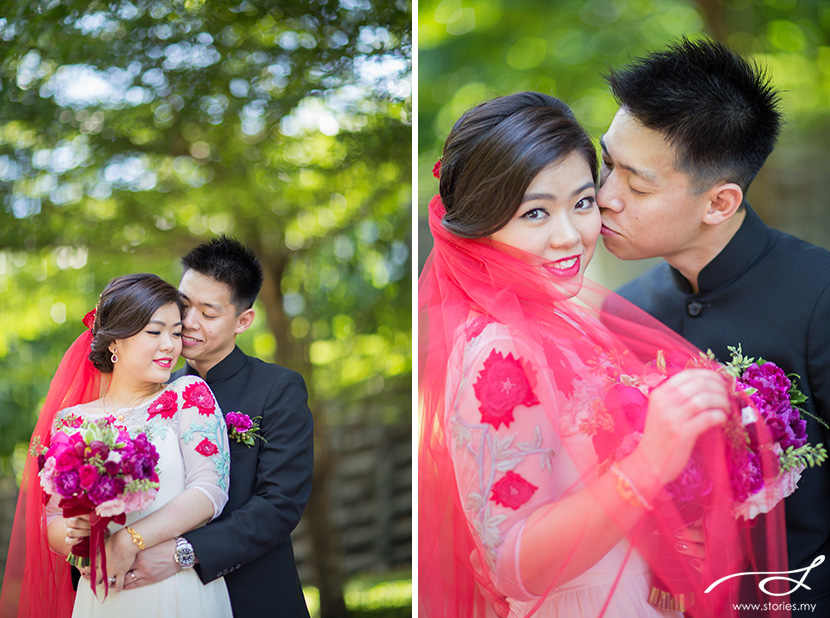 A modern twist to the red Chinese veil.
Whether you decide to wear a white or red veil for your wedding day, here are some questions to ask yourself as you choose your wedding veil:
Does it match your wedding gown?
If your wedding gown has a lot of details at the back or front, you should consider a simple, sheer veil that can highlight this feature. But if your gown is a little more simple, then you can consider a veil with more embellishments. Your gown and veil shouldn't be fighting for attention.
What length of veil would you like to opt for?
Shorter veils would suit a more informal look, whereas mid length waist level veils are suitable for most gowns. Floor length veils are good for dresses that do not have a train. If you would like a really long veil that drapes across the floor, you can partner it with classic wedding gowns or those that do have a large train. You can read more about this in this informative article here.
What kind of hairstyle would you like to have?
Would your hair be up or down during your wedding day? What kind of accessories are you planning to wear? If your hair is up, you can wear your veil above or below your bun. Pinning the veil below your bun would highlight your hair style a little more compared to wearing your veil above your bun.
Hope these tips are useful!