Our clients often ask us, "Which is a good park for family portraits?" Since we've been photographing families since 2008, we decided to create a list of our favourite 10 parks and why we love them!
1. Perdana Botanical Garden (Taman Botani Perdana)
The Perdana Botanical Garden, formerly known as Taman Tasik Perdana or Lake Gardens, is situated in the Heritage Park of Kuala Lumpur. Famously known for the beautiful yellow canopy architecture in the centre of the park, locals often come here for photos and fun activities such as picnics, biking, and even skateboarding! What's special about this park is that there's always something different to photograph as they have more than 10 different areas to explore, such as an outdoor area with a huge children's playground, jogging and cycling tracks, a Hibiscus Park, an Orchid Garden, The Sunken Garden, Deer Park, Bamboo House, and much more. It is the perfect outdoor place for families to have a wonderful time, having a picnic session or plainly enjoying the surrounding nature with little ones and having these moments captured. We have been here hundreds of times, and we never get tired of this beautiful park!
Entrance Fee: Free
Opening Hours: 7am – 8pm

2. TTDI Park
This park is a hidden gem, mostly known to locals, located in a quiet housing area in Taman Tun Dr. Ismail. Its main feature is a huge lake surrounded by more flora and people walking on the tracks. It is a beautiful spot for families to have a relaxing morning or evening and for their photographs to be taken when the golden hour hits them stunningly. Children can also wade in or catch small fish in the nearby stream. There might even be a cameo in your photographs of the monkeys living in the park! Just remember to not feed the monkeys, as they can be rather aggressive!
Entrance Fee: Free
Opening Hours: 6:45am – 7pm

3. Taman Rimba Kiara
If you've been wondering, is there a nearby park or forest in the Klang Valley where people can go bird watching? Yes, there is! Taman Rimba Kiara is among some of the surprising bird watching areas that not many know of. This park is one of our favourites because it's a little quieter than the nearby TTDI park and has mature, fascinating trees, making it unquestionably a fantastic location for family photographs. We love coming here in the morning because of the sunlight streaming through the trees.
Entrance Fee: Free
Opening Hours: 24 hours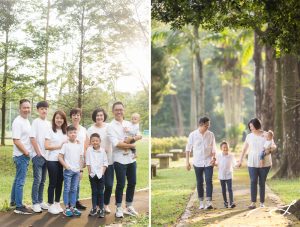 4. Kepong Metropolitan Park
Is there a park for kite-flying enthusiasts? Yes, there is! Introducing Kepong Metropolitan Park, located at the northern end of Jinjang. The vast, empty field makes it the perfect spot for kite flying activities, which families can try out during a photoshoot session. It's a great way to keep active kids engaged during a photo session. I mean, how much fun would that be? Imagine all the colourful kites of different shapes and sizes as part of your photographs. Other facilities at the park include a remote control car track, a cycling track, a football field, a boathouse and aquatic activities, a viewing tower, a playground, and a pavilion. We also love the colourful arches in the park. 
Entrance Fee: Free
Opening Hours: 6am – 8pm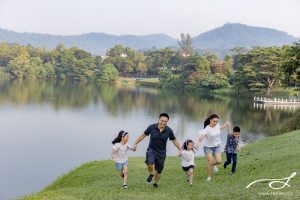 5. The Central Park, Desa ParkCity
The Central Park is a recreational park located in the Desa ParkCity township in Kepong. With the concept of a park in the city in mind when building the area, visitors and residents can expect an abundance of nature surrounding every corner with well-maintained and gorgeous facilities. We love the rustic vibe of the plants here. The top reason why this makes a fun outdoor park for photoshoots is that it's pet-friendly! So get ready to include your dogs in your family photo session.
Entrance Fee: Free
Opening Hours: 6am – 11pm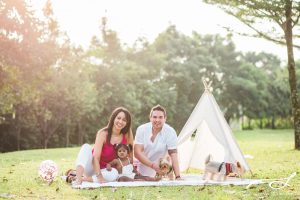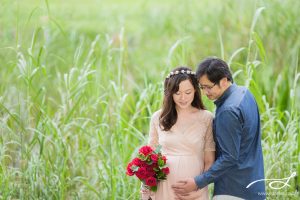 6. KLCC Park
The KLCC Park is a metropolitan park located in Kuala Lumpur City Centre. The luscious landscape of the urban park makes it a good escape from the otherwise cemented neighbourhood left and right. The park draws wide attention from both tourists and locals alike. The man-made lake, Lake Symphony, is probably the biggest attraction in the park, especially at night when it lights up and you can find people crowding to watch the "light dance". What makes this a nice area for family portraits is the contrast of nature and modern architecture. Children can even have fun at the swimming pool and at the ample playground. It is a haven for family outings which makes it a fun outdoor shoot! This park tends to be really busy on weekends, so it is a good idea to schedule a shoot on a weekday morning!
Entrance Fee: Free (excluding parking fees)
Opening Hours: 7am – 10pm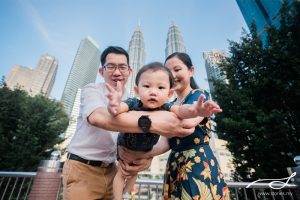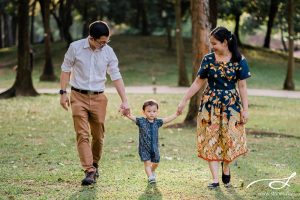 7. Putrajaya Botanical Park
The Putrajaya Botanical Garden is known as the 'mother of all gardens' in the federal territory and was recognised as one of Asia's Most Amazing Gardens by the Royal Chelsea Foundation at London's Royal Chelsea Flower Show in 2008. It is also known as the "floral attraction" as it houses more than 750 plant species from 13 collections of plant themes coming from different continents. If you're looking for a more heritage feel, the gorgeous Moroccan Pavilion Islamic Garden, which is inspired by Moroccan heritage, is inside this garden (requires an entrance and shooting fee). Now, if this doesn't convince you to plan your next photoshoot here, we need a one-on-one chat.
Entrance Fee: Free (except Moroccan Pavilion)
Opening Hours: Monday to Sunday: 9.00am to 12.00pm, 2.00pm to 5.00pm, Friday: 9.00am to 11.00am, 3.00pm to 5.00pm. Moroccan Pavilion is closed on Tuesdays.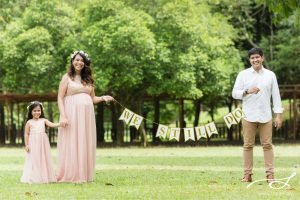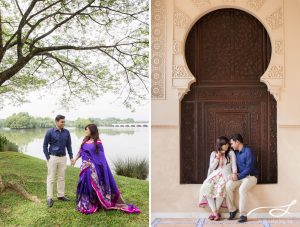 8. Forest Research Institute Malaysia (FRIM)
FRIM is a must-visit for nature lovers who do not wish to travel far from the city. Located in a suburb city in Petaling Jaya, about 20km from the capital city of Kuala Lumpur, FRIM is a tropical forest home to approximately 15,000 species and a collection of waterfalls and streams that have been reserved for both research and recreation reasons. As you enter FRIM, you will be amazed by the living museum of trees. Dive deeper into the forest with their canopy walk (requires an entrance fee) which visitors can walk through and see the breathtaking view of the city and the greenery of the forest. We recommend this area for your family portrait shoot if you are up for an adventure! Let us do our job and capture those moments of your kids marveling at all the flora and fauna or cycling along the paths of gorgeous trees as you take in the fresh air and view.
Entrance Fee: Shooting fee required
Opening Hours: 8am – 5pm. Some site locations might be closed on certain days. Please check their website for the full list.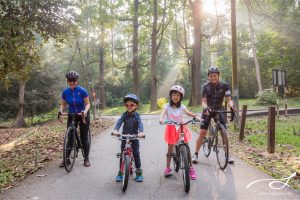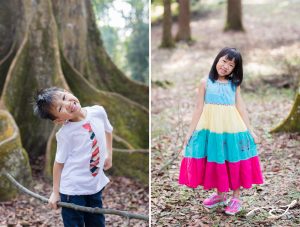 9. Shah Alam Elmina Park
If you have wheelchair-bound or differently-abled children, you can visit Shah Alam Elmina Park's inclusive playground. This place is special for us because we documented the building of the playground for UNICEF. Come for a relaxing evening with your family, stay for a photoshoot session at the colourful rainbow walkaway and impressive view. It has quickly become a favourite among instagrammers, photographers and a source of creative inspiration. As you enter, you are welcomed by the bright red bridge called the Elmina Iconic Bridge. With such an eye-catching exterior, you'd be sure to have lively portraits together. Elmina also has a large and spacious recreational park where families can perform their usual activities such as running and cycling tracks. Don't leave before the gorgeous sunset by the lake! 
Entrance fee: Free
Opening hours: 24 hours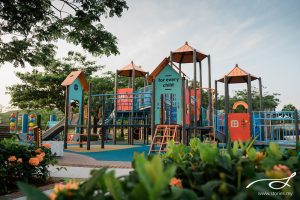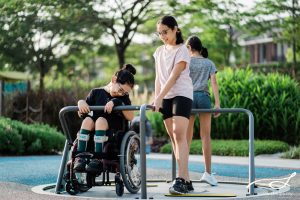 Images above taken by Stories for Business.
10. Bukit Jalil Park
If you live around the Bukit Jalil area, you can consider heading to this park for family portraits. The International Garden, which has 10 diverse landscapes inspired by the Netherlands, England, China, Japan, and other nations throughout the world, is one of the park's key attractions. A specific space for the disabled, walking and cycling routes, artificial lakes, a playground for kids, and a heliconia garden are all present at this park.
Entrance Fee: Free
Opening hours: 6am – 8pm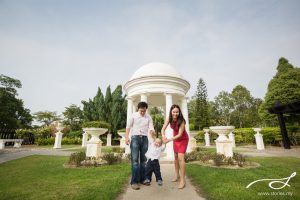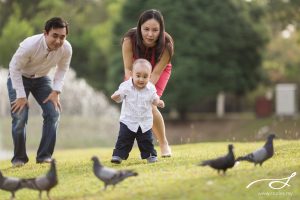 Actually, we have a list that is longer than 10 parks! Some other locations you can consider are Taman Tasik Titiwangsa, Taman Saujana Hijau, Subang Ria Recreational Park, Kota Kemuning Lakeside park and more! Are you keen on having a family portrait session at a beautiful outdoor park? Send us a message and we'd be happy to discuss your family photography needs.
Contact Us