Photographers: Grace & Mark
Wedding Gown: The Wedding Shoppe, Inc.
Location: The Andaman, Langkawi
18 guests flew all the way from Japan and Australia to Langkawi to attend the wedding of David & Risa. It was a small, intimate wedding filled with lots of emotions. Tears flowed freely, and love was expressed in its purest form. I couldn't hold back my emotions, as I saw the strong bond between family members, friends and David & Risa. This is definitely one of my favourite weddings. I compiled a slideshow to showcase the many different photos as I cannot include so many in this blog post. I do hope you'll enjoy this set of images as much as I did creating them.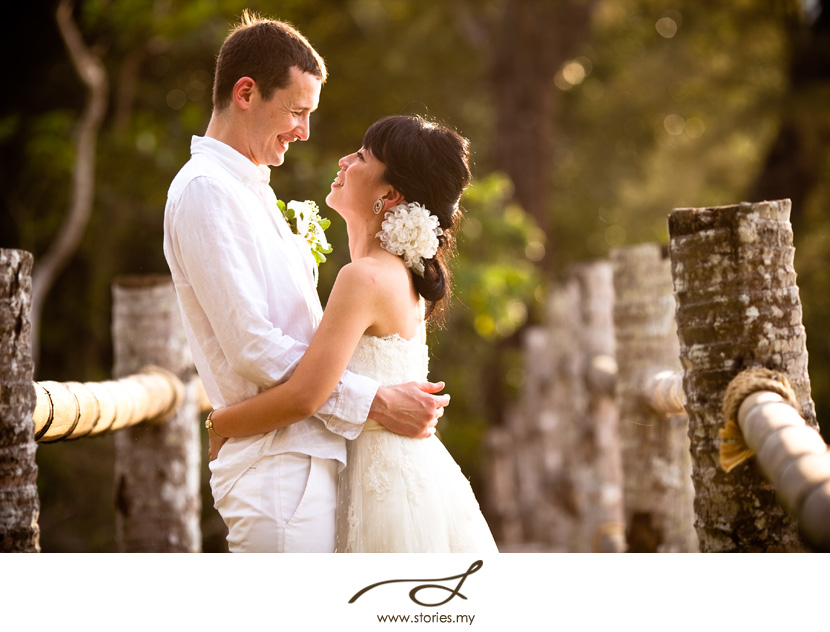 Here's David's and Risa's story…
We met in Japan in 2004. Actually, although we don't like to admit it, we met in an English conversation school. I was teaching there and I met Risa, who was a student there at the time, a couple of weeks before I was due to finish my contract. We started dating and I moved in with her a couple of months after that.
Then, I had to leave Japan and return to my own country. We had only been together a few months and I wasn't prepared for how difficult it was to say goodbye. I think I decided then that we needed to do our best to stay together, somehow. I had actually assumed that we would break up when I left, but I found that very difficult to come to terms with.
Anyway, Risa came to visit me in Australia about three months after I had returned.  She then came to live there for a year (after a difficult 11 month long term relationship period), and after that we came back to Japan, where we've been since mid 2007.  It was around November or December last year when I began to seriously think about proposing.  Although we had talked about it many times, I had not really given much thought to actually doing it.  We had been together for almost 6 years and had toughed out some pretty difficult times, with the long distance period, the bi-cultural relationship and all the complications that come with that, and it dawned on me that there was no reason not to. I certainly couldn't imagine spending my life with anyone else, so we took a trip to Malaysia and ended up at the Andaman on Langkawi island, where I proposed.  Now, a year later, we're returning to finish the job!