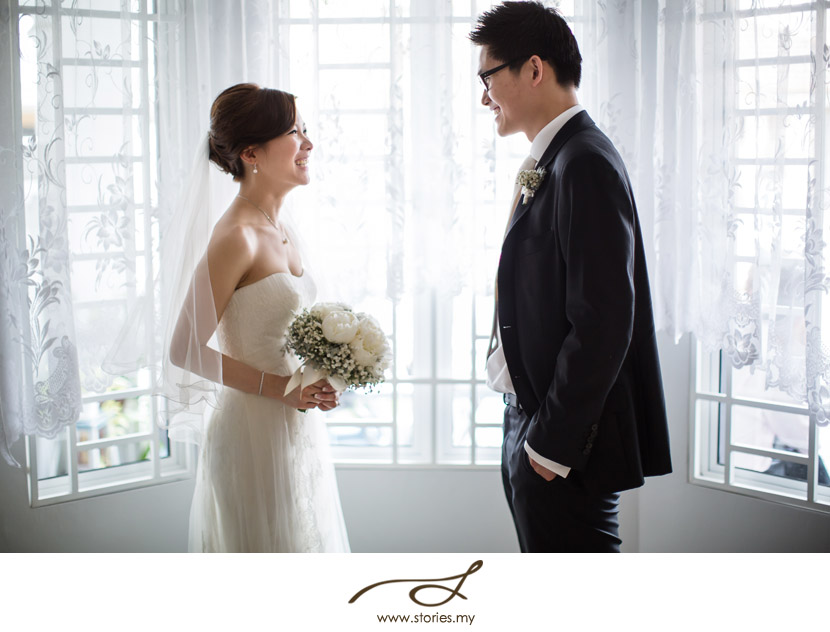 Their love story began as a chance meeting – two strangers enrolled as classmates back in 2001 during their A-Level studies.
"Aldrian was just hanging out with his cousin, Johnny, and refused to enter the classroom on his first day. – no pretty girls lah – he said. Minutes later, I brisked by with a friend, feeling truly nervous about my first day of college. As I passed Aldrian, I noticed that he was quite handsome too – but you don't say these things out loud of course! Not long after, Aldrian sat next to me in that class…. and we have always been side by side ever since. Throughout the years we have truly become each other's best friend and soul-mate. 
After college, we came to the UK together to further our studies. Finally, after 10 years – after completing my PhD and all that hoo-ha of trying to settle down in London, we thought that the time was right. And it was just perfect.
 We now live together in our very own love nest in Canary Wharf with our baby rabbit, Bijoux. Bliss :)"
 – Mei Mei –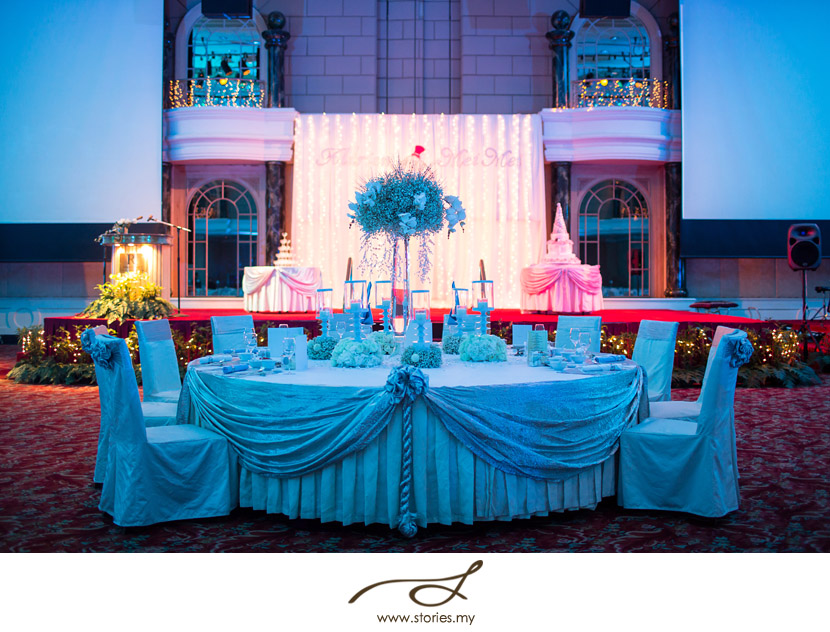 I got to know Aldrian and Mei Mei through a friend of mine, Adelene, who was Aldrian's sister. I had never met them before, and all correspondence was done online, until they came back for the wedding itself. Since they were not in KL, it helped that they had a wedding planner to coordinate everything. I first heard about the winter wedding theme from Mun Tzin of Milestones… and I wondered how it would really look like. Frankly, I was a little hesitant at first, as coloured lighting in a ballroom can either work for you or against you. I have photographed some events with extremely strong multi-coloured lighting shining on stage, and the results… well, let's say I was less than pleased with it.
Some colours tend to bleed onto skin tones, making people look overly purple or green. I was quite concerned that the light would be too strong and we would end up with shots that look like we were at a Smurf convention (sorry, Mei Mei!). But when I arrived at the ballroom that day, I was pleased to see that the blue light was not direct lighting, and that the stage had yellow light, which added warmth to the skin tones! So I loved the end results!
Be prepared, this is a super long post with heaps of photos! Sorry if it is taking too long to load, but I can't help myself!