If you are not aware, you can view content related to marriage and parenting at Comma, Rethink Life's website. I will be uploading new conversations with people on these topics and observations from my own personal life. Here's one that we did with Racheal Kwacz, a Child & Family Development Specialist. In this video, we talked about Respectful Parenting and what it is all about. She shared about how we can build the inner voices in our child's head and raise them to be kind, compassionate and resilient children. If you are interested in attending our first ever parenting workshop co-organized with Racheal, please see the details below!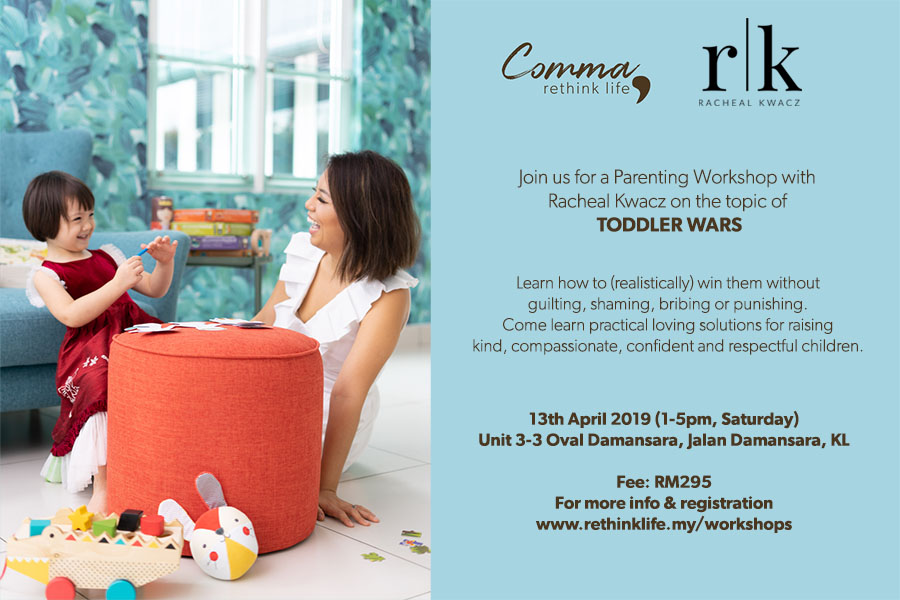 Toddler Wars Parenting Workshop with Racheal Kwacz
Racheal Kwacz is a Child & Family Development Specialist, mama tribe advocate and writer. As creator of the "RACHEAL method", she combines her 20+ years experience working with children in the USA and in Asia with the foundations of "Respectful Parenting". She was the Program Director for a national accredited child care center in the USA and has also developed and taught different programs for preschools in Springfield, Missouri, Pensacola, Florida and Kuala Lumpur, Malaysia. She provides parenting coaching sessions to help you build and maintain joyful, loving relationships with your little ones.
Topics that will be covered in the workshop
+ How to respond to your child and deescalate a situation
+ How to parent a strong-willed child without breaking their spirit
+ How to work with your toddler through a problem
+ Words to say and helpful tools to set loving limits and boundaries
+ How to plan, prevent and stay calm through any situation
+ How to turn tears into bonding and create intimate moments that matter
+ How and when to pick your battles
+ How to cope with frustration and burn out
+ How to parent together and work with your in-laws