So let's kick off the first blog post of 2016 with an epic wedding! We've been through a lot together. A pre-wedding shoot in KL & Singapore, two weekends of weddings in KL and a wedding in Phuket. What a journey! Definitely one of the most memorable weddings for me in 2015… Andrew & Katrina's energy and laughter is infectious. I love just being around them, you can't help but feel as if you have to laugh a little louder, dance a little more, and hug another person. I am also so grateful to have built a friendship with this amazing couple.
Their wedding was truly a majestic affair. Please be warned, I am terrible at cutting down the number of images for a blog post, so it might take a while to load! Here are some of the images from the first two wedding events in KL… their ROM, church wedding ceremony at St Thomas More and dinner reception at The Majestic. Even the haze was not a deterrent to the couple (we got shots like the one below thanks to it!). It was all beautifully decorated and planned by the Mint Events & Soirées' team. One other amazing detail is that Katrina designed her wedding and evening gown herself! Check out her Facebook page, Wilka.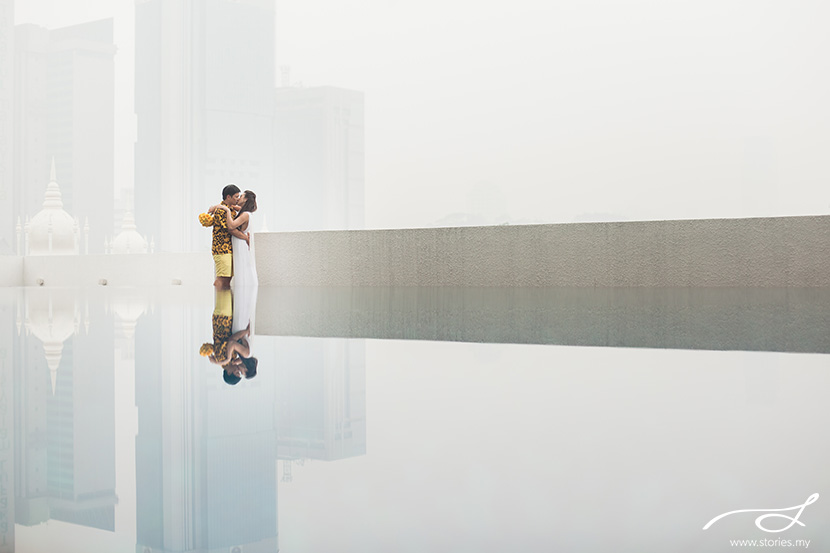 Here's what Katrina had to say about the wedding planning process:
Stories.my & Mint Events made my wedding dream come true. Inspirations and ideas that came in the wedding planning process appeared as and when I thought of something, which was a constant thing throughout the year. I was doing a lot of research, surfing the net looking at so many images and references. Pinterest was my best friend. Do manage yours and everyone's expectations… it's YOUR wedding, not THEIRS. Trust your photography and video team (ahem…Stories)… have fun, let go, respect our elders.
The Stories team have been amazeballs from the get go. Somehow, when we were shopping for a vendor, Stories was the first one we met with, and though we had other companies to check out, I knew I wanted them to be the officials to capture the most important moments of our lives. Grace and her team have been very accommodating, professional, efficient, understanding, considerate and reasonable. But most important of all, they were able to capture the brief accurately, and brought our wedding to life that went way beyond my expectations. We are in awe and till today cannot believe how beautifully done all our photos, videos and sideshows are. Makes us tear every time we look at them. We always felt comfortable and relaxed with the Stories team. Like we were family. We laughed and had fun together. We love Stories!
Watch their fusion photo and video slideshow here. It was presented on the night of the dinner reception itself.
Continue Reading