Dear Diane, Mark & Johan,

I meant to send this earlier, but I didn't expect the week post-wedding to be equally as hectic as pre-wedding. I actually just wanted to drop a quick e-mail to let you know how awesome it was having you guys as my photographers.

I thoroughly enjoyed the times on-camera as well as off-camera. (Chewah, mcm celebrity, liddat!) Seriously, though, I'm so glad & grateful for how (unexpectedly) easy it was to get along with you, right from the start –  tbh, I didn't expect that having photographers around would be such a pleasant experience. I was surprised at how comfortable I was with you & how much fun I had just hanging out with you guys during those brief moments after the ceremony/during the luncheon/dinner.

It was a genuine pleasure for me to have you around, so much so I felt as though you were actual guests at my wedding. Having said that, I can understand how you might not share the same viewpoint, seeing as the cameras would've been a weighty reminder of the work at hand. All the same, thank you for being such great company.

Thank you, Diane, for all the chats & e-mails, and for all those gentle reminders – yep, I know we're due to think of that extra song :) It was great to finally meet you in person – I'm so happy you came to photograph my wedding! :D :D – & you are just as nice as you sound over Gtalk. True story. I bet most brides say this, but we really should hang out sometime. Any friend of Switchfoot is a friend of mine & Aaron's :) (Btw, I've got Vice Verses on repeat in my car – that's probably going to run until I get the new David Crowder album.)

Mark, thank you for enduring my numerous rants regarding the breakdown of my precious system & my "Y U NO [insert appropriate bridezilla expectation here]?!?" Despite how the photo-session went up in flames – in FLAMES, Mark – I was actually present in each moment of my day & enjoyed it, from the chilled-out make-up session, to the ceremony (thank you SO much for giving me no cause for concern during the Mass – I personally thought you did a brilliant job of being unobstrusive & yet the pictures still turned out fabulous ;) to the dinner.

Btw, one of my overseas guests was particularly impressed with the slideshow you put together, esp. considering the limited amount of time you had. As was I: Thank you so much for highlighting what, or rather, Who was & is at the centre of Aaron's & my union, and I noticed that the pictures came together beautifully at the chorus, so well done :)

Johan, we saw those great shots you'd taken from the balcony. My mother-in-law also made special mention of how you'd subtly (hehe) grouped the guests during the toasting & the different angles you used. Thank you for the efforts you took to to get those quirky & candid shots that I was hoping for, esp. at the main table. (LOL-ing at how you had to recall me from the meet-and-greet for the slideshow during the dinner!) It was a real pleasure encountering you & your sense of humour, and I know my sister was happy to put a face to the gentleman who was so impressed with her Gantt chart, haha!

All in all, I thank God the actual day went the way it did, and that He made our paths cross the way He did. Thank you for being a part of our wedding & I hope you enjoyed yourselves in our company as much as we did in yours. Looking forward 'til we next meet again. In the meantime, take care & God bless!

Yours sincerely,

Sheena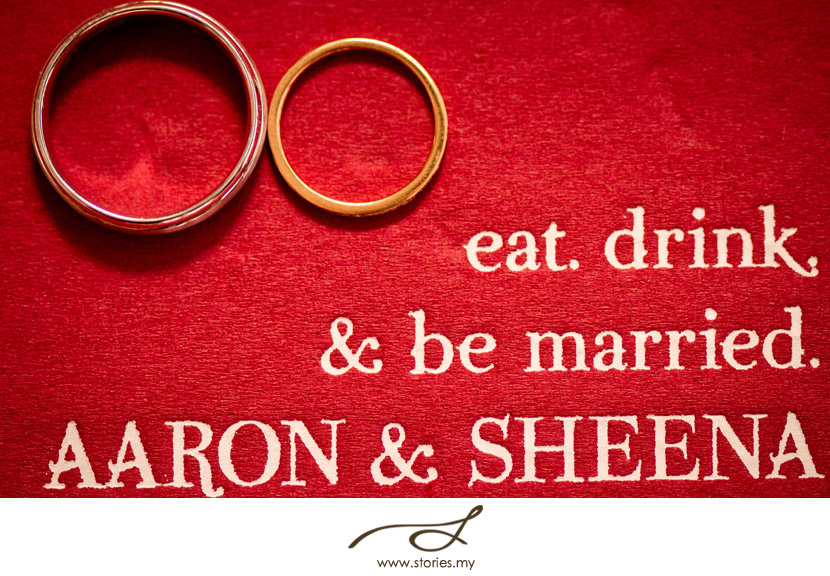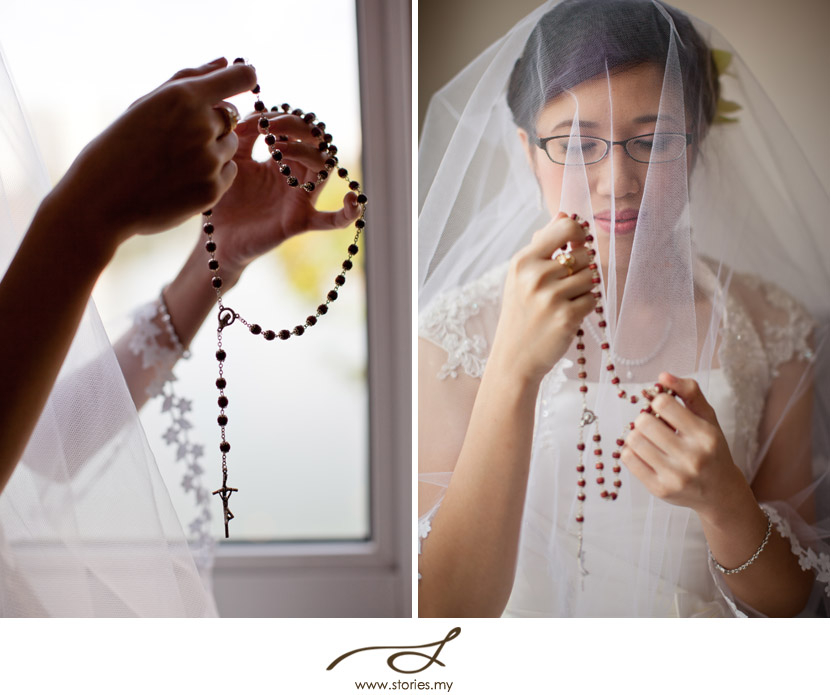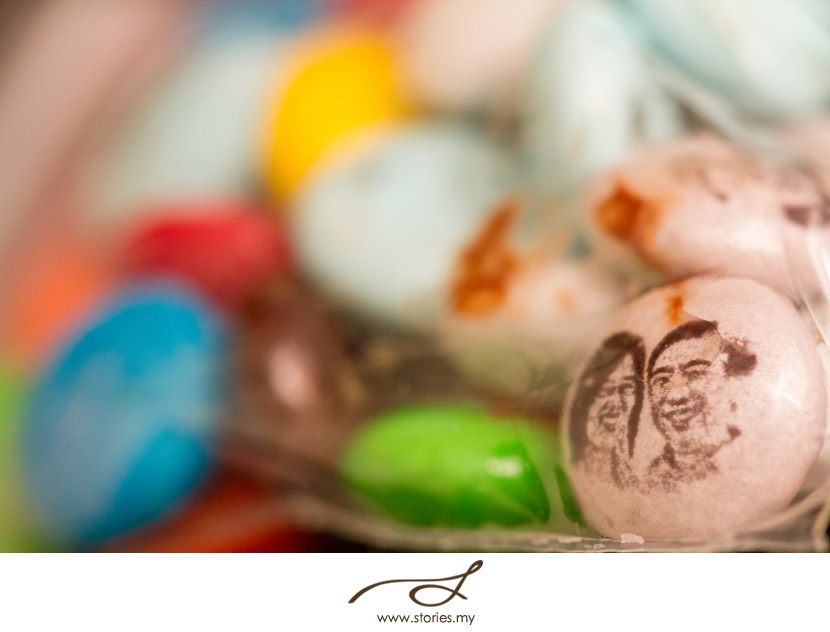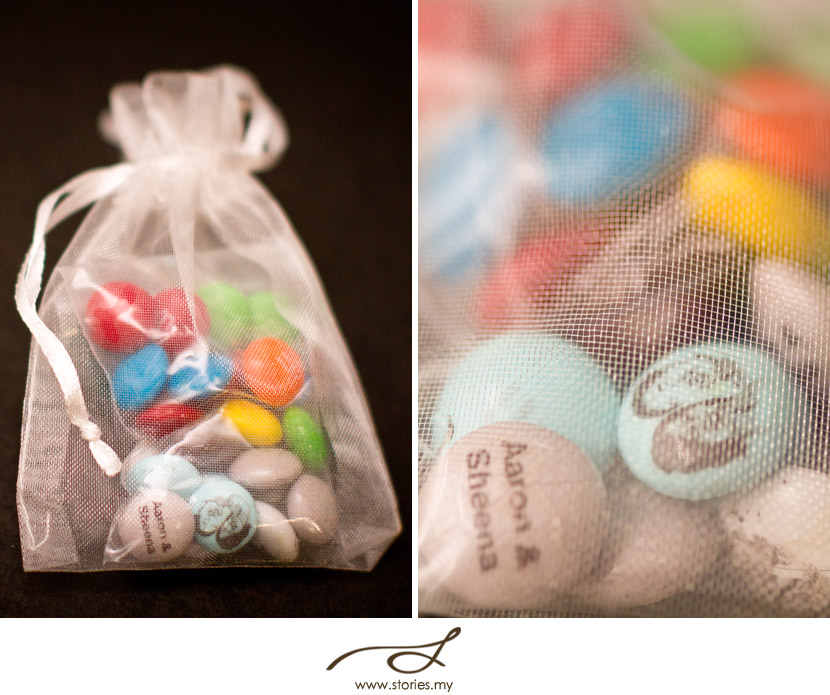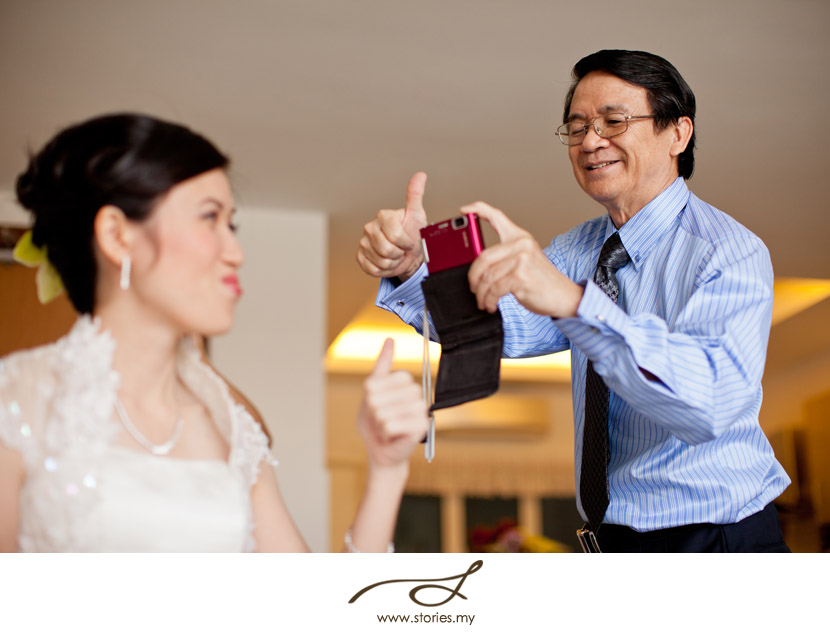 Shooting Aaron & Sheena's wedding was fun, I have never seen such a cute couple together and boy the wedding day was equally exciting. Interesting things such as the wedding dinner plan laid out in a gantt chart (project managers would probably know what I am talking about) as well as the bride who travels so far away for work because she was posted out of town. In a strict sense, it was beautiful because of two things, it followed the traditions of a Catholic wedding and the wedding itself was held at such a beautiful church. Despite what people might say, I guess deep down I am a traditionalist at heart. Traditions and cultures are some of the few things I see getting lost in this extremely fast paced world.
Surprisingly I found out that I knew Aaron's brother who was my university mate all the way back in the UK. It really was such a small small world. I consider it a double blessing especially if I find out that I know the couple or one of the couple's family members.
Congratulations again to Aaron and Sheena. May this new journey in life be a fantastic and fruitful one!
– Mark –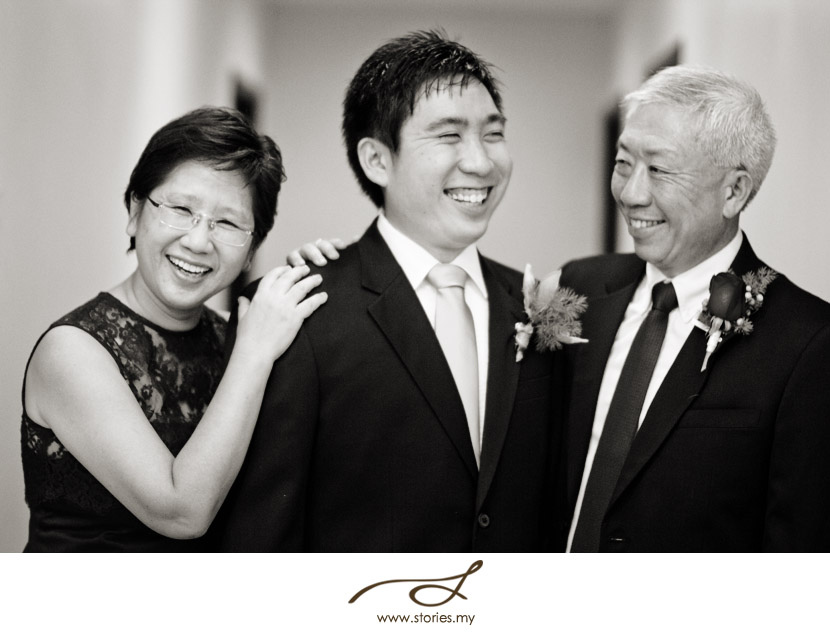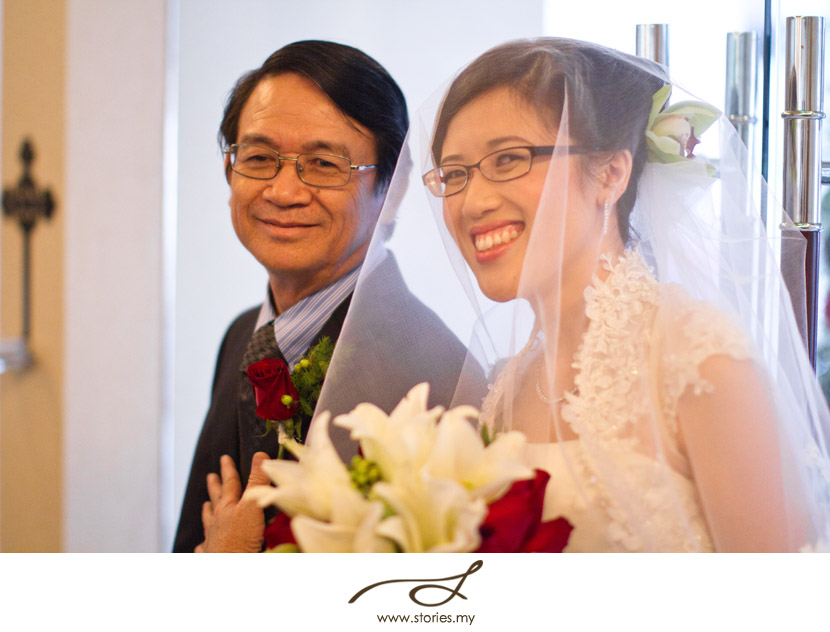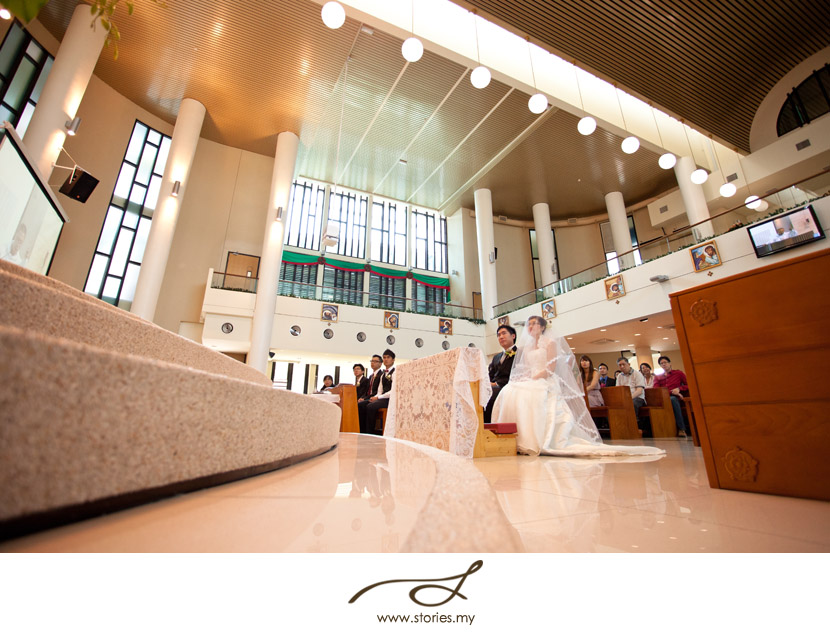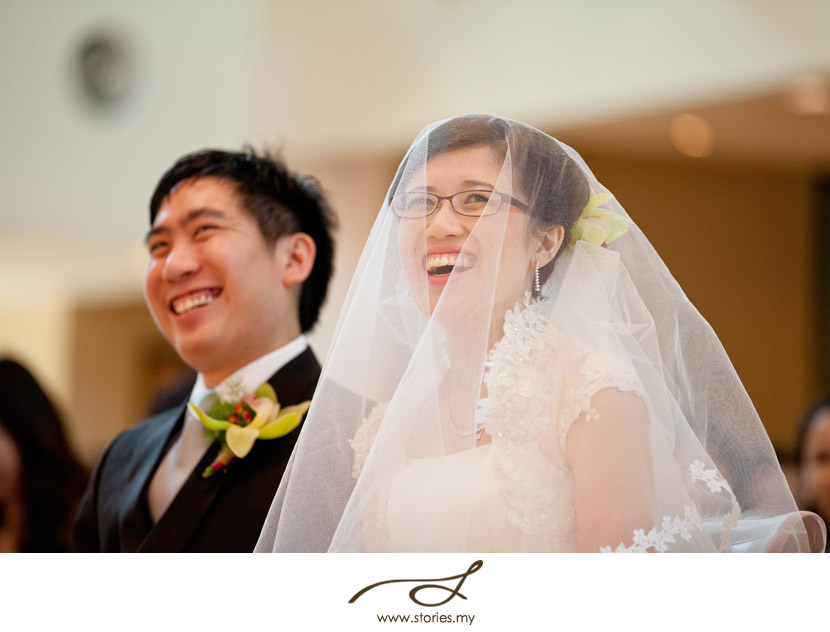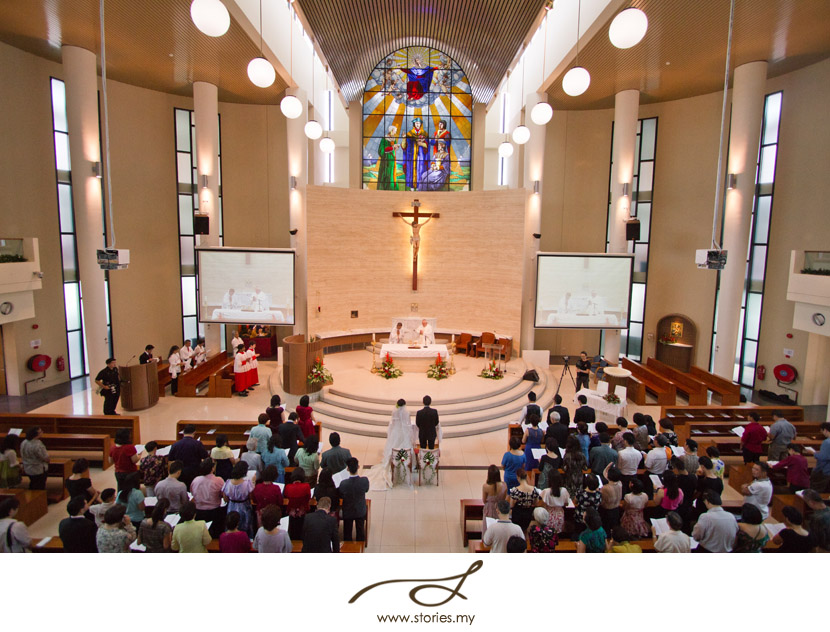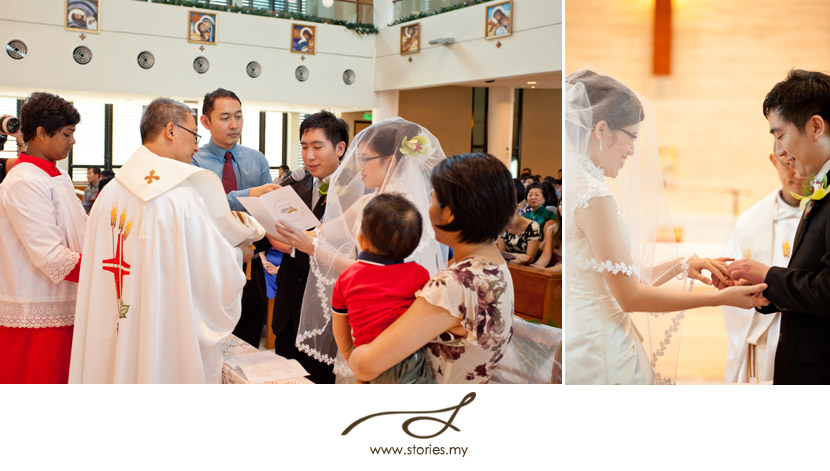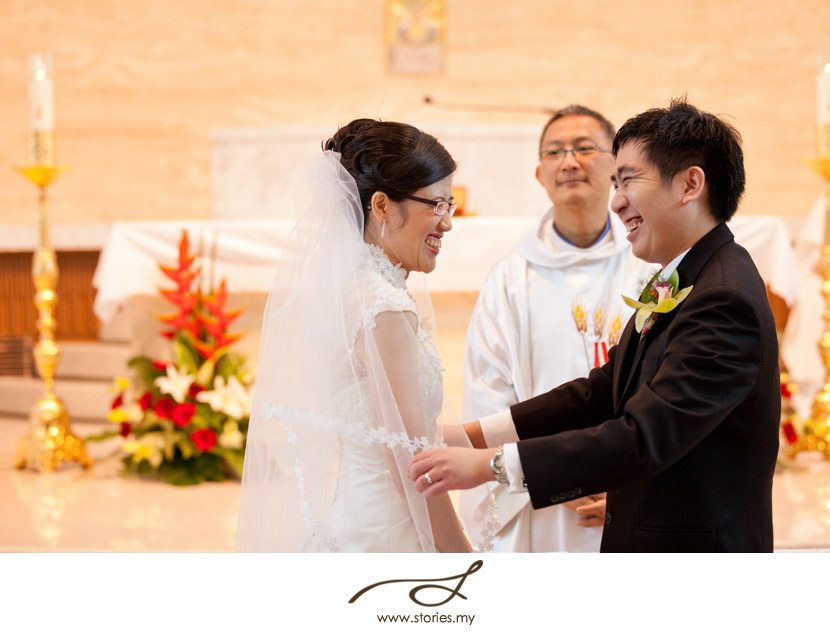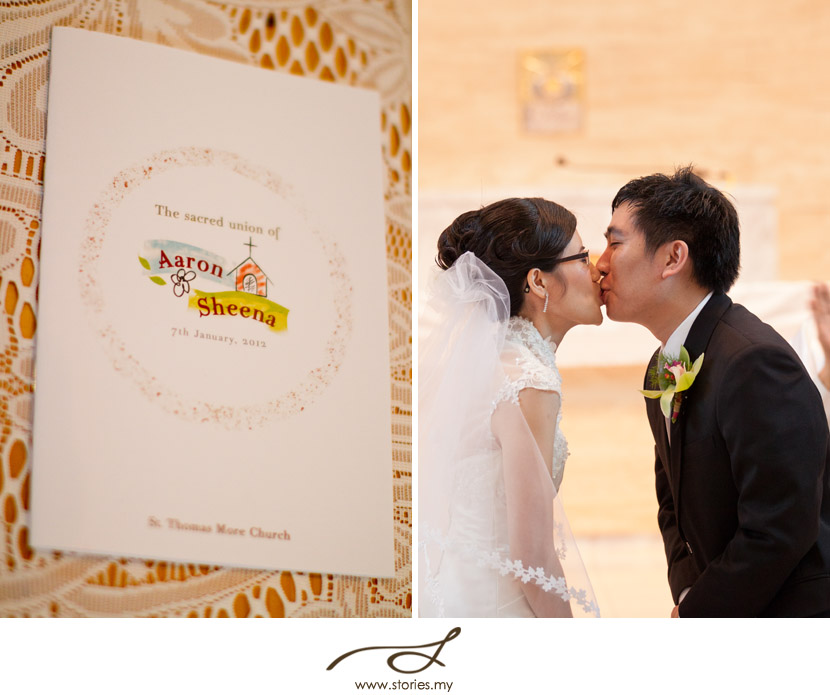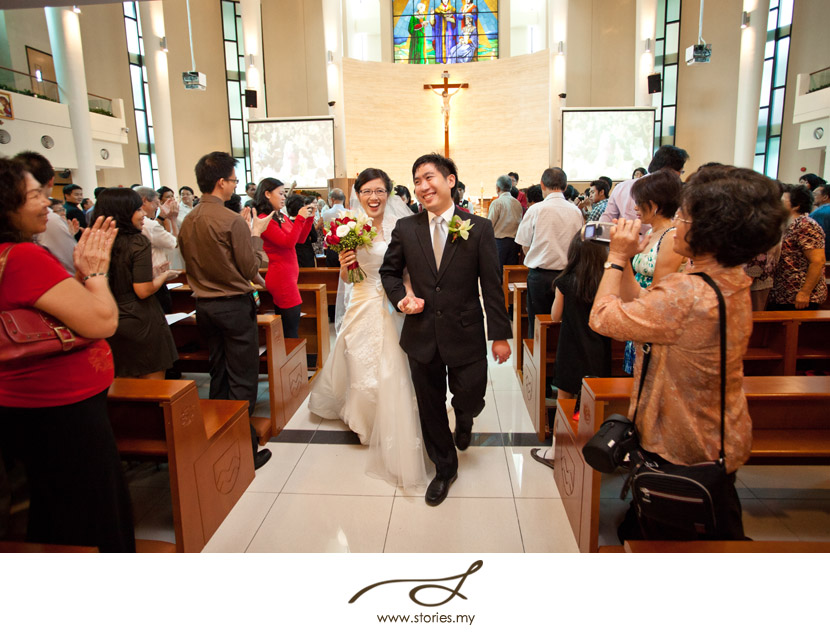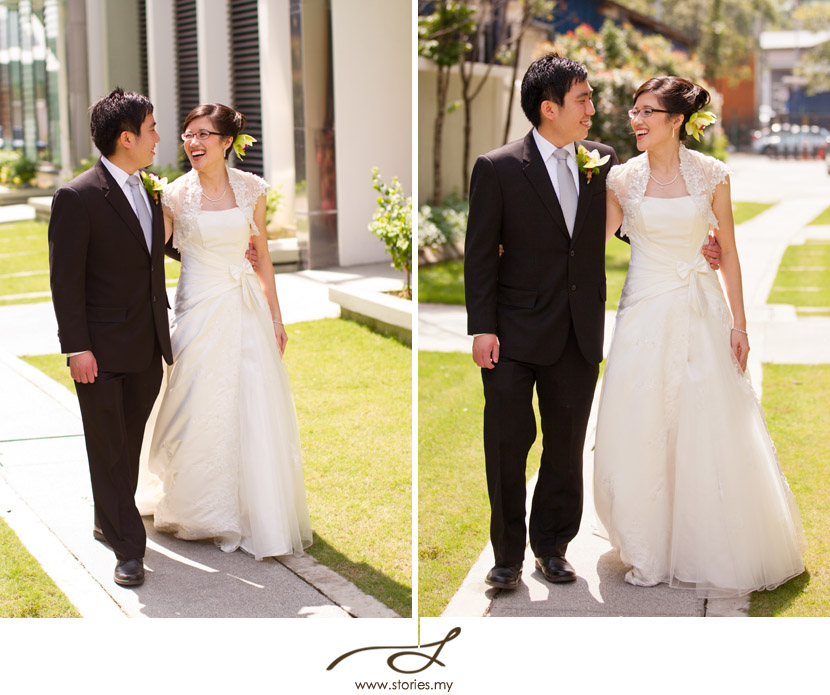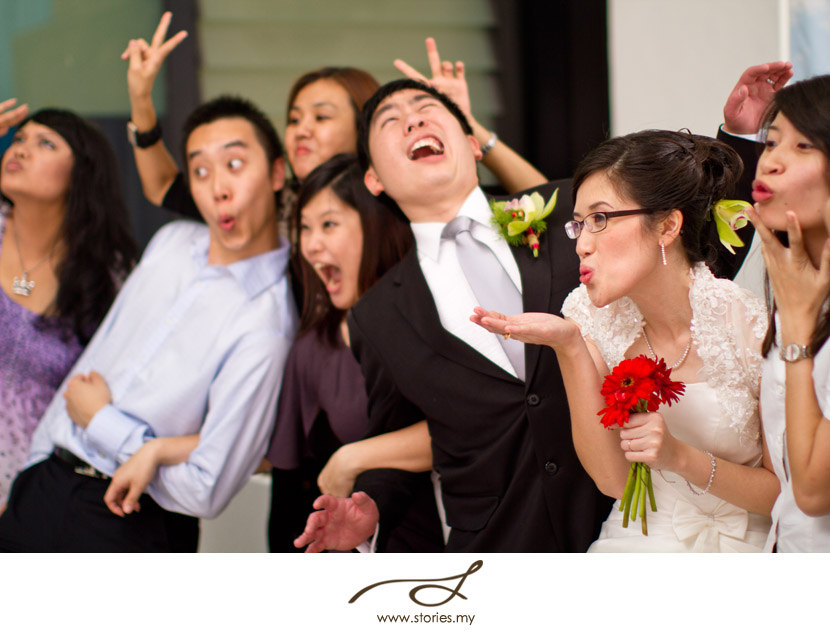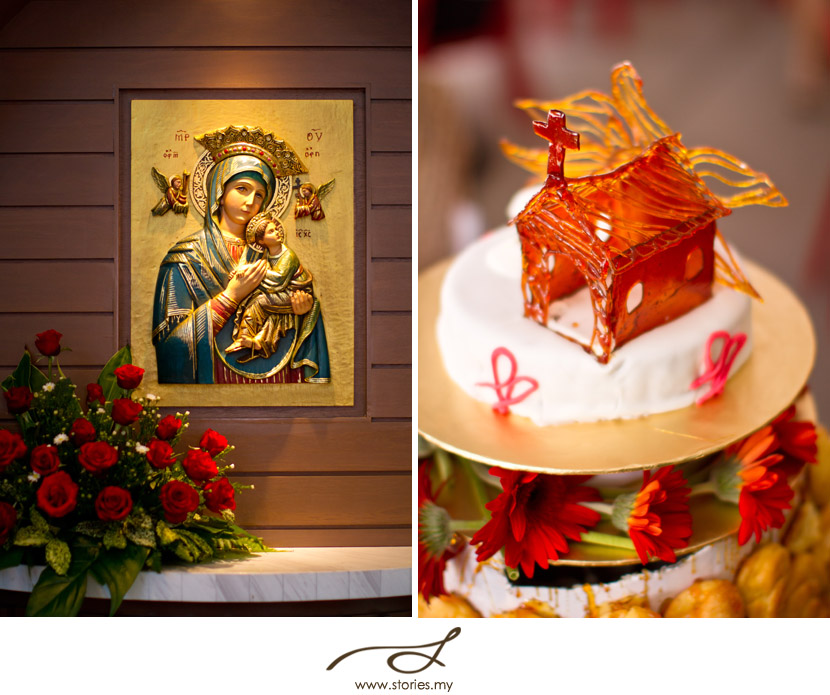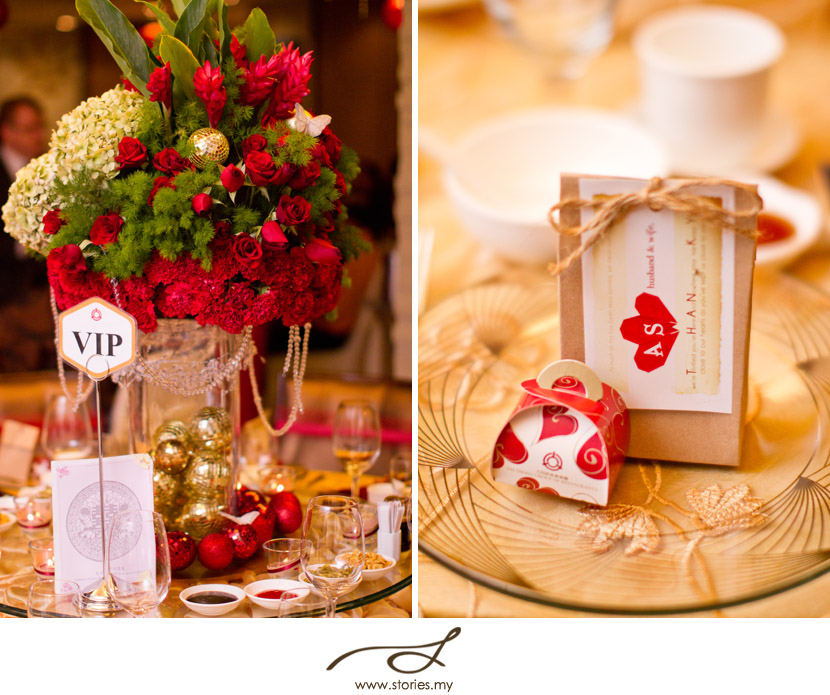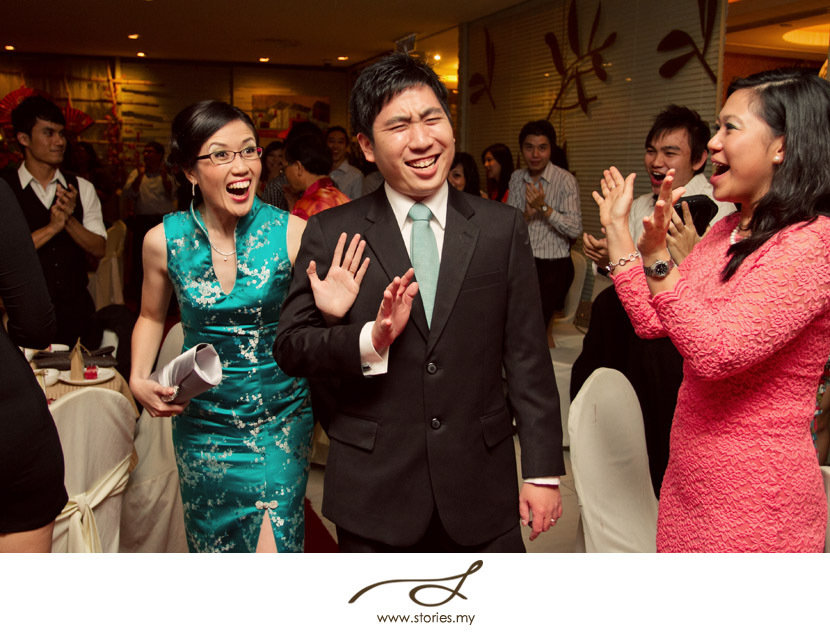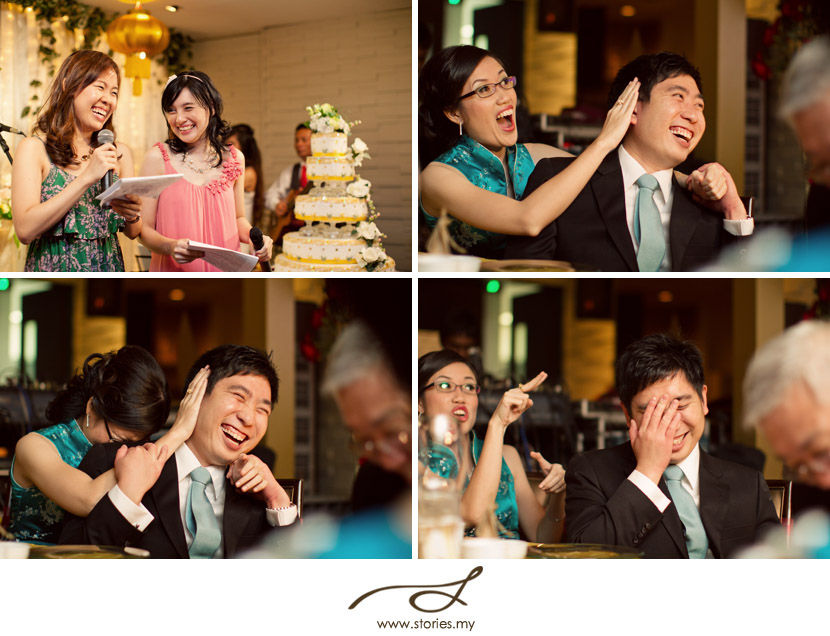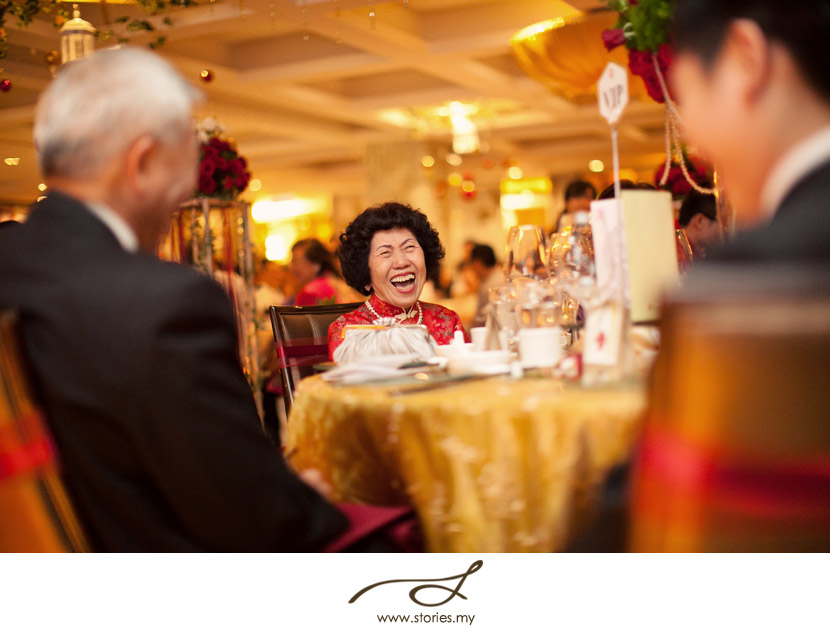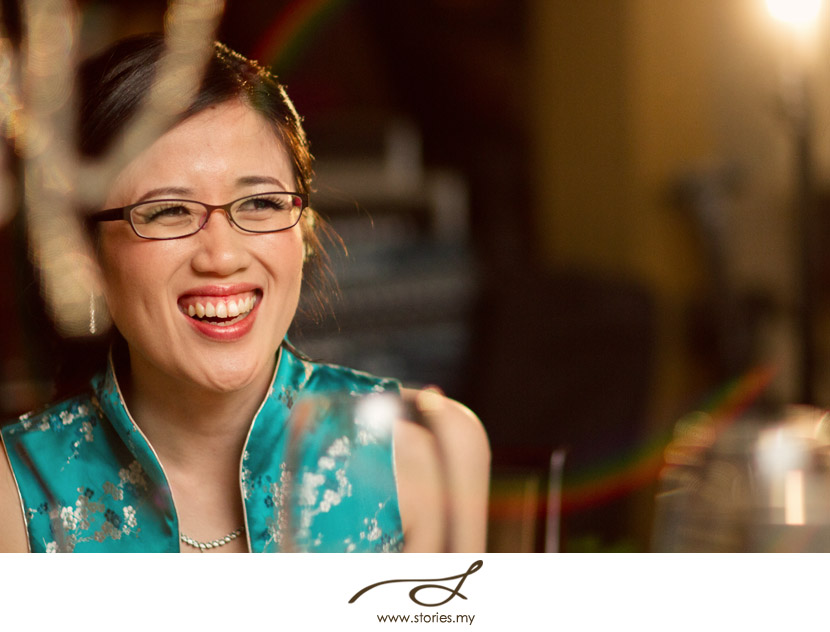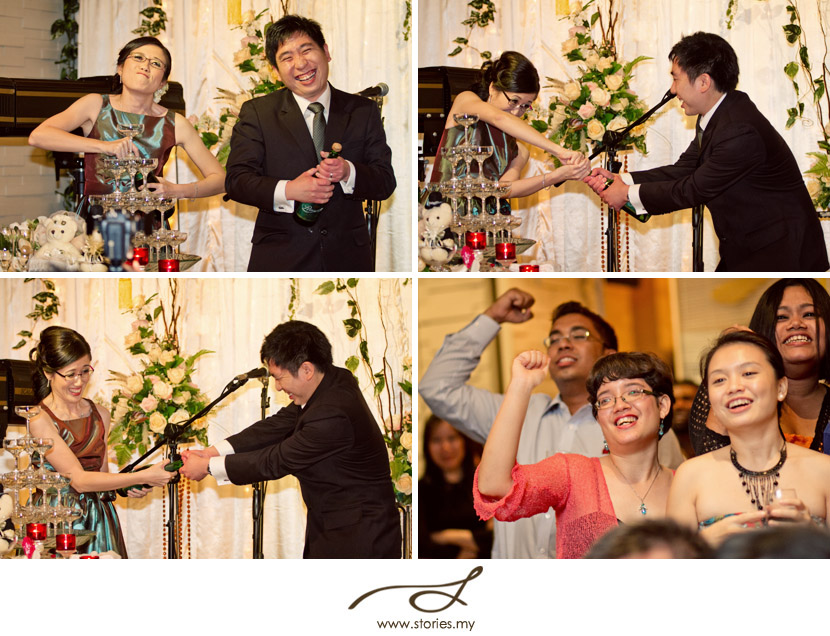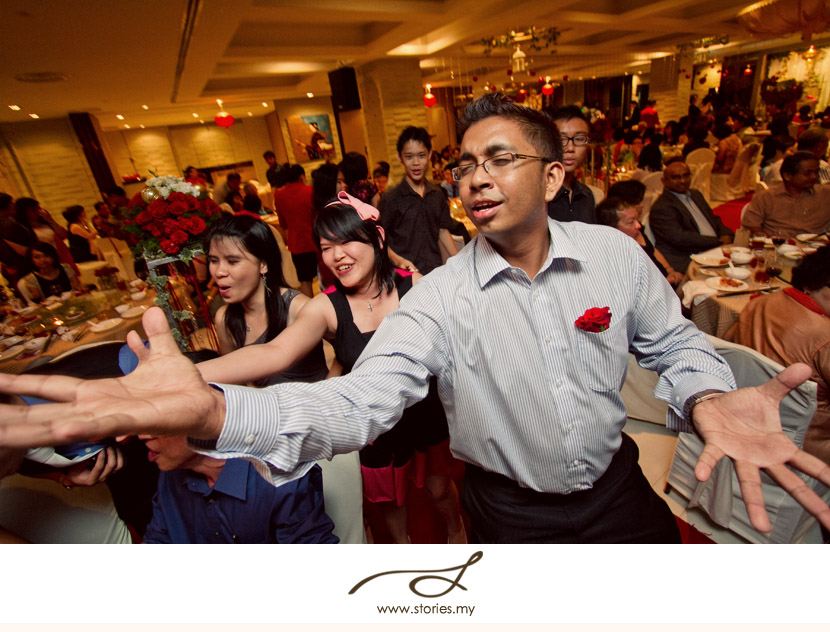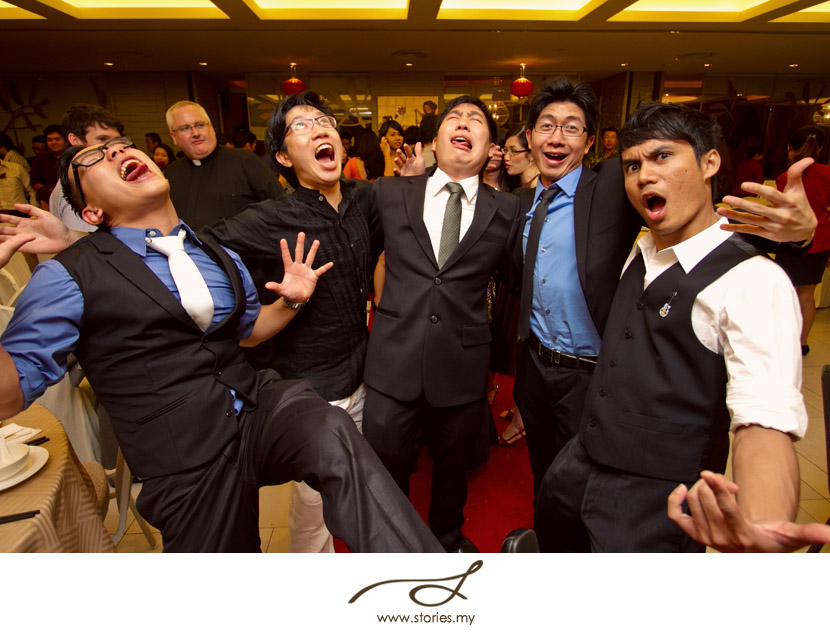 Credits:
Photographers: Mark, Johan & Diane
Location: Church of St Thomas More, USJ & Summer Palace Restaurant, PJ
Wedding Gown: Eva Enchanted
Shoes: Alvin Tay Couture
Make up & hair: YenTan Bridal Make up & Hair Do Service
Stationery: Friend of the bride & groom, Crisabel Clare
Cake: Friend of the bride & groom, Denis Ngu
Flowers: Sprinkled with Style
Videography: Beezworks Productions