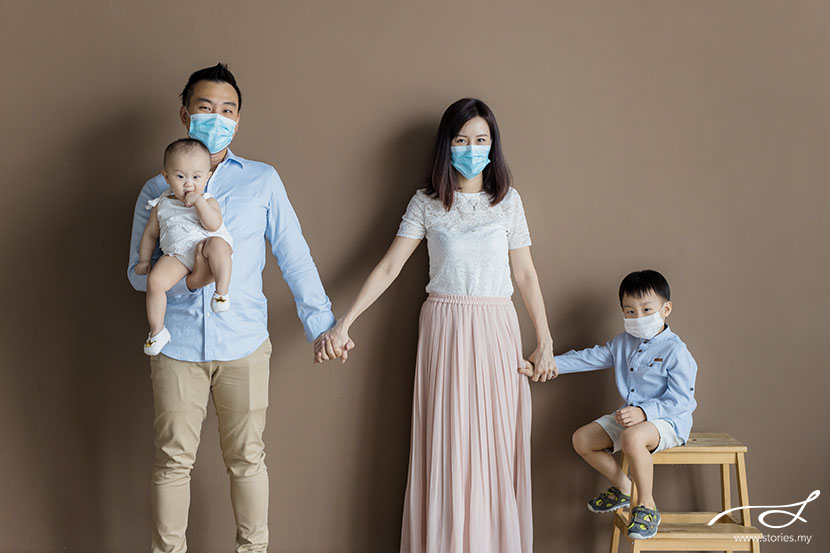 Dear faithful readers, past clients, supporters, and friends, 
Spending the past one and a half months in uncertainty and adjusting to a new normal has not been easy for everyone. We've been thinking of all those who are greatly affected, and our hearts and prayers go out to them as we go through this challenging time together. 
As for our business, many photo shoots were cancelled with almost no new bookings for the rest of the year to follow. Scary times for us for sure. But understandably, it's because of the nature of our business and the fact that personal health and safety among our clients and our staff is priority. 
Meanwhile our team (Chi Yin, Abel, Sarah, Wai Teng, and myself – Grace) continues to keep our spirits up by encouraging each other. Many of us are learning new things and expanding our skillset. We're also keeping the conversation going on social media by sharing our favourite photo collections from before – something to remind us all to smile and appreciate our loved ones even when we're stuck with them 24/7! 
Another encouraging note to add this week is the announcement of the Conditional Movement Control Order. With that, we are ready to open our studio and photography services again but following certain conditions. We will ensure health and safety measures are in place according to the Malaysian government's advice and this how we will be operating:
Our photography and videography services are available at the studio for up to 10 people only, including the photographer and / or video

We will practice social distancing in our movements, regular hand washing, and our team will be wearing masks at all times. There will be no hand-to-hand or body contact between our photographers and those being photographed. 

Our studio will be equipped with hand sanitizers and extra face masks for your use in between the shots. 

We are also available to travel to your home for family or maternity photoshoots if you are comfortable, and if you live within the boundaries of our travel ability during the CMCO. 

We are also able to do outdoor photo shoots but in open-air places for only up to 10 people only, including the photographer and / or video crew. This will also depend on whether we are able to obtain official permissions from the location of choice. 

Our staff will continue to work from home and only come to the studio if there is an appointment. 

We are also available to have virtual meetings with couples who are planning their wedding for the future. Never stop dreaming! :) 

If you already have a shoot booked with us but it has been postponed do let us know when you're ready to reschedule it again.
While the world seems quieter and we're all keeping behind closed doors, there is still so much life happening at home. Mothers go through their pregnancy, babies are born, children grow, couples grow in love, and our elderly folks grow older as the days pass by.
It's a tricky thing to manage – wanting to capture and celebrate all these precious and fleeting moments – yet adhering to safety concerns in the given situation. And if this is something that has been on your mind, do reach out to us and we will find the best way possible to help you. 
With love, 
Grace Tan and the Stories team