It's really an honour when I am asked to photograph the wedding of a sibling I had also been a part of. Six years ago, I photographed Karen's brother's wedding at the very same church. It was so lovely to meet everyone again. The same warm family that makes you feel as if you are part of them! Karen and Anthony's wedding had a gorgeous orange theme. I loved how they infused Indian motives into Anthony's cravat and also created a modern version of the saree as the wedding gown! Aside from the wedding itself, I love the story of how Anthony and Karen met. It can be made into the plot of a romance movie!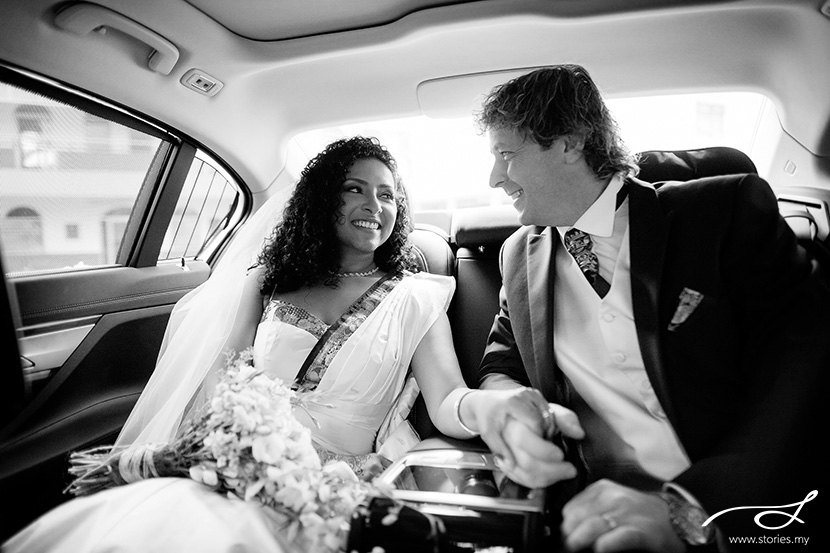 Their Story as told by Karen
I am a surgeon in Ireland and we met when i was a really junior trainee surgeon. I had done a weekend (3 nights) of call in a row and unfortunately had my wallet stolen from the doctors room earlier that Monday (16th June 2008) just when I was finishing my shift. I got in to the car to drive home with no money and a dead phone. I fell asleep while driving on the highway and had a bad crash with 2 cars. I walked to the closest place to make a call, and called the insurance company who in turn called rescue services.
Anthony arrived in uniform to check me out and assess the damages. We got to talking and I told him about my unfortunate day. He offered to loan me money to get me home and I in turn promised to return the money. I texted him about a week later and we met but we were talking so much I never returned the cash. We then had many meetings as friends where we took his chocolate labrador Archie for walks in the national park. We eventually started officially dating in July and the rest is history. I never actually returned the money.