Planning a destination beach wedding in Malaysia? Without a doubt, Langkawi is at the top of the list. It has everything – deep blue seas, white fluffy clouds, white sandy beaches, great 5-6 star resorts, duty free shopping and great Malaysian food. Of course the other famous beach wedding destinations like Maldives, Hawaii, Bali or Phuket has its own charm, but if you are hoping to have a beach wedding in Malaysia, Langkawi is the place.
As a team, we would take the one hour flight from Petaling Jaya to Langkawi pretty frequently to cover beach weddings there. Organizing a beach wedding can be relaxing and yet stressful at the same time. Everyone is away at an exotic location, just ready to have fun in the sun. But planning for a destination wedding from a faraway country on your own can be a pretty daunting task.
To make your life a little easier, I'd like to share some thoughts about how to best organize your day so that you can get the most out of your photography. Since I consider sunset as the focal point of the day, I'll work backwards from there and give you a pictorial journey of planning a beach wedding from a photographer's viewpoint.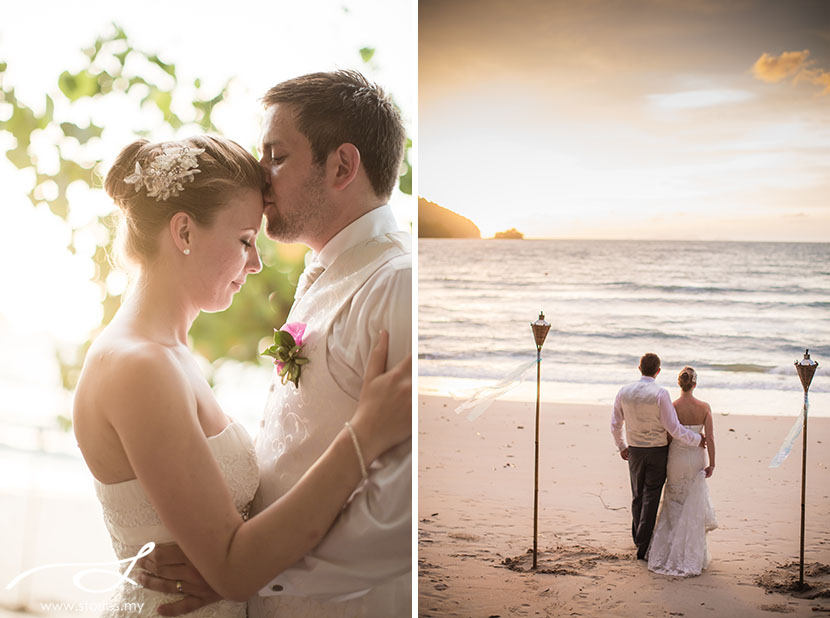 1. Do check on sunset times for the date of your wedding. 
On average, the sun sets about 7.30pm in Langkawi, so a good time to start your ceremony would be 5.30pm. It will be slightly warm at that time, but starting this early would give you ample time for portraits and formals after the wedding ceremony. There's always a rush to document all the dinner reception details too after the wedding, so if your ceremony starts too late, we will be running around like headless chickens trying to capture all the important shots before night falls. Ideally, I would like to have at least an hour for portraits after the ceremony ends. Continue Reading