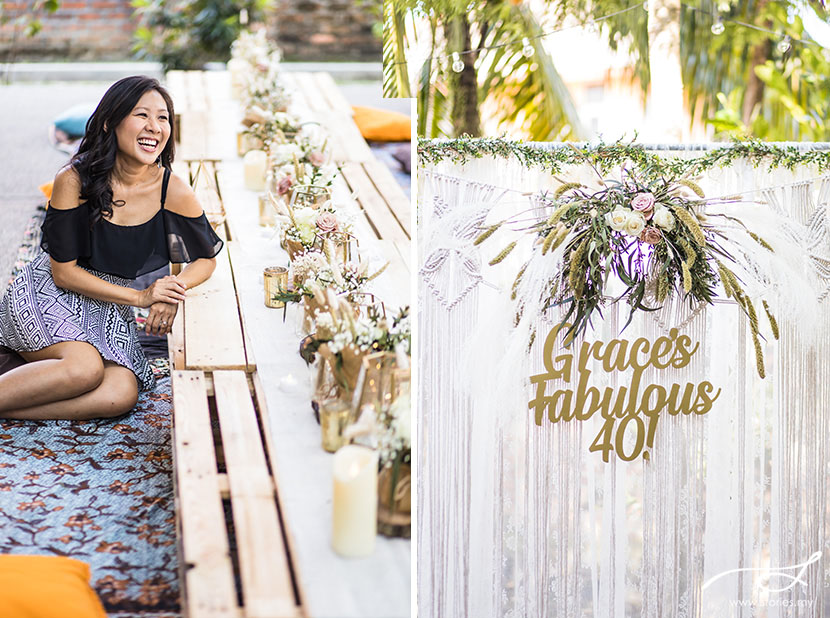 It took me a while to decide whether I wanted to have a birthday party for myself to celebrate this huge milestone – reaching 40. I've been planning my kid's birthday parties, so organizing one for myself seemed like another tiring task on the plate. In the end, I contacted Rachel of Pretty Little Things to assist with the decorations for the party and she did an amazing job setting everything up. Alex helped to source and sandpaper all the wooden pallets you see here. And I added stress to myself thinking about my guests and what I could do to make it really fun for everyone, yet filled with things that were meaningful to me. So this was what I came up with:
1. A 15 minute massage station for guests
2. A personalised photo frame with all my guests' names calligraphed by a friend, Cherbreena
3. A photo corner where my dedicated photographer, Chi Yin, took photos of all my guests who walked in and then Abel printed it out and placed it in the personalised frame
4. A pre-loved book section for my guests to adopt some of my personal book collection for their reading pleasure
5. A corner where guests could choose an air plant or succulent to bring home as gifts
6. A station where people could buy Naam.asia products (a social enterprise) and essential oils from Oilees (a business started by a friend, Michelle)
7. A soap making workshop corner, made possible by Esther & Elizabeth
Honestly, halfway through planning this party, I was wondering whether having a birthday party to celebrate yourself seems very narcissistic! I had to remind myself that it is ok to pamper yourself once in a while and to just enjoy the process. In the end, I truly had a blast on that day with all my precious friends. Seeing them happy made me truly happy too.