Langkawi's one of our favourite locations for beach weddings in Malaysia. The blue skies and gorgeous sunsets never cease to amaze us. No wonder some city folk I know have uprooted themselves and made Langkawi their home over the past few years! Chris and Lydia had their KL wedding ceremony a week before their Langkawi leg, and what a good choice it was! After their church ceremony in KL, it was party time in Langkawi! The vibe was relaxing and everyone was just out to have a good time. Enjoy the wonderful photography by Weiming and Nigel.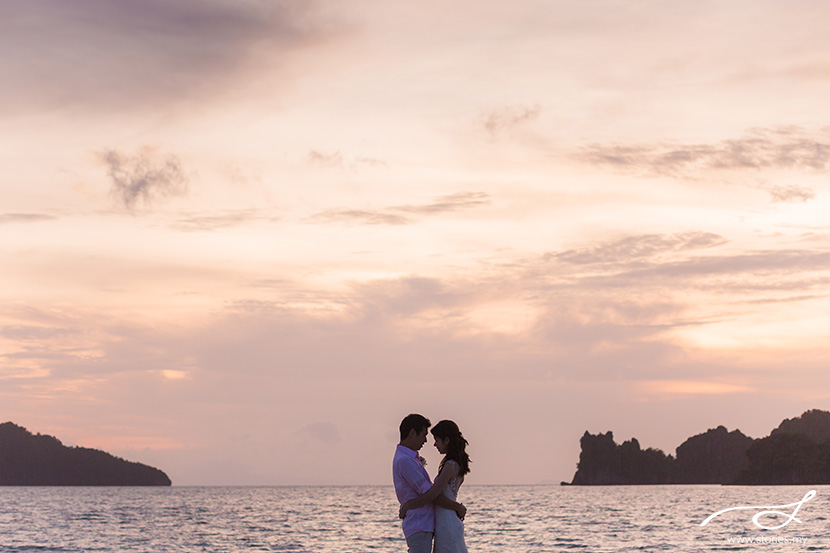 Here's some advice from Chris and Lydia on how to plan a beach wedding:
We chose Four Seasons because we wanted our guests to feel like they're on holiday at a resort the moment they arrive. Furthermore the beautiful architecture of the bulidings and the landscaped gardens by the beach helped add to the getaway feel.
It is essential to have a Plan B for outdoor weddings and we felt comfortable with Four Season's in case it rains. The rhu bar at Four Seasons is an open air shaded area overlooking the beach which can be converted to accommodate the wedding ceremony if needed. And since we wanted to be as close to the beach as possible, rain or shine, this was perfect!
The beach can be extremely hot especially during the dry, hot months. So choose the cooler months and dress appropriately. We wanted a more casual wedding and thus didn't opt for the full suit and tie. Our overseas guests certainly appreciated that they could pack light :)
We also provided some additional items for our guests like sunglasses, mosquito repellent, heel stoppers, sun block, hand fans, and snacks. There were also rental cars for their use in case they needed them to head out to the city. Guests will definitely appreciate these little thoughts when they arrive at your location.
Lastly, it's important just to enjoy the moment and the whole occasion with the family and friends who have made the journey. Talk and mingle, laugh and reminisce. Time really flies when you're having fun and before you know it, the day will be over.