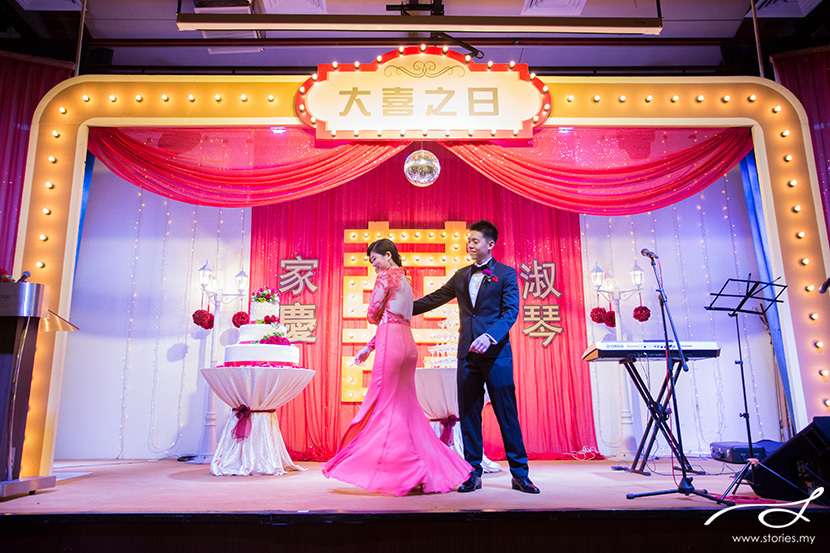 Red is the colour of passion… love… strength and beauty. I just love how much red there is in this wedding! If there's one person whom you'd trust to style your wedding, it'd be Kim. She not only has good taste, but is great at making ideas come alive. From Kim's unconventional wedding gown and red veil to her striking red Lewre shoes, everything is so perfectly colour coordinated. There's also a different touch to Kim's styling with a traditional hair piece added to the look. Not only that, there's hot pink umbrellas and a gorgeous bouquet too! The colours just pop off the screen!
I remember my conversation with Kim during the wedding, and she told me, if she had to do something, she'd go all the way!
During the dinner, their Old Shanghai themed stage and photobooth blew me away. I love the details that went into the planning of this wedding. One week later, Jason and Kim had a totally different wedding altogether… it was a rustic themed wedding at Tanarimba! It wasn't just the creativity at this wedding that fueled my energy to be creative too, I really felt the excitement from the both of them, including all the friends who were present that day.
I appreciate how Jason and Kim have extended their friendship to us and that in just a short time, I felt as if I've known them for years. Some people just make you feel so loved!