Photographers: Grace, Weiming & Ben
Wedding Dress: Mrs Pomeranz
Cheongsam: That Special Occasion
Evening gown: Daniel Yam
Bridal car: Classic & Vintage
Groom's Attire: Emerald Brilliance, Red Label
Make Up: Eddy Kong
Decorations: Thoo Ching Yen
Cake: Tan Lye Synn
Flowers: Lee Foong Yen
I distinctly remember our first conversation regarding Ben & Mui Yen's wedding. Mui Yen and I had a coffee at Starbucks, discussed her wedding plans, and one of the things she said was, "I would love to see images of people's faces, scrunched up in glee." From that moment on, the thought stuck in my head. In reality, Ben and Mui Yen's wedding was one that was totally filled with fun and unpredictable moments. Everyone had so much fun at this wedding, and our team definitely captured many images of people's faces scrunched up in glee.
I got to know Ben & Mui Yen through my husband Alex who went to the same school as Ben. Those Lasallians are a fun and noisy bunch! It's always fun photographing a wedding where you know so many of the guests.
When Mui Yen told me she had in mind a vintage theme for her wedding, I was all up for it. Little did I know she wasn't going to wear a formal white wedding gown… instead opted for a understated but classy custom made vintage dress from Mrs Pomeranz, ordered through Etsy.
This image taken in Classic & Vintage's jaguar is one of my favourites from this wedding. It was such an impromptu shot – I just told Mui Yen to go for it, and she did!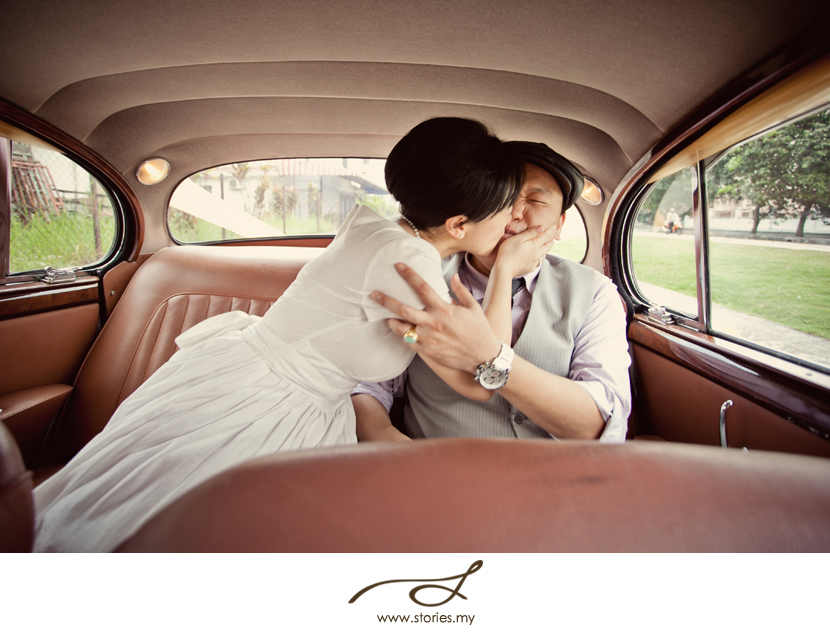 The heng tais (which included some girls, in case you got a little confused) came dressed in classic outfits!